Will Bouma, MPP for Brantford-Brant and Erin Sleeth, interim CEO of the Brant Community Healthcare System, announced that the Ontario government will be providing a one-time capital grant of up to $28,376,000 on Tuesday, July 18, 2023.
"I am very pleased to announce that Ontario is providing the Brant Community Health Care System (BCHS), a one-time capital grant of up to $28,376,900 and approval to redevelop the emergency department (ED) at Brantford General Hospital," said Bouma. "This grant will go towards the estimated total project cost of $32,429,000, representing 87.5 per cent of the total project cost."
The grant comes as part of the provincial government's Your Health: A Plan for Connected and Convenient Care plan to improve healthcare throughout Ontario.
"Ontario is committed to building a healthcare system that puts patients first," said Bouma. To support growing demands on the healthcare system, Ontario's investments over the next ten years will lead to $40 billion and healthcare infrastructure across the province. These investments will increase capacity and hospitals, build new health care facilities and renew existing hospitals, and community health centers."
The ED redevelopment is set to be a 32,000 square foot interior and exterior renovation of the existing Emergency Department at the Brantford General site, separated into two projects.
Part one of the project will include the construction of:
· A "see and treat" area with treatment bays
· An extended stay area
· Newly renovated walk-in arrival area (waiting/registration and security).
· Mental health safe rooms and observation area
· Patient drop-off
· Ambulance arrival and off-loading zone
· Associated clinical and non-clinical support spaces
· An Indigenous Services Suite that will be adjacent to the emergency department which will be available to all patients
"This new, revitalized emergency emergency department project is a massive step forward in our collective journey to delivering world class publicly funded health care for the people of Brantford-Brant," continued Bouma.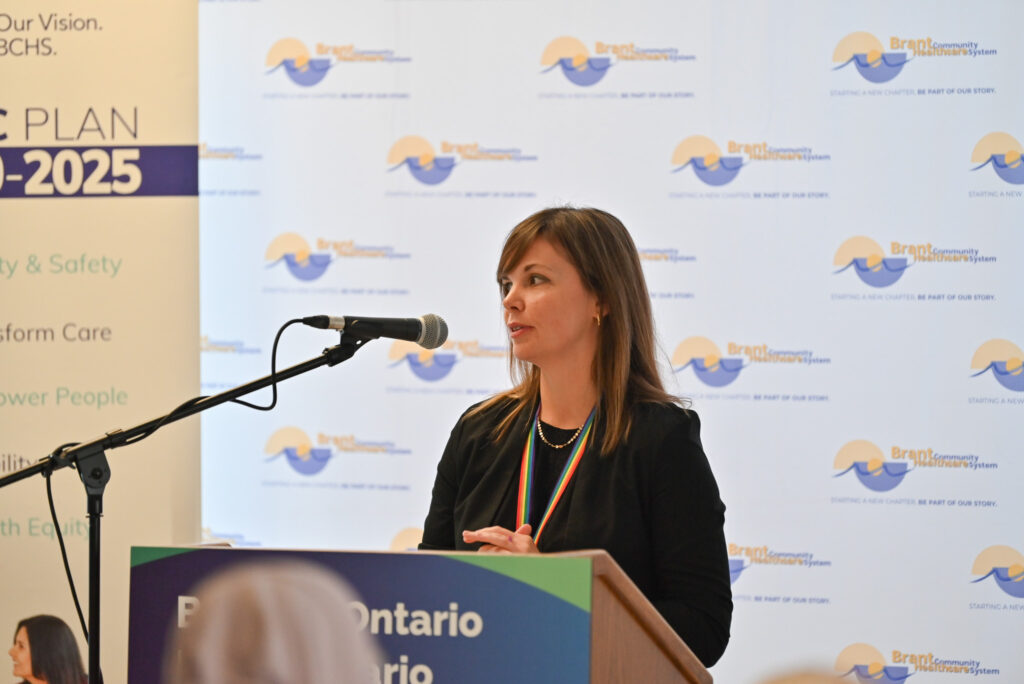 Sleeth thanked the nearly 90 people in the room for their attendance before noting that the grant will allow healthcare workers to do their job more efficiently.
"We know the emergency department is a critical access point for care in our community. This is a transformative investment that will assist our exceptional frontline workers in serving our rapidly growing community," she said. "This project will ensure that BCHS will continue to appropriately support the people of Brantford, the County of Brant, Six Nations of the Grand River, Mississauga's of the Credit First Nations, and all of our surrounding areas that we serve, by ensuring that patient services are delivered to the best standards of exceptional, patient centered and culturally appropriate care."
According to Sleeth, construction is set to start in the fall of 2023 and will cause some disruption throughout the area until early 2026.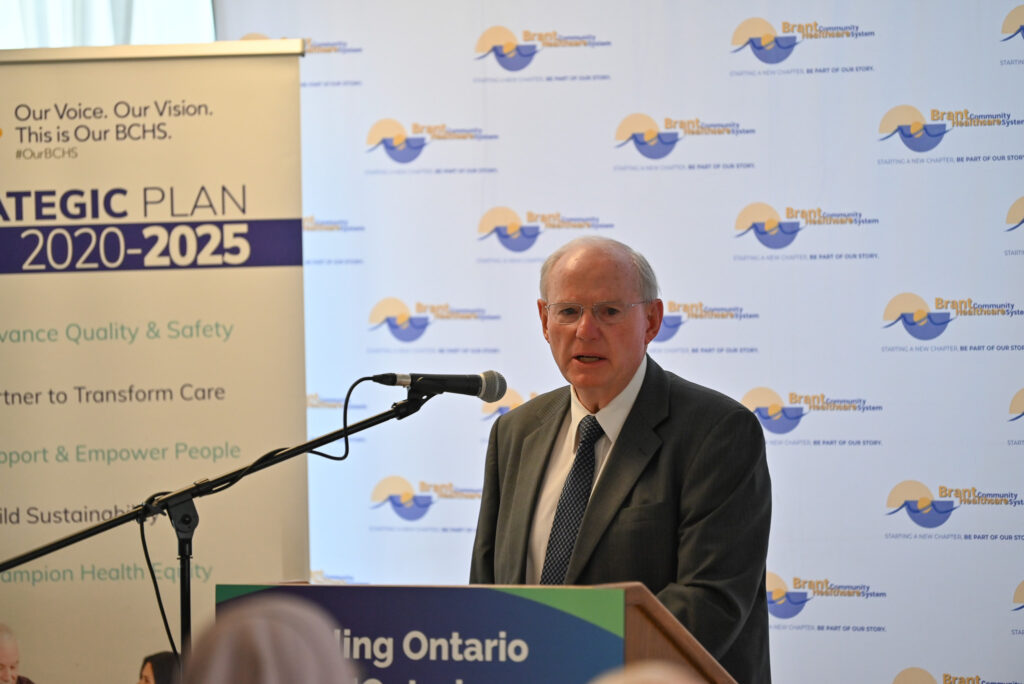 Peter Quinlan, Chair of the BCHS Board of Directors, reminded those in attendance that patience will be needed during the construction period.
"Construction will be intrusive, and we all have to have patience," he said. "Once the construction is complete, there'll be a significant upgrade for all which will assist with patient safety, staff safety, and will give staff the opportunity to improve the quality of care which is already excellent at this time."
David Bailey, Mayor for the County of Brant, Dan McCreary, City of Brantford councillor and Mayor of the month, both thanked Bouma for his hard work alongside the Provincial government to help make the renovated emergency department a reality.
"It's amazing how well we can work in situations that we're given. We've been working like this here in the Brantford General Hospital's emergency department for so long that we've got it down pretty well and we can work really well the way it is," said Bailey. "But just imagine how we're going to be able to work when things are current, and things are modern and we have everything we need with more space. I'm not sure that we're going to have room for more people, but it's going to be more space to do the job more professionally."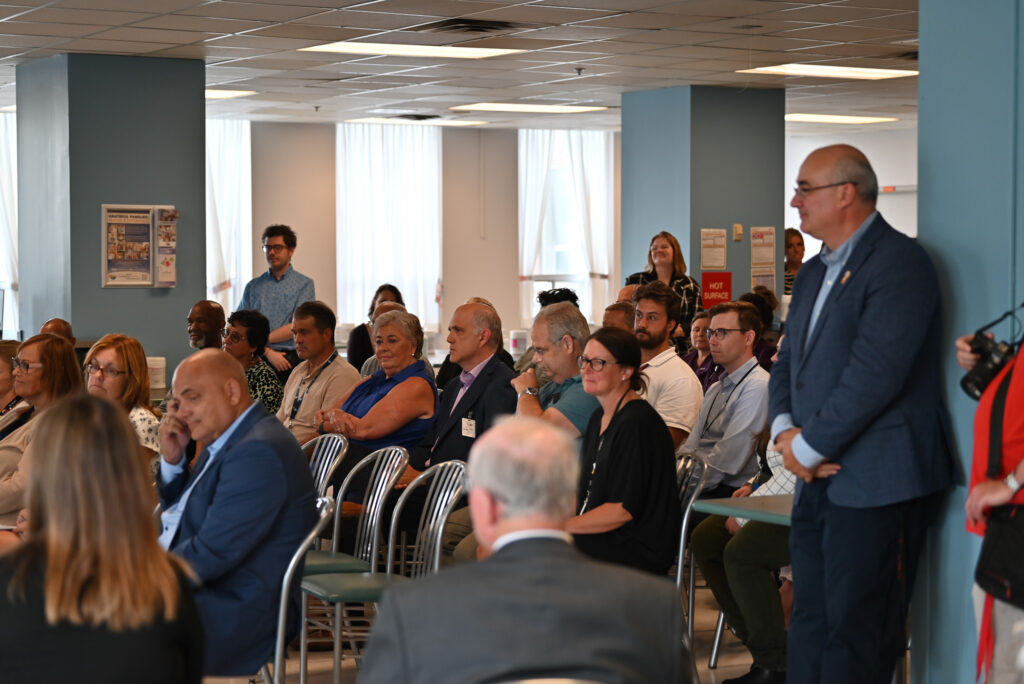 While the grant will cover a majority of the cost for the redevelopment plan, the hospital will continue to rely on the BCHS Foundation to help make up the remaining $4,000,000.
"As we move forward with this work, we will continue to depend on our partners at the Brant Community Health Care System Foundation, whose support has always been central to our success," said Sleeth. "We look forward to sharing more about this exciting construction project and important community updates on our new website www.reimaginebchs.ca and we encourage everyone in the community to access this website to stay up to date on all future BCHS redevelopment projects."