Jenny Butcher and Wes Kuntz, local owners of the Little Brown Cow, were visibly upset as they watched concrete barriers being placed down to block one of their driveways on Wednesday, September 20, 2023.
Throughout the years, the Little Brown Cow has become a staple within the County of Brant, drawing in thousands of customers from Brantford and beyond on a weekly basis.
Butcher said that her and Kuntz, after years of dreaming of owning their own farm, have worked hard to build up their dairy business from scratch and without any capital assets or family money to help.
The two rebuilt the inside of the onsite barn, adding in free cells and constructing a parlor and milk hose themselves. After two years of getting their cows settled, they set out to build a cheese plant and began selling their own cheese and dairy products.
"It's really cool how it all came together," said Butcher. "We did it in a very unconventional way by kind of inching along, starting and allowing it to grow organically, which is the only way that you can start when you have so little resources. Within the absence of resources, you have to learn to be quite resourceful."
Kuntz and Butcher now run a full dairy plant processing cheese and milk to sell in their on-site store. The two also sell other goods from the farm including beef from their own cows, honey from their bees, and other items from local businesses like fresh fruit and vegetables.
After receiving a grant from the Hamilton Halton Brant Regional Tourism Relief Fund last year, Kuntz and Butcher took the leap to invest nearly $200,000 into paving their parking lot and two driveways. The project was finished in November of 2022.
"The driveway has never changed and it's always been that way," said Butcher. "The measurements of the driveway have been the same for decades and we didn't change that, we just paved over the gravel."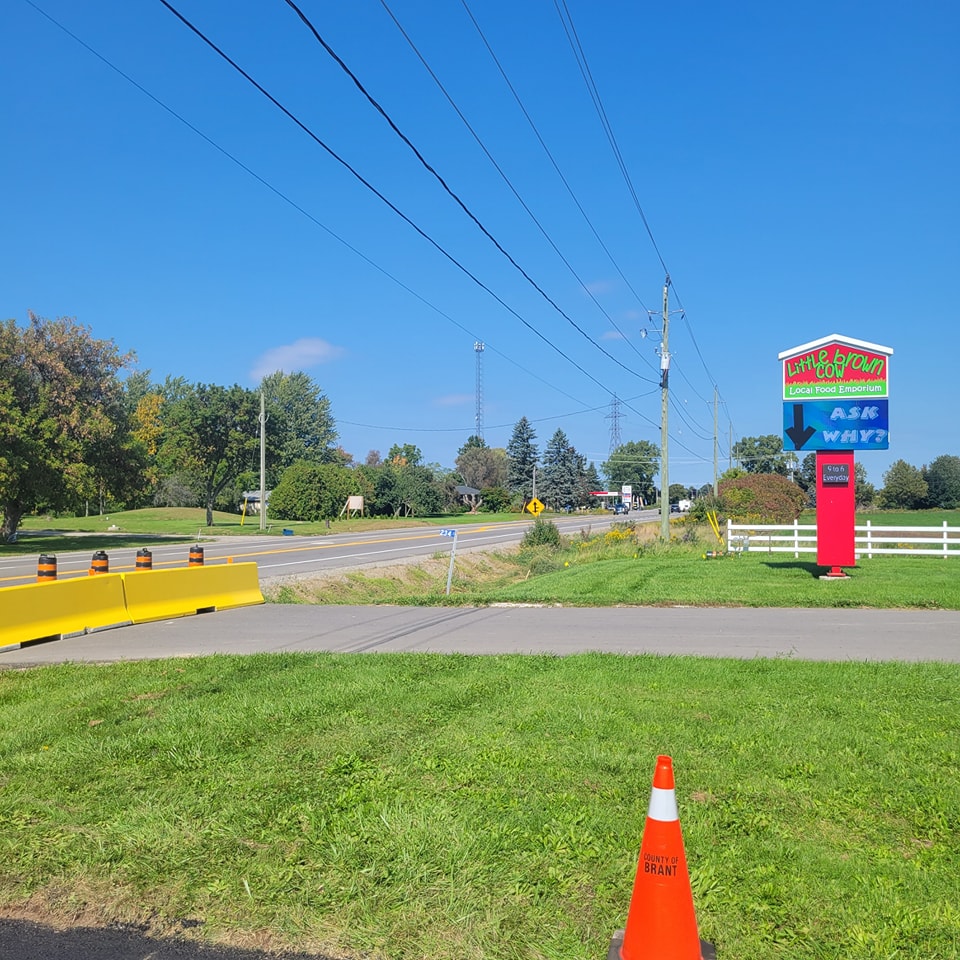 Not long after finishing the project in November of 2022. In December, Kuntz and Butcher received a letter from the County of Brant stating that there were safety concerns regarding their north driveway and that the County would be placing concrete barriers to block access.
"We were blindsided and shocked at that time, but we were able to successfully convince the County that we should try to work together on a solution that might work for both of us," said Butcher. "First, we came with solutions on our own based on traffic data and measurements etc. and brought them to the County, but they still really wanted the original solution to be pushed through. So we asked if we could hire a traffic engineer to kind of show that these things can work and they agreed to that."
Butcher said that the traffic engineer held a Zoom call with the County and backed up the Little Brown Cow's solutions. She said that both parties even talked about non-negotiables on either end.
"Their one single non-negotiable was that according to the golden book of engineering, it says that you cannot have motorists cross a turning lane to turn left," she said. "There's a turning lane going into our business, which is a change that happened last year. It wasn't inside our business, it was outside. So there's a turning lane going into our business, and if a motorist were to use the north driveway to turn left onto Cockshutt Road, they would be crossing a turning lane and the County deems that to be unsafe."
Butcher noted that her and her partner don't have an issue with the turning lane and firmly believe it's saved lives.
"We're so grateful that that happened, you know? It's a cool thing that it happened, and we really believe it's made things safer – we really do," said Butcher. "We were able to put bureaucracy second, and the safety of people first when that happened because normally it takes a lot more time and effort and bureaucracy to install something like a turning lane and into a business. But, it was done with very short notice and that's why we're in this situation, because it was hastily done for better and for worse."
The owners and traffic engineer then incorporated details with consideration to time and space to allow a turn, however, when they met with the County again, County staff had already made up their minds to go with the original plan of blocking the entrance.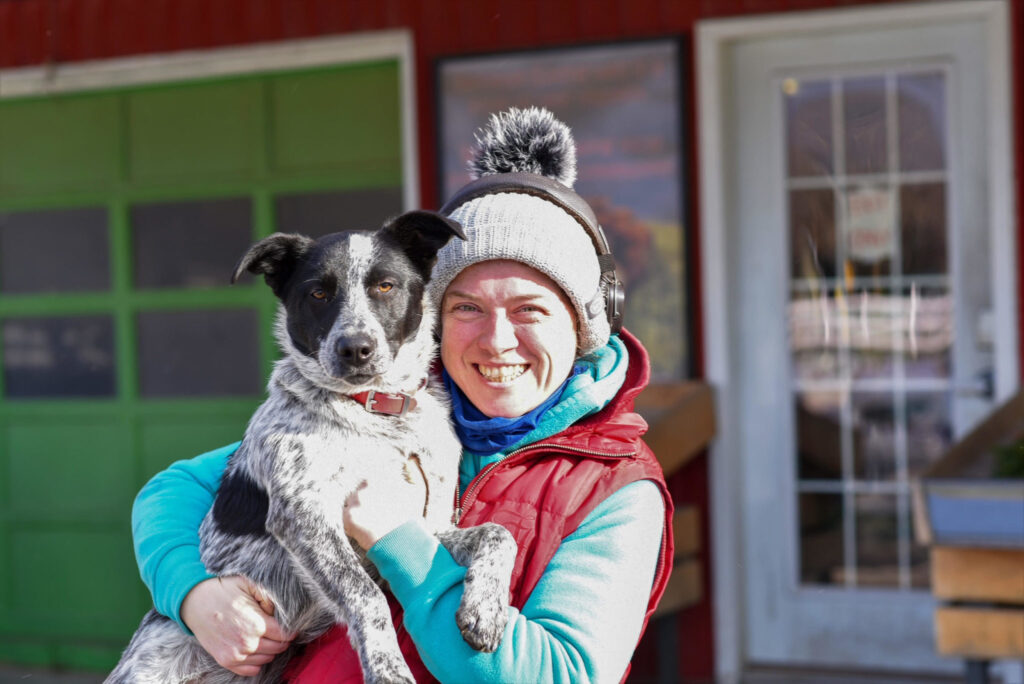 Despite the couples' lawyer asking the County for more time to find another solution, the pair received a notice a couple of weeks ago stating the concrete barriers would be installed last week.
Due to possible staffing issues, the barricades weren't installed as planned and the couple received another notice stating that it would happen this past Wednsesday instead.
On Tuesday, September 19, the Kuntz and Butcher took to Facebook to let their dedicated customers and the public know about the change that would take place the following morning.
Butcher said that it all happened so fast and that the couple were unable to make plans and infrastructure changes that would allow them to be better equipped when the barriers came in.
"When a business functions with two laneways and then they are down to one, there are a lot of considerations for changes that would have to happen to make that functionality work," she said. "Because we do have tractor trailers that deliver goods to us, it's things like how do trucks get in and how do they get out? where do they turn around? where do they have to back in off Cockshut Road? do we have to notify suppliers that they can't back in and how can they access the business?"
She also noted that they have to think about customers as well.
"Now cars will have to do a significant amount of crossing of the parking lot that they wouldn't have had to do before because you would naturally come in one side and leave out the other and so it works in a flowy circle as opposed to backing up," said Butcher. "It changes the entire flow of the parking lot, which then there's consideration for infrastructure and how to direct motorists to do that in the most effective manner. There's just a lot of things like how do you keep pedestrians safe? how do you keep cars safe and how do we make sure that this is an accessible business?"
Butcher hosted a live Facebook video on Wednesday morning, garnering thousands of views from concerned customers and even those who live outside of Canada and the province.
With hundreds of comments coming in by the minute, many speculated about how and why this all happened including permit issues and more. Butcher said this isn't the case and that it simply comes down to the safety when crossing a turning lane.
Many people gave suggestions on how to mitigate the issue and the business owner said that they are considering many options and are willing to do what it takes, including spending more money if need be, but that that's not what bugs them.
"Anything is an option and we're true, true business people. We're not those people that will say 'oh the money's run out,' we believe in our business, and we believe our business is worth investing in and we are not afraid of debt," she said. "If there's something that can improve our business, we are willing and ready to do it – that's not the issue. "We were blindsided to a point and while some people say we weren't because we had been talking with the County, but that talking had happened in good faith for many, many months and all of a sudden they said they were going to go ahead with the original plan. All I know is that concrete barricades in front of a business feels very hostile. It's not a good look for the County."
Butcher said that they are truly devastated that it came to this and they were hoping this was something they could resolve without involving others.
Since the issue went public on Facebook, many customers have voiced their concerns and have since started an online petition to encourage the County to reconsider the barricades.
"We just appreciate people's support. Our entire meaning behind the store is to support our community and every decision that we make in our business has that as its main focus," said Butcher. "In turn, we just appreciate the support from our community so that we can support each other, grow together and have a long relationship with all of our friends, neighbours and the community as we provide the very best kind of local nourishment that we can."
She said the support has been "awe-inspiring."
"Even from the beginning of our business, to see what it means to people and to see what people are willing to do for us. We're just so appreciative of that and as long as everyone else keeps trying, we'll keep trying and vice versa."
After a long day of concerned customers contacting the County and its councillors, David Bailey, Mayor for the County of Brant, released a statement on the issue on Wednesday evening.
"County of Brant Council and staff have had ongoing communication over many months with the business owners at Little Brown Cow regarding public safety due to traffic and access concerns," he said. "Through these communications County of Brant staff presented options to the business owners that would resolve public safety, as well as customer service concerns. The options presented by staff were not accepted, and no additional resolutions were received from the business owners."
He noted that this was an ongoing public safety issue and that it is now a legal matter between the two parties.
"The actions taken by the County of Brant are to address an ongoing public safety issue and potential traffic hazard, which is for the protection and in the interest of all residents. The business owners were made aware that the jersey barriers would be put in place this morning and we remind the public that driveway access is available," said Bailey. "This is now a legal matter between the parties. I am sorry for any inconvenience the County's actions have caused. I know the County has acted with safety at the top of their list. As always I support local businesses and I urge everyone to take a breath and shop local."
Brant Beacon reporters will be reaching out to the County in coming days for further comment.