While Chris Strei, a local Brantford musician, has been performing in public since the age of 15, the now 35-year-old took a leap of faith to make music his primary source of income early in 2022.
"It's been an awesome leap of faith," said Strei. "I decided to quit my full-time job after taking a parental leave in the fall of 2021 and decided to go into 2022 working towards music as my full-time job. Last year proved that it's possible to be sustainable for us, and this year I've grown even more so and next year I know I'm going to continue to grow some more."
The musician said he found a passion for music like many others do at a young age.
"It was that "infectious bug" cliché," he said. I always had musical instruments around and I was drawn to them, but I didn't know anything about them. I loved my grandma's records because they were always the coolest thing, and I was always singing along to the radio or going to sleep with music playing."
He said his interest continued to grow at 13 when the hit show "American Idol" first aired, and he became intrigued by the artists taking a chance for themselves.
"It was the show and the production that really hooked me," he said. "These people were singing on this big stage and the whole thing was such a show. It's the same reason why I love sporting events even though I'm not really a sports guy, but that kind of big event with the spectacle and the energy is amazing. It was around that first season I thought, 'you know what? singing would be cool.'"
At 15, Strei attended a karaoke night at O'toole's (now Crabby Joe's) where he took his first chance at singing in front of a group of people.
After receiving his first guitar at 16 and slowly learning how to play, the young musician continued to perform at various restaurants during karaoke nights throughout his teens until he started playing open jams and open mic nights around 18.
"One thing led to another and right after I turned 19, McLaughlin House gave me my first paid gig," he said.
Strei said that since then, he's learned a great deal about the person and the musician he was, and ultimately wanted to be.
"I spent pretty much all my 20's misguided through it all and wanting to be a professional musician – I thought I would be a rockstar maybe. It wasn't until my 30's that I realized that I didn't want to be a rockstar and I thought to myself 'hey, if you get to play music for a living, that's enough,'" said Strei.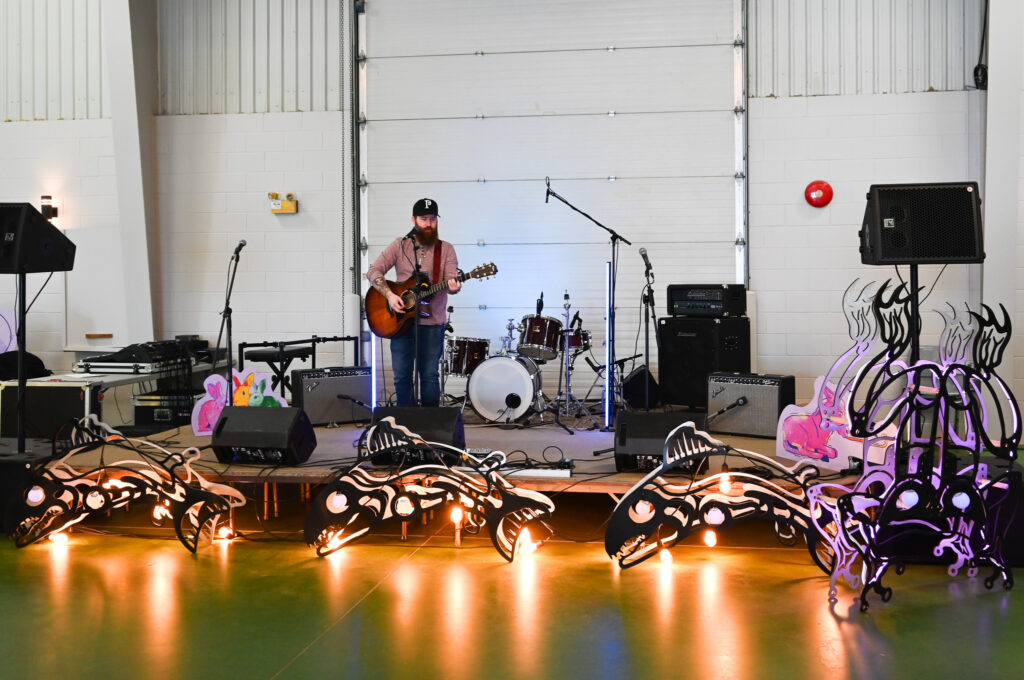 The musician said that putting his ego in check has a lot to do with who he is now.
"These days I'm a little bit weird about anything that could maybe fluff my ego a bit and sometimes it makes me uncomfortable to get a compliment and I tend to deflect it onto my equipment. I end up getting all coy because I don't really want to take that compliment and embellish it in my mind or anything, but then I worry if my 'thank you' feels like it's enough," he said. "I probably wouldn't worry so much about it if I wasn't such an egomaniac in my 20's, but alcohol will do that – I used to think I was the best in every room. Now, I've learned to squash the ego and the goal is to keep it under my feet, but I can always tell when it slips out and I have to squash it back down again. Now instead of walking into a room and thinking that I am the best, I walk into a room and at the end of a showcase I want everybody to think I did my best."
While he may have learned the basics of playing guitar from a friend in his teens, he said there was a time he ultimately quit learning to spend more time with a past girlfriend. Since then, the musician has spent over a decade honing his self-taught craft.
"Your story plays out for a reason. Through my 20's I made all my mistakes, messed up a lot of my life, and now I actually have something to work on," he said. "I'm working on the lead guitar now and learning the scales and how to use them. It all comes at the right time because my 20's were wasted on me anyway because well – I was wasted. I wasn't in the mindset to do it for real anyway and now I am. Now that I need it, it's time for me to learn because you can always go back and work to be where you want to be. You always want to keep growing and there's always going be room for me to go back and do something to polish myself up."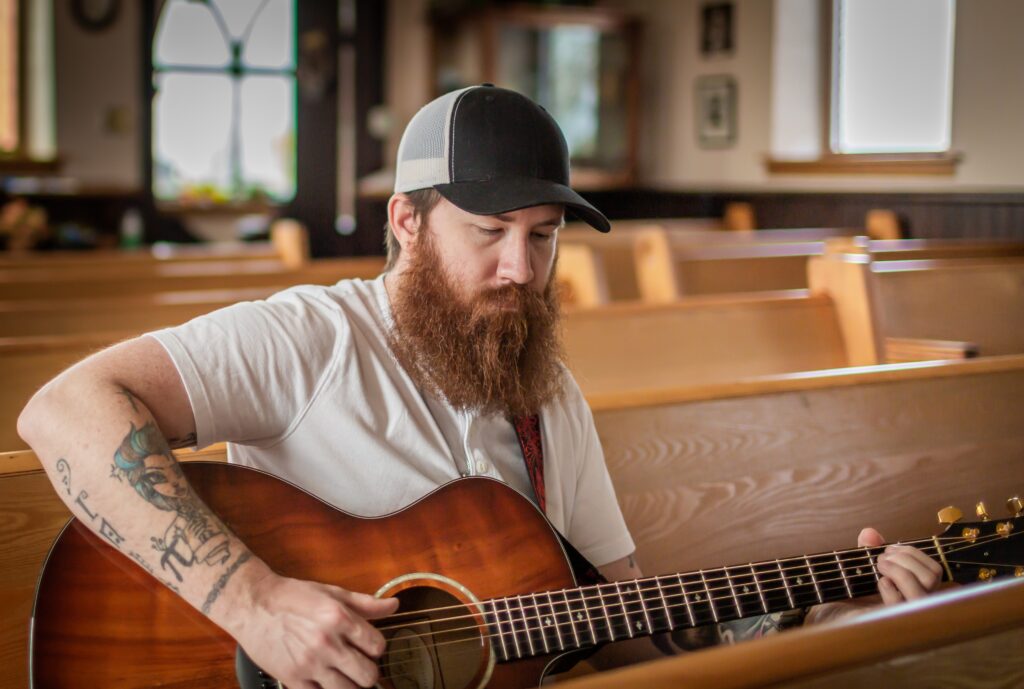 During the pandemic, the artist wanted to take things further and learn to produce his own music.
"I thought, 'well, if I want to be a producer, I should probably get better educated on music theory so that I can maybe play some leads or do better compositions for people who I'm hoping will pay me to do this. I ended up taking the music theory course on Coursera, and that's where I ended up learning the scales and learning better theory than the basics I got before," he said. "It's funny because I took music courses in high school, and I've gotten all this information before, and I even went to college for audio engineering from 2010 to 2011. But since the pandemic and putting my studio space together and learning how to live stream, route the signals and doing all this other work, so many things have clicked now that I'm relearning this knowledge and having to use it. It's great to learn, but until I had to put it into practice and it became practical knowledge, it just kind of sat dormant in my head."
As Strei has continued to work on his music and work with his producer, Iain McNally, he said his voice has grown as he's learned how to utilize his diaphragm, allowing him to hit a different range of notes, sing with ease and no longer lose his voice by the end of a performance. Coupling this skill with his knowledge of equipment has allowed him to be proud of his shows in a healthy a way.
While the artist is known for many of his Chris Stapleton covers, Strei said that when writing original music like Sunshine, Timber Creek, Love You Anyhow, Moonshine and Prison Bound Man, he pulls inspiration from his life experiences.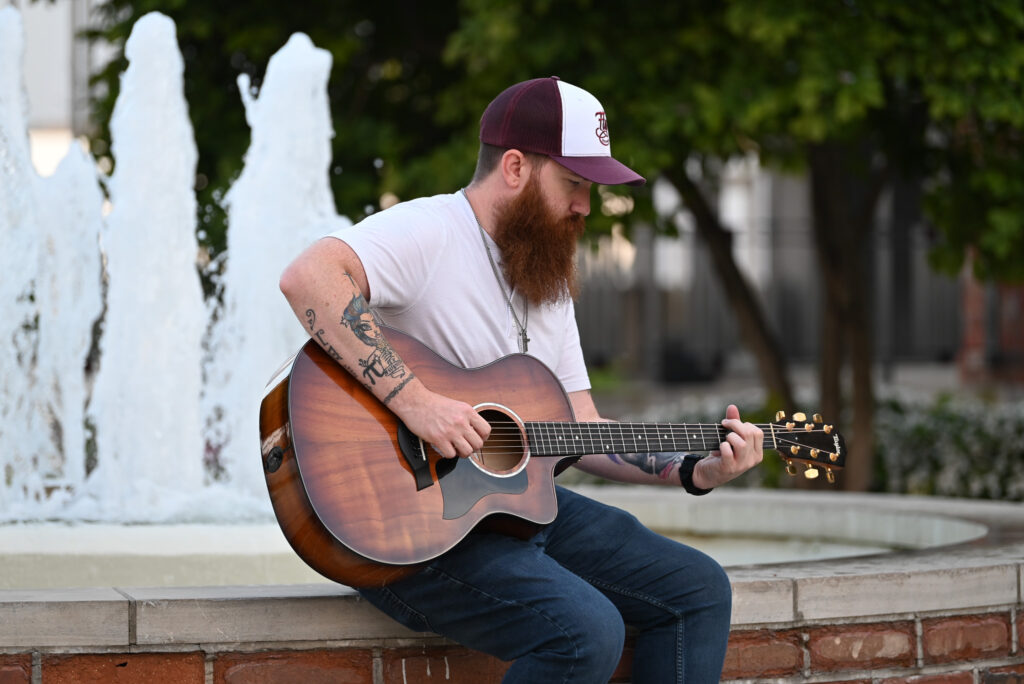 From the loss of his daughter Anabella to date nights and the memories from old apartments, the artist said that those experiences – as painful, bittersweet or even happy as they can be – have led to songs that people can truly connect with and feel.
"The music taps into some sort of energy because you're moving the molecules all around you and because we're molecules, the music will go through you and will trigger emotions – it's just another way of connecting," he said.
When it comes to sitting down and writing a song, the artist said that he has written both alone and through collaboration but often finds inspiration when he's ready to sleep.
"That's when inspiration is like 'hey, are you awake? because I'm here. Are you ready to go back down to the studio?' It kind of starts like meditation and I think an important part of prayer is to sit and listen to what God has to tell you." he said. "When you lay down and you're going to bed and inspiration knocks on your skull, then it's because you're relaxing and you're clearing your mind. You're able to hear that direction."
While Strei hasn't had a chance to write a song since the beginning of the year, he said that he knows when inspiration knocks, it will open a floodgate..
"I just haven't had the focus, so I've got a bit of a block but one awesome thing is that it's kind of like a dam where it holds all the water back and then you open the floodgates to release some pressure and floods out. Think of seeing a video of a dam exploding – where it just releases a lot of sediment and then it becomes water coming out – and sometimes that's how my songwriting will go. It comes out slow and I really got to shake off the rust and work out that muscle and then I might write three, four, or even six songs."
Strei recently celebrated 1000 days being sober on July 28 and said that between being sober and reconnecting with God through church, he finds that he has a clearer mind to be the musician he knows he can be, as well as the best father he can be to his two-year-old Hudson and nurturing his relationship with his fiancé Natalie Brown.
"You know, after Annabella, the pandemic and being able to take that time at home and just being alone with family, having the time to think and go to church and learn a whole new philosophy to rewire my brain and personality – it's that entire experience that has made me a better person and a better dad," said Strei. "Without all of that, I might have continued to take things for granted, I might not have been able to appreciate things as much as I do now. I probably wouldn't be a Christian, I definitely wouldn't be leading worship and I wouldn't be looking to go further down a path of ministry. In a way, I'm kind of thankful for how things happened. ​​An experience like that could make a person struggle with depression and anxiety the rest of their life and get further into substances but I was able to get out of substances and it was a weird blessing in a way. We'll never learn the lessons without the hardships because ultimately, when it comes down to it, they're all put in the way to grow you as a person – as messed up as it might seem at the time, it's all helped build me, restore me and be a better person for everyone."