The Brantford Bandits of the Greater Ontario Junior Hockey League (GOJHL) revealed Ethan Ingram as their new captain during the Movies in the Square event on Thursday, July 27, 2023.
Six of the seven new owners of the Brantford Bandits were present as members of the team were onsite handing out bubbles and suckers to movie-goers before the surprise announcement took place.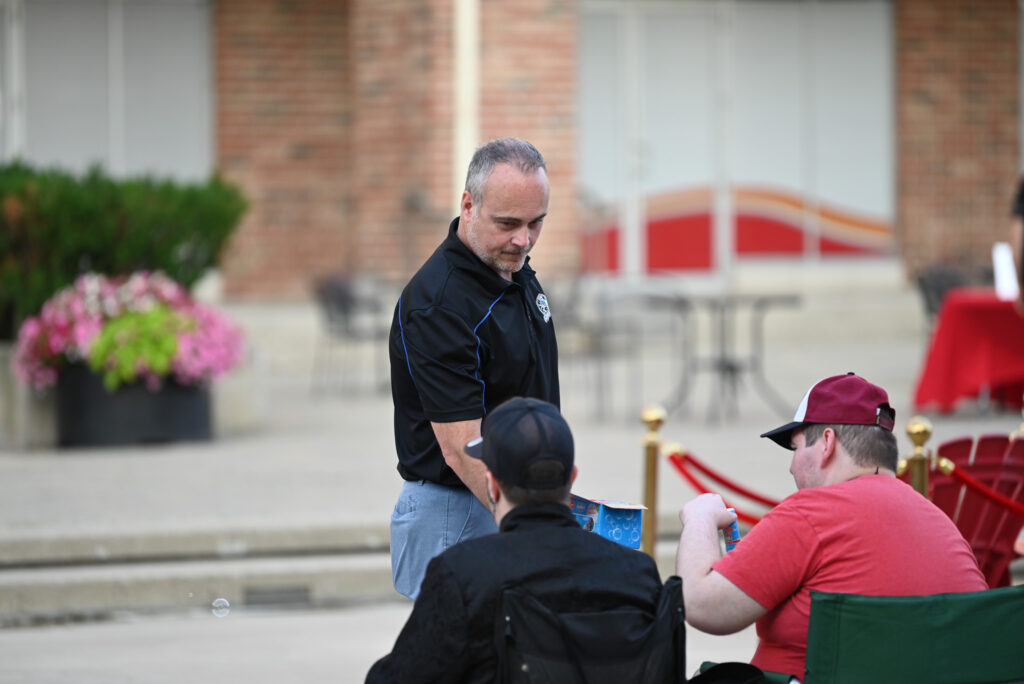 The 20-year-old Brantford born player has yet to play hockey in his hometown during his junior career but will be spending his final year playing for the Brantford team after being traded from Pelham.
Eric Boissonneault, Director of Hockey Operations for the Bandits, led the announcement with a short brief of the player's history before presenting Ingram with his new captain jersey.
"Ethan left Brantford when his junior career started. He's played in places like Cochrane, Caledon and Pelham but when we found out he's from Brantford, we managed to make a trade with Pelham to bring him home," said Boissonneault. "This is his final year of junior hockey and he gets to play in front of the Branford fans and we'd like to ask Ethan for a bigger role this year. I want to ask Ethan if he'll be our very first captain as new owners."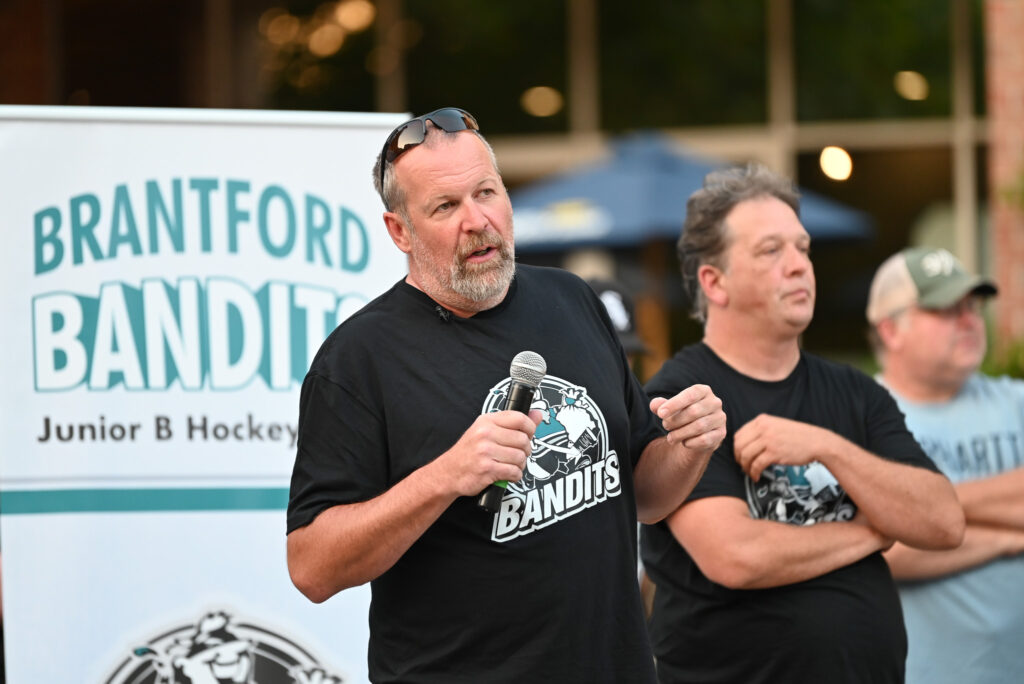 Ingram said he's excited to be back in Brantford and that the news of his new role came as a surprise.
 "I've obviously been up north and in Toronto, so it's amazing to come back and play for the community you grew up in and to be near family and friends," he said. "It hasn't really sunk in yet. It's so surprising and it's something I'll wear with pride for my last year – I'm honoured."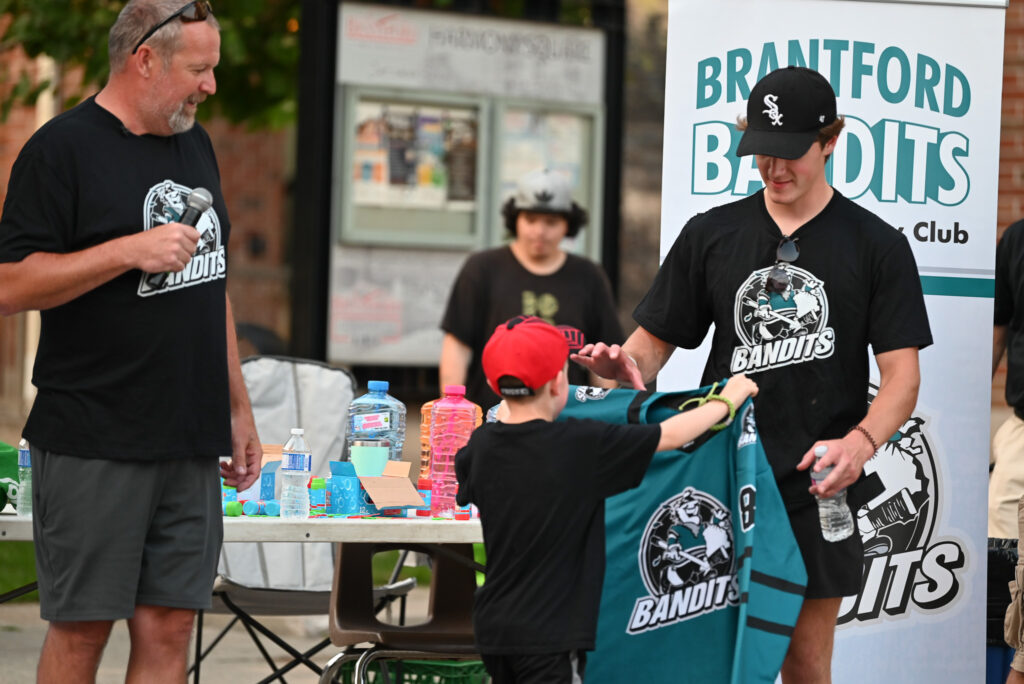 Ingram said that he's looking forward to working alongside his new team members during the upcoming 2023/2024 season.
"All of these guys on the team put in hard work," he said. "For me and the team, I think we all have the same mindset and that's to come to play and to come ready. It's not just about personal success this year, it's a team effort to show up and contribute."
Boissonneault said that the decision to make Ingram captain was an easy decision for the management team.
"Ethan made the decision for us. During the trade talks I always talk to the players and I saw the maturity – he spoke to me like he wanted to be here," he said. "When we made the trade and met him at our final evaluation skate, he made it easy for us and it wasn't even a hard decision. Between his character, his maturity and this being his hometown – it all fit. I looked at the coaching staff and they asked me what we were going to do for assistant captains and I said 'well, don't you think it's kind of obvious who our captain should be?' and they all agreed, it was so simple."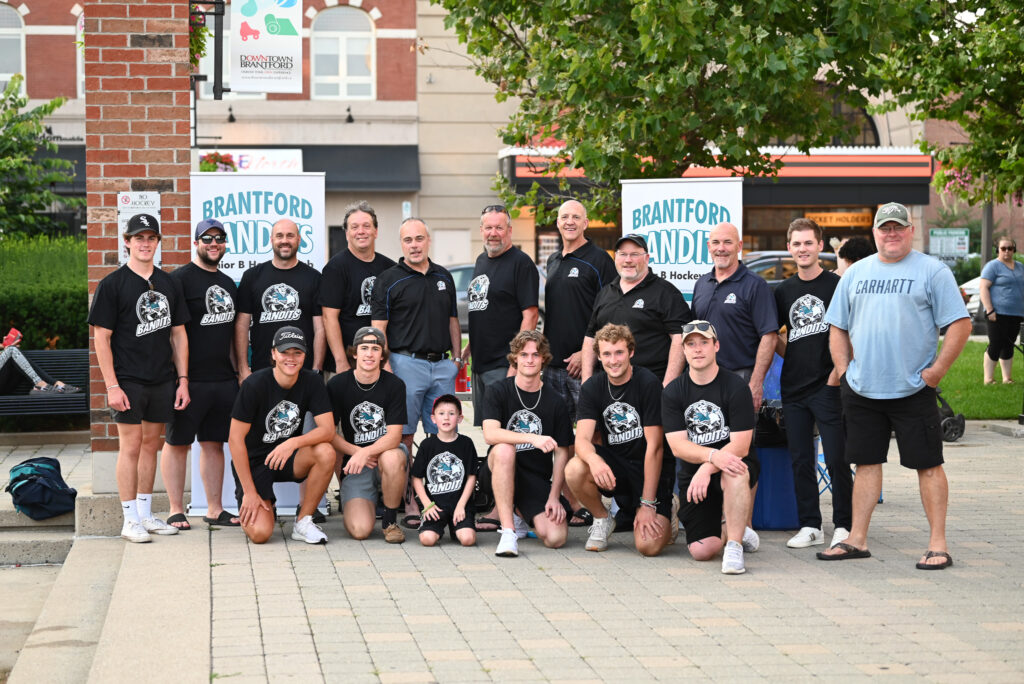 The ownership team said that they hope to see Brantford residents to come out and support the team so they can continue to grow and develop.
"We believe in what we're building. If we get fans, we can build a program," said Boissonneault. "If we can build a program, each one of the kids that are here today at this event, has an opportunity to get a college or university scholarship, they have a chance to get a coaching certificate if they want to coach later in life. Hockey doesn't end at 20, you can always do more and that's what we're all about."