Over 200 people attended the Brantford and Area Sports Hall of Recognition induction ceremony at the Brantford Best Western on Wednesday, June 14, 2023.
The ceremony kicked off with a bag-pipe procession of inductees and honourees as well as supporting family members before MC Ross Enslev welcomed the crowd.
The Brantford and Area Sports Hall of Recognition recognizes hometown athletes and sport builders who have achieved the highest standards of excellence and make significant contributions in their chosen sport.
Five individuals were honoured at the ceremony and will be showcased in the Sports Hall located in the Wayne Gretzky Sports Centre.
This year's inductees included three builders, Sam Kennedy, Ed O'Leary, and Lynne Andrew, and two athletes, David Gans and Lonnie Maich.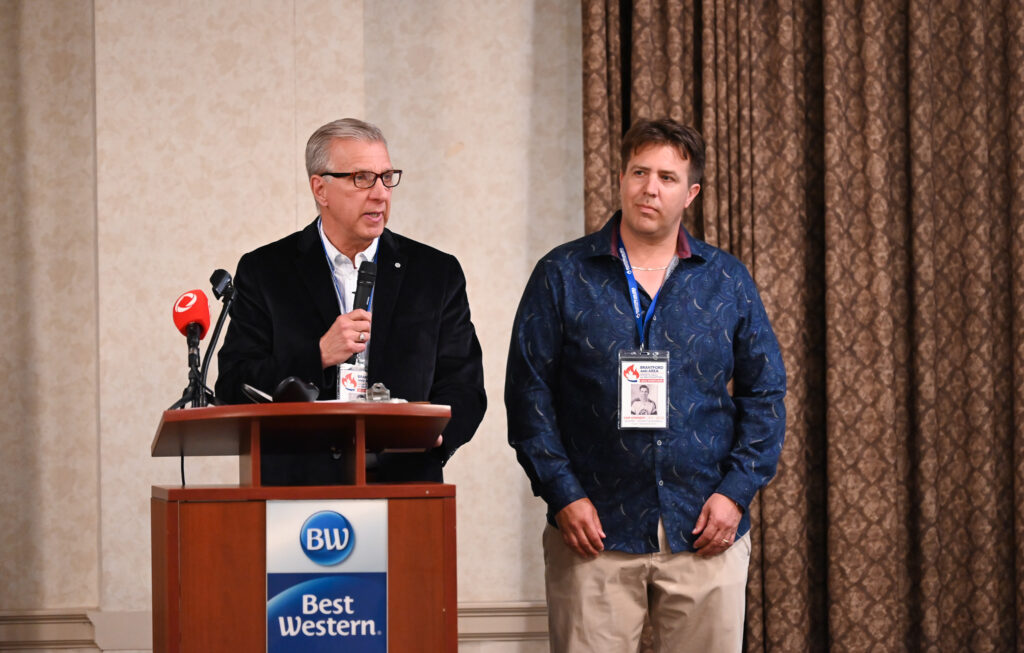 The first honouree, Sam Kennedy was posthumously honoured in the ceremony for his work as a builder in hockey and baseball. Kennedy's grandson Brent Usher and his son Craig Kennedy spoke about the honouree.
"I was told that he [Sam] was one of the greatest athletes in Brantford and was a special player to watch – his stats speak for themselves," said Usher. "…,Grandpa was a great person and a family man. He would be absolutely honoured to be recognized by the city as he always was proud of his roots. "I know Sam and Grandma Rose are looking down right now with a smile on their face. We're proud of you Grandpa and we miss you every day – thank you for the honour."
During his career, Kennedy played hockey all over the world in cities like Los Angeles, Indianapolis and British Columbia and could have settled in any one of those places but returned to his roots in Brantford.
"He loved the community, the city and its people," said Craig. "He gave back to his community by coaching…, he had a great desire to be the best he could be and I'm sure he gave that out to the kids that he used to coach. Sam was an avid sports participant, fan and coach for his entire life, he won championships in scoring titles wherever he played including Ontario championships for Branford in hockey and baseball in the same year. Putting that all aside he was a great father, he was a kind, funny and loving father -we all miss him, he loved life."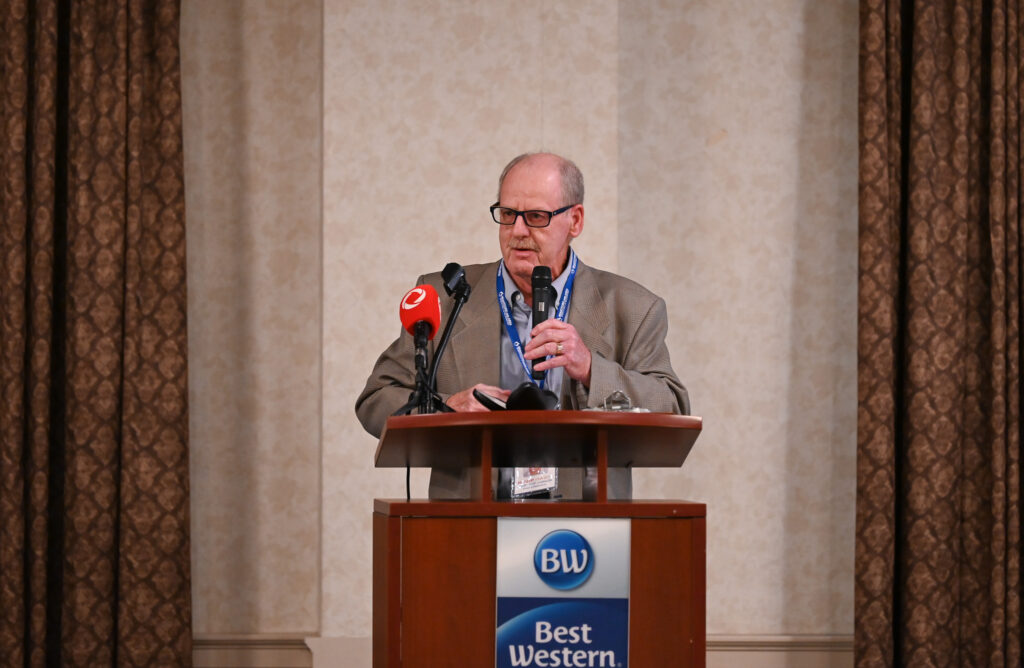 Following Kennedy, former Brantford Expositor sportswriter Ed O'Leary was posthumously honoured in the ceremony for his work as a builder in sports journalism. O'Leary's cousin Wayne Villamere spoke fondly about the honouree and his passion for sports.
"He was so into sports, and I think he nurtured that feeling from that time on [childhood] and as he grew older, he came to realize how much he enjoyed sports," said Villamere. "He wanted to write about sports and Eddie became a natural as many of you in this room would know. Covering the sports scene in Brantford and area, especially the young athletes in school was his passion."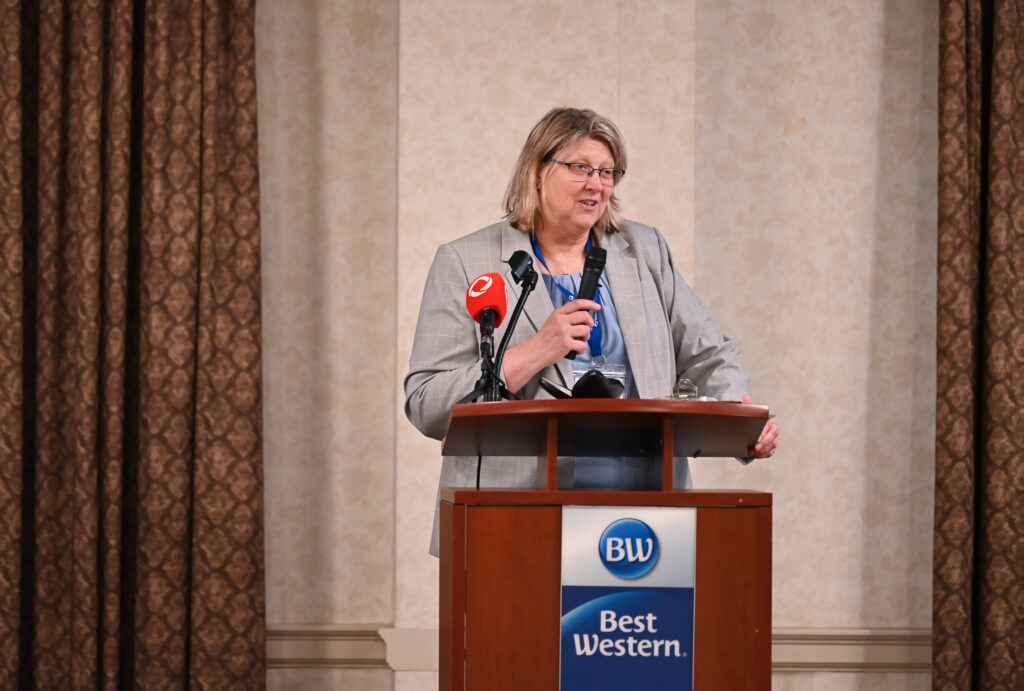 The first inductee of 2023 was Lynne Andrew, Associate Director of Women's Basketball – NCAA, for her work as a builder in the sport of basketball. This is Andrew's second time being honoured, her first was in 2015 as an honouree as a basketball builder.
"Each job that I had and in each position that I had, I took it and tried to make the best of it. I tried to make sure that when I was a player, I wanted to play at the highest level and really wanted to be the best player I could," said Andrew. "When I became a coach, I wanted to give that opportunity to other young ladies and give them the same opportunity that I had. I was really making them see what opportunities they can have and hopefully have a great career and be able to go on and do great things in their life. As an administrator I was able to help the coaches and the players."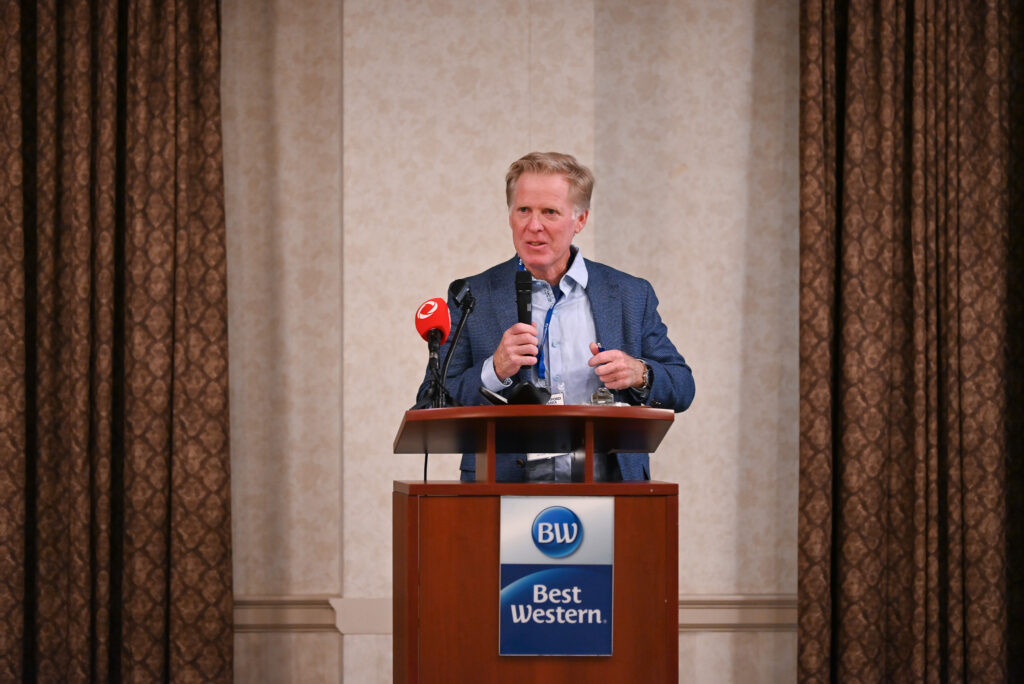 The second inductee of 2023 was David Gans a former hockey player for the Oshawa Generals and Los Angeles Kings. Gans reminisced about his experience in hockey and thanks his friends, families, coaches and teammates that supported him throughout the year.
"I stand before you today filled with immense gratitude and profound honour as I accept this prestigious induction into the sports hall of recognition in Brantford – a city I call home," said Gans. "This recognition is truly a testament to the unwavering passion and dedication I have forwarded to the sport of hockey throughout my career. …,To be recognized amongst the legends in Branford is a humbling experience that I will cherish for the rest of my life."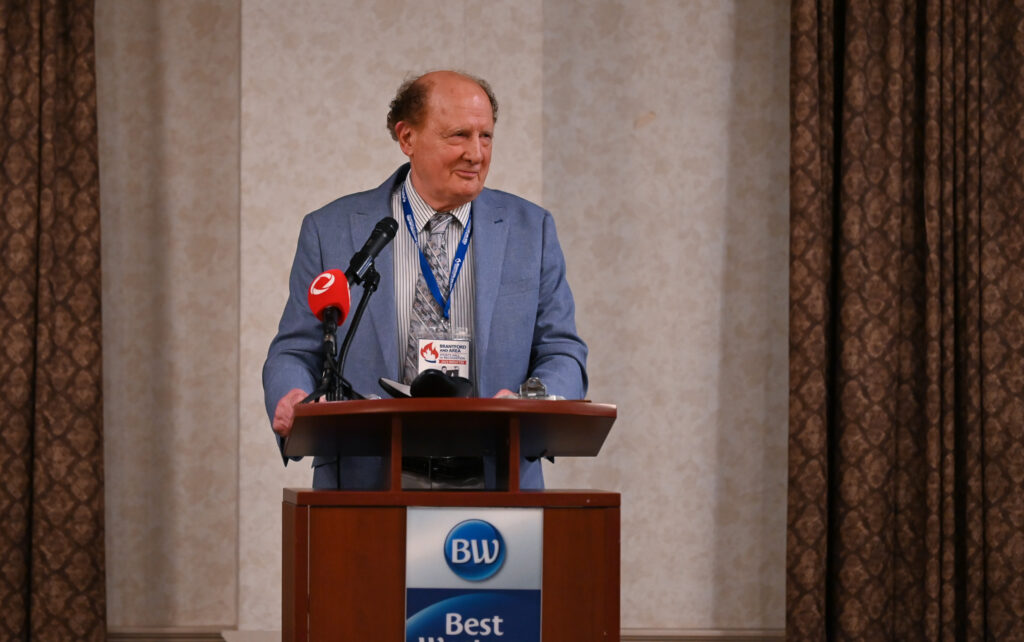 The final inductee of 2023 was Lonnie Maich, a former defensive lineman with the Canadian Football League's Hamilton Tiger-Cats. Maich took to the podium to speak about lessons learned through his sports career.
"I don't believe in fate, but I do believe the path that you take helps determine your life," said Maich. "In order to succeed in whatever occupation or endeavour you choose, you have to have the ability and the willingness to give it your all. However, with that in mind sometimes luck and seizing the moment enters the picture. …, I admire anybody who participates in athletics, no matter what level one obtains. I was lucky to play pro football but to me, all athletes are professionals."