Nova Vita Domestic Violence Prevention Service showed their support of survivors of gender-based violence with Wrapped in Courage flag raisings in the City of Brantford and the County of Brant on Friday, November 25.
Nova Vita raised purple Wrapped in Courage flags at Harmony Square in Brantford, the County of Brant Council Chambers, and the Brantford Police station to mark the beginning of the campaign.
"November 25 is an important day," said Natasha Dobler, executive director of Nova Vita Brant. "It is the International Day for the Elimination of Violence Against Women and Girls and coincides with Women Abuse Prevention month. It also ties into the Wrapped in Courage campaign, and we raise these flags and wear our purple scarves to show survivors that they are not alone."
The Wrapped in Courage campaign works to mobilize Violence Against Women (VAW) shelters across Ontario to remind everyone that violence continues to be the greatest inequality rights issue for women and girls.
"In Ontario, on average, one woman per week is murdered or very seriously injured because of abuse and violence," said Kevin Davis, Mayor for the City of Brantford, before raising the flag. "It is the number two or three reason for emergency calls to police, nearly every second call they are receiving is about domestic violence. I wear this purple scarf proudly, to show my support and to encourage everyone to recognize that this violence exists and must be addressed."
County of Brant Mayor David Bailey acknowledged his work with the Police Services Board, and how seeing the statistics continues to disappoint him.
"When I hear the reports every month of the calls that our local OPP officers take, I'm often horrified by the numbers," said Mayor Bailey. "It is certainly not a statistic that we're proud of in the County. Many people are stuck living in bad situations and I'm very glad that we have organizations like Nova Vita and Victim Services to be there."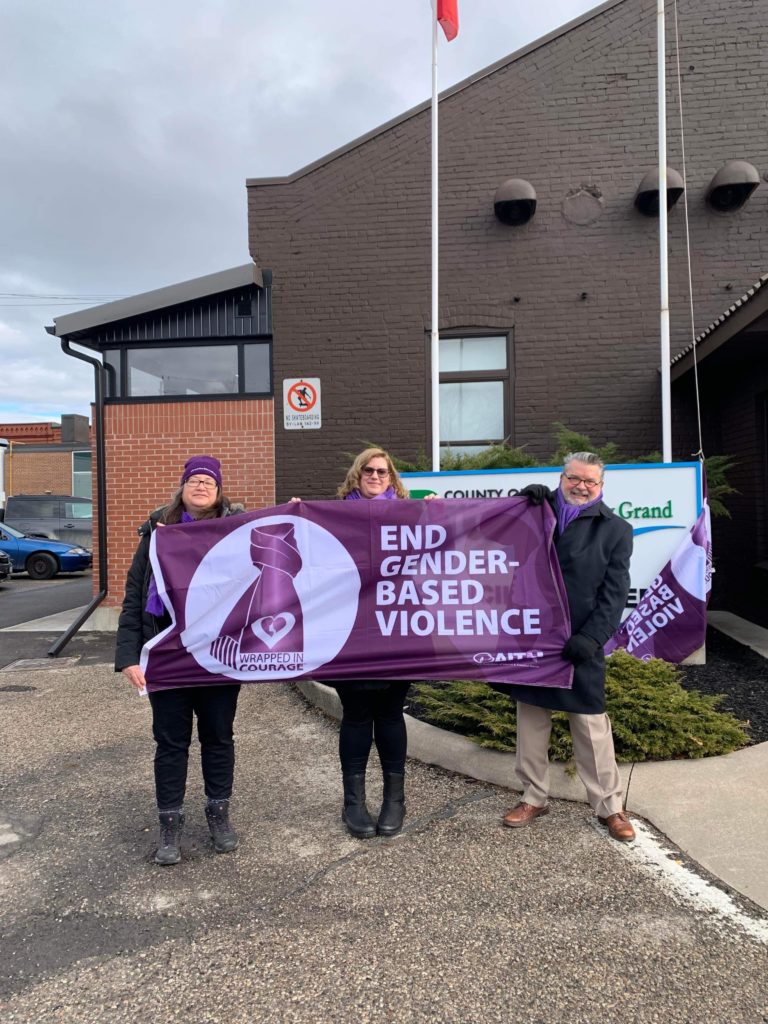 The campaign encourages community members to purchase purple scarves, a symbol of the courage it takes a woman to leave her abuser.
"At Nova Vita we had 4513 calls to our crisis line, our text and web chat support last year, which means that every two hours, someone was reaching out to us," Dobler said. "Nobody wants to have to access our services, but when they do, we are grateful that we are here for them but we can't do it alone. We need our community members, politicians, and local community groups and businesses to continue to support us."
Dobler said that she hopes this campaign encourages people to stand up against violence against women.
"We need to get to the root issues of gender-based violence," Dobler said. "We need to address sexism, misogyny, racism, colonization, homophobia; they all contribute and create a threat to public safety."