Brian Moore, a local volunteer with the Brant Historical Society, took residents on a tour of downtown Brantford during an Italian Heritage walk on Saturday, May 13, 2023.
The walk started outside of the Brant Museum and Archives building before making several stops along the way to discuss some of the significant Italian families who immigrated to Brantford.
"Welcome to our efforts to tell some of the stories of the various cultures which make up the character of Brantford, with today focusing on the Italian families who settled in the city," he said. "This is building on a collaboration that's taken place around identifying the Jewish community, the Italian community, the Chinese community and soon to be the Ukrainian community. Much of today's walk is built around the book, The Italian Roots and Canadian Blossoms of Arcangelo Martino, with additional research conducted by historian John Campbell and Laurier Brantford University professor Christina Han."
While Moore had a pre-written script of history, significant locations and businesses, he encouraged attendees to participate by speaking up and adding any information or stories they may know along the way.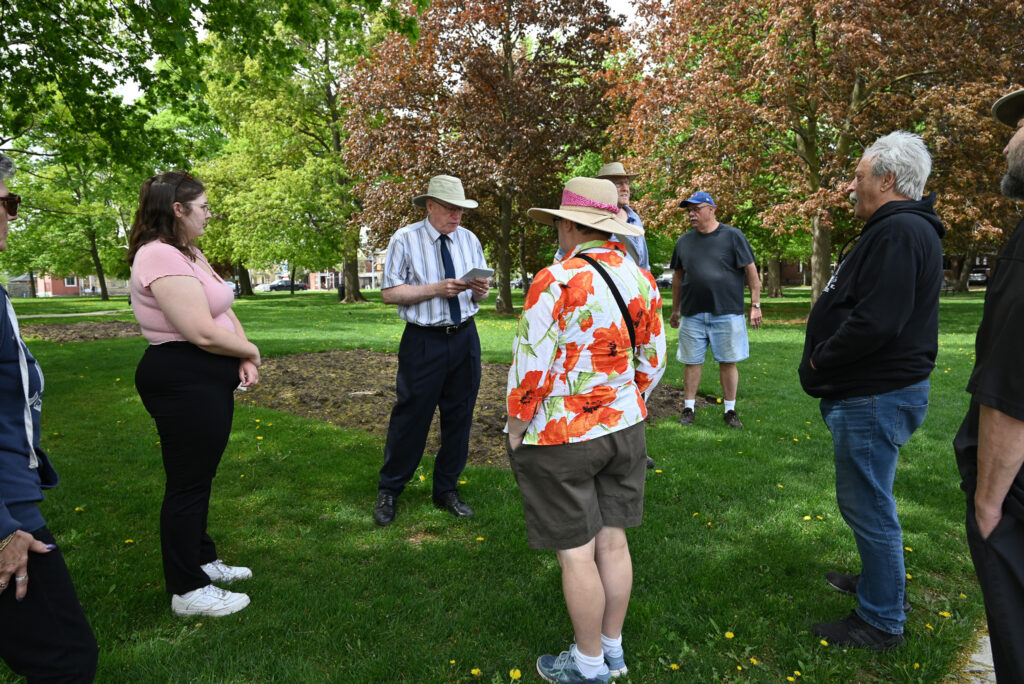 Moore spoke about the first person of Italian heritage known to be living in Brantford based on a 1891 census and noted that there could have been others as the last census had been ten years prior.
"It is known that before Canada became a country, there was a standard practice within Canada of people traveling back and forth across the border, especially during winter months when Lake Erie was frozen to seek employment opportunities," said Moore. "Therefore, keeping track of the earliest history of Italian immigrants is hard to get precise. From 1870 to 1920, the Canadian government accepted Italian immigrants but wanted them to come from northern Italy, presuming they were more like northern Europeans. According to Martino in his book in the early days of Italian immigration, southern Italians were not considered white."
Throughout the walk, Moore discussed the four Italian villages that made up roughly 45 per cent of those who settled in Brantford.
The earliest Italian immigrants settled around the edges of the Irish Cork town community in North ward within walking distance of Saint Basil's Church. Later, the Italian community grew and expanded initially into East ward.
During Moore's walk, significant landmarks and aspects of the Italian community in Brantford were explored, including the central role of St. Mary's Church as a focal point for their faith.
"The center of their faith and culture, like almost every settlement group to this area, the Italian community followed some common patterns," he said. "Immigrants arrived with the will to live despite adversity. Security was provided almost exclusively by the family. Strength was in the actions of neighbourly cooperation, and culture was bolstered by strong religious foundation."
Moore also talked about Rossini Lodge, along with the Italians' active participation in various community endeavors such as charities, service clubs, and trade unions.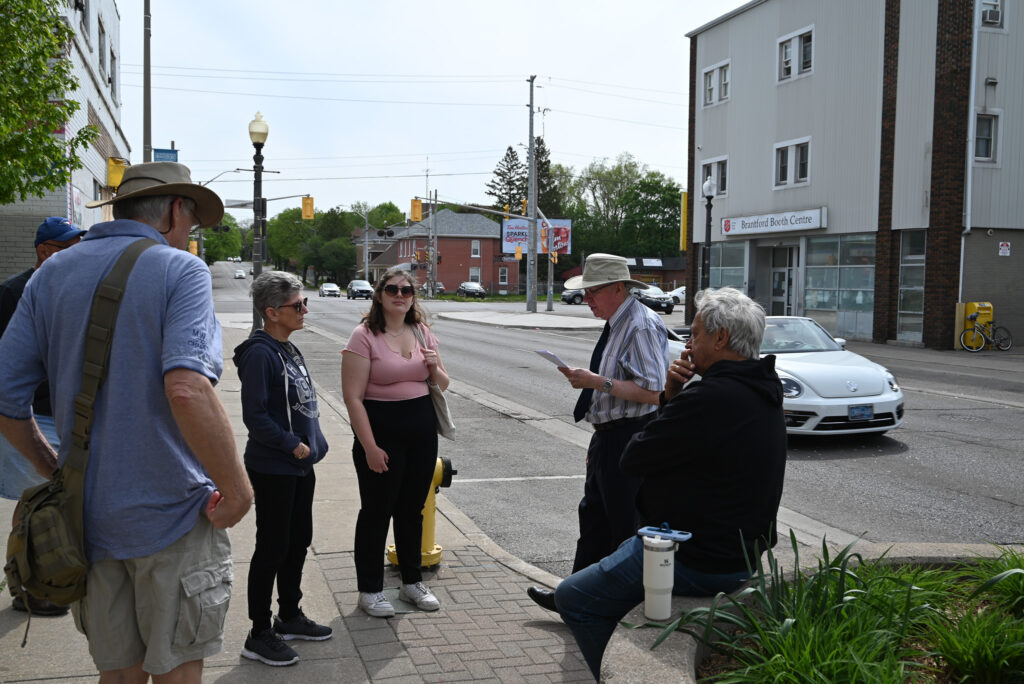 The group walked from the Brant Musuem and Archives building to Dalhousie Street and up to Alfred Street, continuing to Alexandra Park for a quick stop before walking up to and down Murray Street to visit St. Mary's Church. Moore and his group headed back down Colbourne Street towards the library and stopped at Maria's Original Pizza as well as other storefront areas along the way.
As the group stopped near the old Brantford market, Moore discussed the importance of food as a tool for Italian immigrants to feel more at home and for a way to create businesses.
"The land in the Grand River valley was rich, and so it was not surprising that several Italian immigrants turned to opening fruit and vegetable markets and grocery stores," he said. "There were over 30 such markets across the city and over the years there were new foods introduced to customers that may have been known but seldom available such as such as garlic, zucchini, fennel, eggplant, olives and many more which more enhanced with herbs like basil and oregano along with the generous use of olive oil."
The group later stopped at the old City Hall to discuss history of local Italians participating in politics and school boards before heading back to the museum to finish the walk.
"In closing, a quote to conclude the book by Arcangelo Martino is very much in order," he said.
"'Brantford's Italian Canadians hope the new century will witness the continuation of Brantford's Italian Canadian community and its integration in the Canadian Society, without forgetting the distinctive heritage so that they may see their offspring persevere in turning their Italian generous roots Into Canadian gracious blossoms.'"