Sultans of String, a Toronto-based band, teamed up with a variety of Indigenous musicians and the Brantford Symphony Orchestra for an evening of cultural celebration at the Sanderson Centre for Performing Arts on Tuesday, October 3, 2023.
The multi-award-winning and three-time JUNO nominated band, Sultans of String, have thrilled audiences with their genre-hopping sound for more than a decade and the band has now released its newest studio album "Walking Through the Fire."
"Walking Through Fire" is a powerful collection of collaborations with First Nations, Metis, and Inuit artists across Turtle Island, and during Tuesday's show, Sultans of String members Chris McKhool and Kevin Laliberté were joined on stage by The Brantford Symphony Orchestra, Nevada Freistadt and Forrest Eaglespeaker of The North Sound, Leanne Taneton, Leela Gilday, Shannon Thunderbird, Alyssa Delbaere-Sawchuk, Marc Meriläinen, and Don Ross.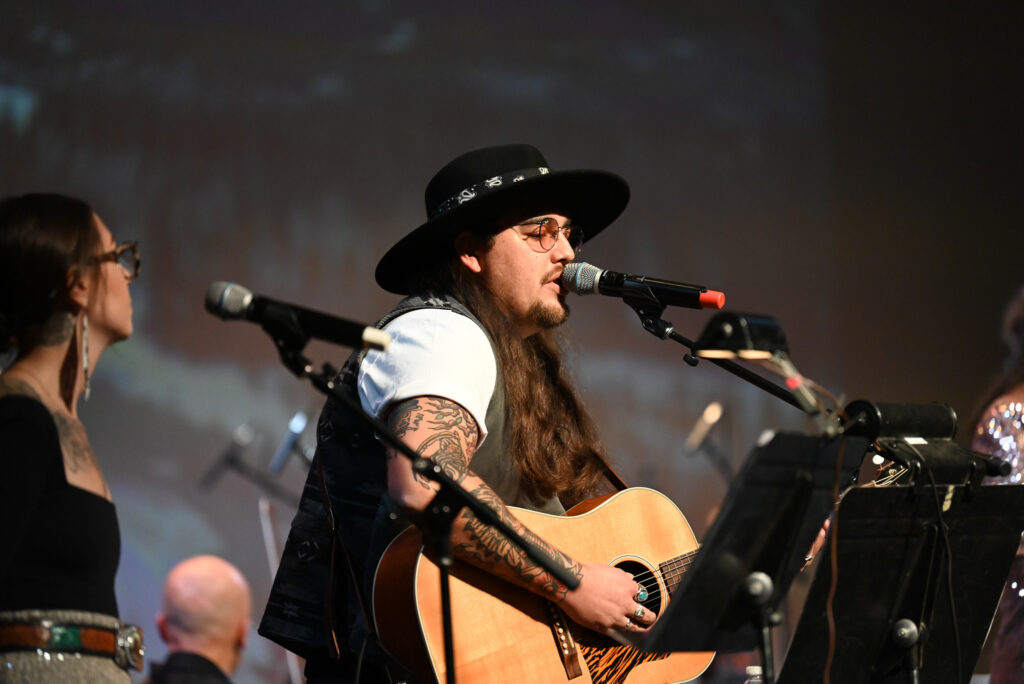 McKhool said that the project was inspired by the recommendations of The Truth and Reconciliation Commission's "94 Calls to Action" that asks for Indigenous and non-Indigenous people to work together as an opportunity to show a path forward.
"We were working with Elder Duke Redbird on our previous project, the "Refuge," and it was all about honoring the contributions of refugees and new immigrants to Canada. At the end of the project, Duke said to me 'so what are you going to do for Indigenous awareness, what you've done for new immigrants and refugees?' said McKhool. "It was a very direct call to action, and I realized right away that this was something that we really had to do. It was very important to be able to amplify Indigenous voices in this country so people can hear from Indigenous artists directly about their experience and the history of residential schools, genocide and the intergenerational impacts of colonization."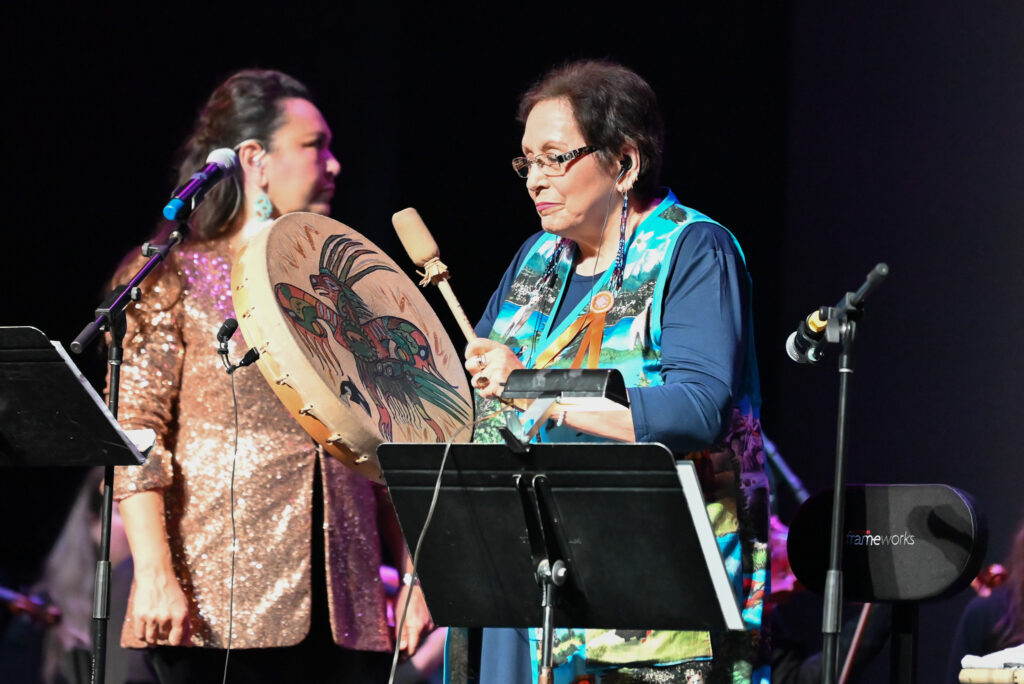 The evening in Brantford was just one of the many stops on the Walking Through Fire tour as it makes its way through Ontario.
Marc Meriläinen (known for his Nadjiwan project), an Ojibwe/Finnish singer-songwriter and Indigenous collaborator on the project, opened the show with his song A Beautiful Darkness.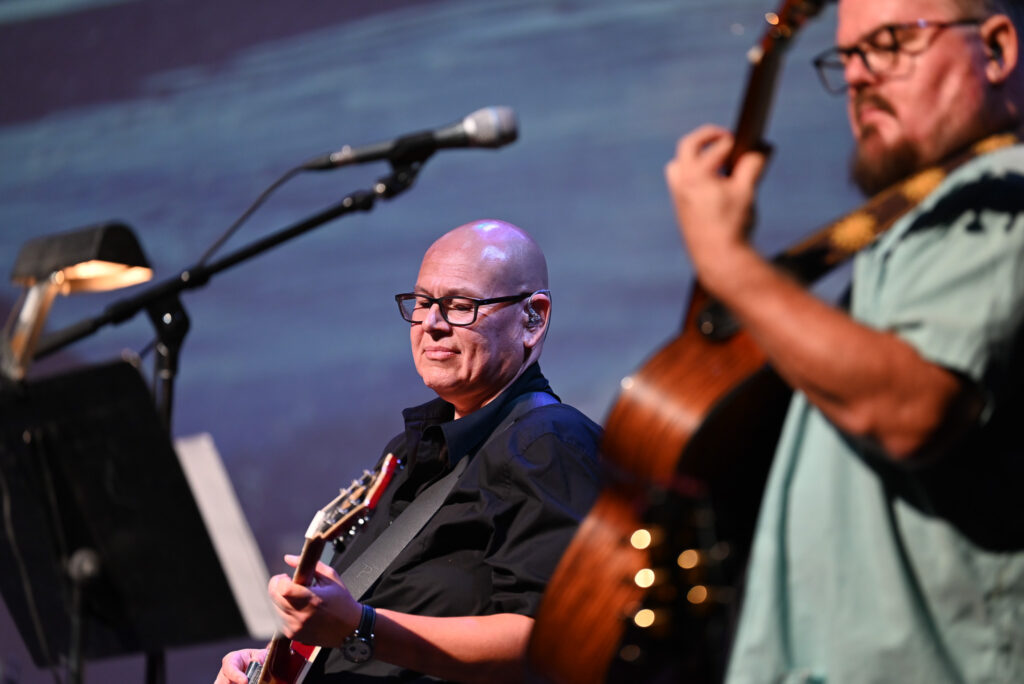 "I'm excited to start off the evening with a song that I wrote called A Beautiful Darkness," said Meriläinen. "It's about breaking through the barriers that keep us all apart and coming together kind of like how we are tonight. It's the only way we're going to build a positive future not just for ourselves but also for future generations."
Shaped by the sounds of viola, fiddle, guitars, drums and more, the powerful song set the tone for the evening as it echoed throughout the theatre.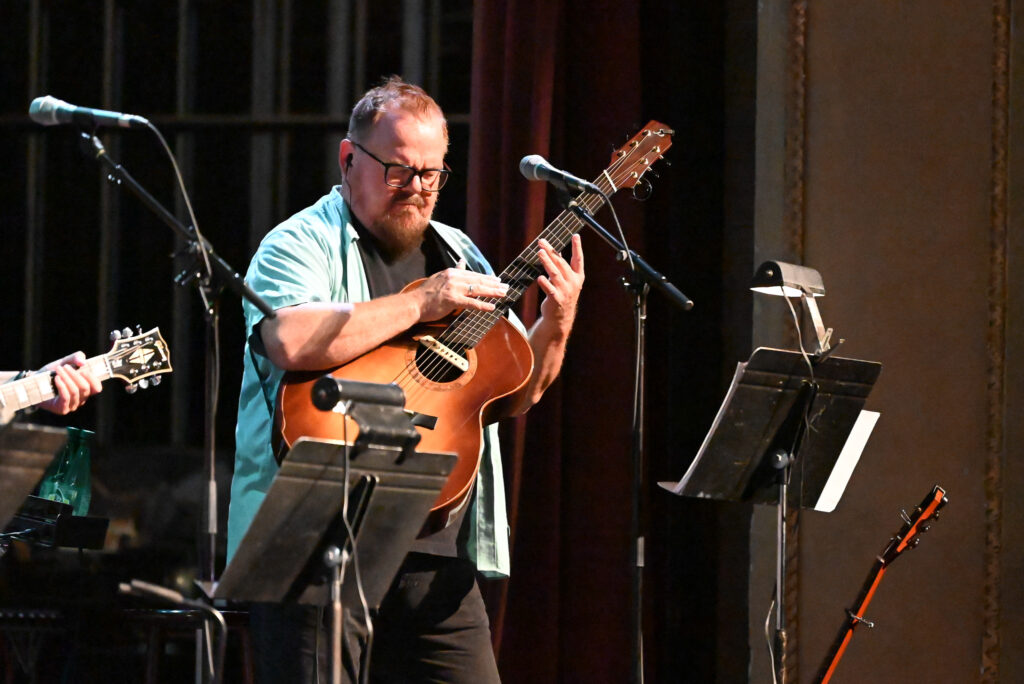 Alyssa Delbaere-Sawchuk, of the Métis Fiddler Quartet, soon took centre stage for a song called Chanson de Riel/Tkaronto Reel.
"The words in this song are attributed to the late Louis Riel. He's someone that really stood for his people, and all people in fact. He wrote this song from his prison cell, and he was writing a letter to his dear mother, and he had nothing to write it to her, so he took a knife and drew his own blood in order to write this letter," said Delbaere-Sawchuk. "And he left us with this beautiful quote that inspires me every day which is 'my people will sleep for 100 years, but when they wake, it will be the artists who will give them their spirit back.' With that song, we have a fiddle tune that was written by my brothers in the Métis Fiddler Quartet called Tkaronto Reel."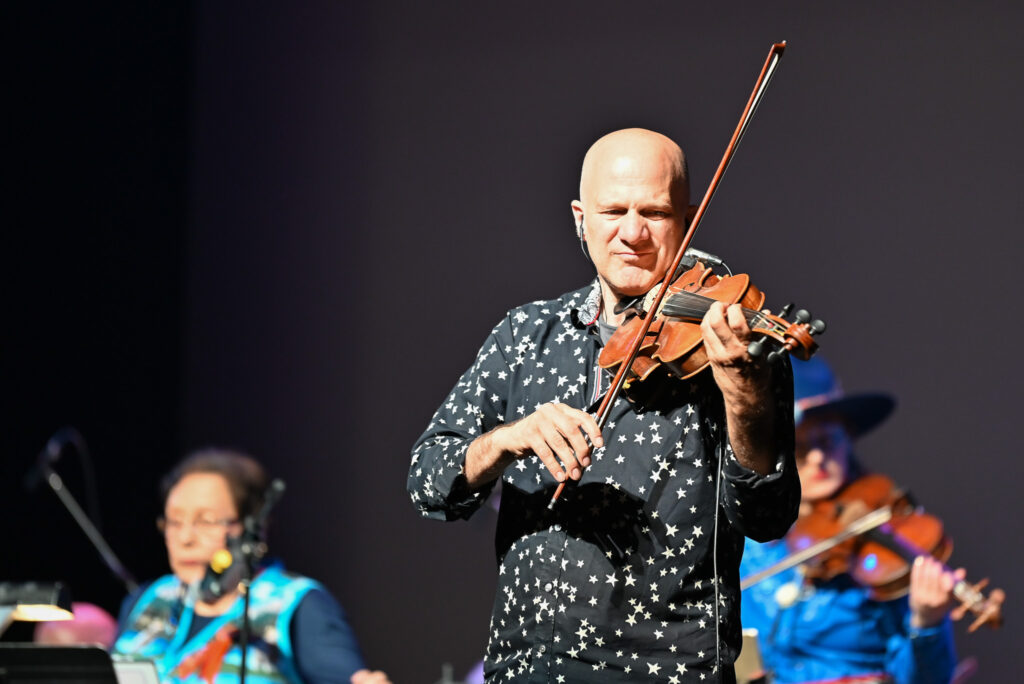 The song touched on the injustices suffered by Riel, and the pain he feels for both his mother and children to lose a son and a father, before picking up into a lively fiddle tune.
Up next were the songs The Power of the Land, a poem by Elder Duke Redbird and sung by Forrest Eaglespeaker of The North Sound and Highway of Tears sung by Don Ross.
Next, a video of Kendra Tagoona and Tracy Sarazin, traditional Inuit throat singers, lit of up the back of the stage as they sang the song Humma while the musicians on stage played along.
"Throat singing is a tradition practiced by Inuit women as a game and friendly competition," said McKhool. "Throat singing mimics the sounds of the Arctic environment like the river and the wind. It starts with one of the women making a sound and the other repeats it before the first woman keeps on switching it around to trip the other one up."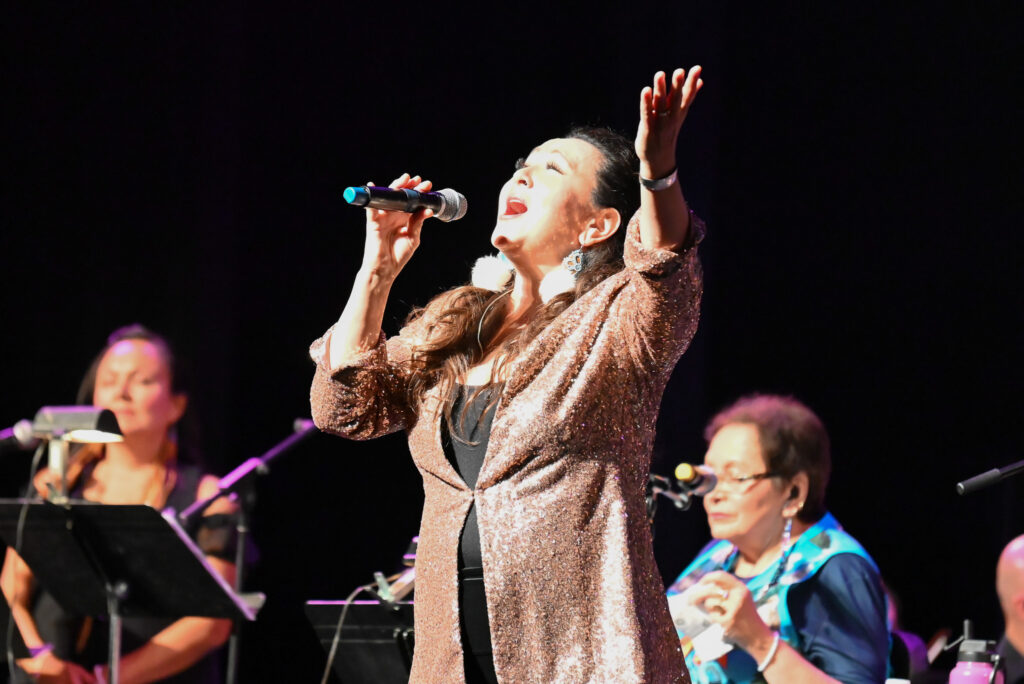 The show continued on with Sweet Alberta, written by Redbird and sung by The North Sound, a Dene-language song called Ko written and performed by Leela Gilday and Leanne Taneton and the song Sultans of String's song Luna. The track imitated orca whale calls throughout and brought audience members swimming alongside an orca whale named Luna.
After the intermission, Sultans of String and friends continued the show with songs like Lost and Found, Our Mother the Earth, Quviasuliqpunga, Take off the Crown, The Rez, Rainflower/Kicthen Party, Auyuittuq Sunrise, Black Winged Raven and Nimihito, a video collaboration with the Northern Cree singers.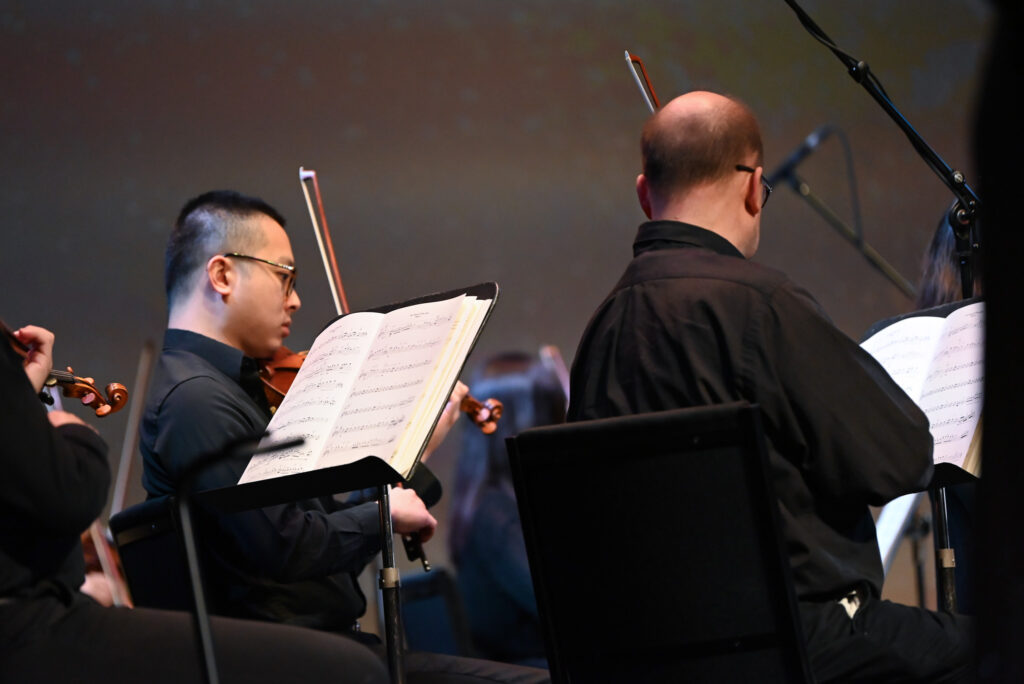 As the show wrapped up, audience members gave the group a standing ovation and even asked for one more song before ending the evening.
Diane Baltaz, a Brantford local, stuck around to get an autograph from several of the musicians.
"I've always liked Sultans of String and in the past, I've worked with some Indigenous nations and so of course, I had to come," said Baltaz. "It was just a wonderful evening, and I was so moved throughout the entire show. It was just excellent."