Almost 20 people gathered inside the Tournament Room at the Wayne Gretzky Sports Centre for a public meeting to discuss traffic control surrounding the sports centre on Wednesday, April 5, 2023.
Rob Smith, a Transportation Technologist at the City of Brantford, led the meeting to gather feedback from local citizens, while Ward 3 Councillors Greg Martin and Dan McCreary were also in attendance to help answer any questions and listen in.
Smith welcomed the group and explained that the purpose of the meeting was to discuss possible solutions and brainstorm ways to improve traffic entering and exiting the North side entrance to the Wayne Gretzky Sports Centre from and onto Fairview Drive.
"Knowing that there are concerns out there, we just wanted to get an idea of what concerns those may be," said Smith. "Then I will be reporting back to Council with my findings and my feedback from tonight and ultimately make a recommendation on traffic control that we may want to consider in the future."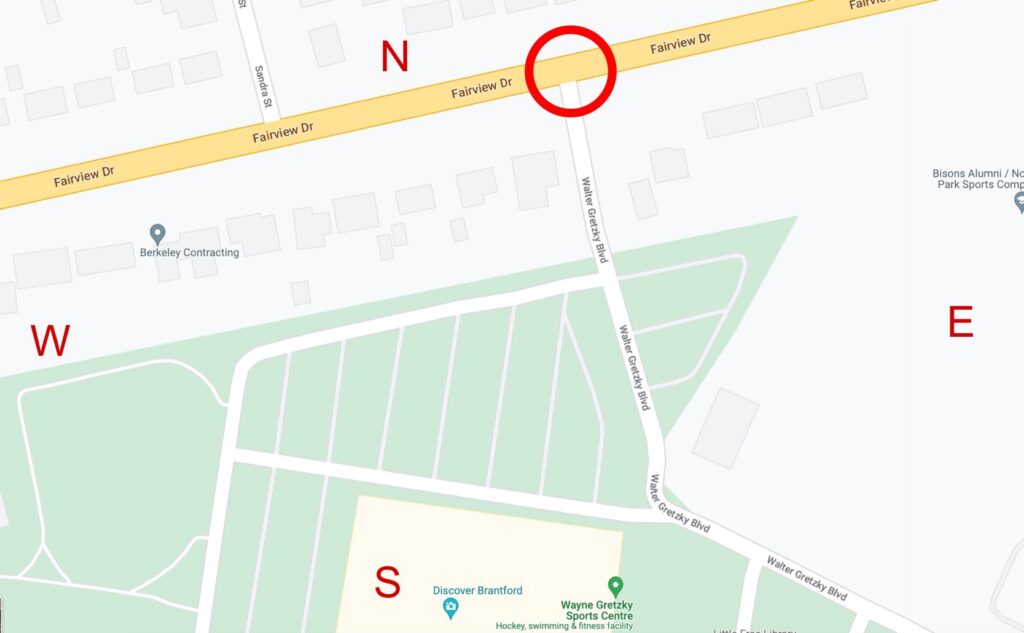 Those in attendance each had a chance to speak about issues they have seen in the area, including accidents in the area and the poor signage that leads to many drivers making U-turns in driveways that have led to close calls involving homeowners trying the leave their property.
Smith was unaware about the U-turn issues and agreed it should be addressed.
"I knew there was a lot of people that would miss the driveway, but I hope they will go around the block and go in the other entrance, but if they're doing that kind of thing on Fairview Drive, then that's something we definitely want to address," he said.
Staff shared one of their ideas to put up a sign to better signal to visitors where they should be turning and passed around a mock-up design of what that would look like.
"The entrance sign for Gretzky is set back quite a way from the road, and a lot of people don't see it," said Councillor Martin. "What we're considering is the possibility of a big overhead sign over the road pointing into the Gretzky Centre."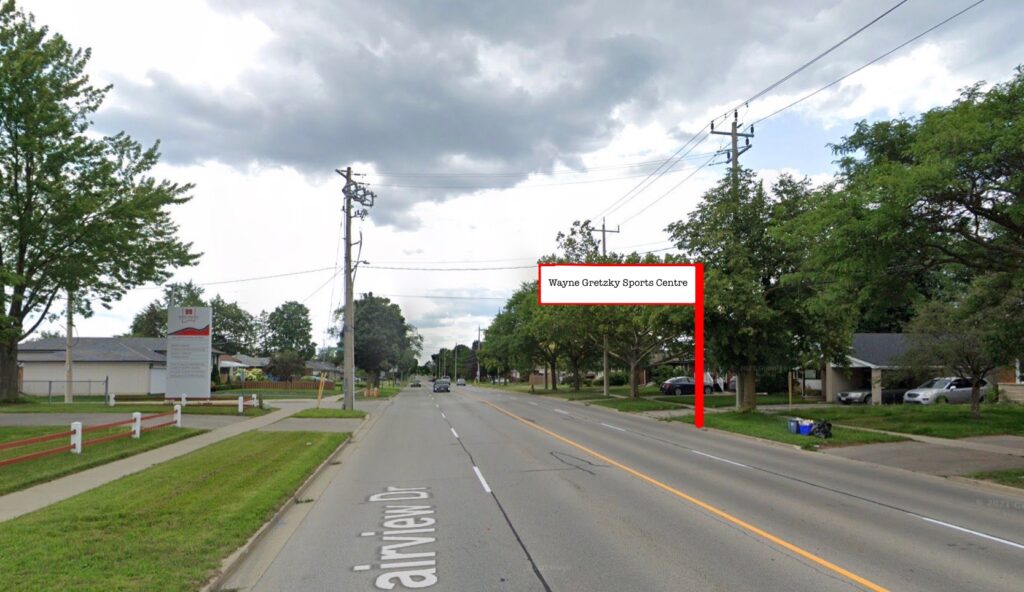 Councillor McCreary also mentioned that there was a discussion to possibly install a traffic light at the Fairview Drive entry way but explained that it wasn't in the cards at this point.

"We've considered a traffic signal at the intersection, but staff are saying that it's just not going to be practical with the layout," he said. "The electric service, the sidewalks – it's not a project they think they want to do."
A woman suggested possibly making each access road a one way, having guests entering from Fairview Drive and exiting onto North Park Street, however there was some concern about moving the traffic issues from Fairview to North Park. A possible solution that stemmed from this, was to have drivers making only right hand turns into the parking lot and making only right hand turns out of the parking lot onto and off Fairview.
Smith concluded he was interested in the idea of putting up a traffic camera to get a better sense of the direction of where people are traveling to see if this was a solution that could help, though residents brought up the concern of this causing more U-turns in the end.
One resident suggested a sensor that could turn the light at Shopper's Drug Mart red to help slow traffic and make it easier to exit and enter the sports centre, while another suggested the possibility of a raised sidewalk across Walter Gretzky Boulevard on the north side.
"A raised pedestrian crossing going across the entrance connecting the sidewalks would make it easier for people with wheelchairs and walkers," they said. On top of that it would double up as a speed bump to keep people from peeling out of there."
Many people agreed that a speed hump would help to slow down both incoming and outgoing traffic.
Other concerns that residents mentioned included: the issues with the intersection near the east entrance at Waddington and North Park Streets, bike lane concerns, pedestrians ignoring walking signals, bus stops blocking view, and snowplow times.