The Brantford Community Symphony Orchestra will once again be performing at the Bell Homestead during the Symphony Under the Stars event on Thursday, August 24, 2023.
Attendees are invited to an evening filled with classical music that would have been enjoyed by the Bell family, along with a selection of modern favourites on the historical site.
The event is just one of four of the site's Summer Music Series that kicked off in June.
Brantford Community Symphony Orchestra (BCSO) is group consisting of around 40 musicians playing a variety of woodwind, string, brass and percussion instruments who are set to perform on the lawn in front of the main house and on its veranda.
Brian Wood, Curator of the Bell Homestead National Historic Site said that one of his favourite things about the orchestra is that it's made up of members from the Brantford and surrounding area.
"One of the things that I find the most amazing is that this Symphony Orchestra is made-up of locals," he said. "It's not people from far out of town, it's people from within the nearby community that just want to play music."
The late Karl Langton founded the orchestra in 2012 to honour his mother who had dreamed of an organization that people of all skill levels could play in for the love of music. In 2014, The symphony was adopted by the Brantford School of Instrumental Music (BSIM).
The BSIM's mission is to encourage musical development and appreciation for ages ten to 100 by providing affordable group lessons, band and orchestral experiences and community performances.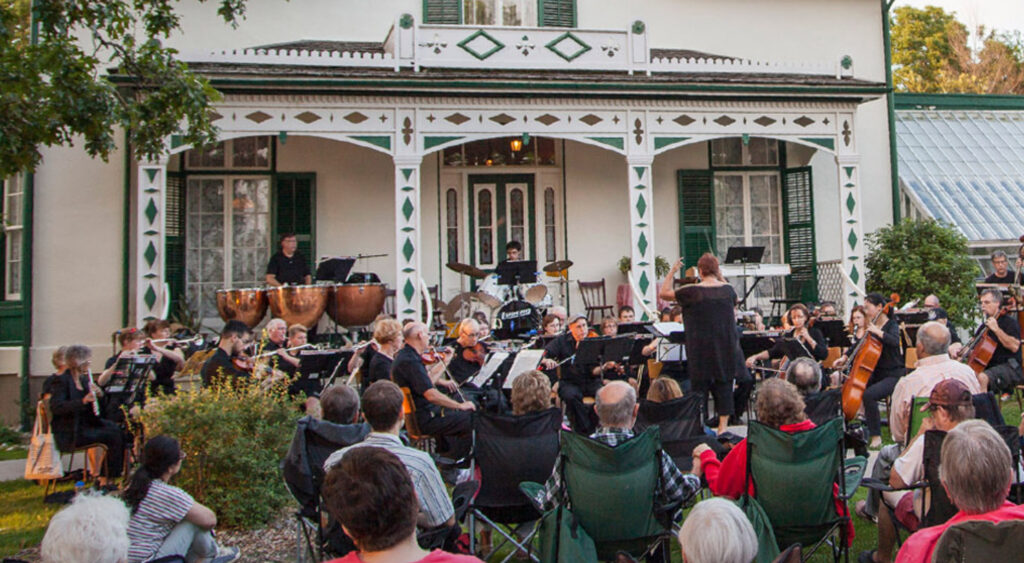 Wood said that guests will be impressed with how the historical site provides a great sound and enhances the already talented group.
"It's funny because with the homestead as the backdrop, whether it's because of the front veranda – we're not sure – but the acoustics are amazing and it just sounds so incredible out on that front lawn," he said.
As the Bell family is historically known for being a part of arts and culture both within the Brantford-Brant community, as well as in Scotland and England, Wood said that Eliza Bell would have loved the event.
"I think they would be blown away to know that there's a symphony orchestra playing on their property," said Wood. "This would just warm Eliza Bell's heart to no end because she loved the piano, and she taught her sons to play the piano. This would just be amazing to her especially."
The event will take place from 7:00 to 8:00 p.m. and attendees are asked to bring their own lawn chairs or blankets for the event. While the event is free, donations towards the BSIM will be accepted following the show.
Wood said that he and the staff are looking forward to seeing how many people attend this year's event after having a great turnout in 2022.
"We had 225 people out for the concert last year and we were well filled to the point where people were actually on the other side of our fence, watching and listening from there," he said. "For us, it's so encouraging in the sense that people still find this site a destination that they want to go to. There's a lot of new people in the community, but a lot of longtime residents are still coming to the site for our events, which is just so great."