Six Nations of the Grand River (SNGR) celebrated Brandon Montour, the Florida Panthers defenceman, and his great accomplishments with a celebration at the Gathering Place in Ohsweken on Thursday, August 3, 2023.
Several hundred people filed into the conference hall for a chance to show off their continued support for the local sports hero after he competed in the National Hockey League's Stanley Cup finals in June.
Mark Hill, Elected Chief for Six Nations of the Grand River, welcomed the crowd of attendees before inviting up the defenseman to say a few words.
"I want to congratulate Brandon for all his work that he has done through the Florida Panthers organization," said Hill. "I know here at Six Nations, we were cheering loud and proud with the watch parties."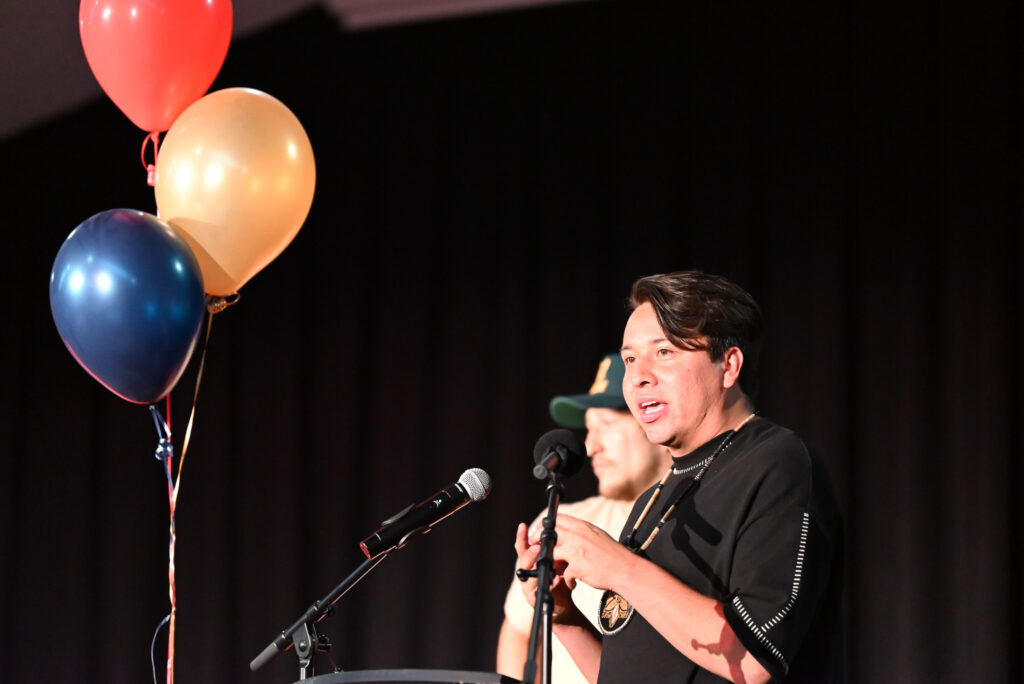 The elected Council organized a series of parties for the community to get together and watch the run of the Stanley Cup as a way to show love and support for the player while building up a sense of pride in the community.
While the Florida Panthers player was disappointed the team couldn't capture the Cup, he said the love from his hometown was "awesome."
"You hear from family and friends about the support with the watch parties and little things like that, and anytime I hear that it gives me a little extra boost of wanting to play hard and play for them. Unfortunately we didn't get done, but with the run and everything that happened this year, I'm just very grateful for everyone."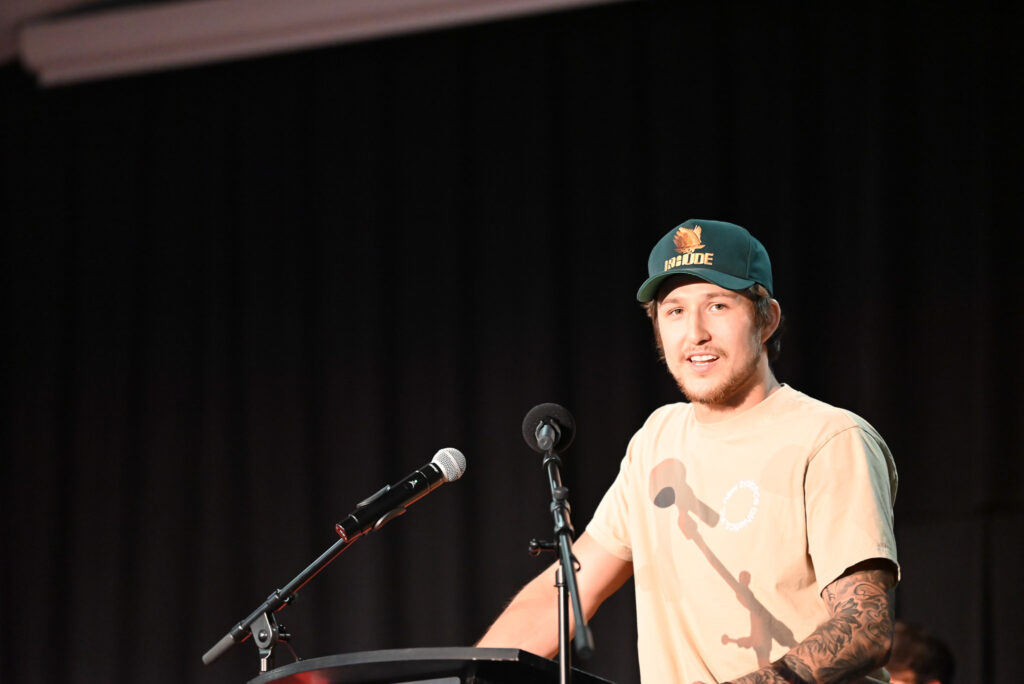 The elected Council were also able to raise funds through the sale of lawn signs shaped as Brandon Montour's Panthers jersey.
Hill announced during the celebration that the fundraiser raised $10,000 that will be divided among six different minor sports associations including Six Nations Minor Softball, Six Nations Minor Hockey, Six Nations Figure Skating Club, Six Nations Lacrosse Association, Six Nations Girls Field Lacrosse, and Six Nations Boys Field Lacrosse.
Mountour and Hill called up the sports association representatives one by one to present a cheque donation and to commemorate the moment with a photo.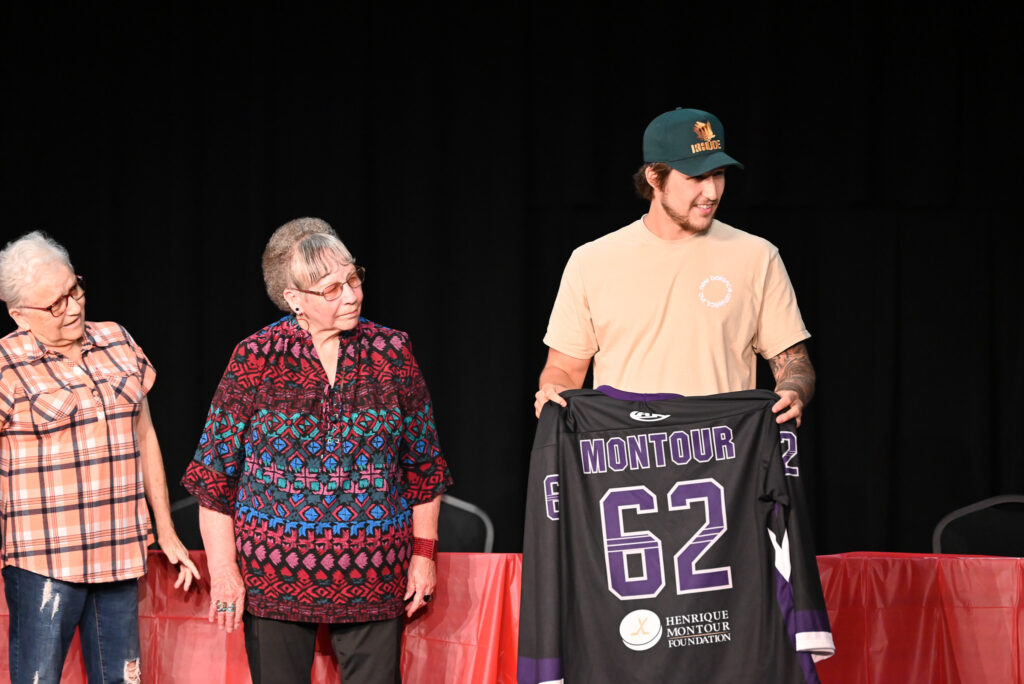 Councillor Michelle J. Bomberry removed her councillor hat for just a moment as she stood up as a representative of Six Nations Minor Lacrosse to present Mountour with an honorary jersey.
"Tonight, we would like to honour and recognize Brandon and Adam (Henrique), they made a generous donation to Six Nations Minor Lacrosse this season for $15,000 that helped us purchase brand new jerseys," she said. "On behalf of Six Nations Minor Lacrosse we are making Brandon and Adam honorary members of minor lacrosse."
Attendees then split the room as many got up to enjoy an assortment of food while others lined up for a chance to meet the player and pose for a photo before switching.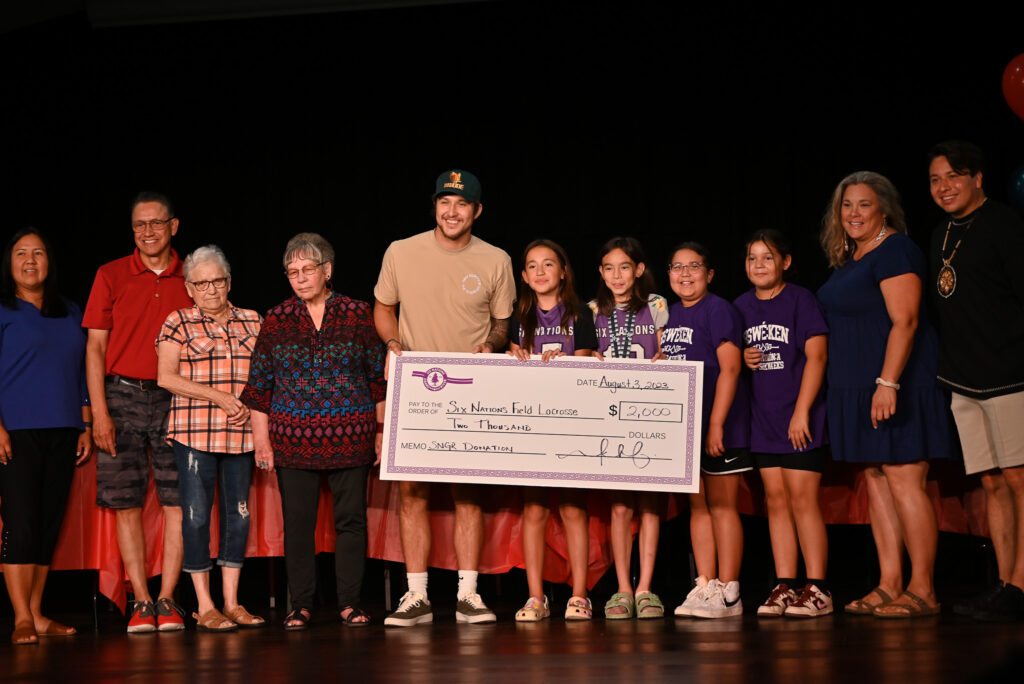 Many attendees could be seen bringing their lawn signs and more with them to be signed by the player. Chris Vale was one of the many guests present for a chance to get his copy of Montour's rookie card signed.
"It's cool to have him here, I've met him once before and he's a nice guy. I recently started collecting cards again, so I have his rookie card here and I really wanted to get it signed," said Vale. "It was very interesting to watch him, as he progressed in the playoffs and kept scoring. You could tell that he gained a lot of notoriety around the sports world and even for his rookie card, it just shot up as he scored those goals. He's really an all-around player and he's not afraid to mix it up."
When asked how he felt about having the opportunity to inspire other young children from the community, Mountour said that this was "what it's all about."
"Anytime you get to this level that I'm at and with the success that I've had – I was in their shoes at one point too," said Montour. "A part of being a professional athlete and coming from a small community is that you're going to definitely have kids to look up to you."
"Very few – especially Native American kids coming from Six Nations, I think we have a handful in the NHL – very few make it. There's challenges on the way," he added. "So to see myself and other players around the league who have made it – it just gives them (kids) that extra jump to know it's possible, and it's there if you want it."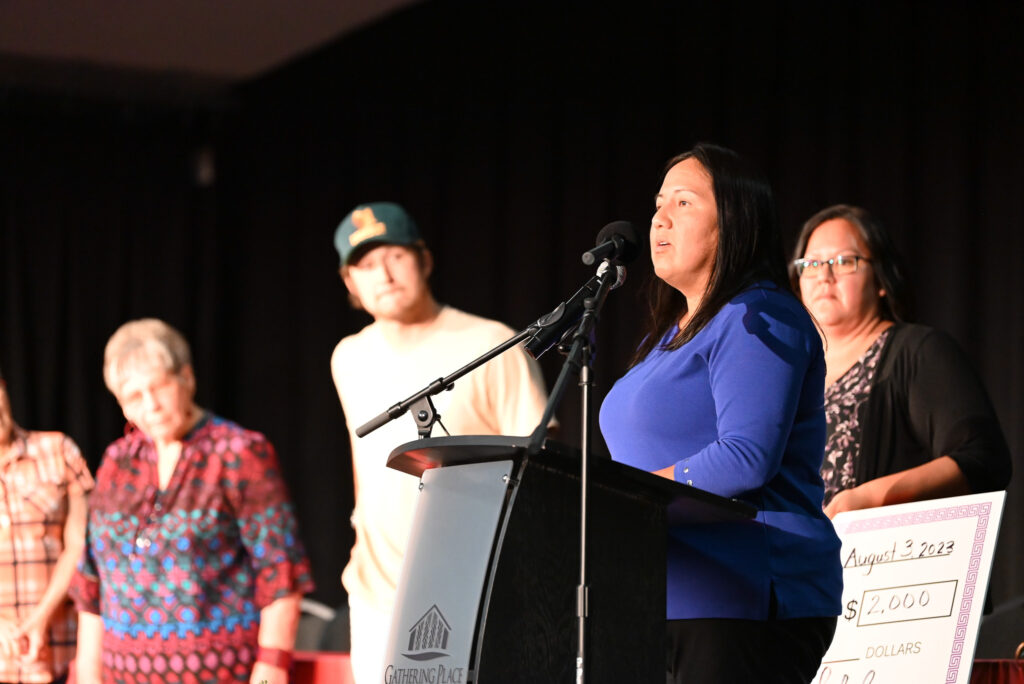 The defenseman said that his long history in lacrosse has helped him succeed further in his hockey career.
"I'm extremely grateful for the game. I played my whole life and still try to play a little bit in the backyard when I can," he said. "But it's been huge, every little aspect in the game of lacrosse translates to hockey. It's such a fast sport and with the competitiveness – I feel like lacrosse has brought that out in me when I'm playing the game. Sometimes I take a little too many cross-checking penalties and that could be because of lacrosse, but that competitiveness that I have in hockey translates from lacrosse."
Montour gave advice to the young kids looking to achieve big things in the future.
"You've got to work hard. You've got to work extremely hard at the craft, you've got to love what you do – that's the biggest thing – but you keep increasing your skills and the work ethic is the huge thing now. Everyone works extremely hard to get to the NHL but there's all those other kids trying to get there as well. So, the amount of work you put in and the love of the game is what's going to get you there."