Emery Silva has always dreamed of opening her own old-time general store in the heart of a small town. A place with plenty of eye-candy, vintage items and a spot that fosters community.
The Paris resident has been running her shop Bird and Bee Vintage in the Paris Wincey Mills Market since 2016 and in September 2023, the store expanded to Le Petit Marché (the little store) on the corner of Mechanic Street and Broadway Street.
Silva first got her start as Bird and Bee Rental Co. where she began renting out vintage furniture and other items for weddings and events.
While she holds an art and art history degree, as well as a teacher's license, she still always had an itch to do more.
"I was itching to do something else, the art job wasn't coming and it's so competitive to be an art teacher and I didn't want to take the wrong job because for me, it's a better decision to apply your skills where you can do good, than saying 'I paid for my education and it owes me something now,'" she said.
A few years into her rental company business, Wincey Mills began posting for vendor spots and she took a leap of faith to open up Bird and Bee Vintage.
"I had been collecting furniture but also finding all these other wonderful things and I've always been a collector. When I got the space in Wincey Mills in 2016, I had the tiniest little booth and I was making jewelry, doing wedding related things like hair pieces, hand painted frames and chalkboard signs because I had that art background."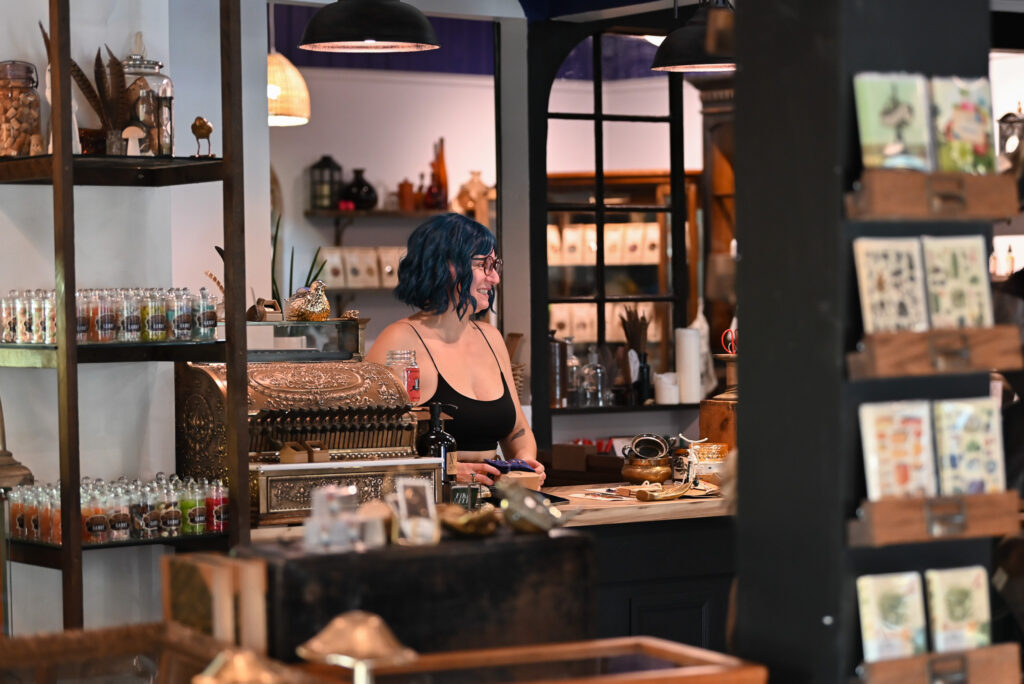 The result proved incredibly fruitful for the long-time artist and the business continued to grow.
"Two years later, the big space in the corner opened up and I moved into that space where we are currently located," she said. "The first day we opened in that space, I made more than I had in an entire month in my tiny booth. Even in the midst of the pandemic, we opened again in the summer and people weren't really traveling that much so they ended up coming to Paris for staycations. We did, and without the rental company, our record year."
While business was going well, Silva still couldn't shake her dream to open an old-time general store.
"I was over in Wincey Mills and had been dreaming of having a general store for years and years before. The Gem Marketplace on Grand River Street was being renovated by Drew Skuce, the owner, and it was this big store so I was thinking that it could become the general store I had been imagining," she said. "While he was renovating, I started asking him to let me in there and I was sharing my ideas because he also likes old things and he was all about restoring items."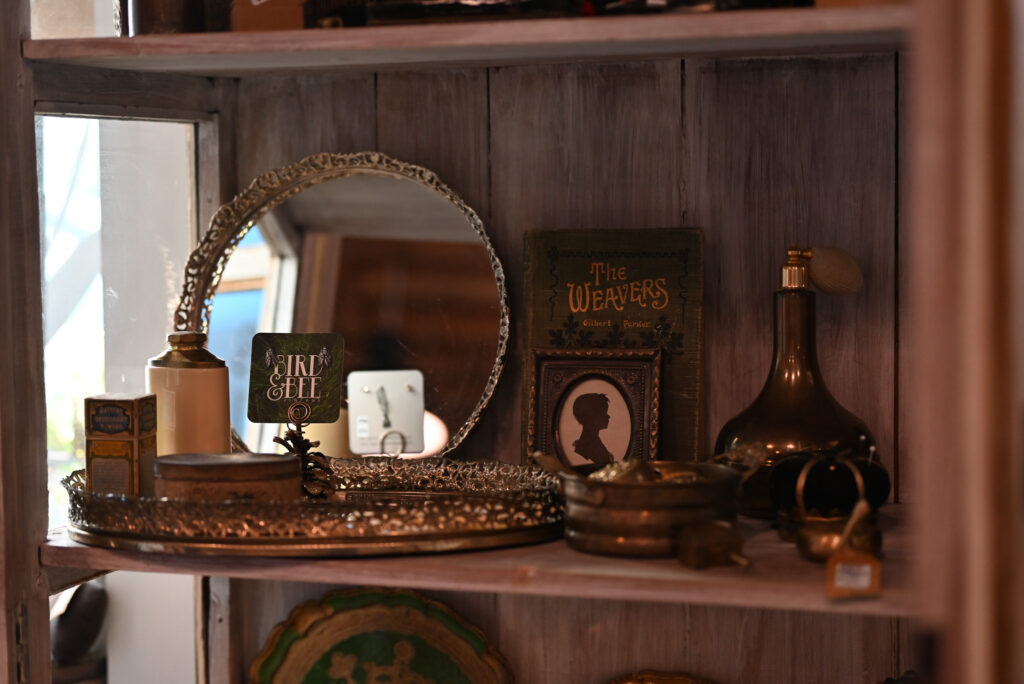 It was there that she dreamt of a space where her, Paul Cheney and Sarah Rusak could thrive.
"With the idea of the general store, which in the Victorian era, would have had that apothecary space making you a salve and such and I immediately thought 'yes, it must be Sarah and I.' Then at the time, Paul Cheney had online business where he was making people stationary using three giant old-time printing presses," said Silva. "So I was imagining, smackdown in the middle of downtown Paris, this giant printing press with a big old counter and Paul making things, then there would be Sarah and I making things. We were going to have a back studio that would have doubled as a classroom that backed on to the river because Paul was also a water colour painter and I have an art and teaching background."
However, Skuce was looking for more of a multi-vendor space and decided to go in another direction.
"So, Sarah and I stuck it out at Wincey Mills because the windows are amazing and why would you leave?" she said. "For the most part, there are some restrictions over there which is why we were still wanting to look elsewhere, but it is a gorgeous space and there's nothing wrong with it."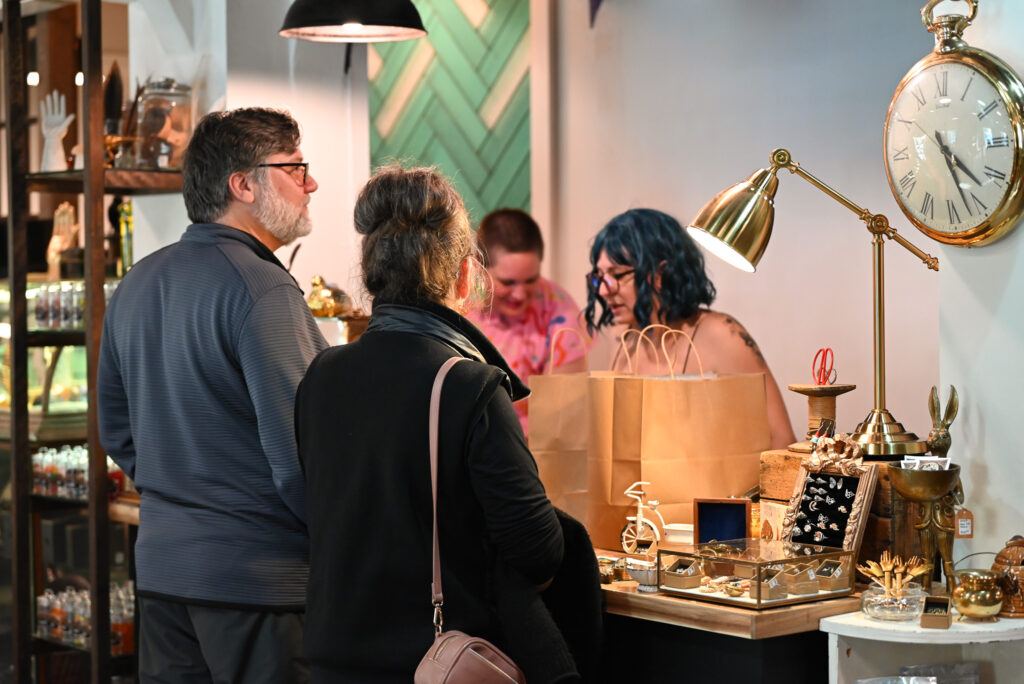 Meanwhile, the building across the street from the Wincey Mills market went up for rent.
"The space went up for rent a couple years ago just before the pandemic. It was not renovated and it was a lot more money and, in the meantime, the landlord ended up leasing the space to Pursuit of Home which was a mid-century modern furniture seller that did most of their business online," said Silva. "In that time, they did so many renovations including raising the ceiling, adding curved arches, painting it white and putting in new flooring."
However, sometime during the pandemic, Pursuit of Home announced it was going online.
"Coming out of the pandemic, they ended up moving the business fully online and I thought 'ohh what's happening with the space there?' but there were lots of people interested in it and I kind of gave up on that."
With that being said, the owner of the building had heard that Silva had expressed interest in the space.
"Eventually the landlord found out I had an interest in the building and I guess we had already met previously and they got a sense of me then. While they had other offers on the building, a lot of them came with the idea of restaurants and they didn't want it competing with the Paris Inn because they had one of the chefs from Camp 31 take over the space," she said. "It turns out, instead, they wanted something community based that had a life, and that wasn't a restaurant. The landlord and his wife came over to Wincey Mills in May of this year to ask if I was interested and I was shocked. I basically said 'of course yes, but can I think about it or get back to you?' I didn't know if it would make sense, but it was my dream."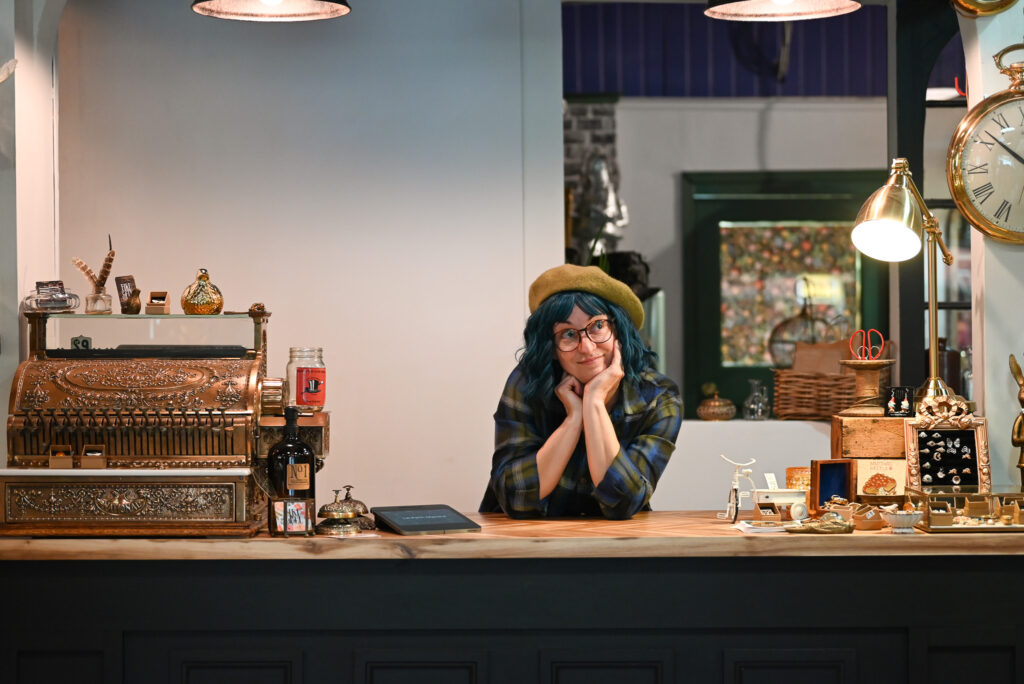 When Silva did her first walk through of the building, she began envisioning what the space could be.
"When I came to see the space, it really clicked and I started to envision it. I walk in, I see the ceilings and it has way more light than I thought there was going to be. Then he started pointing out all the secret rooms," she said. "There's a storage hallway that runs the full length of the store that isn't part of my lease, but there's a back room that I could see as my art studio space, then there's another room that I could see as our classroom space."
By July first, Silva signed the lease and it was a done deal. She then spent the rest of the coming months doing further renovations alongside her father and the Paris Handyman.
Now, Bird and Bee Vintage's second space is officially opened for business, though Silva still has many more plans for the building.
Inside, vintage and early turn of the century items line the walls, while a secret bookshelf door leads to a storage room, a feature surprise in the space to intrigue customers.
"It's a very 1900s old-time general store, steampunk and industrial revolution era. Think anywhere from 1890's, art nouveau, all the way to the 1940s war time. There's lots of suitcases, tweed items and such. It's a very old-time aesthetic, but modern ideals," she said. "I'm really inspired by the lovely old treasures, the craftsmanship and the longevity of things. but without the othering of everyone. This isn't just your grannie's antique shop, we're inclusive. Right when you walk in we've got rainbow bowties that are made by my mom, my Paris themed colouring book with rainbows and my little array of rainbow pins because I want to show and let people know that everyone is welcome here and there is no othering."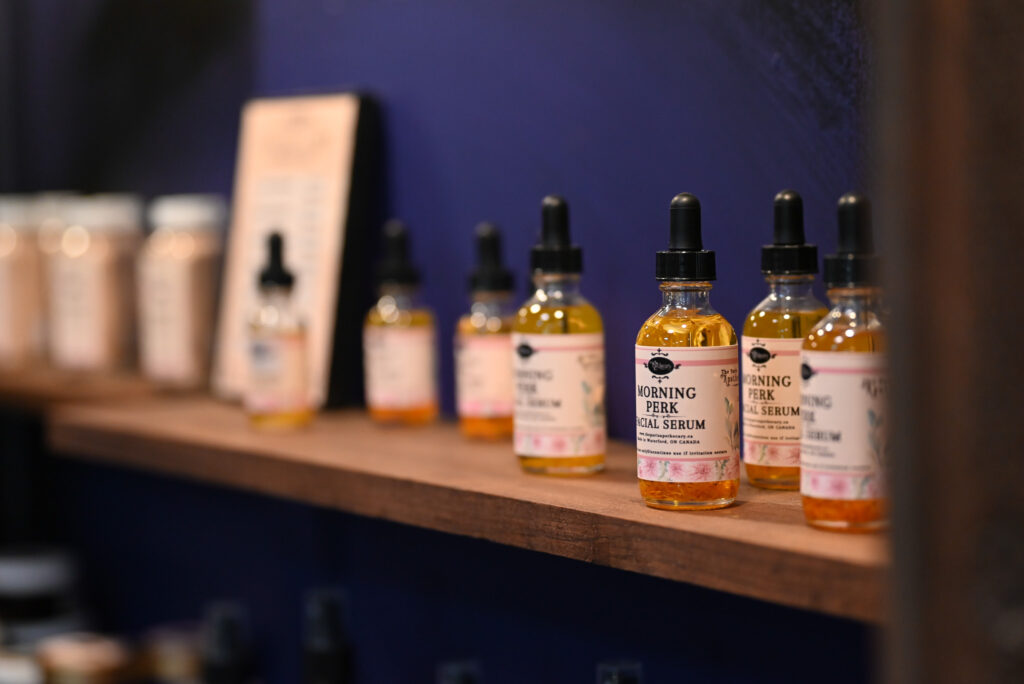 Not only is the space a vintage store, but Ruskan also run's the Paris Apothecary out of the store as well. She offers face serums, beard care items, tea and more.
As the store continues to take shape, Silva has plenty of ideas to tap into the community side of things.
"We just have so much lined up for this space, because we want this to be a place where people want to come visit in Paris. I want it to really be a gem where people who live here can bring out of town visitors, and where people who come to visit the town, want to come here for us," she said. "The idea is that eventually all of the big fixtures will be on wheels so we can have an event/cabaret space within the shop. The back room will have plenty of chairs so we can have meetings, readings, rehearsals, as well as desks for artists and creatives. We're hoping that during the week in the evenings, we can have group ukulele lessons, craft sessions and on the weekend, pop ups with local vendors or talks on pollinators and apiaries."
Silva said she would also love to do story times with characters, like Charles Dickens during Christmas, as just one example.
She also hopes to add more items to the store side of things.
"Eventually we will have an art supply section with stationary, a budding music section with instruments, and then there will also be a children's clothing section with that old soul, tiny body feel."
As far as the outside goes, Silva also put in work to make it look more like an old-time general store.
"I really worked on the design and brought the profile of the building down, so it has that look of an old English shop. I couldn't create bayfront windows, so I created that shape using the planter boxes outside. We're also planning on putting up shutters and adding in a faux thatched roof," she said. "It's going to keep expanding in terms of the outside space because I want it to draw you in, in a way that is an experience and curates that community and warmth. I want it to be a place to go and to feel good."
She envisions a patio space, an art mural and an apothecary garden in the future and would love to make the space wheelchair accessible.
While Silva continues to dream up and plan what will come next, the overall response from customers has been nothing but "lovely."
"It's been amazing, I've been hearing from people out and about that they are hearing about the vibe and they don't even know about all the other things that are coming. Considering we have already existed, we have had so much hype around this new store and it's just lovely to hear that."
So, what about Bird and Bee Vintage in Wincey Mills? It's still up and running as Silva still has her lease for the space, but it currently offers something different than the new store.
"Over at Wincey Mills, we're selling items from the 50's and up. It's kind of turned into a gift and gallery kind of shop that is tourist friendly. It's a lot more consignment and local artists. I wouldn't say it's a souvenir shop but there is a demand for that, so there are Paris pins and my Paris colouring book that I drew as well as some other fun treasures," she said.