Brantford business, Fen Industrial Inc., is looking for the public's help after a break-in occurred at its facility on Tuesday, September 19, 2023.
Jay Perry, Fen Industrial's social media manager, said that sometime overnight, around 2:00 a.m., two unknown suspects were seen on security cameras breaking into the property and removing approximately up to $200,000 worth of equipment.
Fen Industrial's Operations Manager, who arrived to the shop on Tuesday morning discovered that the gate on the property was damaged, the front door to the building was kicked open and that the following items were among those stolen: Green/white Ford F550 bucket truck (features Fen Industrial branding), two yellow/black DEWALT portable band saws, one orange/white STIHL gas saw, saw blades, lifting straps and specialty rigging equipment.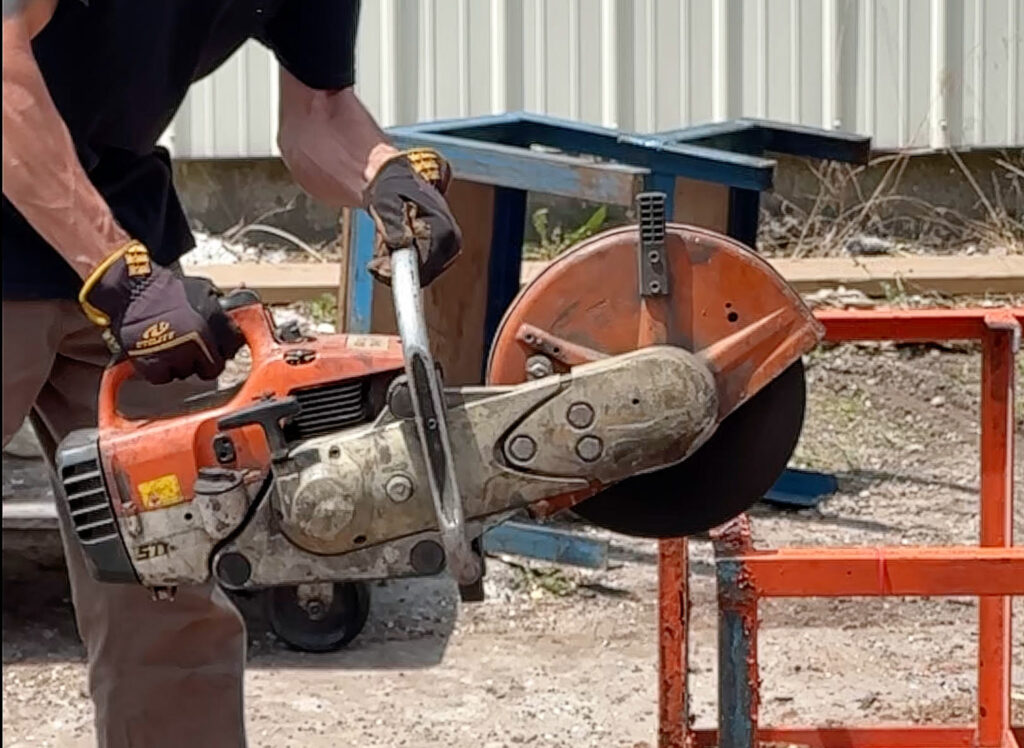 According to Steve Gallagher, Fen Industrial Inc.'s owner, the Brantford Police contacted him and let him know that the same unknown individuals broke into other businesses down the road as well. Video footage from another location was able to catch a license plate on the Chevrolet truck though, it is unknown if it belongs to those responsible for the theft, or if it's a stolen vehicle.
The owner said that the theft put all of their operations on hold until they could repair the damage.
"My one guy was starting a job in Milton and I had to pull him off of the job on Tuesday and Wednesday to sort out our property, because we couldn't even close the doors, we didn't have doors as they kicked them," said Gallagher. "So we had to put all brand new doors on and all new hardware in order to fix as much as we could to try to secure it all so it doesn't happen again."
While Gallagher is known for his expertise in machinery and equipment, he's also known for his involvement in helping his community.
Gallagher is a dedicated sponsor to local sports teams such as the Brantford Red Sox, the Centre Wellington Eagles and the Nelson Lords football team. He has also sponsored numerous golf tournaments and has been instrumental in raising nearly $20,000 for Friends With Hearts, a local charity benefiting children during the holiday season.
Perry said that knowing what Gallagher does for the community makes the loss that much harder for him to wrap his head around.
"I feel so sorry for Steve," he said. "He does so much around town and for something like this to happen, and I know it could happen to anyone, but it's just hard to see."
Perry said that the team wants to make sure that other businesses are aware of the theft and encourages them to install security systems if they haven't already.
"There's a good chance that these individuals are probably going to do it again and so we wanted to just say to others that they should be on the lookout," he said. "If you were thinking about getting a new security system or cameras, just get it so you have that safety net."
If anyone has any information, they are being asked to contact police at 1-888-310-1122, or contact Fen Industrial Inc. directly at 1-800-347-0471.
Fen Industrial Inc. is a solutions provider for businesses looking to recover valuable capital from new and used surplus industrial equipment, specializing in the electrical power distribution, electrical automation, hydraulic and pneumatic fields.