Steve Burchell and his daughter Lana Burchell continue to be hard at work after relocating Steve's Tea Company and Tea Room in Brantford's north end on Wednesday, July 26, 2023.
The local tea retailer is run by four generations of family and currently offers 300 varieties of fair trade, ethically sourced, organic-compliant luxury loose leaf tea, and close to 150 custom blends.
The two made the decision to move on from their 783 Colborne St. East store of four years and into their new 505 Park Rd. North location after realizing the potential to expand at the right time.
"I feel so blessed to say that Steve just gave me the numbers and we're up 30 per cent from last year. We continue to be trending upwards and as we've been growing and expanding, we really needed more space," said Lana Burchell, Managing Director of Steve's Tea. "We ended up deciding to hire Josh Wall as our realtor and he was fantastic. At first, he let us know that it could take months or even years to find the perfect place, but we ended up being really lucky to have found a double unit. It's 700 square feet bigger than our last location."
She said that their new space is now more accessible for both them and their customers.
"The mark of a civil society is that everyone can come and participate fully. Unfortunately, our old building had accessibility issues so having things like a ramp, a wide enough door, accessible parking and accessible washrooms were things that were really important to have in this new space," said Lana. "Even for us, in the old building Steve would be working upstairs manufacturing teas and I would be downstairs in the retail space, so to have everything on one level makes a big difference even for deliveries."
Lana said that with more space, comes more opportunities for everyone to enjoy.
"Now that the tearoom is double in size and we can seat up to 40 people, we are so excited about the ability to host different events and hosting people for afternoon tea," she said. "We can do corporate events and birthday parties, and one of my girlfriends is a Disney Princess so you can even have a Tiana themed birthday party for kids. We're also going to be opening for lunch as another local healthy alternative with soups and sandwiches for those in the office spaces nearby."
In the midst of the big move, the family run business relied on their family and friends to help them pack up their store.
"We're very lucky, we had a bunch of packing parties – with pizza of course – and we even had customers that helped us, which was just so lovely of them," said Lana. "I have some other great business owner friends that gave us a bunch of boxes as well, so we were just picking up boxes and coordinating packing parties. Steve was at the new location, and I was at the old location and then we kind of had our party groups helping us in-between."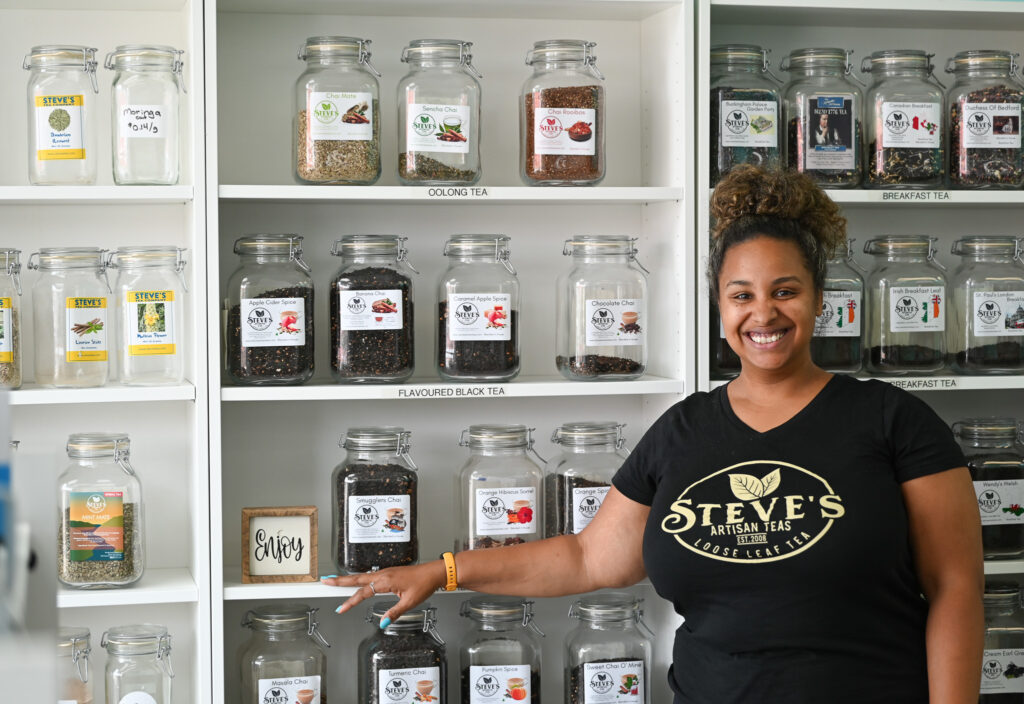 As the Steve's Tea team works hard to get everything sorted and unpacked, Lana said that the response from customers has been a supportive one even as they continue to settle in.
"Now that we're unpacking it's a lot of finding our teas, getting back on track with blending and re-upping our wholesale distributors," she said. "Honestly, even through all of this tea chaos, people have just been lovely. They've been so gracious, and we can't ask for better customers to be a part of our 'communi-tea.' We've already had more walk-in traffic that we didn't have in our other location and a lot of our customers have commented that it's within walking distance or that we're closer to them now."
With their retail space up and running, the Burchell family is diligently working through their to-do list as they aim to have their new tearoom opened by mid-August and are already taking reservations to start for August 21.
The team has also been preparing for their busy season as well as ramping up to celebrate their 15-year anniversary with their third annual tea party on Saturday, September 9, 2023.
"Last year our theme was the Platinum Jubilee and we had over 1000 people come which was amazing," she said. "This year, the Mayor is coming for a ribbon cutting ceremony, we'll have some dancers from AIM Dance Studio, we're going to have a ginormous tent with vendors – my goal is 20 plus vendors this year – and we will have swag bags and giveaways as we celebrate 15 years."
Lana said that this all wouldn't have been possible without their loyal customers and that they are looking forward to seeing how they grow in the next few years.
"We're really grateful to all of our customers that have found us and for those recently joining our 'communi-tea.' We've been very intentional about cultivating a safe space where everyone is welcome regardless of anything. We're all human and we want you to come in, come as you are, enjoy our tea and help us change the world one cup at a time."