When Jason Elliott bumped into one of his former employers four years ago, he wasn't expecting it to lead him to fulfilling his dream of owning his own restaurant.
Jason and his wife Khalilah Elliott are the franchisee owners of two Big Smoke Burger locations, one on Lynden Road in Brantford and a newer location on Rymal Road in Hamilton.
The two have been living in the Binbrook area for seven years and when Jason ran into the owner of the Lynden Road plaza in early 2019, he was told about an open unit and that a Mississauga-based national franchisor, MTY Group, was looking for franchisees.
"When we met with the franchisor, we found out they own over 60 brands and they were looking to do a burger spot here in Brantford. They recommended Big Smoke Burger would be a good fit for us and we were really impressed because the food quality was great," said Khalilah. "We saw what went into executing and making the food, we heard about people enjoying it and what they love about the brand and after doing our own market research we finally decided, 'alright, let's do this.' I think the timing was spot on and everything just came together to make it happen. I wouldn't say we set out to choose burgers, but burgers chose us."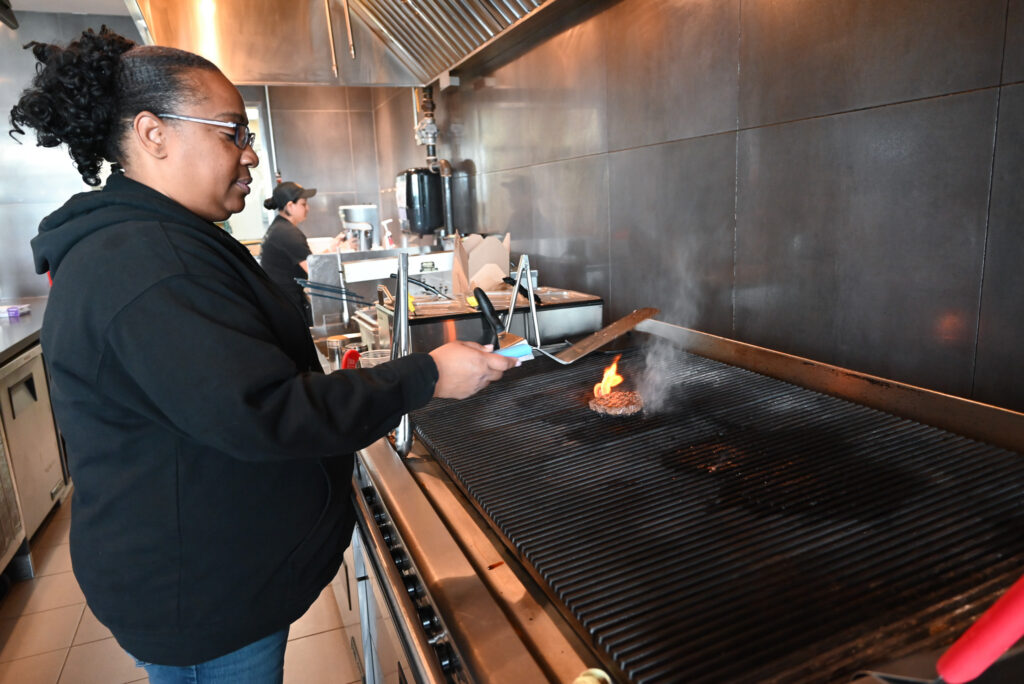 Since opening their first restaurant on Monday, December 9, 2019, the duo now spends their days traveling between locations and putting in the work to keep their quick-service restaurants in top shape.
Khalilah works on the Human Resources side of the business taking care of the hiring, customer relations, marketing and bookkeeping, and Jason uses his 20-year cooking experience and background as a corporate chef, to handle all things food as Head Chef.
"We are doing everything, we are working in the business and on the business," said Khalilah. "From working on the line flipping burgers to making fries, talking to customers, dealing with our suppliers, doing orders, hiring, marketing and everything in between."
She says that all of their hard work is worth it, especially for Jason.
"His dream was to open his own restaurant," she said. "And when you love to do something, it's not work – he really enjoys it and puts in those long hours."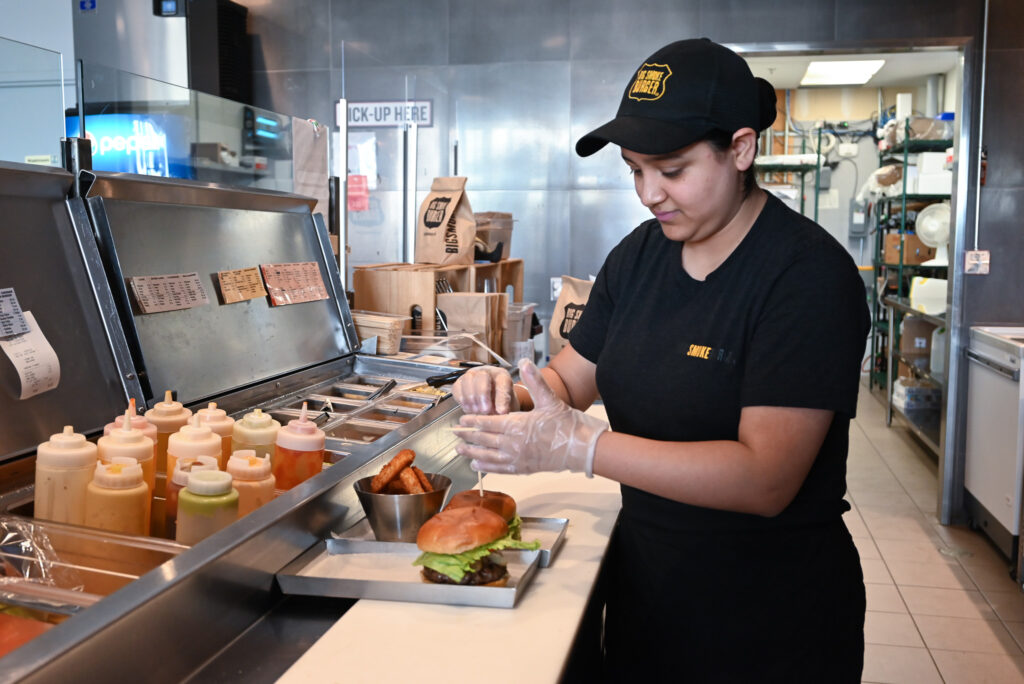 The two are proud of the product they put out to customers and they consider their restaurant to be a full "guest experience." From the clean and welcome atmosphere to the gourmet ingredients, the two franchisee's pride themselves on their three-pillar system.
"We believe in good food, great service and a clean restaurant," she said. "When you come in, it's like somebody coming over as a guest in my home. In my home, I'm going to address you by name, I'm going to treat you with respect, I'm going to be kind, and I'm going to make you feel at home. I'm going to give you the best of what I have to offer."
When it comes to food, the restaurant uses fresh AAA Canadian ground beef with no fillers, and for those looking for something else, there are also halal burgers, beyond meat, as well as grilled and crispy chicken. Burgers are cooked on an open-charred grill that helps to reduce excess fat while keeping the juice of the burger throughout.
Fries, onion rings, several gourmet poutines, milkshakes and other deserts are also some of the other popular menu items.
Khalilah says that the fresh, high-quality toppings and presentation are another thing that sets them apart from other burger spots.
"Everything is made to order and we do a lot of prep work," she said. "We make all our sauces and coleslaw in-house and we cut our own lettuce, tomatoes, onions, carrots, and cabbage. We also use gourmet ingredients like caramelized onions, grilled pineapple, blue cheese, and avocado – it's all about that guest experience."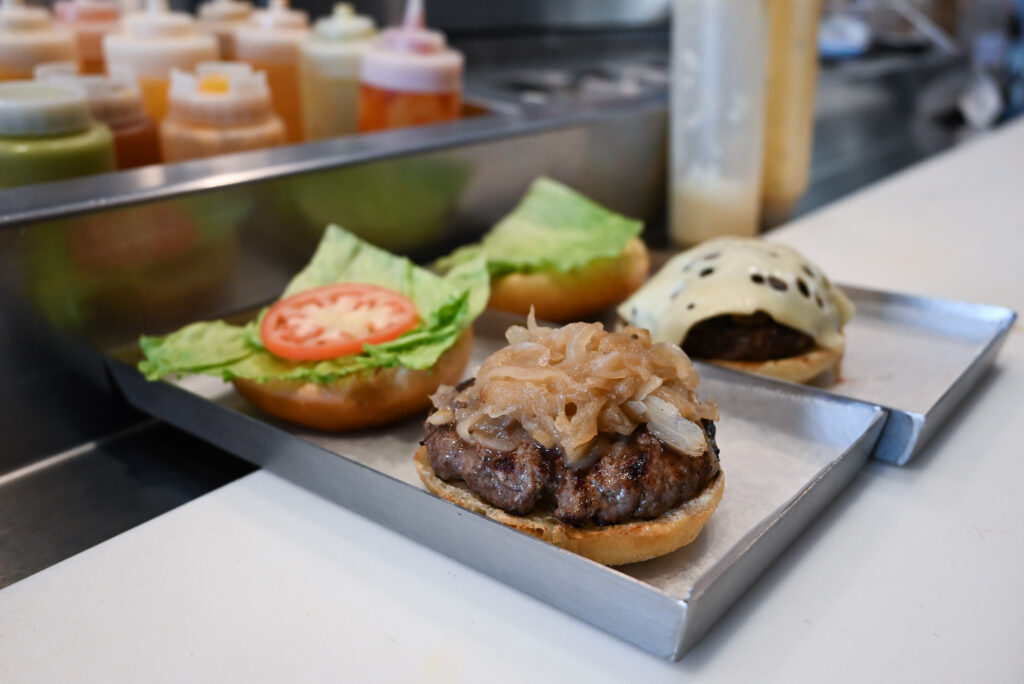 The restaurant recently held a customer appreciation day with $6.99 burgers on Thursday, May 11, 2023 as a way to say thank you to the Brantford community for its ongoing support. In return, the franchisees donated one dollar from each burger sale to the Brantford Food Bank.
"We wanted to give a massive thank you to the Brantford community," said Khalilah. "We can't say it enough because they've just really kept us going and really carried us through. Just seeing everyone coming out to customer appreciation day and hearing them say 'I love this place' or 'I've been hearing about this place from my friend' – it has meant so much to us. We're honestly super grateful for each and every customer that we have here because they could choose to go anywhere and the fact that they have made Big Smoke a choice is really special for the two of us."