The Brantford District Labour Council is revving up for its 67th annual Soap Box Derby on Monday, September 4, 2023.
The Labour Council has been hosting the event since 1957 and is looking forward to another year of family fun.
"This is certainly a staple in the Branford community and it's our signature event on our local labor calendars. We're excited and we're ready to go again – we're just really looking forward to it," said Cory Judson, President of the Brantford District Labour Council. "We hope the weather cooperates because some years it does and some years it doesn't. One of the challenges that we face is if it does rain, it becomes a liability so we will have to pull back on this but we're really hoping for those sunny skies so we can get those kids down the ramp."
Parents and guardians can register their 12 and under youngsters starting at 8:00 a.m. before unloading and unpacking their soapbox cars in preparation for the event.
Youngsters registered for the event will also receive a Brantford District Labour Council Soapbox Derby t-shirt, a participation award and a goody bag.
"The goody bag is usually little things of interest, and oftentimes some of the community sponsors will step in with maybe some gift certificates and that kind of thing for the kids," he said. "It's always something that they can leave with to make them feel a little more special."
The races will start from the top of the Icomm Drive hill as participants are launched from a ramp and race down to the finish line at the Hill Street cross section.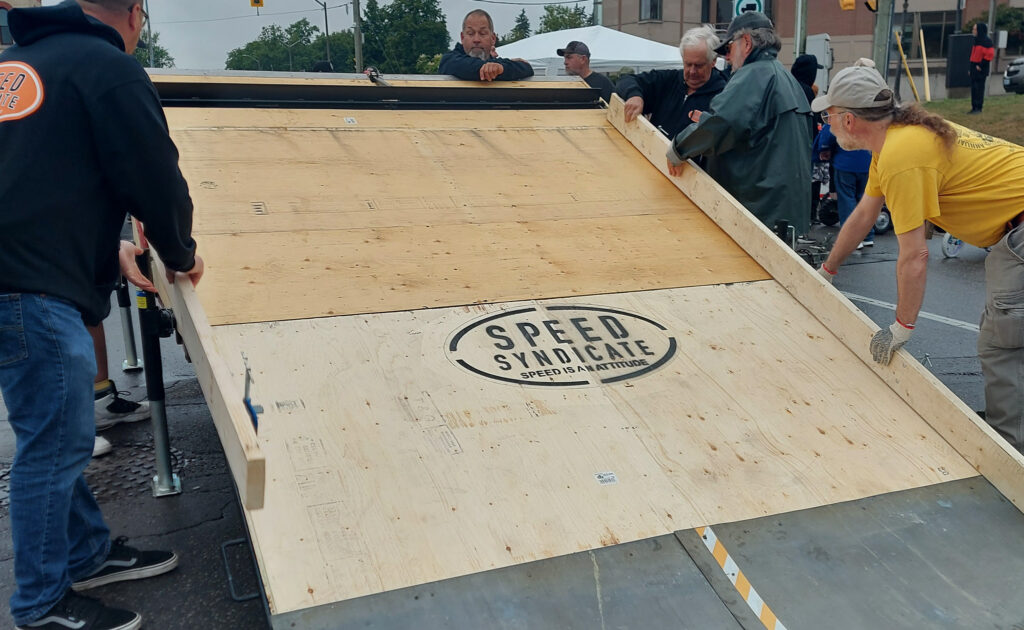 Car clubs like the Piston Pushers, Speed Syndicate and the Ontario Gassers will also be present during the day.
"There are various local organizations, clubs and car enthusiasts in the city that have sort of latched on to our event and have supported us," said Judson. "They really appreciate the event, so they help us and support us and they come out with awards for the kids. They will also be bringing some classic cars to line the route and we're even hoping to have a race car this year."
Sleek classic cars won't be the only thing available on site.
"We're going to have various union locals and community organizations lining the route as well and they'll have tents and things set up," said Judson. "We'll have a barbecue with free hotdogs and chips for everybody that comes out. Towards the end, there will also be some awards for appearance and originality to recognize the participants."
Judson said after returning from the pandemic, there were around 30 to 40 participants involved in last year's event and they are hoping that this year they will have an even greater turn out for 2023.
"Last year we certainly had a lot of enthusiasm," he said. "There were a lot of people lining the route and cheering on the kids, so I would hope that we would get something similar to that this year."
The President also noted that because of the longevity of the event, they often get to hear plenty of stories from parents and guardians who have participated in the event in the past.
"Since my involvement, one of the interesting things is getting to speak to the parents that are there," he said. "You get to hear them talk about their own experiences in the derby so it's great to see that many of them are now bringing their own kids."
Judson said that the event is more than just the race, but about spending quality time with family.
"It's really about that time that the kids are spending with a parent, grandparent or family member over the summertime. Whether it's building a derby car for the first time or maybe even fine tuning one that may be in the family and getting it ready for the event," he said. "It's doing that construction and getting things put together and getting ready for the event that is just as important and perhaps even more than the event itself. And it's just a fun day for the community, raising the kids and they really get a kick out of it."