Brant County's first Afro-Caribbean festival will take place from 11:00 a.m. to 9:00 p.m. at Paris' Lions Park on Saturday, September 9, 2023.
The free event known as Afro-CariBrant will be hosted by Darmont Events, a business that focuses on custom event management for corporate, private and community events.
Its Darmont GivesBack initiative is based on Tobi Adedayo, CEO of Darmont Events, belief in giving back to the community.
"Darmont GivesBack is really based on Tobi's belief in the power of community and the importance of giving back," said Essay Folami, Programs Director of Darmont Events. "It's our commitment to make an impact in the areas where we live and work."
Adedayo said that the event is a celebration of the rich culture, traditions and people of the African-Caribbean community in the County of Brant and Beyond.
"When it comes to Afro-CariBrant, it's going to be a fun family event with activities centered around children and adults," she said. "We are expecting music and entertainment and we're just really trying to showcase the culture of both the African heritage and Caribbean heritage and their overall involvement in the community. We wanted an event to showcase the beauty of the music, food and culture as we celebrate diversity. On the event day we will have both African and Caribbean artists in the likes of live entertainment including fire displays, live music from upcoming Afrobeat artists as well as dancers."
The day will consist of plenty of activities for all ages including a Kidzone with face painting, games, arts and crafts, and workshops.
Guests are also encouraged to participate in the Afro-CariBrant parade as well as the fashion parade.
Artisan vendors will be on site selling jewelry, paintings, sculptures, clothing and more.
"We are also in the process of arranging to have an on-site scene painting going," added Folami. "We know this is just the first addition of the event and our expectation is to only get bigger as we go on."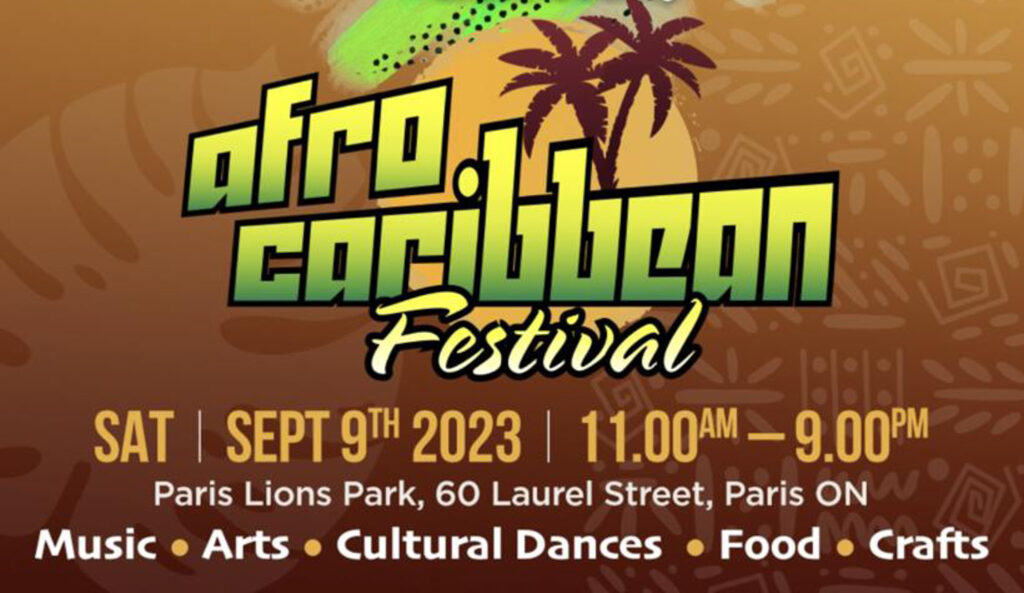 The two organizers said that for those looking to attend, guests will not be disappointed by the line-up of food and drink vendors.
"In terms of food, we are expecting some rich cuisine and really, your tastebuds can't afford to not be there for that," laughed Folami. "We have food vendors lined up with dishes from Jollof rice to plenty of grilled cuisine. If you like spicy, there will be plenty of that there and we even have an Afro-Asian fusion mix that will be coming in as well. We just know everything will be delicious as always."
Folami noted that the idea behind the event was to promote a thriving community.
"It's really about the will to give back and the will to do more within a community. It's about the goodness in people and when you look at things – especially in the community of the County of Brant and the City of Brantford at large – it's thriving and you cannot help but appreciate the inclusiveness and the opportunity that is there," he said. "As a business, we recognize that we have a responsibility to use our resources and expertise to contribute to the greater good. We believe that by bringing people together in this light and giving them a place to get to know each other in a manner in which they can interact and do business together, we can really help to give back to the community and contribute. We wanted to promote the awareness and understanding of Afro-Caribbean community while celebrating the richness of culture.
He said that the event will provide an opportunity for people to get to know each other on a deeper level.
"I think if we really look at interpersonal relationships, if you don't know the antecedents of how and where people have been, you will not be able to appreciate them and we run the risk of misconception," said Folami. "With misconception comes 'oh I don't like this, or this person doesn't like me, so I'll stay in my lane.'"
One of the other goals of the event is promote social cohesion and community building among residents of Brantford and the County of Brant.
"We will have volunteers on the day to help educate and engage people in terms of the history of our Afro-Caribbean community, as well as an information booth with tips and tricks on how to better engage with the community. It's huge what people can do when we embrace inclusivity and togetherness, but you cannot include or embrace someone you do not know. So, this is one way we can get into the community and say 'we are here, and we appreciate the opportunities that are available here, so come out and get to know us more and see what we have to offer as well," concluded Folami.