Colin Mochrie, Canadian improv and comedy legend, along with master hypnotist Asad Mecci, are making their way to Brantford to perform their hit live show, HYPROV: Improv Under Hypnosis at the Sanderson Centre on Wednesday, February 15, 2023.
Mecci will begin the show by pulling up 20 volunteers to the stage to hypnotize them, he will then begin to whittle it down to those who are most susceptible to the hypnosis.
From there, comedy ensues as the volunteers form an immediate improv troupe alongside Mochrie and Mecci.
So, what exactly is hypnosis anyway, and how does it work?
"The best way to describe hypnosis is that it's like a movie where you get so caught up in what you're watching that you're moved to a physiological response," explained Mecci. "Let's say you watch a horror movie, and your heart starts to race, your palms get sweaty – logically you know what you're watching on the big screen is not real – but for that moment in time it feels very real. You're just fully immersed into that moment and that's a hypnotic state, so that exact same thing occurs on stage."
Those that are highly susceptible and highly suggestible subjects will start to experience things that aren't there.
"They experience all these incredible hypnotic phenomena or trance phenomena in that they all experience visual hallucinations," said Mecci. "They'll see things that aren't there, they will hear things that aren't there, and they feel things that aren't there – they really start to experience the picture we're painting for them."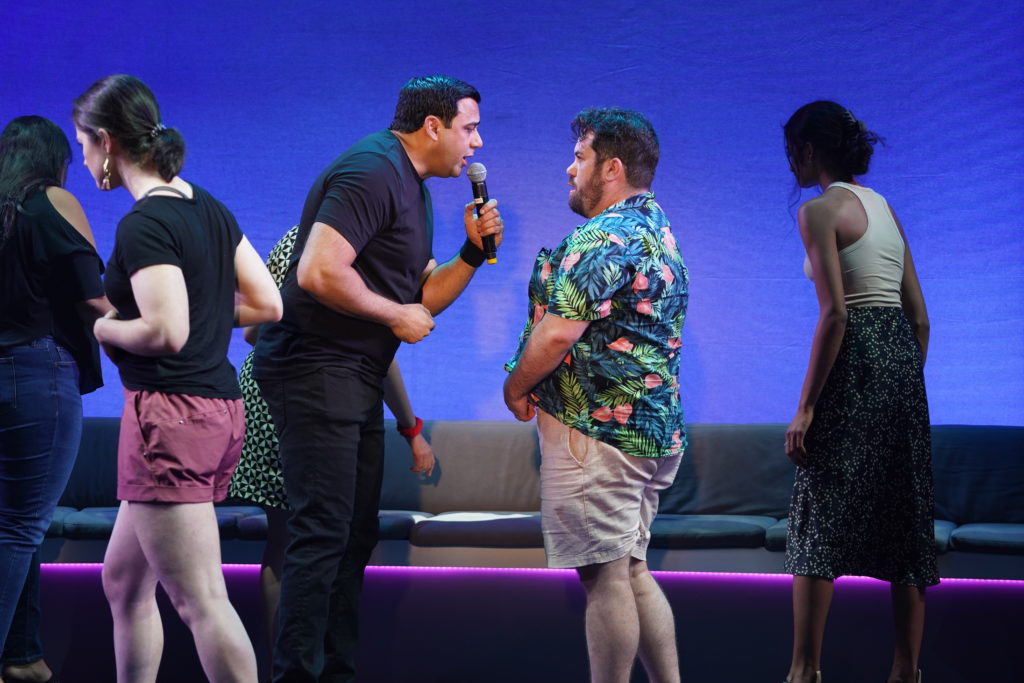 The combination of hypnosis and improv may seem like a surprising pairing, however the two appear to work hand-in-hand. It was Mecci who first realized the potential of pairing the two arts. While he took improv classes at Second City in Toronto, he began to wonder if hypnosis could help people perform improv. He soon reached out to Mochrie's team and the two met to discuss putting a show together. 
Mochrie points out that the hypnotic state allows people to act out a scene without getting in their own head and tripping up.
"I'm hoping one of the things that we can show people is what you can do when you get yourself out of the way," said Mochrie. "So many people say, 'how can you Improvise, it's so hard' and it's not hard, it's just that we stop ourselves. Improvising is listening to other people, accepting their ideas and then working together to make a scene – that's it, it's that simple – but it's not something we do automatically as people. That's the beauty of when people are in their hypnotic state, they're immediately reacting to everything Assad and I say, there's no ego involved. They're just purely improvising."
The duo began performing roughly seven years ago and they have been touring on and off ever since.
For Mochrie, the show has encouraged him to continue pushing himself in his art.
"I've been improvising since 1980 and one of my fears has always been getting too comfortable," he said "Improv can kind of get stale and you can find yourself kind of falling back on things you've done before. So, throughout my career, I always try to work with different improv troupes that I may not know as well as the guys from Whose Line [is it Anyway?], and I try to work with different styles of improv so that I'm always out of my comfort zone. I find that's when I work my best, and I really can't be much farther out of my zone than with people I don't know who are in a hypnotic state. It's just been fabulous from day one."
Mochrie and Mecci are thrilled with the overwhelming positive response to their show and credit their producers, directors and cast for all their hard work. Musical Director John Hilson helps to move along each scene as he improvises music and sound effects alongside the duo. As well, in past tours Barret Foa, Jeff Hiller, Stephanie Courtney, and Jonathan Mangum have all taken turns subbing in for Mochrie.
The 90-minute live show will be making 17 stops across Canada and is a family friendly event. Volunteers must be 18+ to volunteer and only those most susceptible to hypnosis will stay on stage.