Nearly 20 people gathered in the Coach House at the Glenhyrst Art Gallery for an intimate book reading with Brantford's newest published author, T.J. (Tammy) Hunt on Thursday, June 22, 2023.
The author sat down to read pieces of CAKE alongside a gourmet cake tasting with flavours inspired by chapters within the book.
Kristina Allicock Corrado, head baker and owner of Cheeky Treats, crafted three cakes for the event including a coffee cake, a "chalk-olate" cake and an angel food cake.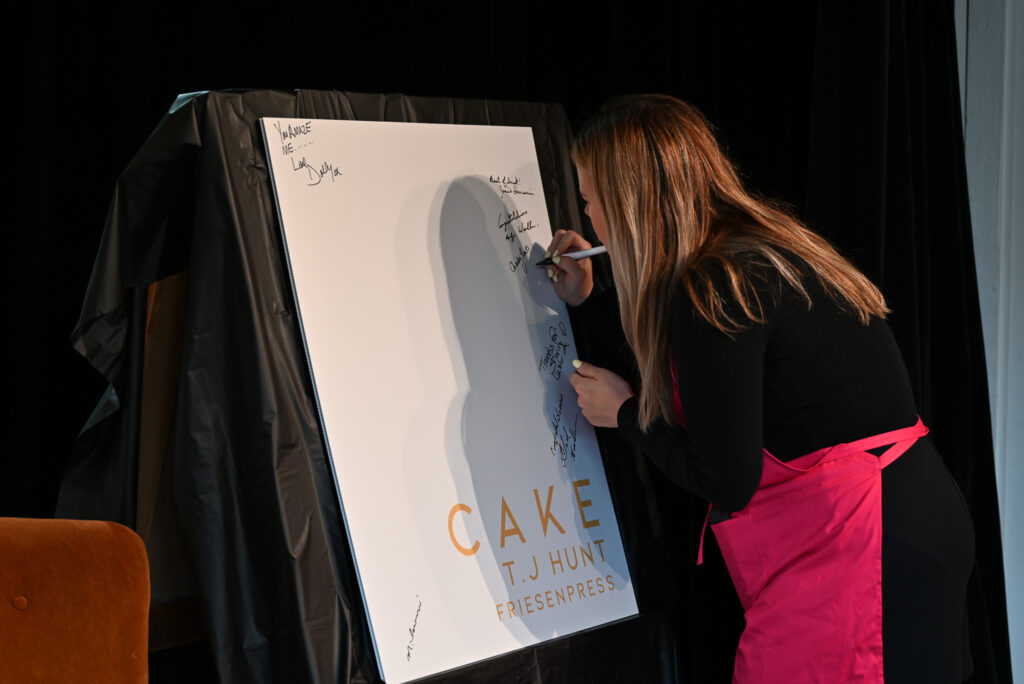 Upon arrival, ticket holders received a signed copy of the book, a bookmark and a magnet before heading into the space to sign a cardboard version of the book's cover – a nod to Hunt's old thrift store, the Closet Door and its floor to ceiling chalkboard.
"The chalkboard was a big signature of the Closet Door," said Hunt. "When people came into the thrift store, they would sign the board whether they donated or purchased something. and at the end of the month I would send a picture of the board along with a donation to the Brant Community Healthcare System Foundation's Cancer Clinic. The idea was that the patients and the clinic could see everyone that was a part of that gift."
Hunt was also sure to include a donation of the evening's event to the Cancer Clinic as a way to continue giving.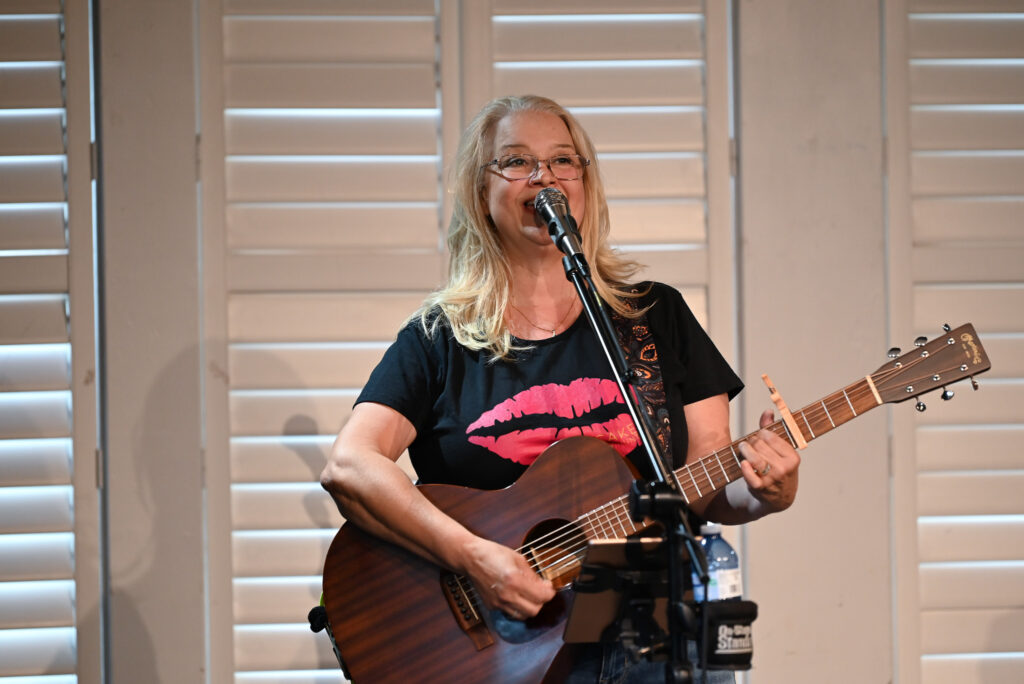 Monique Hunsley, a Brantford singer and songwriter, entertained the guests with both originals and covers as they settled into their seats for the evening.
As Hunt's best friend, Joshua Wall helped to plan and host the event by introducing the new author and each chapter, as well as asking and relaying any questions.
Hunt's debut novel CAKE (an acronym for "community and kindness and all of the extras") shares pieces of her journey through childhood, relationships, marriages, motherhood, online dating, community kindness, love, loss and triumph over tragedy.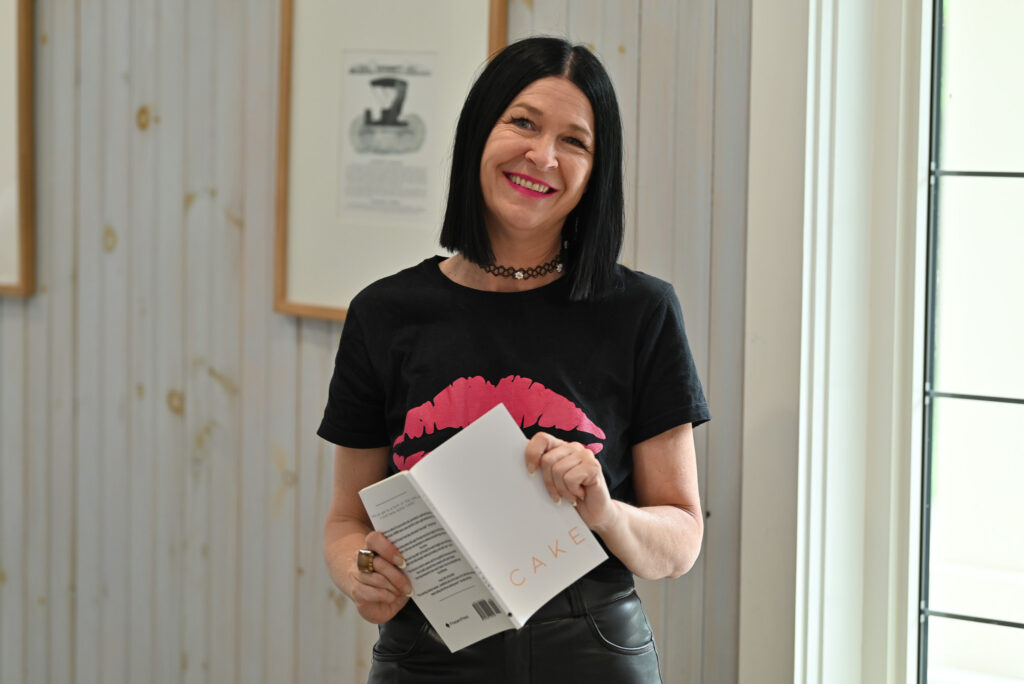 Throughout, she shares snippets of her life, lessons learned, and the loss of her mother to Cancer.
"The book really came about because of the community impact of kindness that was brought through in the last ten years of me doing this philanthropy work with Cancer care," said Hunt. "It's bridging all the kindness from volunteers who gifted their hearts and their time into this passion that I also have. It's almost like a blueprint for having established kindness in your community and the memoir itself is building a community while rebuilding myself. It's just a feel-good relatable book and I think that anyone of any age can enjoy this slice of CAKE."
Hunt wrote the book throughout the COVID-19 pandemic and utilized her high energy to power through and finish it within three years.
"It was a huge process, but I really utilized my high energy and put it into the book," she laughed. "I knew I wanted to write it and so I just sat down with my iPhone or my iPad and wrote it there. I'm really proud of it because I think it reads like you're having an actual conversation with me."
She said that book was a labour of love as she worked to thoughtfully create a cohesive message throughout. From the cover of the book to the words inside, Hunt created it all with a purpose.
"Everything that was done to create this book was touched by me. When I sent the manuscript to Friesen Press they said they would send over a design but I had already created the book cover through an app and so I sent it off and they went with it. There was no illustrator or anything," said Hunt. "The gold title is to reflect knowing that we are all golden because everybody is truly golden in my world. The white cover represents the chalk, and the reviews in black on the back represent the chalkboard. I'm all about friendship, inclusion and supporting local so I wanted it to be personal and so all the reviews on the back are from people who have impacted my life and been a part of my life."
Since the book was finished and published, Hunt has already finished her second book LAYERS (an acronym for Life as you evolve relationships) and it will be up for sale by the end of next year.
"The two were always meant to go hand-in-hand," she said. "The design of that book will have the same gold title, but it will have a black cover and the reviews will be in white. When you stack them together the side titles will read as "CAKE LAYERS.""