More than 900 people attended the Hayley Wickenheiser event organized by Ladies Who Lead at the Sanderson Centre of Performing Arts on Tuesday, May 23, 2023.
Before the presentation, roughly 200 people attended Harmony Square for pre-event activities.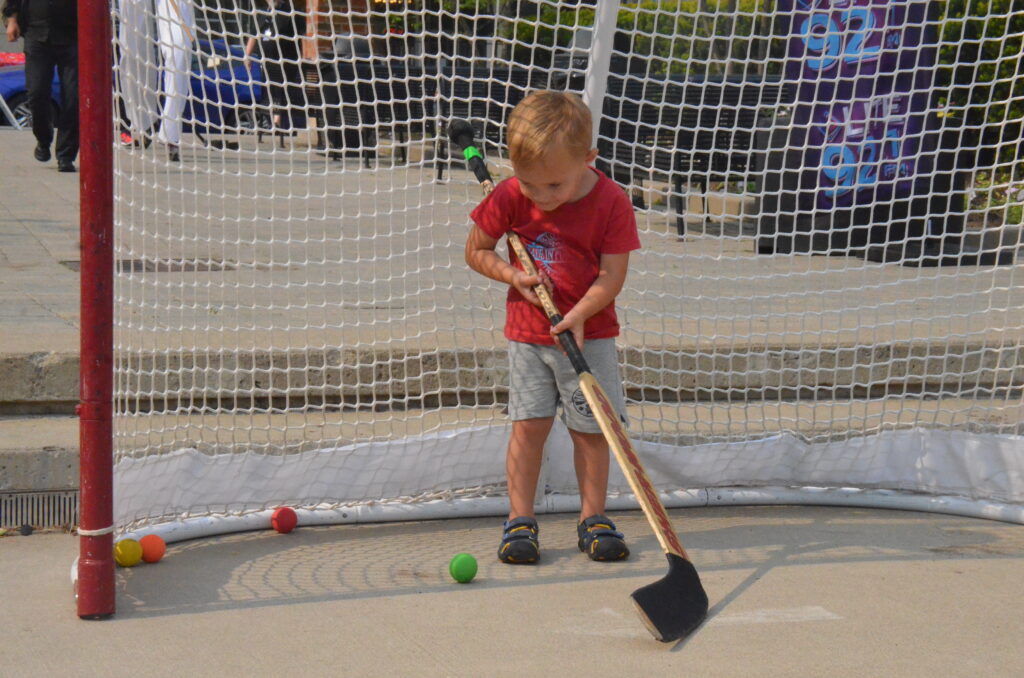 The square had plenty of activities available including a bouncy castle, hockey, line dancing with Stomptastic, pictures with Doug 'the Great" Hunt or Brantford Bulldogs mascot Bruiser, cornhole games, and a variety of booths with more information about local hockey teams.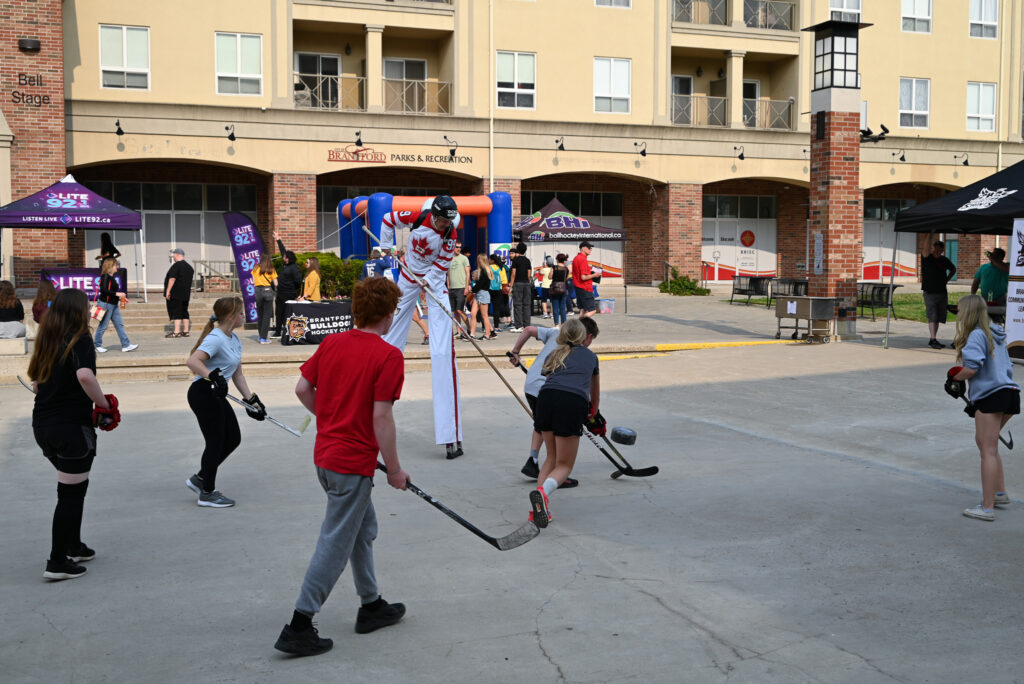 As the pre-event wrapped up, locals headed over to the Sanderson Centre to grab their seats for Wickenheiser's presentation.
Former Six Nations Elected Chief Ava Hill kicked off the evening with a land acknowledgement before handing it over to David McKee, the city's town crier to declare the event.
Co-MC's Shannon McMannis, founder of Ladies Who Lead and Melanie Mears, an executive team member of Ladies Who Lead, came on stage to welcome the crowd and introduce Dr. Hayley Wickenheiser.
"A little bit about Hayley Wickenheiser," said McMannis. "She's an Olympic gold medalist, medical doctor, mother, hockey hall of famer, AGM of player development for the Toronto Maple Leafs, she's participated in seven world championships, has made six Olympic appearances, and has five Olympic medals with four Olympic gold medals."
Wickenheiser grew up in Shaunavon, Saskatchewan and served as Canada's official flag bearer during the 2014 Sochi Olympics. After a 23-year career with the women's national team, Wickenheiser retired in 2017. In 2019, she was honored with induction into Canada's Hockey Hall of Fame. After retiring, she pursued medical studies and successfully earned the title of physician in 2021. That same year, Wickenheiser published her book "Over the Boards: Lessons from the Ice."
The presentation included stories about Wickenheiser's experience with the national hockey team and her journey in medical training.
"I thought I would spend a little time talking to you and sharing stories about both my life in hockey and in medicine and how the two have come together," said Wickenheiser. "Maybe there will be some takeaways for all of you and your lives."
Wickenheiser touched on experiences throughout her life that led her to pursue the medical field and spoke about the pandemic and the success of her call to help collect personal protective equipment that was backed and amplified by Canadian actor Ryan Reynolds.
"When I played hockey, I was a part of a team – an organization that was the best in the world. We won world championships, Olympic games and we were really good and people looked up to us – it's part of being the best in the world," she said. "What I realized during those medical experiences is that it's one thing to be the best in the world, but it's another thing to be the best for the world. I believe that in the best organizations and the best teams, you can do both."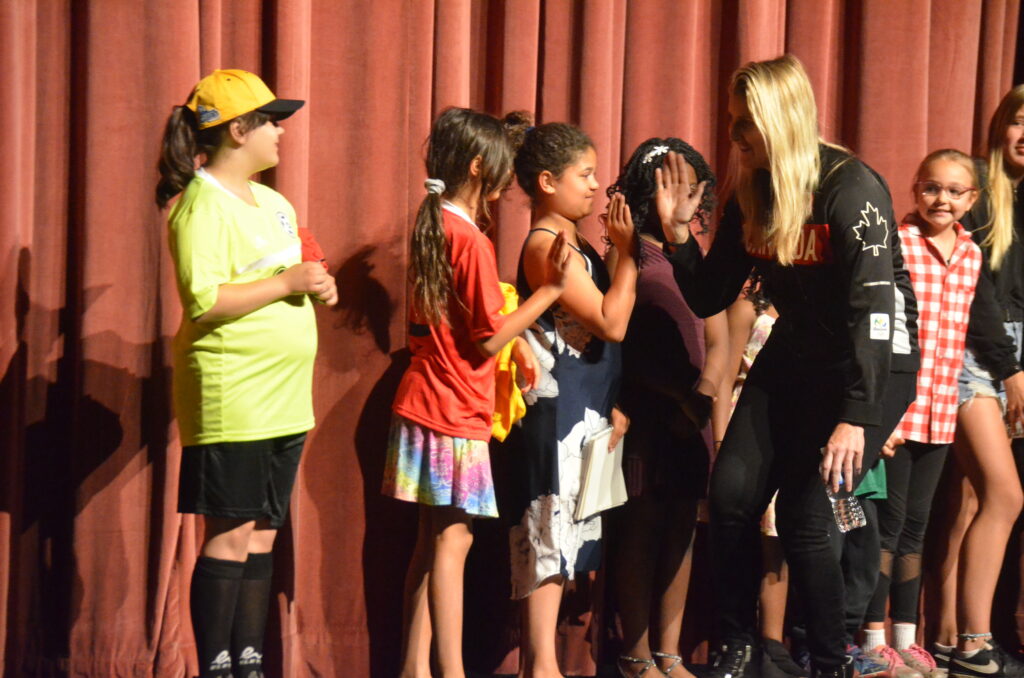 She went on to speak about the balance of regular life and being an Olympic athlete the disappointment of winning a silver medal instead of gold during the Nagano Olympics in 1998 at the age of 19.
"Everything I was, was caught up in who I was as a hockey player," she said. "If we were winning, having success, playing well and scoring goals then I was a worthy person. If we weren't, then I was a complete failure."
The team went on to win four Olympic gold medals in a row – including the 2014 Olympic Games in Sochi, her last Olympic Games.
"Going into the fourth gold medal in a row, we thought that our coaching staff and management were going to go a little bit easier on us in the preparation to the lead up because we train hard for these Olympics," she said. "…Well, they absolutely hammered us."
In the six months leading up to the Sochi Olympics, the team played 60 games all over the world and lost 40 of them. They were injured, taped up or braced and three months before the Olympics were set to start, their head coach was fired and replaced.
With new leadership and team culture, the Olympic team went into the game with a new mindset.
"We talked about the fact that we have to have leadership. On a team, leadership doesn't come from one or two people, it comes from a leadership group, especially in today's hockey," she said. "You have to be able to lead from the front and lead from the back, and a good team can do both."
She continued to speak about the other new mindsets.
"The second thing we talked about was that regardless of your job, just blossom where you plant – do your job and do your role," she said. "Every role and every moment matters, it's how you play as a team. The last thing we talked about was energy – and this is something I've really noticed inside medicine the last couple years, a lot of people would come in and say 'I have no energy, I'm exhausted, I can't catch up.' In life and in hockey it's about energy, so we talked about choosing to be an energy giver or an energy taker, we all had that choice. Its humanly impossible to be an energy giver every day, all day long but we decided as a team that for those two weeks at those Olympic games, if we were going to win that gold medal, every player had to be an energy giver every single time that our team was together."
Wrapping up her presentation, Wickenheiser spoke about her parents support as well as all the coaches and volunteers she encountered throughout her life.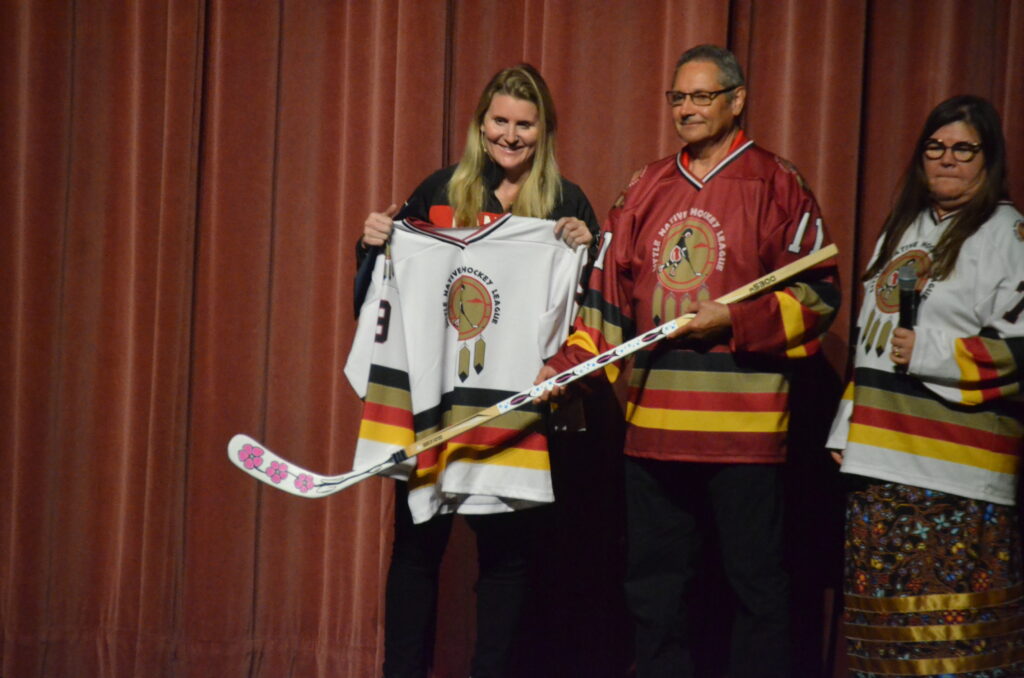 Former Six Nations Elected Chief Ava Hill and Sofia Smith, a Six Nations hockey player, presented Wickenheiser with an Indigenous hockey stick made by Hill's son.
Joe Persia, a local educator and vice principal, later moderated a fireside chat with Paralympic sledge ice hockey player Garrett Riley, local Olympic marathoner Krista DuChene, and Wickenheiser.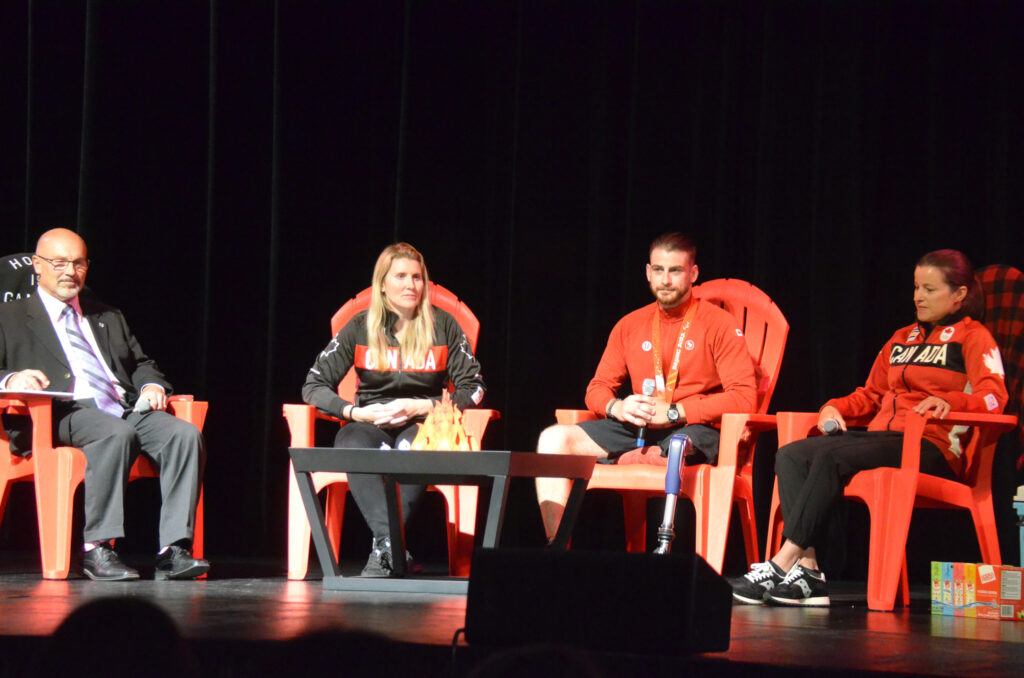 The event's choice of charity was the Arnold Anderson Sports Fund which helps kids receive funding ($350 for registration) for the sports. The fund has provided 1.2 million dollars in rewards to over 5000 children.
"We understand the importance of sport which helps build self-esteem, and social skills," said Mears. "Our goal is to leave no child out due to financial restraints."