As Brantford continues to grow and with more events popping up each year, the Green Team has stepped up to assist with Brantford's waste diversion efforts.
The Team was first established around Brantford's 2018 Canada Day celebration in order to help with diverting waste from the City's landfill after the event.
"At the time, we were looking at waste diversion at Canada Day and helping Branford to increase the amount of waste that could be diverted from landfill. What we discovered was that we needed a much bigger program than what was currently happening at the time," said Ken Burns, co-Chair of Brantford's Green Team. "While there were recycling receptacles put out throughout the park, they were so contaminated that the recycling couldn't even be recycled, and it ended up going to landfill. We also discovered that there was a lot of overflow of the waste containers that were provided, particularly in the midway area and that just increases the litter rate."
The team performed a proper waste audit after the 2018 event (including sorting and cleaning recyclables) and the results provided the Green Team with a better understanding of the volume of waste being created during the festival.
"The waste audit does two things. One, it ensures that the streams are clean so we don't have any recycling or organics going to landfill because we have physically pulled it out," said Burns. "The second thing that the waste audit does for us, is it gives us numbers and lets us quantify how much waste we are actually dealing with and how much we are actually diverting. The numbers are important because that helps people understand the scope of what we're doing and the scope of the problem. It also helps us with our sponsors understanding the impact. This isn't just a feel-good thing, this is a measurable initiative that really makes a difference."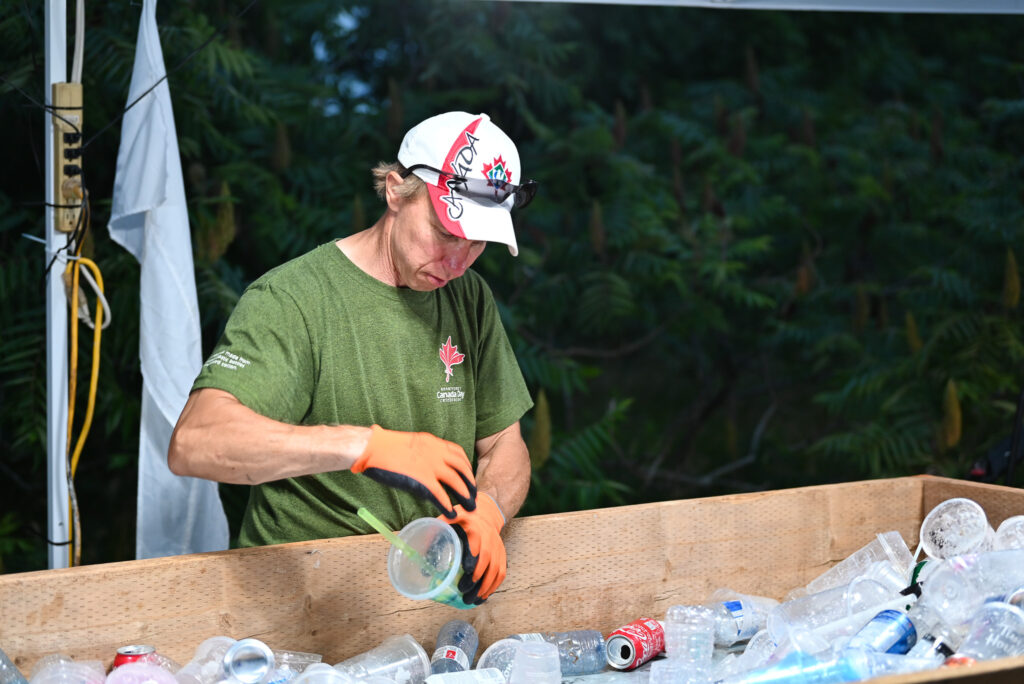 For the first time in Brantford history, all the recyclables from the 2018 Canada Day celebration were accepted by the recycling company.
"The recycling contractor at the time actually phoned the city back and said something along the lines of 'wow the recycling was so clean and it was all accepted for processing – we didn't expect that at all when you told us there was a festival,'" said Burns.
With the support from a local company called Stone Straws and other sponsors, the Green Team were later able to acquire properly scaled and identifiable waste bins from Busch Systems in Barrie.
Now equipped with the new and improved landfill, recycling and organic bins, volunteers were able to collect and divert waste from the 2019 Canada Day event, as well as engage with the public by providing information.
"We had volunteers at the waste stations to help people sort, and we discovered some of the challenges people had in sorting and understanding what goes where and why and how, and also the challenges of handling the festival."
Burns said that when it comes to understanding how to properly dispose of waste at an event, it can be challenging for people to wrap their heads around the details.
"Let's say you get that freshly squeezed lemonade that's at every festival – it's delicious, it's wonderful, and it's refreshing," he said. "However when you break it down, there's a plastic straw inside of a recyclable plastic container with a whole or half of a lemon inside of it. In that circumstance, you have all three waste streams – you have organics in the lemon, you have recyclables in the recyclable cups, and you have garbage in the straw if it's a plastic. You really have to pull it all apart and most people aren't thinking about that."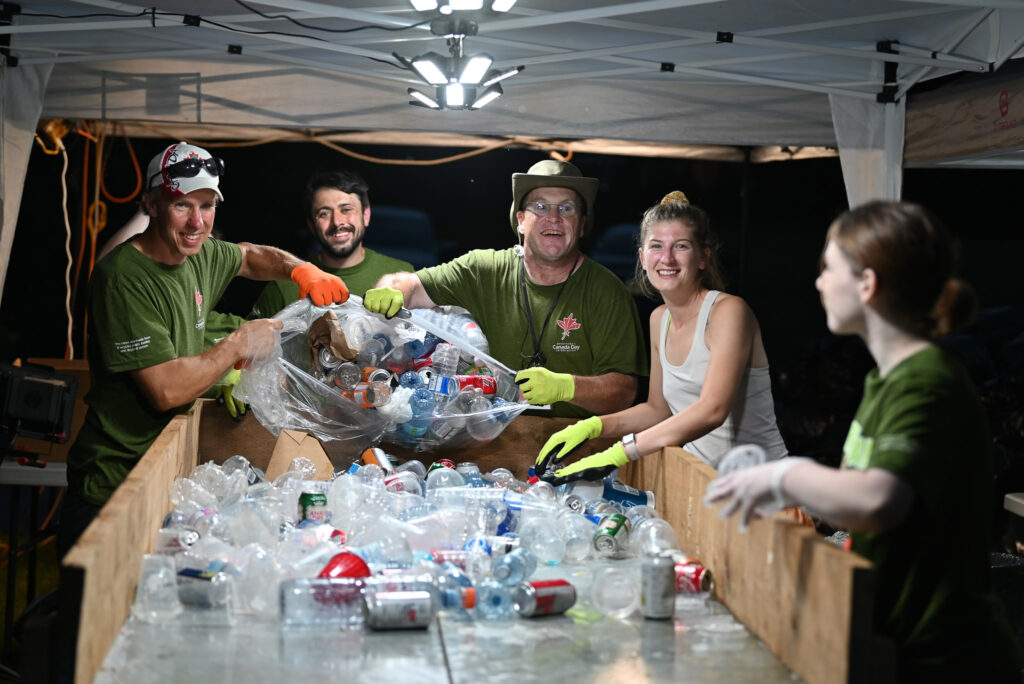 In 2019, the Green Team managed to successfully divert 57 per cent of the event's waste from the landfill.
While their goal was to initially divert 65 per cent, they were excited to have made a big impact and looked forward to reaching that goal in the following years.
Though the COVID-19 pandemic may have foiled their game plan for the Canada Day celebrations in 2020, 2021 and 2022, the Green Team has been set up at various events across the city and were preparing to use their knowledge to tackle this year's festival.
After all of the team's hard work and diversion efforts, Burns said that they were shocked to discover that after days of performing their waste audit, they were still only able to divert 57 per cent of the waste from this year's event.
"We kept wondering what was different and why we didn't do any better this year," said Burns. "Especially because this time, we had 45 waste stations across six acres of land, we had more volunteers on the waste stations, we had green umbrellas to help identify us, and we had information sheets for the stations that were unattended. When we looked at the numbers, we saw that we're pretty much diverting everything that's possibly degradable, but if we want that number to increase, we're going to have to actually engage the vendors."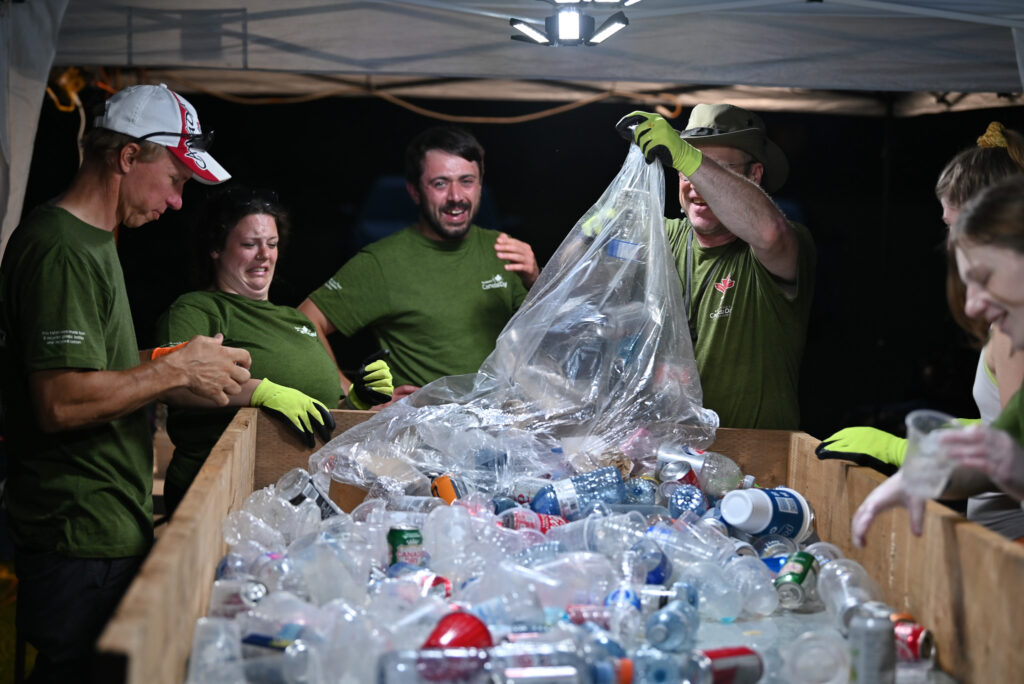 Burns said that while people at the event were happy to learn and engage with their friendly volunteers, in order to reach their goal, they're going to have to start seriously engaging with the vendors and looking into if and how they can start making swaps.
"When we look at it and we're looking at our waste diversion numbers, we can see where some of the problem is and that it's not just in sorting the waste that's going to fix the problem," he said. "We have to look at what we're producing that isn't recyclable or isn't organic in the first place. We've really got to look at the source because it's not just about what we're doing with the garbage once we've got it in our hands, but it's what we are putting in our hands in the first place. If at the end of the day, 43 per cent of your waste is not divertible in the first place, well then it doesn't matter how big your diversion effort is."
The co-chair said that despite not reaching their goal, they are looking forward to trying again next year and that they appreciate the Canada Day planning committee and their willingness to make changes. From the Rotary Club foregoing plastic cups to the committee purchasing 100 per cent recycled cotton t-shirts, every action counts.
"The enthusiasm and the support from everyone in the committee and even our team is encouraging and inspiring," said Burns. "This isn't just for nothing, we are showing up and we're going to continue showing how we can make a difference."