Just over 95 people attended the Golf Fore Nova Vita event at the exclusive Brantford Golf and Country Club on Tuesday, August 15, 2023.  
Despite the rain, golfers showed up bright and early and ready to play for the 26th annual 18-hole scramble style golf tournament in an effort to help raise between $25,000 and $30,000.
All proceeds raised during the day go directly to supporting the organization's vital programs and services available to all members of the community impacted by domestic violence and homelessness.
The tournament is the second largest fundraising event of the year behind its International Women's Day celebration.
Anne Herbison-Ruddell, Community Development Manager of Nova Vita Domestic Violence Prevention Services, said that overall, the day is about spreading awareness, having fun and raising money for an important cause.
"When you think about what we've done in 26 years with this golf tournament, we've literally faced just about every challenge and adversity, but it continues to grow and thrive and be more successful," she said. "We're building partnerships, we're building connections and we're all in this together to support our community. One doesn't exist without the other and I think that's so important, so the golf tournament is just a fun way to raise some awareness and raise much needed funding for our shelter needs."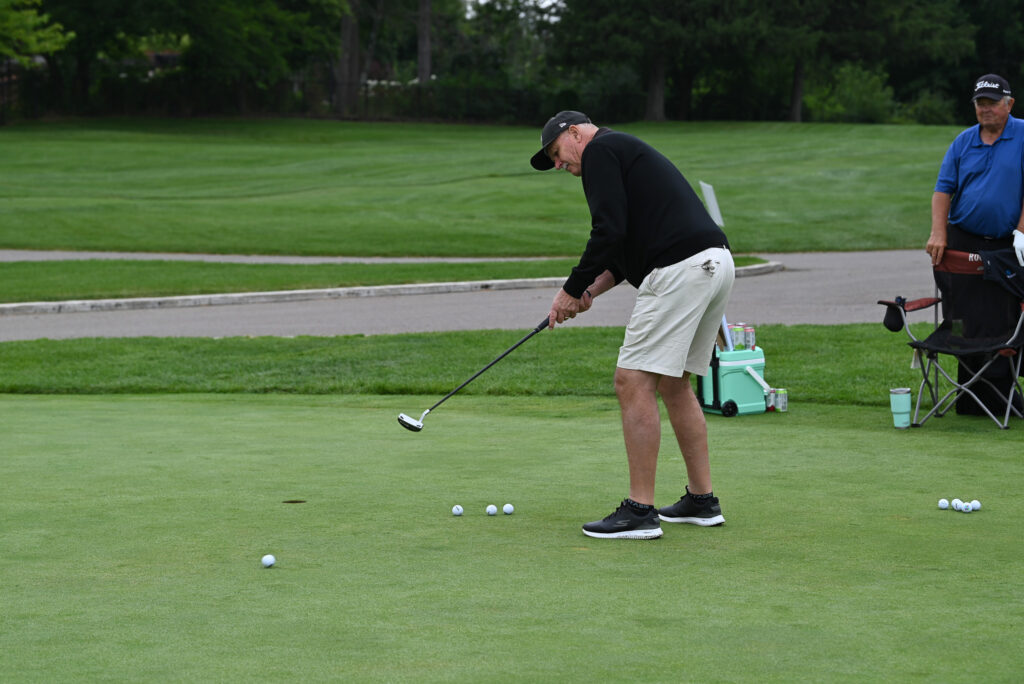 On top of the tournament, players could be seen partaking in several extra bonus games including a putting contest and a golf pong game.
Golfers also took the opportunity to donate $20 to Nova Vita to "Team Up with Kelly Rudney" for a helping hand with one of her drives in order to get them to the end of the long Par-five on hole four.
Rudney is a three-time World Long Drive Champion, currently ranked number two in the world, and is the Canadian National World Record Holder.
"I love being here, it's a great cause to raise money for them [Nova Vita] is what I love to do," said Rudney.
Players could be heard from the clubhouse as they were wowed by Rudney's powerful drive, often trying to outdo her on their own – and with no luck.
When asked about what the players' reactions were to seeing her on hole four, she said it's been great.
"A lot of them are seriously trying to out-drive me and not hitting it very far," she chuckled.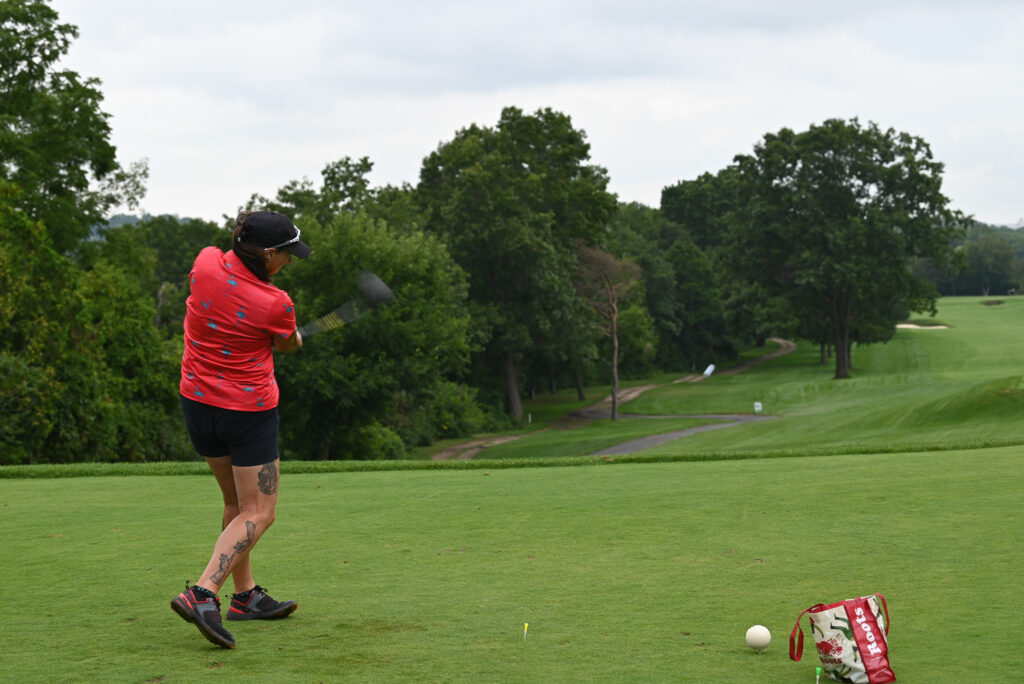 Jessica Powless, Special Events and Public Education Coordinator at Nova Vita, said that when it comes to curating a tournament like this, herself and her coworkers took inspiration from their own golfing experiences.
"When you're at an event like this, sometimes they can take a really long time and you're in the sun all day and I think that we create a really excellent balance of making sure that people are having a fun time and are engaged, but also being able to play golf," she said. "They got to take advantage of this beautiful golf course, so we want to give them a fun day, while also respecting their time and making sure they feel valued. That's really our ultimate goal and fundraising is just a really happy outcome of that."
As golfers began wrapping up their games, many headed into the clubhouse's Grand River room to grab refreshments, a light dinner, and to look at the different silent auction items before listening in for the award presentations.
"This year we are giving out awards for the men's flight division, women's flight division and a mixed flight division," said Powless. "We also have closest to the target and closest to the pin for both men and women. We're also hoping to have a hole in one winner this year. The hole in one is on hole 15 and its open to men and women and the prize for that is round trip airfare to Hawaii and a seven-night stay at the Royal Kona Resort Hotel."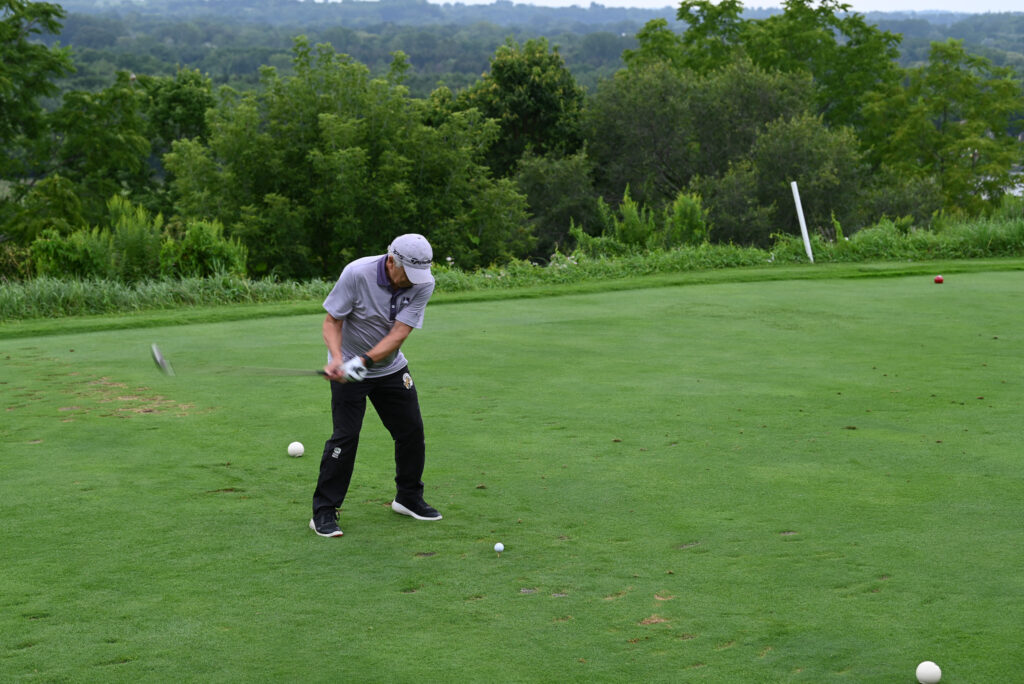 Organizers said that they were aiming to keep the award presentation shorter as they also wanted to touch on and its "40 Years of Hope."
For 40 years, Nova Vita has been providing safe shelter and support for women and families impacted by violence and homelessness in the community.
Organizers encouraged participants to donate $40 for 40 years of hope as Nova Vita has especially been feeling the strain for the demand of its programs and services this year.
The organization's 33 bed emergency shelter is often over capacity and the waitlist for affordable housing continues to grow alongside the cost of living. Client needs are now more complex as women and families continue to see an increase of abuse.
The $40 donation helps to purchase a ten ride B-card for Brantford Transit for a mother and child, provide milk for a week in the 33-bed emergency shelter and supply cutlery and dinnerware for one of their second-stage housing units for a family of four.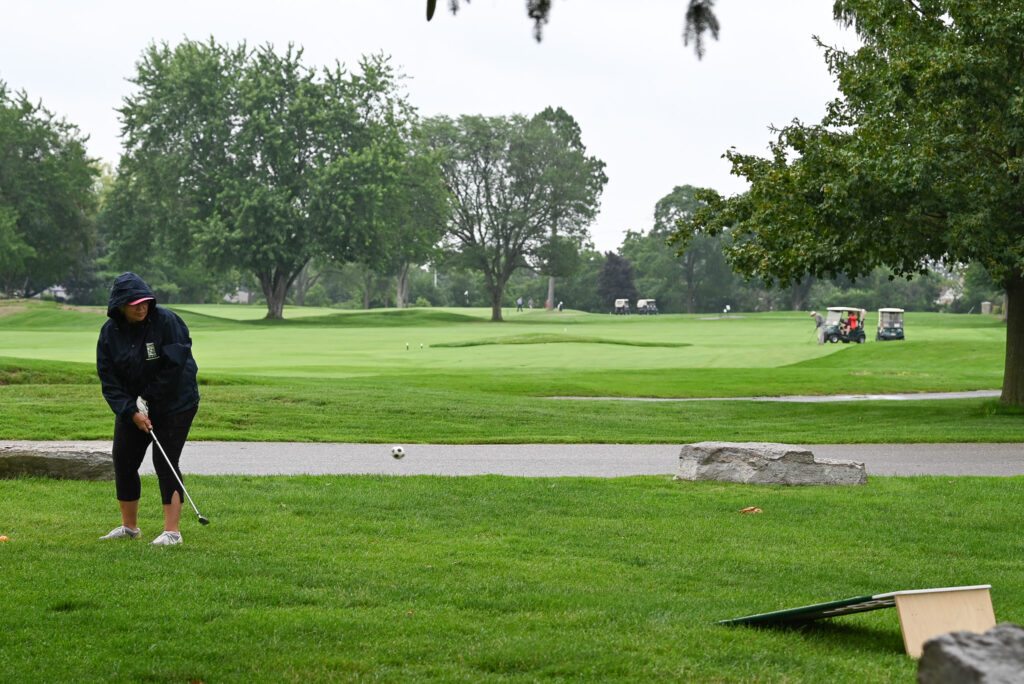 Powless said that in the end, the day couldn't have been possible without the participation of the golfers and sponsors.
"I can't run tournaments like this without the support of our community and we just had so much generosity from our community, partners, individuals and even golfers themselves who have donated prizes," she said.
Powless also credited her team of volunteers for helping them to pull off the event, saying she couldn't have done it without them.
"I've been here for four years, and this is my biggest volunteer team yet – we have 18 volunteers and they are all so important," she said. "I couldn't do what I do without the volunteers and everyone has been so dedicated. I have brand new volunteers and I have ones that have been around for a long time, and they just love to come to help out with the event so I'm hoping to carry that on into 2024."