The Glenhyrst Art Gallery will be hosting its first annual Grand River Arts Festival (GRAF) from Friday, September 15 to Saturday, September 16, 2023.
The two-day event offers an opportunity for guests to roam the grounds of the gallery as they fully immerse themselves in the world of art, music and theatre.
Ana Olson, Gallery Director for Glenhyrst Art Gallery, said that the idea for the event came after a meeting with local artists within the community.
"The event came about very organically. We were meeting with a few artists from the community about something completely different and somebody suggested that we should have an arts festival," she said. "We agreed that it was long overdue, Branford's ready for something like this and we should do it."
The GRAF committee soon began brainstorming about what they wanted the event to look like.
"We started with 'what do we want this event to look like?' because while the basis of the event is about artists and making sure the artists are here and that artists are available to exhibit and to sell their work, we quickly realized that this was about more than just artists or visual artists," she said. "We wanted music and theatre and all these different areas of art to be included as well.
Like most things, it started off really slow and small, and then as we got to talking and as more people got interested, its kind of blossomed and gotten bigger and bigger."
As the event quickly approaches, Olson said that her and GRAF committee are looking forward to bringing something new to the grounds.
"I think it's going to be great and we're super excited to present it and have people here in the park," she said. "I mean the funny thing is that just the park alone is like a work of art. To come to the garden and sit in the park is cool, but to sit in the park and have all of this going on around us is going to be so awesome."
For those interested in attending the 19+ opening night, tickets cost $40 and will cover the entrance fee to the event, a GRAF t-shirt, and the first welcome drink – be it a beer, wine, cocktail or mocktail.
Olson said that outdoor event will have a similar quality to the gallery's Taste of Glenhyrst event.
"We wanted this to be an evening outdoor event like the Taste of Glenhyrst event and with that same kind of vibe with all the tents, the musicians, a bar, and the food trucks," she said. "With that being said, it will certainly be different then Taste of Glenhyrst because those tickets cost $150 and it's our big fundraiser, but I feel like we're bringing the same caliber of event to the community on a much broader scale."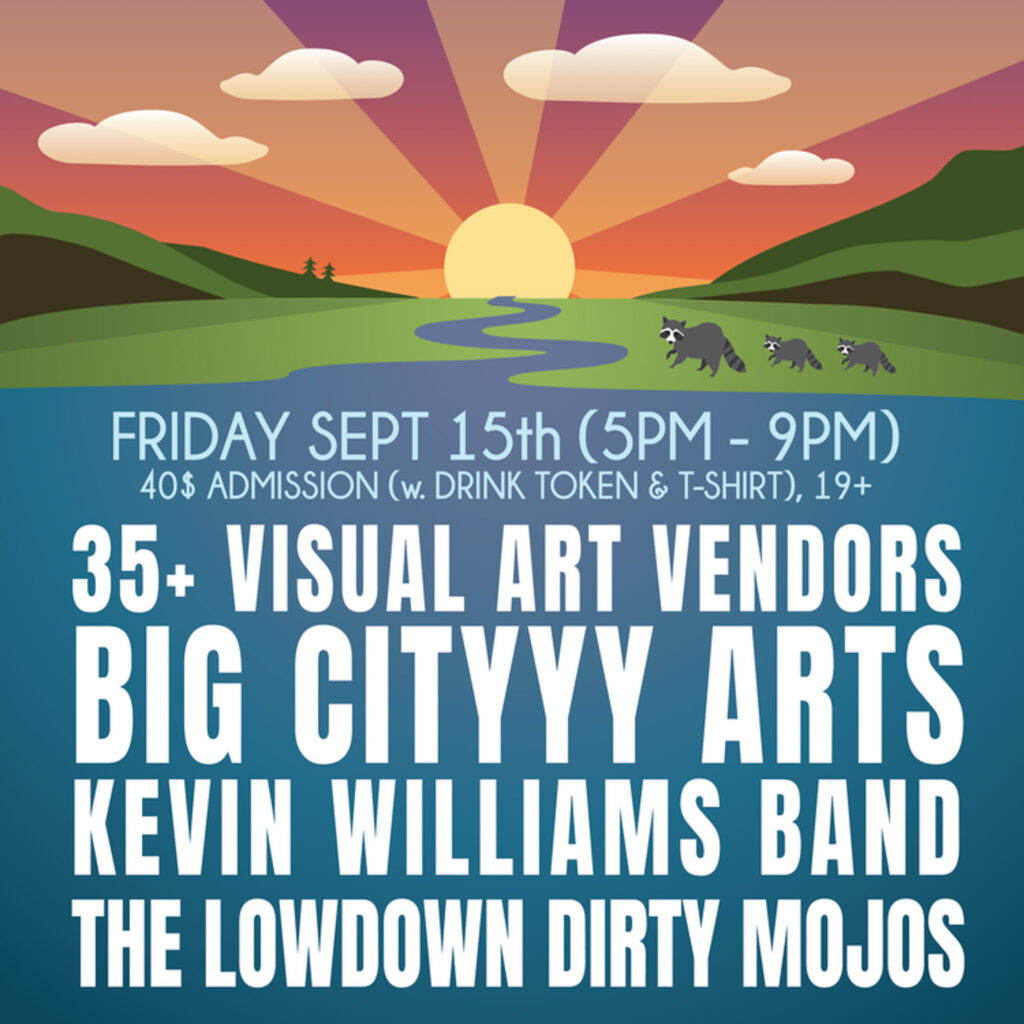 Friday's event will feature 35-plus visual artist vendors, a performance from Big Cityyy Arts, the Lowdown Dirty Mojo's from Toronto, as well as the Kevin Williams Band on the main stage.
Saturday's all-ages event will be free to attend, and the gallery Director said that it will be more in line with a true festival feel with music from 11:00 a.m. to 8:00 p.m.
The Treble Tones, Keith Silver, AILM, Club Django, EXCUSE ME, Dave Hind, Union & Kay, as well as the Skye Dancers will all be playing on the mainstage throughout the day.
"We also have a ten-minute play competition, which is happening in the Coach House, and this is the first in this region," said Olson. "We've had plays submitted from all over Ontario by regional theatres and creators, and there will be a total of 18 plays over three sessions."
Olson said that because there is only seating for 50 people in the Coach House, the GRAF committee are selling placeholder tickets online for five dollars each session.
Nine visual artists will also be partaking in the Grand Impressionist Paint Challenge over three sessions (three artists at a time).
"We will be pulling art from the permanent collection and these artists have 20 to 25 minutes to create their own impression of that artwork."
Dave Hind will also be on site during Saturday's main event. The artist is known for using recycled, salvaged, and found materials to create functional objects, musical instruments, sculpture, aluminium paintings, and small shelters.
"He's amazing public art person and he's bringing one of his massive works that he had displayed at the Hamilton Art Gallery, which is huge, probably the biggest piece of work I've ever seen in my entire life," said Olson. "He will also be creating an interactive art project that's going to be permanently displayed in our gazebo on the property. He's going to be covering it with aluminum and people are going to be able to dremel their name and their artwork into a piece and creating this interactive community art project as we go."
Paris Sketchers will be in attendance creating sketches around the park and the day will also have demonstrations (such as pottery), art installations and a children's area with face painting and other activities like giant Jenga and checkers.
Olson noted that there will be food trucks and ice cream on site during Saturday's event as well.
"This event is all about inclusivity and diversity and so we wanted to set the tone with that for sure," said Olson. "That's who we are as a vision and we just want to make sure that people realize that this is who we are, this is who our community is built out of and we want to make sure that everybody feels welcome because we want this to be annual and we want it to keep going on and growing. We hope that people come out and show their support."