With GivingTuesday taking place on Tuesday, November 28, 2023, Brantford Native Housing (BNH) says there are plenty of opportunities for the community to help give back.
BNH is a non-profit charitable corporation with the main objective to provide safe, secure and affordable rental homes for the urban Indigenous community in the city of Brantford. It's outreach program also works to support the houseless community, both Indigenous and non-Indigenous, by providing food provisions, clothing and hygiene products, harm reduction supplies and First-Aid/medical items, safe contraception supplies and cultural supplies like traditional medicine (Sage, Cedar,
Sweetgrass, Seashells and Bear Root).
Abbie Quigley, Housing Outreach Coordinator for BNH, said that while members of the Brantford community are welcome to donate at any time, GivingTuesday is a great chance to donate much-needed items.
"With the winter months coming up, we are trying to get some donations to help the folks in the community. We do struggle sometimes with donations, so it's always nice to have things to give back to the houseless community and those in transitional housing," said Quigley. "It's super important because people in the community don't always have support systems or access to money for things like clothing, socks, hygiene products or the like. Their main focus may just be paying for rent or for higher priority things. For us to be able to support them with those essential necessities is what we do and is what is important to us."
Alma Arguello, Executive Director of BNH, said that donating helps to give those who need the help a sense of dignity, agency and freedom.
"It all goes back to that notion of if we're going to give help, let's give dignified help. We need to be able to remember that people do have a form of agency, it's not just about 'take it or leave it,' it has to come from a trauma-informed approach and client center approach," she said. "Even when people come in to grab something off the clothing rack, if they see it and it fits, it's theirs. They don't ever have to come in and say, 'do you have a coat?' because again, it goes back to that sense of agency and dignity. It all creates that self-preservation and self-love, and it provides community."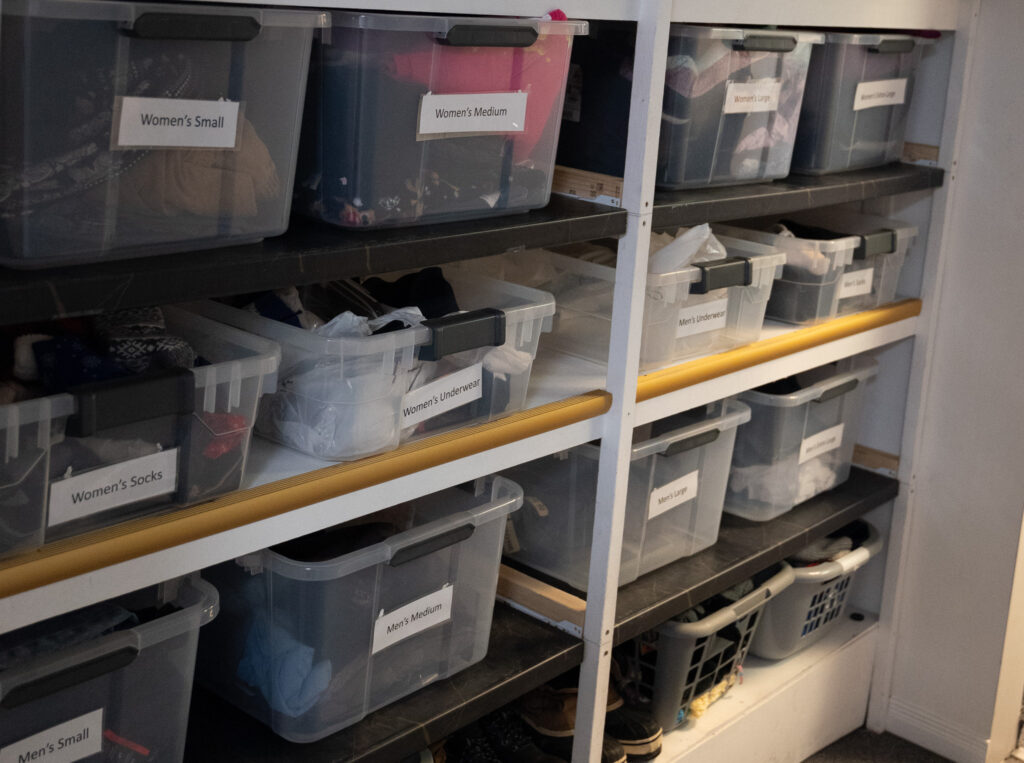 So what can you donate? Arguello said that there are plenty of items that would be useful such as men's clothing.
"We don't often get those items, so we just can't keep up with it," said Arguello. "Sometimes the men who come to us end up having to wear a women's coat because there just isn't anything else. That's fine of course, but if we're going to give support and care, it has to come from a place of dignity. Not having those essential items, does affect people in terms of how you receive help, and when you go to seek help."
She said that homeware items for those in transitional housing are also needed.
"Essential things that we actually need are new plates and dishes, new bedding or new shower curtains because, if you really think about it, when you move into a transitional unit you have very little. So, it's nice to be able to go into a safe place and be able to have those things and even to be able to make your bed," said Arguello. "It's very empowering to be able to give people the agency that they need in terms of healing and to kind of get back on their feet."
The Executive Director noted that with Christmas coming up, new toys or gift cards may also be items that people can consider donating.
"It's always nice to donate new toys, but there's also teenagers to think about and so something like a $20 gift card to McDonalds, Tim Hortons or Starbucks is big for them. Some of them are living in a multi-generational household and they're helping their parents, their siblings and their grandparents," she said. "So, if you're a 15-year-old and you get the chance to go to Starbucks and get that funky drink? That's a treat for them. They may go and get the most complicated order but for them, they're making that decision and it's empowering for them. Even if it's just a gift card for the movies, that could be a teenager's Christmas break, you know?"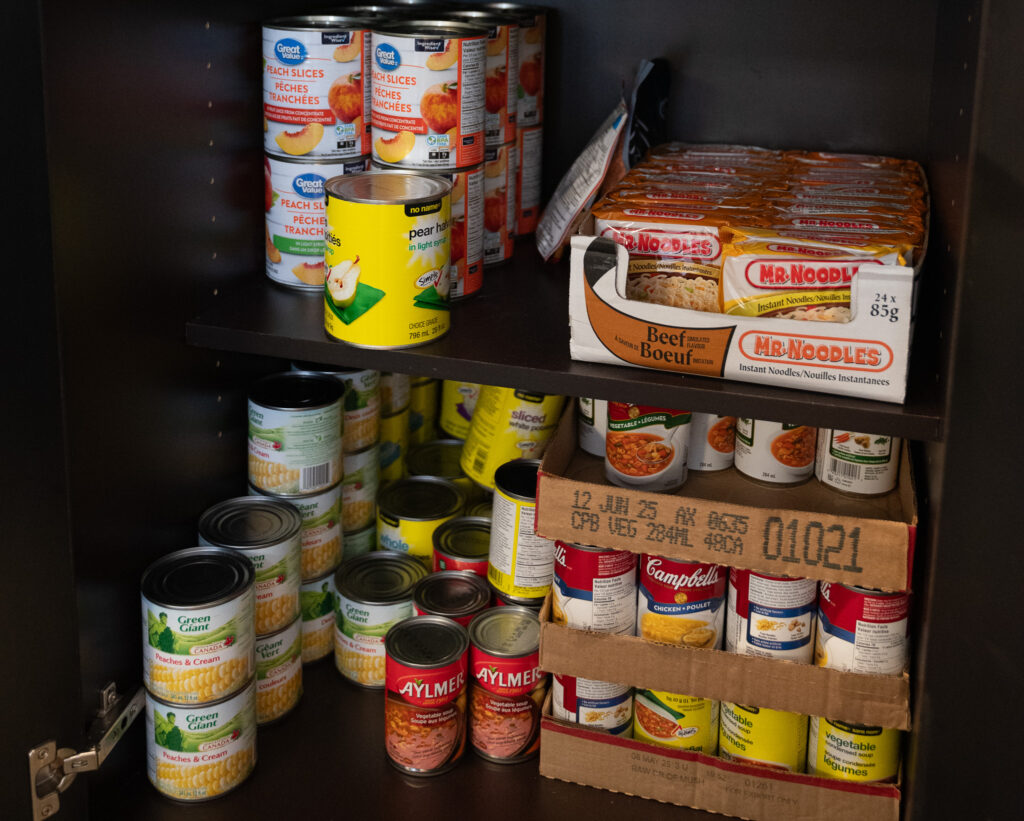 With Food Bank shortages across Canada, Arguello said that gift cards for food are always great to have.
"Everything is so expensive, and these days it doesn't matter if you go to the food bank because there's a limit to the things you can get. We keep encouraging folks to eat healthy, but it's very hard to shop for proteins, especially if you have kids who are school age," she said. "Fresh fruits and vegetables also aren't always found in food banks either and we have to remember that there are people with dietary needs and allergies. We aren't a food bank, and we try to direct people there, but we've started often giving out gift cards to help supplement what they get from the food bank."
The agency also accepts cash donations through their website, and those donations are often used for things like traditional medicine.
"With cash donations, we're able to buy traditional medicine for people too. Cold season is coming and so a lot of people are using things like Sweetgrass, Sage, Seashells, Cedar and Bear Root too," she said. "We provide that traditional component that people can't find anywhere else because you can't just go anywhere in the city or other places and say 'I'll take a coat, a food hamper and some of my traditional medicine.'"
Pamela Hill Jamieson, Homelessness Outreach Support Worker at BNH, said that having that type of cultural support is important because there is often a stigma around the Indigenous community looking for help.
"Coming from an Indigenous perspective, a lot of our people won't necessarily go to other organizations that aren't labeled as Indigenous-based because there is such a stigma for them," she said.
She also noted that while yes, they work to support the Indigenous community, they also help everyone.
"At BNH, we serve everybody. It doesn't matter if they are Indigenous or not, if they are housed or houseless, we help everybody that comes through the door that needs it," she said.
Items to donate:
Hygiene items
–Shampoo and conditioner
-Body wash/ bar soap
-Face wash
-Disposable razors and other shaving items
-Deodorant
-Toothpaste/toothbrushes
-Floss
-Feminine hygiene products (tampons, pads, liners, and yeast infection kits)
-Tissues
-Combs/brushes
Clothing items for men and women
–Jackets
-Mittens
-Hats
-Sweaters
-Shirts
-Pants
-Underwear (new only)
-Socks (new only)
-Boots/Shoes
-Jewelry
New household items
-Dishes (plates, cups/glasses, cutlery)
-Bedding
-Shower curtains
-Towels
-Sleeping bags
-Toilet paper
-Paper towel
-Dish soap
Other items
-Gift cards for: groceries, Shoppers Drug Mart, Tim Hortons, Starbucks, McDonalds, Wendy's, etc. Cineplex, Toys R' Us, etc.
-New toys
-Cash donations
If people are looking to donate any of the above items, the organization is open Monday to Friday from 9:00 a.m. to 4:00 p.m..