Brooklyn Skoog is in her second and final year of the Health, Wellness and Fitness program at Mohawk College and has already landed a job in her field.
She is currently on Mohawk College's varsity running team and has found a love for the sport by challenging herself to beat her personal best records during competitions.
Skoog was born and raised in Brantford and currently works as an ambassador for Modo Yoga in Brantford, as well as a one-on-one fitness coach at the Hamilton Fitness Academy.
Skoog's relationship with health and fitness did not come naturally for her – she didn't grow up playing sports or being active outside of doing a few years of cheer.
"When I was in high school, I was not athletic at all – not even a little bit," she said. "I did not want to do the mile or anything because I was so uncomfortable. I wasn't prepared with a change of clothes, and I didn't have access to a shower, so I was scared to sweat and get involved, I would make up any excuse I could to get out of it."
Growing up in the thick of social media proved difficult on top of everything else.
"We downloaded Facebook, Instagram and Snapchat and it became a really easy way to bully people and compare each other – it became so toxic for me and others," said Skoog. "Imagine being in a high school gym class where everyone has a phone and can video tape you when you're running or if you fall – before you know it, it's no longer just your class seeing you, it's the entire school and more."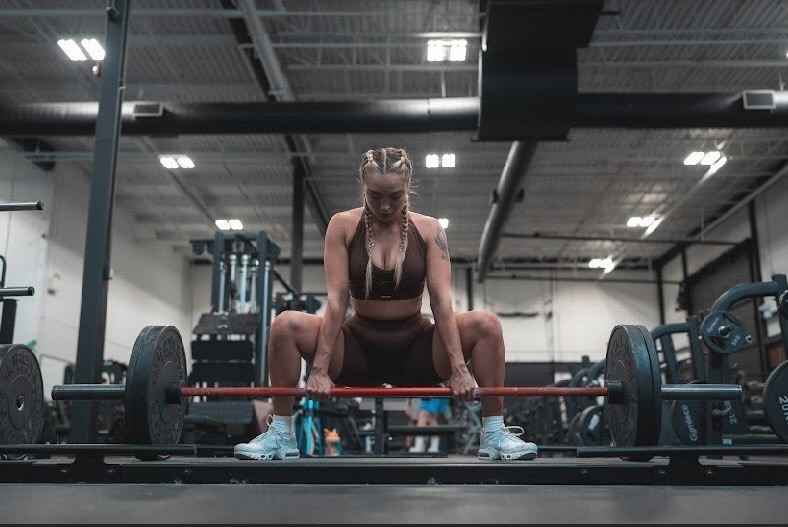 Between not feeding her body in a healthy way, not having an outlet to exercise and being on various medications Skoog began to see her body change and she slowly started to become overweight for her frame.
She didn't think fitness was for her and began to get into makeup and using that art as a way to both express and cover herself.
At 18, after several years of being on medication, Skoog consulted with a medical professional and decided to slowly wean off her medication as it wasn't helping her or her mental health. *She notes that is not a path for everyone and it should be discussed with a medical professional*
She began actively seeking therapy and started attending St. Josephs (across from her current college – a full circle moment for her) twice a week.
From there, she had a chance to do both one-on-one therapy and group therapy – something that she says helped her realize she wasn't the only one going through rough times.
During her time at St. Joseph's, she was introduced to an eight-week pilot yoga program and fell in love with the exercise – despite her trying not to admit it. She started attending classes at Modo Yoga and became an ambassador, allowing her to exchange work time for classes and she finally became a part of a community.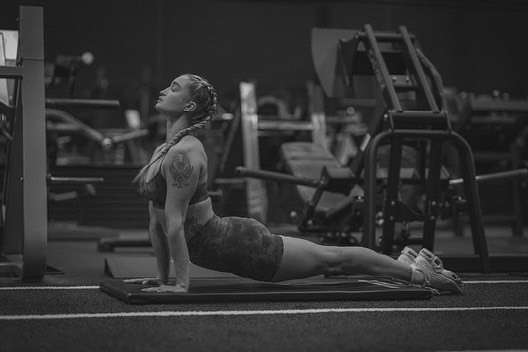 Skoog continued to pursue working out and as the pandemic hit, she began biking, walking, running and working out as a hobby. She began making videos and posting them online to help inspire others to move their bodies.
It wasn't always easy balancing a healthy lifestyle during this time and Skoog admits that there was time that she wasn't making healthy choices and took it too far.
"I became very thin during COVID, and I really struggled having a healthy relationship with it," she said. "I became obsessed with working out and the worst part was that people fed into it! I would hear 'wow, how are you so thin? what did you do to look so good?' but in reality, I was doing unhealthy things that I would now never recommend to anyone, in order to maintain that very low weight. Ultimately, it wasn't making me happy, and it wasn't fixing anything. As I have learned more and started to heal my relationship with fitness, as I joined a gym and as I started to lift weights – I finally saw my outlook changing."
Skoog eventually applied to her program at Mohawk and started her journey to learn more about a maintainable relationship with health and fitness.
"I'm stronger, I lift heavier and I finally have a balance where I'm eating to truly fuel my body, I genuinely feel so much better mentally and physically," she said.
Skoog credits her coaches at Mohawk for encouraging her to see the benefit of fueling your body and your workouts.
She sees the potential in what moving and feeding your body can do for a person and she would love to see the workday change to allow people to honour their craving for movement.
"In my opinion, if we shortened the workday by an hour and we gave that extra hour for people to work out and we gave them resources to shower after and to have a nutritious lunch, they are going to get more done in one workday than they would with that extra hour of work. Having an outlet to burn off that energy can help people work and focus.
It can truly be a tool to help you to mitigate your thoughts and feelings when it comes to mental health and work."
As Skoog finishes her current program she is looking to continue in another program that will help work with others who are struggling with mental health, addiction or learning disabilities.
Skoog's top tips for healthy living is as follows:
-Don't be all or nothing. If you have a rough meal, don't call the rest of the day a write off.
-Have moderation. Don't cut out your favourite food, but add in more nutritious food.-Don't do movements you hate, find something you enjoy and try new things.
-Give yourself grace, stay committed and enjoy the journey. Nothing good comes easy and it takes time to appreciate the journey.