The North Park Trojans season came to an end with a 50-7 loss to the Notre Dame Fighting Irish in the Ontario Federation of School Athletic Associations (OFSAA) Central Bowl game at Bisons Alumni Field on Tuesday, November 30.
Both teams boasted undefeated seasons heading into the championship game on Tuesday afternoon.
The Fighting Irish received the opening kickoff and their offense did not take long to figure out the weak spots in the Trojans defensive line. Following five running plays to work their way down the field, Notre Dame got on the board first with a 17-yard rushing touchdown. The conversion attempt was good and the Fighting Irish led 7-0 with nine minutes left in the first quarter.
The Trojans offensive line struggled during their three possessions in the first quarter as the Fighting Irish defense held them to just six plays.
As time expired in the opening quarter, Notre Dame quarterback Marshall MacCray took off down the field completing a 70-yard run to come within two yards of the endzone. The Fighting Irish capitalized on their field position on the first play of the second quarter to extend their lead to 14-0.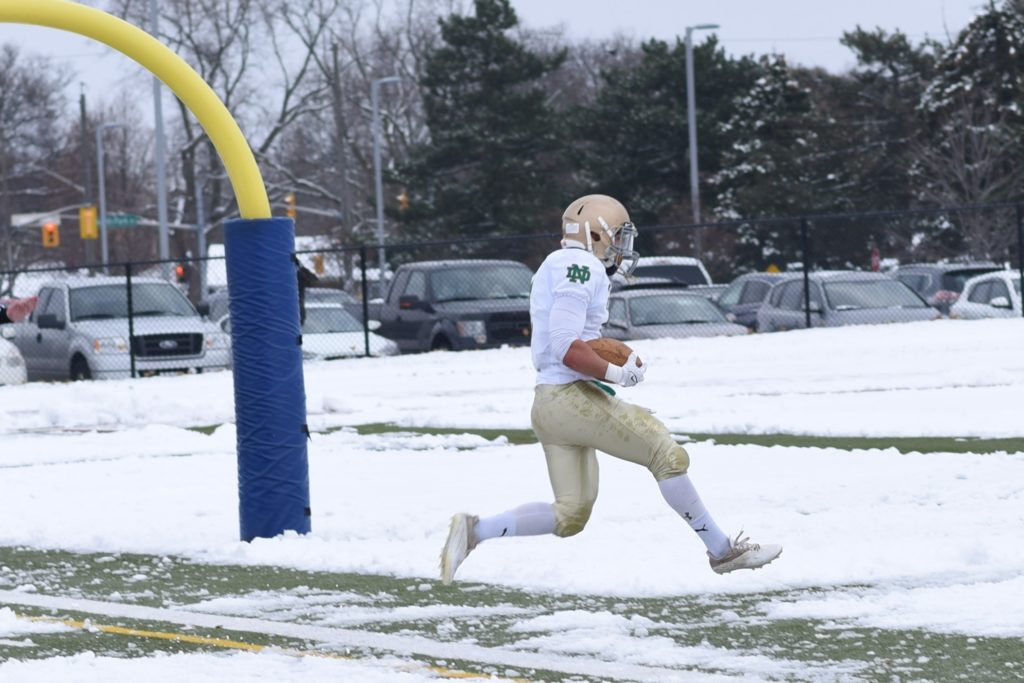 The Trojans offense continued to scramble in the second quarter, two big runs showed signs of life from the home team but they were unable to continue their push down the field.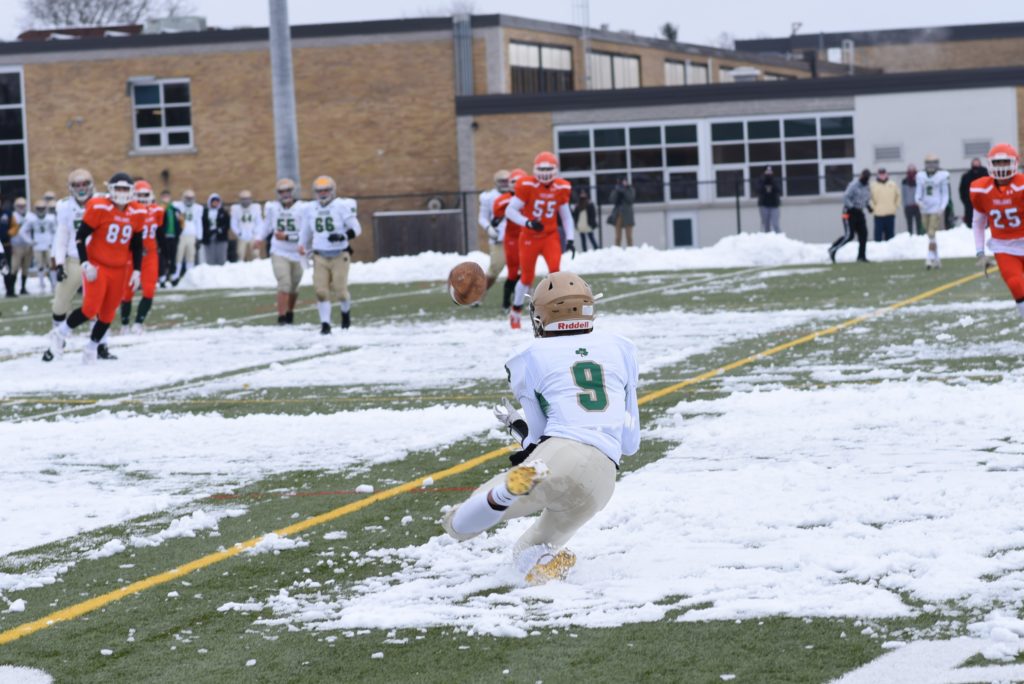 The Fighting Irish extended their lead to 21-0 with a short rushing touchdown with four minutes remaining in the half.
As the clock ticked down in the final minute, Notre Dame wide receiver Dayshawn Johnson made an interception and completed a pick six with a 65-yard run.
The Fighting Irish closed out the first half with their fifth touchdown of the game and a two-point conversion. Notre Dame led North Park 36-0 at halftime.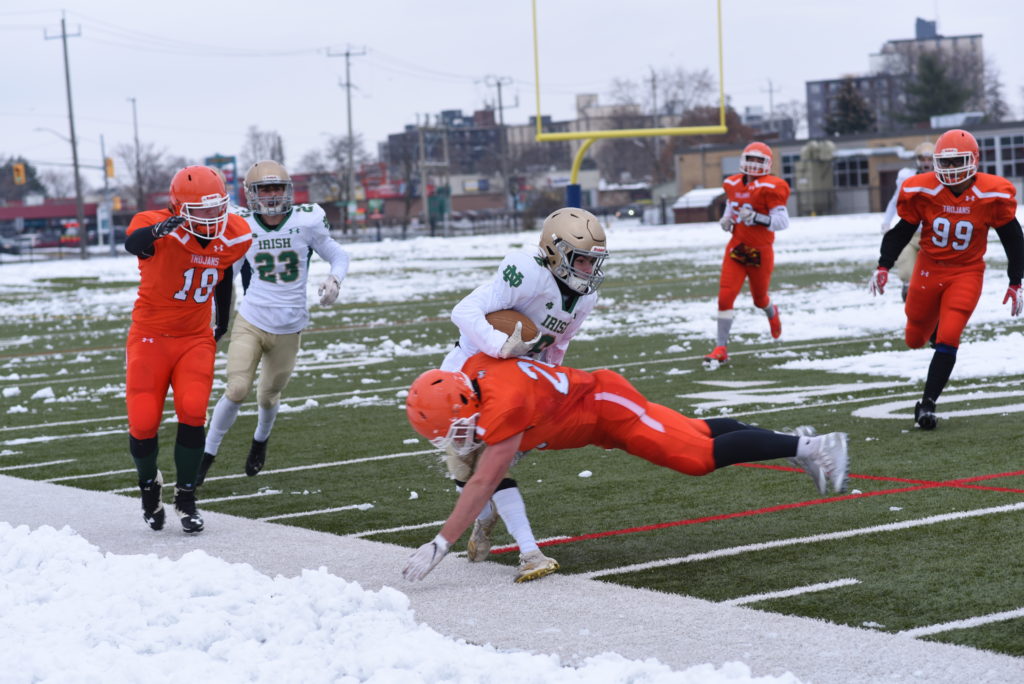 The Trojans gave their hometown fans something to cheer about with a 95-yard touchdown run during the kickoff return to open the second half. The touchdown was scored by Garwayne Rowe and the conversion was made by Tariq Hamed.
The Fighting Irish responded with a rushing touchdown of their own less than a minute later. A successful conversion set the score at 42-7.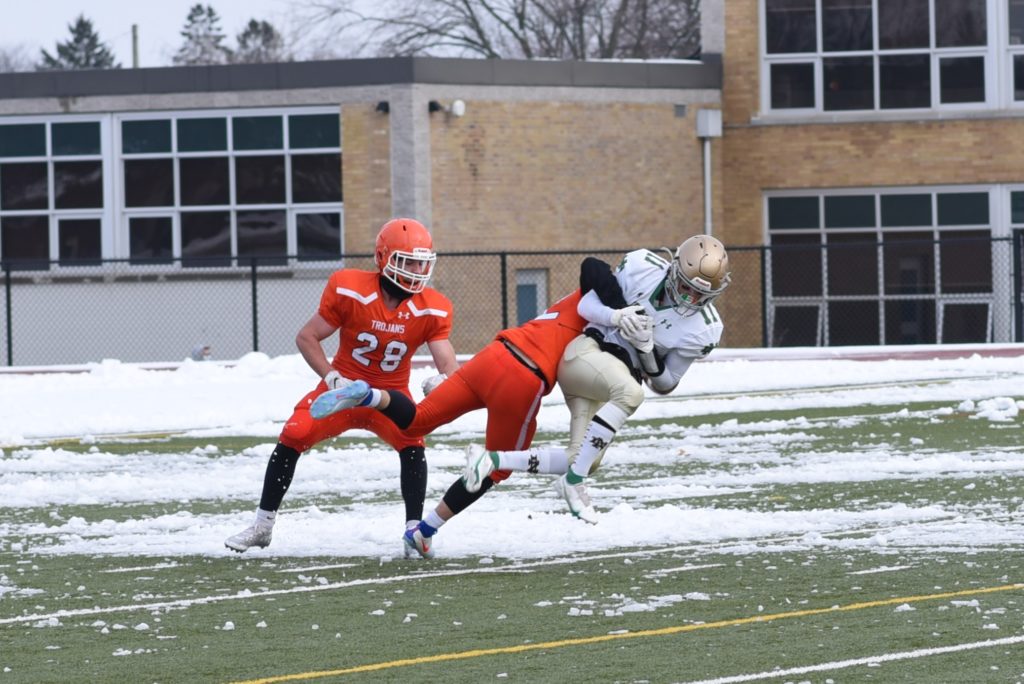 Just before three minute warning of the third quarter, Notre Dame running back Tal Ibriham scored his fifth touchdown of the game. Following kicker Jake Laewetz's sixth successful conversion of the game, the Fighting Irish led 50-7.
The Trojans defense held off the red-hot Fighting Irish offense in the fourth quarter, while their own offense failed to put anything together.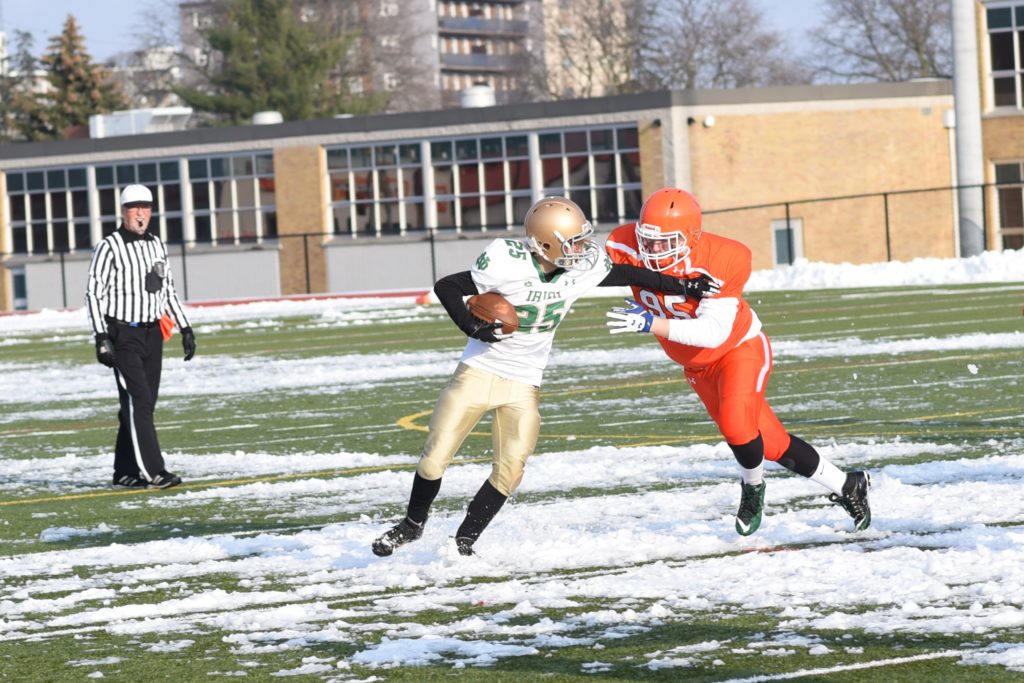 Notre Dame ran the clock down in the final minute of the game to defeat the Trojans 50-7, claiming the OFSAA Central Bowl title.