Hundreds of Brantford residents gathered around to watch Doug "the Great" Hunt set a Guinness World Record during the tenth anniversary of the Wayne Gretzky Sports Centre renovations on Saturday, October 21, 2023.
Residents and out-of-town visitors alike were looking up towards the sky as Hunt prepared to take back his world record for stilt walking.
The Brantford local held the record for tallest and heaviest stilts ever mastered for 20 years after taking 29 unaided steps at a height of 50 feet, 9 inches in September of 2002.
Thirty-three-year-old Jordan Wolf of the United States of America took that title from Hunt on June 4, 2022 at 54 feet, one inch high with ten steps.
Back in 2002, Guinness standard stated that a person had to take 25 unaided steps, however it was later changed to ten.
Despite the cold and windy weather on Saturday, Hunt ascended into the air via a crane and carefully attached his 55-foot-high stilts with the help of his trainer, Tom Rollins.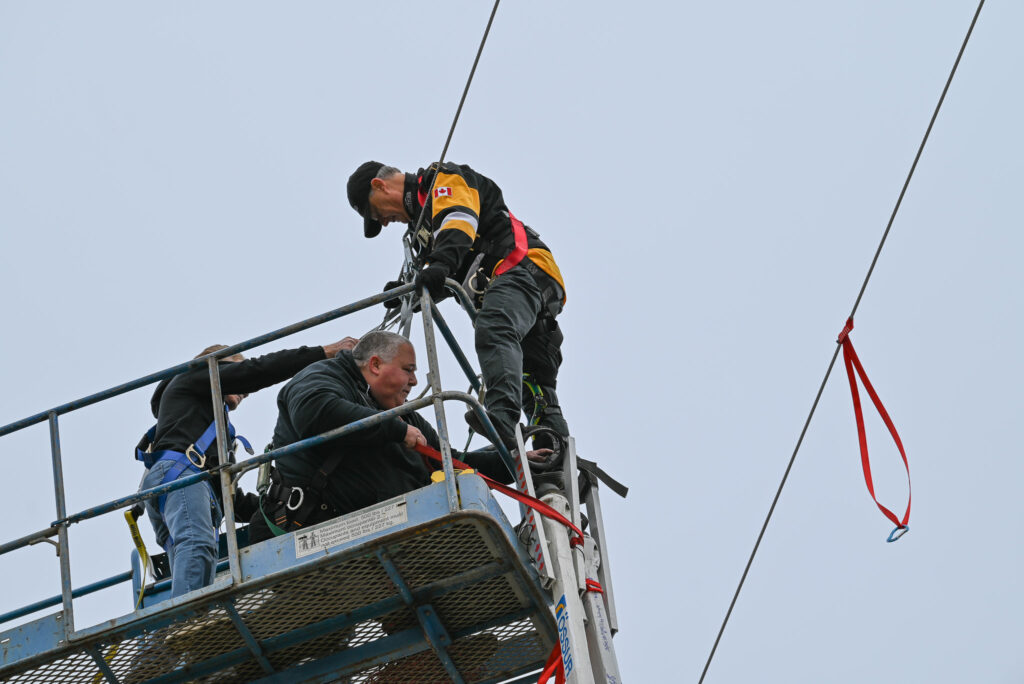 Guinness officials, along with the "On the Record" team were on the ground carefully counting each of Hunt's steps as he made multiple attempts to meet Guinness standards.
Around 12:45 p.m., Hunt took 14 unaided forward steps at a height of 55-feet in front of hundreds of supporters.
After accomplishing the record, Hunt set off a confetti cannon and threw his hands in the air as those on the ground cheered and clapped for the beloved stilt walker.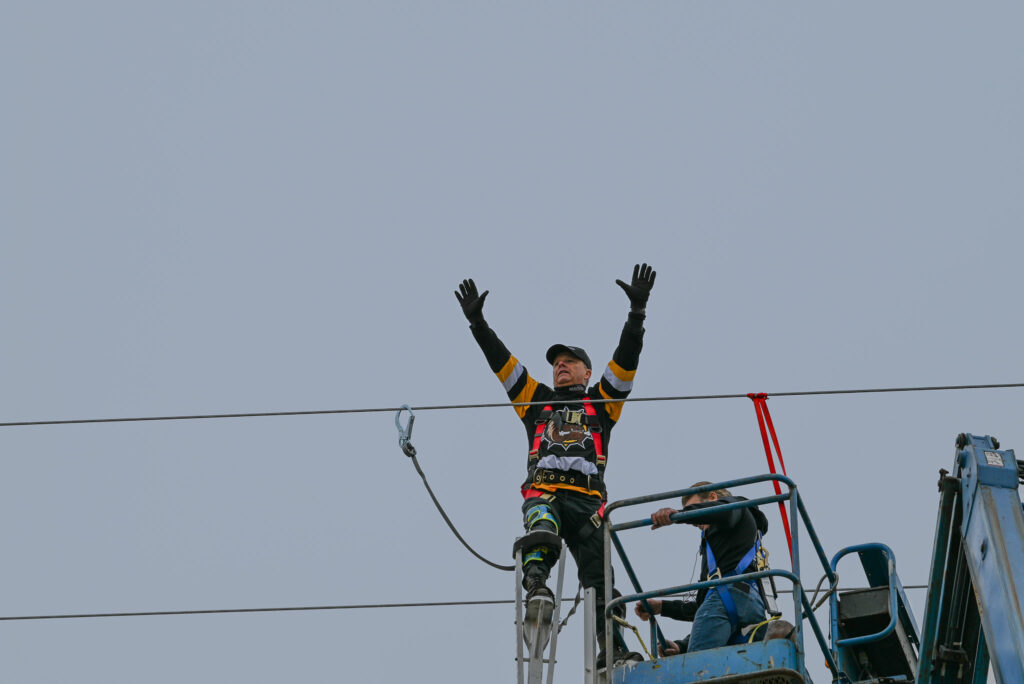 Back on the ground, Hunt was all smiles as he spoke about his tall feat.
"We wanted to bring the record back to Canada, back to Ontario, and we wanted to bring it back to Brantford," he said. "It was pretty windy, but we were successful with 14 forward steps."
When asked about stepping up to the challenge, Hunt said "it's all about setting goals and meeting those challenges."
"If I didn't get it today and I talked to young people and they had said 'oh you didn't get the record,' well you only didn't get it if you give up and so never give up. If you keep failing forward, you'll achieve," he said.
He noted that funds raised from the day will be going towards Participation Support Services and that he was there to ultimately help the residents.
"More importantly, although it was a challenge for our team, especially for me and the wind, it was an opportunity to help people who live a challenge every day," he said.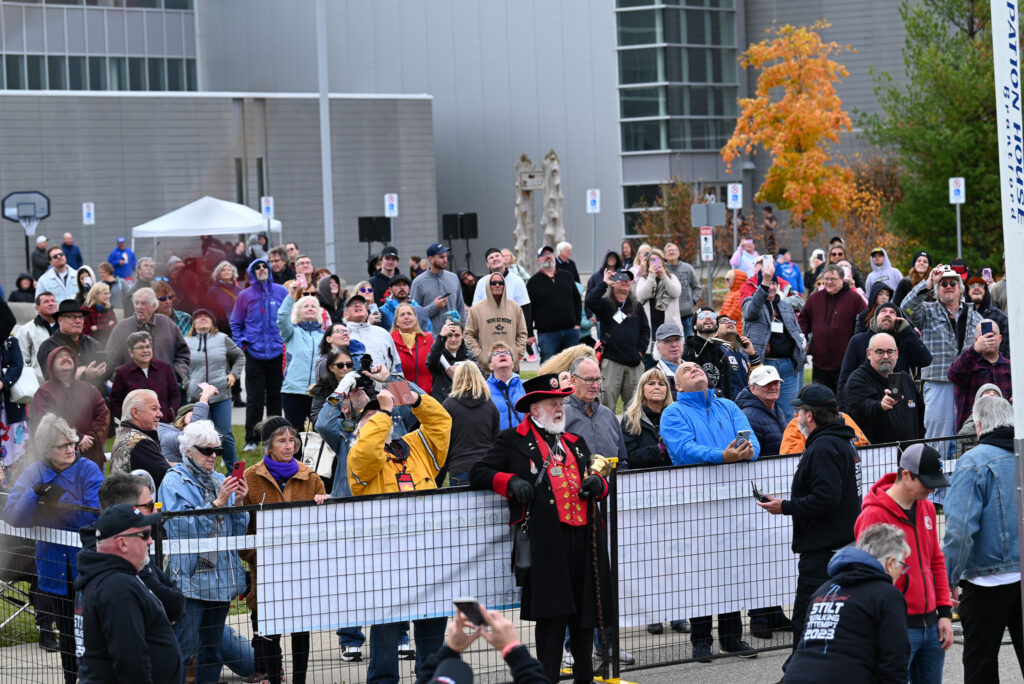 In preparation for the day, Hunt had been training in an 80-foot silo at Brantwood Farms with his trainer Rollins.
"It was a whole different wheel in that silo, there was no wind and it was a little bit safer of course," he said.
Hunt mentioned that training in a silo was much different than outdoors in the weather.
"Today, I had to watch the wind and I did have safety cables around me and they had to be for Guinness slack and I couldn't be close to the two cables, otherwise all that work for over a year would have been all for not," said Hunt. "I had to work between gusts of wind and when you saw me up there holding on, I wasn't trying to get my breath or anything, I was waiting for the wind to settle down and then I went into my technique we've been working on."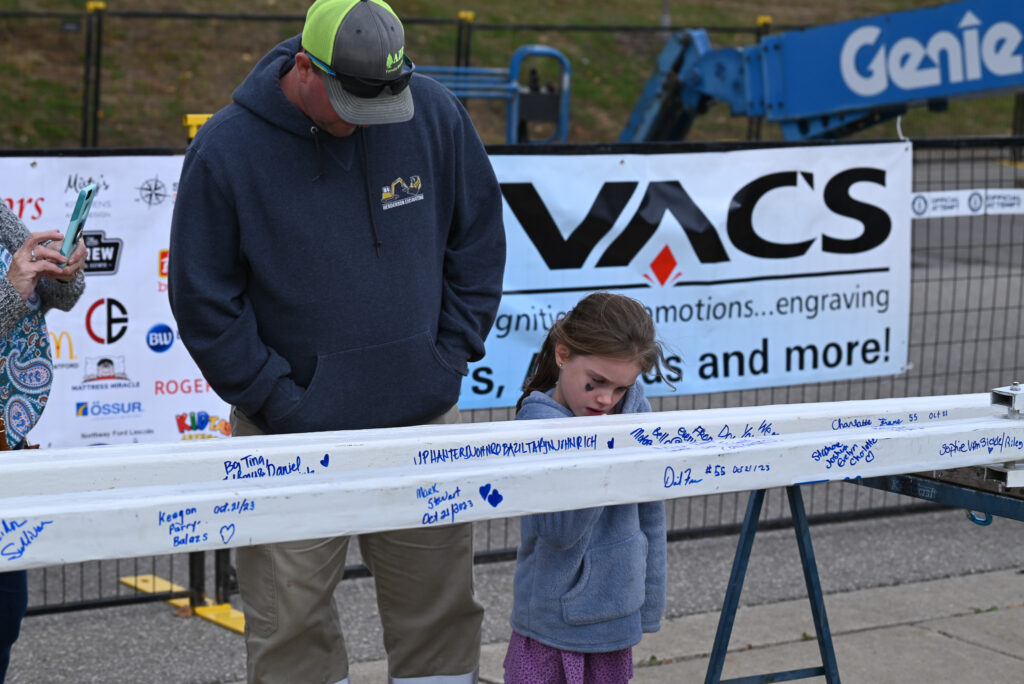 Tammy Hunt, Doug's niece, said that she always knew he could do it.
"You know he's going to do it, but it was more so how long it was going to take but I didn't have any worry. He's fearless and he went up very confidently with the support from everybody around him."