While Brantford's Doug Hunt took back his Guinness World Record for stilt-walking on October 21, 2023, he notes that there's no way he could have done it alone.
Hunt said he is incredibly grateful for all of those who worked tirelessly behind the scenes in order to get him back up on top of the world.
He said that the main thing was making sure that at the end of the day, everyone went home happy.
"That's the main thing for me in anything I do, I want everyone to feel like we've made an accomplishment together," said Hunt.
While many might assume he was inspired to take back the record after 33-year-old Jordan Wolf, from the United States, took the record in 2022, it was already in the works for several years.
Dave Levac had encouraged Hunt to break his own record just before the pandemic with the intent of celebrating the 20th anniversary.
"It was always on my mind to get back those stilts, but when Jordan Wolf took the record last year, that was it and that was the final straw. I didn't care what age I was, I knew we could do it. That's when we started getting serious and knew what we needed to do," he said.
Hunt said it's not as simple as just getting back on the stilts.
"Some people say 'Oh I think I could do that,' but they don't realize, you have to get the crane, the man lift, the stingers (the two lines he walked between), you have to know someone who can get all the equipment like the scaffolding for practice, and you have to get the spreader built and such," said Hunt. "It wasn't just myself physically getting ready and practicing, but everything around me and the people we needed who came through."
When Hunt broke the record in both 1998 and 2002, the requirements were much different than they are currently, and all of that needed to be accounted for.
"Twenty-one years ago, we just needed a couple letters from two people watching my steps and an article in the paper to prove to Guinness that I did it," he said. "This time there was literally a book of forms that had to be filled out, and we needed a drone to show them I wasn't touching the lines, and there had to be another camera below watching to make sure I was getting the steps."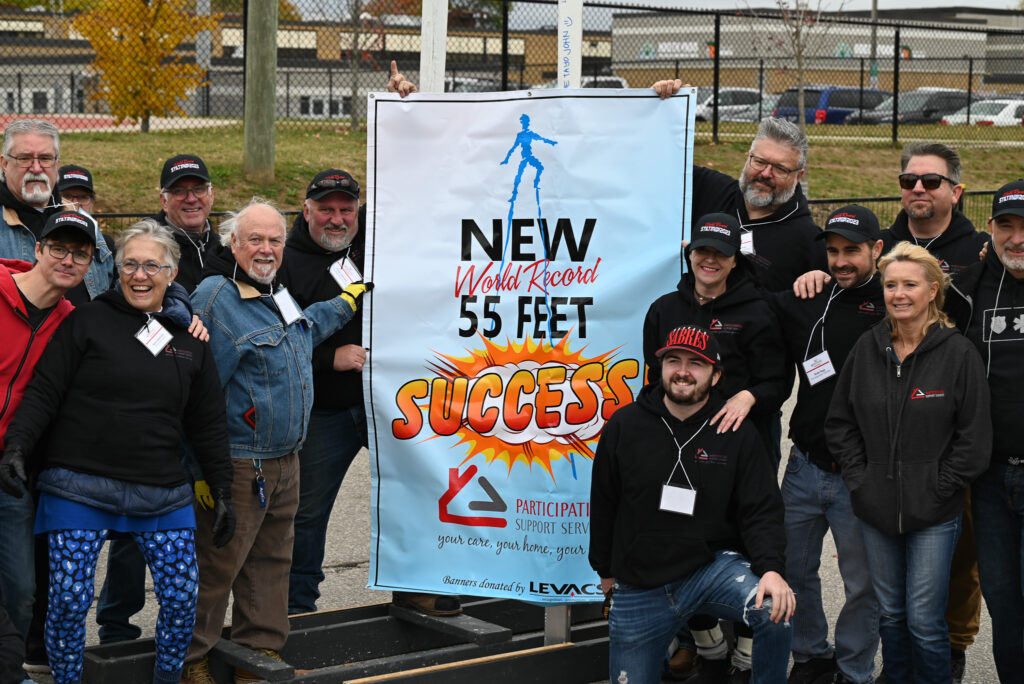 He said without Graeme Reed, Gary Foster, and Jason Souliere, putting together that package, it would have been all for nothing.
"They worked just as hard on that as me working on the stilts, because if you can't show Guinness what you're doing and how you're doing it to their specification, it's all for not," explained Hunt.
A few other behind the scenes factors included getting extensions for his original 54' 9" stilts, acquiring the silo for practicing, physical training alongside Tom Rollins, Al Dalton, and Randy Papple, getting the step counters, as well as sponsors.
He expressed his appreciation for his niece Tammy Hunt and the entire On the Record team, because without them, the money raised for Participation Support Services (his "why" behind all of this) couldn't have happened.
"When people say 'you're 67, this is quite a challenge,' and yeah, it was, but it's a challenge that was turned into an opportunity to help other people who were born and live with a challenge every day," he said. "It's the people I've worked with for 45 years and that rubs off on you, so when you compare it, it wasn't such a big deal after all."
He said that when it comes to making a world mark, "keep failing forward, and if you fail then you can try again and again."
"That's why, to do amazing things, you have to surround yourself with amazing people because you need people that know what they're doing to help you put this all together," he said.
"55 FEETOF THANKS"
"To do amazing things – surround yourself with amazing people." – Doug Hunt
STILTWALKING WORLD RECORD ATTEMPT TEAM
Dave Levac (Team Manager/Leader), Randy Papple, (Team Logistics & Communication Manager)
ON THE RECORD FUNDRAISING\MARKETING COMMITTEE
Tammy Hunt (Fundraising Coordinator), Joshua Wall (Marketing), Stephanie Wall (Graphic Design), Al Newhouse (Graphic Design), Kyle Edwards (Graphic Design), Arron Jeavons (Promotions), Trevor Cherewka (Promotions), Robb Nagy (Promotions), Dean Ellis (Photographer), Loren Forrest (Team Uniform manager), Erica Levac (Stilt Banners)
EVIDENCE\ VIDEO COMMITTEE\SOCIAL MEDIA COMMITTEE
Graeme Reed (GWR Record Verification & Video\Photograph Coordinator), Gary Foster (Team Drone Operator), Jason Souliere (Team Videographer), Mike Southam (Photographer), Donna Geikie Thompson (Photographer), Roberto Salas San Juan (International Live Stream & Video)
GROUND OPERATION\STEP COUNT\STILT COMMITTEE
Dave Levac (Ground Crew Captain), Kevin Davis (Official Step Counter), Scott Wilks, Professional Stilt Walker (Official Step Counter), Marty Chapple, Professional Stilt Walker (Official Step Counter), Arlini Splendini, Professional Stilt Walker (Official Step Counter), Bob Phillips (Team Stilts Engineer), Tom Hunt (Team Carpenter), Brent Goodnough (Silo Prep)
COACHING\SAFETY SUPPORT
Tom Rollins (Team Head Coach, Trainer & Fitness Instructor), Al Dalton (Team Assistant Coach), Todd Pipe (Stilt Set up Logistics Manager, Team Safety Supervisor and Equipment Operations) and Randy Papple (Team Assistant Fitness Instructor)
Special Thanks to:
Sherry Kerr, (Executive Director of Participation Support Services), David Mckee (Brantford's official Town Crier), Roberto Salas San Juan (International Authority – Stilt Walking), Glen Jorgenson (Brantford Pipes & Drums), City of Brantford, Wayne Gretzky Sports Centre, Brantwood Farms, Best Western Brantford, Cobblestone Medicine and Rehab – Paris, Craneway Equipment Unlimited, Riverson Scaffold, Acme Aerials, Southwest Safety & Supply Brantford, Ossur Canada Inc., Catherwood Welding & Boiler Service Inc., J. H. Cohoon Engineering Ltd., Kens Towing & Recovery, The Brantford Expositor, The Brant Beacon, Bscene, Brantford Ctv, Rogers Tv Brantford, and 4brant.Com
And special thanks to Doug Hunt's family!
55' OF THANKS TO OUR "TRULY AMAZING" SPONSORS
Brantford Bulldogs Foundation, Jukasa Designs, Waterford Home Building Centre, West Brant Window World, Newhouse Graphics, Fat Panda Studios, J & K Home Building Centre, Massilly North America, Proper Floors, The Rope Factory, Wayne Gretzky Sports Centre, Maria's Original Pizza, Wall Consulting, Hydraulic Transfer Solutions Inc., Smashing Pixels, Brazilian Princess, Brantford Party Rentals, Perfectly Sound Entertainment, Coleman Custom Renovations, Mercasa Eatery & Catering, Sold Buy Chad & Be Glad, Our Kitchen Brantford, Caribbean Kyle, Dimcam Family, Kens Towing, Brant Mutual, Kaleidoscope Financial, The Event Lady, Syd Antler, Craneway Equipment Limited, Cake Memoir T. J. Hunt, Chris Strei, Spool Gourmet Poutine & Mac 'N Cheese, Maas Group of Companies, Big Foot Stilts, AJC Andy Jonkman Construction, Cobblestone Medicine Rehab Paris, Affix Label & Print Inc., Woodstock Nissan, Brantwood Farms, Brant Aerials, Simington Automotive and Industrial Supply, Myra's Bar & Grill, Misty's Kitchens and Design, The Crew Real Estate, J. H. Cohoon Engineering, Mattress Miracle, Ossur Life Without Limitations, Northway Ford Lincoln, Desjardins Insurance Andrew Schwalm – Agent, Southwest Safety & Supply, Warren's Home Hardware Building Center, Best Western Brantford Hotel and Conference Centre, Kidtastic Adventures, Rogers Tv, Craneway Equipment Unlimited, Riverson Scaffold, Acme Aerials, Levac's . . .Recognition. . . Promotions . . .Engraving
AND . . .
TO ALL OUR FRIENDS WHO CHEERED US ON TO A WORLD RECORD
THANK YOU!