The City of Brantford, in collaboration with students from Wilfrid Laurier University's User Experience Design program ("UXD program") on the Brantford campus, has enhanced the City's neighbourhood ice rink program.
Students of the UXD program submitted a report to the City proposing a more streamlined approach to rink condition reporting. The result is a digitized tool where rink inspection volunteers can track conditions through a centralized database meant to simplify workload for local volunteers and staff.
"A huge thank you to the UXD team, local volunteers and City of Brantford staff at parks services, IT services, community recreation and events and communications and community engagement, who helped make this possible," said Lori Dawn Cavin, Manager of Community Recreation for the City of Brantford. "We are extremely grateful that the students selected this project in support of Brantford's Neighbourhood Ice Rink program."
The Neighbourhood ice rink program has been in operation since the 1940's. An average of 20 neighbourhood ice rinks are created and maintained through the support of local volunteers, known as Flood Heroes, for families to enjoy pleasure skating and hockey all season long – weather permitting. Over 200 Flood Heroes are responsible for making ice, flooding the rinks, clearing snow, inspections and park cleanliness amounting to thousands of volunteer hours each winter.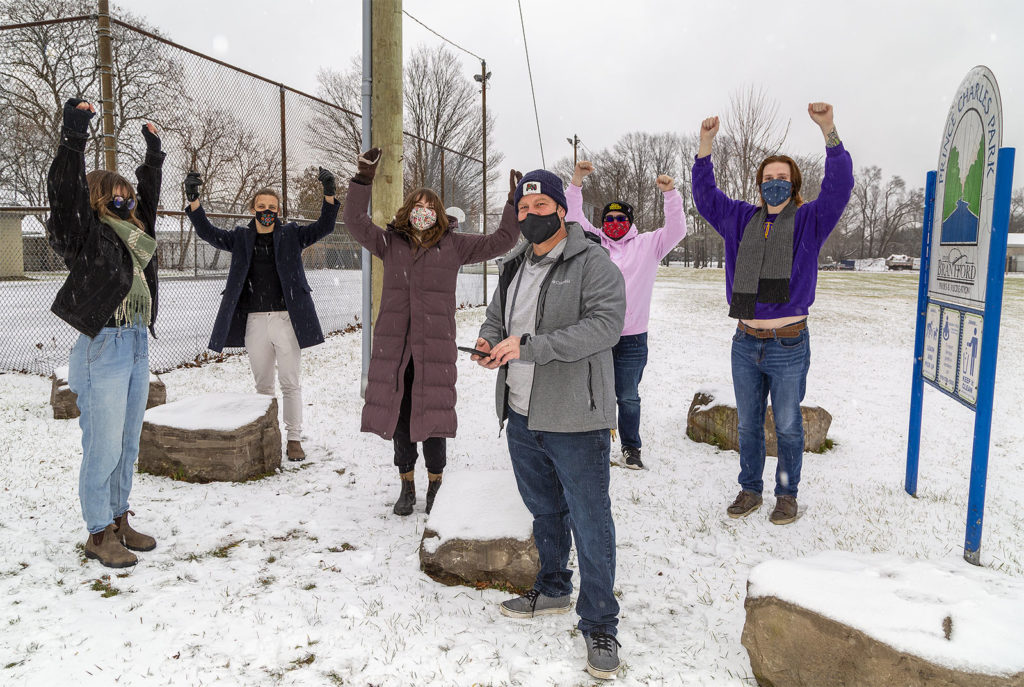 In early 2019, City staff presented Laurier's User Experience Design Students, with the challenges faced by the local ice rink program including: declining volunteerism, difficulty attracting new volunteers, antiquated reporting and inspection processes for staff and volunteers, and challenges to the current reporting process. After further research and development by the Laurier students, a report was presented to City staff offering recommendations to alleviate some of the program challenges. As a result, paper reporting has been eliminated and all volunteer forms are now available online. This change further supports the City's Climate Change Action Plan (CCAP) and means volunteers no longer need to complete required paperwork outdoors on cold days.
"It was a great experience for the students to get to work with staff at the City of Brantford and members of the local community," said Abby Goodrum, Professor and Program Coordinator of User Experience Design at Wilfrid Laurier University's Brantford campus. "Being able to work on real projects, for real partners, and to be able to see that work being implemented in the community, is extremely valuable to student learning. We are so lucky to have a supportive partner like the City of Brantford."
Special thanks to Laurier professor Abby Goodrum and UXD students Anna Bolger, Bibiana Samayoa, Christina Stiller, Liam Bullock, Noah Lach and Thomas Blanchette in the research and development of this new initiative.
Volunteers make the neighbourhood rinks possible in the community. Residents available to commit to one to three hours per week to assist with the neighbourhood rink program are still needed. High school students looking for Community Service Hours are welcome. To learn more call 519-759-4150 ext.5070. Find a neighbourhood ice rink in your area at brantford.ca/OutdoorIceRinks.