Twenty teenage girls are getting a crash course in firefighting during the second annual Camp Phoenix hosted by the County of Brant Fire Department from Wednesday, July 12 to Sunday, July 16, 2023.
The free interactive day camp is designed for young women between the ages of 14 and 18 to learn about the Fire Service as a career choice while getting an immersive experience.
Campers receive hands-on training through a series of evolutions that are designed to simulate real-life scenarios including fire prevention and suppression, basic first-aid, search and rescue, auto extrication and more.
"It is a very condensed and intense recruit training. It's very physical, there's not too much theory throughout this because we're trying to give them an idea of what the job physically requires," said Lisa Herbert, a Camp Phoenix organizer. "This way they can go on to build the theory if they choose to do post-secondary or join the volunteer fire service. It's just a great way to open their eyes to the possibility when they're still in high school and making decisions on what courses they are taking in grade 11 or grade 12, or what they want to do for post-secondary."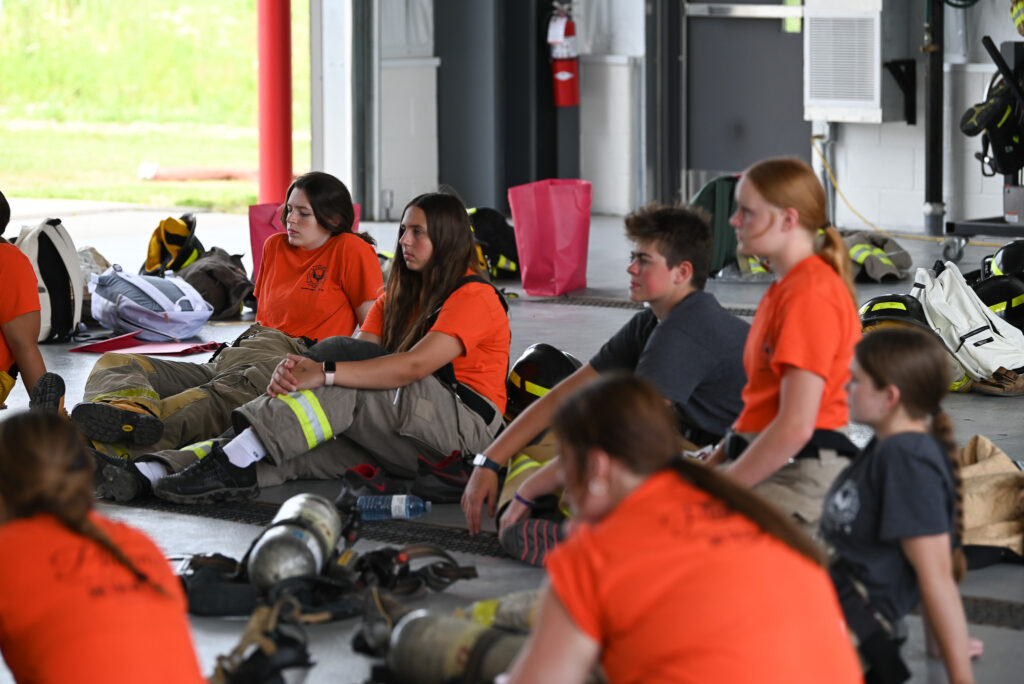 Fifteen-year-old Holly Macintyre says she's always wanted to be a Firefighter, but is looking forward to gaining some clarity about a possible career in the field.
"I'm hoping to ask a lot of questions and to figure out if I 100 per cent want to be a Firefighter when I'm older," she said. "I've always wanted to be one, but I haven't really gotten to see what it takes to actually be a Firefighter, so this really gives me a chance to do that."
Herbert says that since last year's inaugural event, the department has made improvements to the program.
"I think everyone would agree that last year went way better than we thought it was going to go and so we took what we learned then, and we've added some different evolutions this year," she said. "We have the aerial coming out from Paris one day, and on Sunday, Onondaga is bringing out their boat and a rapid deploy craft. We also have a few other show and tell things, as well as a formal recovery station."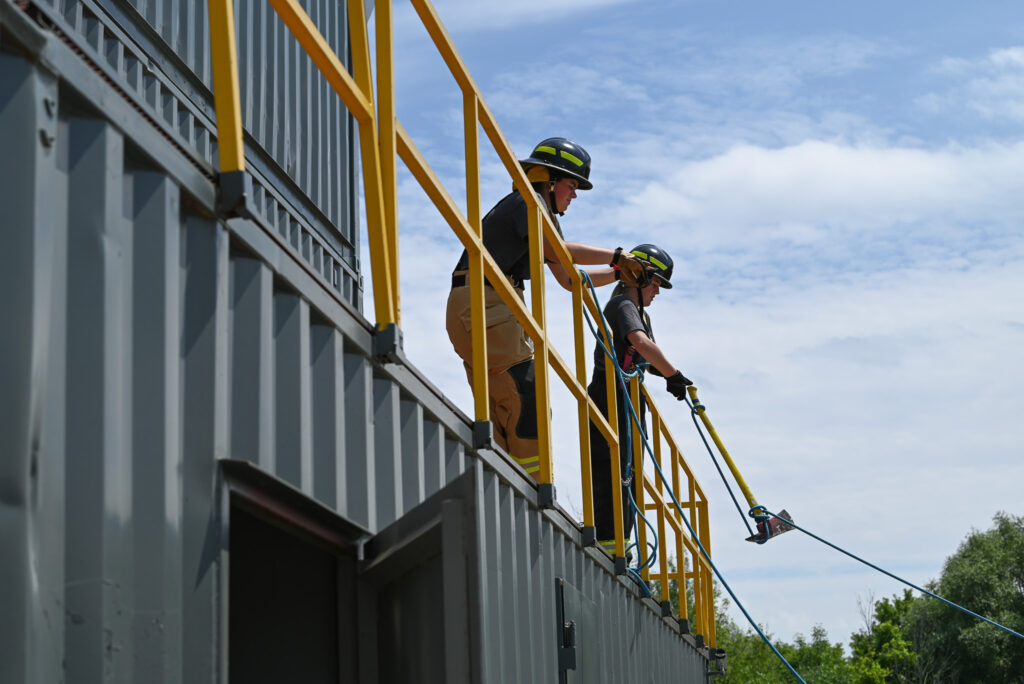 Another new addition to the program are the Leaders-in-Training (LIT) that are made up of eight Camp Phoenix alumni chosen to build leadership skills and further their experience in Fire Service.
"Last year the girls had all female Firefighters as their platoon captains, and now this year they have LIT's as their captains," said Herbert. "Four of them are leading a crew for the week and the other four are taking care of details from food and drinks to helping with clean up and set up and they're also assisting instructing with the evolutions."
Campers are split into four platoons of five and start out each day with a 45-minute morning workout and roll call before moving on to their training evolutions.
To kick off the first day, the young women were learning all about personal protective equipment, ropes, knots and hoisting, self-contained breathing apparatuses, and ladders.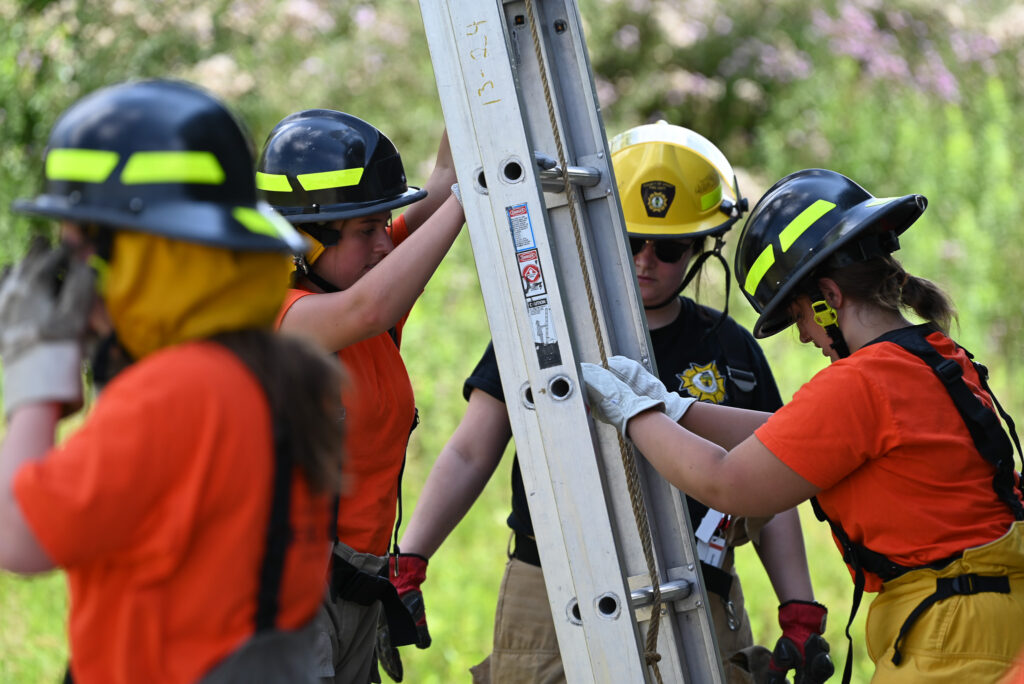 Herbert also noted that the girls will have a chance to learn even more skills from several guest speakers throughout their four days of training.
"There are a couple of days that are a little different, for example we had the OFM (Ontario Fire Marshals) come out this morning and they taught the girls fire dynamics," she said. "We burned our burn cell and then the girls had a chance to experience what it's like to be an Ontario Fire Marshall. They got to go in and be on air, they assessed and investigated, they dug it out and then put it all back together again. Other days, we will also have the EMS and the OPP coming in for the afternoon."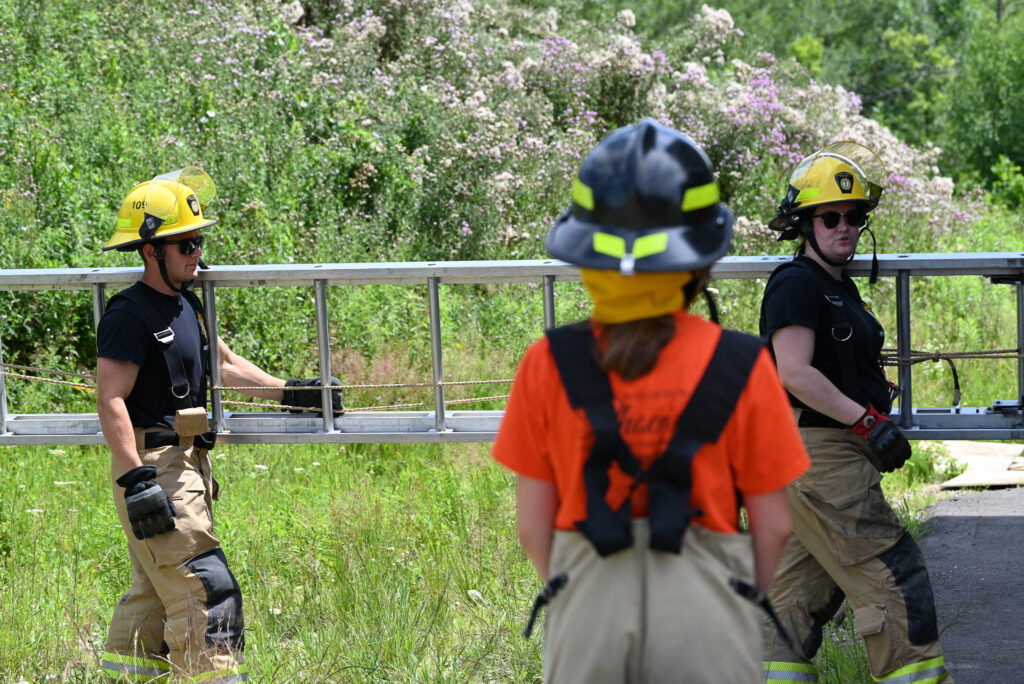 Before Sunday's afternoon graduation, campers will have a chance to show off and demonstrate their new skills to their loved ones in the morning, before squaring up against fellow campers for the Phoenix Fit Challenge.
"The last day is celebrations, so parents come and the campers do demos for them in the morning and they get to show them elements like forcing a door, breaching a wall, wire entanglement and auto extrication," said Herbert. "In the afternoon, the platoons compete in the Phoenix Fit Challenge, which is our version of a FireFit. They are required to assemble and charge a hose line to hit a target and once they've done that, they do a good old-fashioned bucket brigade and then one by one they go in and have to navigate the tower maze. Once they're out of the maze, they head over and together they pull a fire truck over the finish line – it's a lot of hard work."
On Sunday, the department is also set to announce their top fundraisers by individual and by team, as the girls hosted a fitness fundraiser prior to starting camp.
"Camp Phoenix is fully funded by donations and volunteers," said Herbert. "Last year we took them out to do two boot drives, but this year they did a fitness fundraiser and have already cleared $5000 in donations and are still going."
Herbert says that watching the girls grow throughout the week and graduate – while emotional – is worth all of the hard work.
"By the last day they're going to feel more comfortable and confident, and they will have really gained their outdoor voices," she said. "By Sunday, they're sad it's over and they don't want it to end – it's really emotional for everyone because it's hard when good things come to an end."