When Rosey Kaur got a phone call from a fellow educator in her community asking if she could help her re-tie a six-year-old student's patka via WhatsApp video call, she was inspired to create something new – the Patka Box.
A patka pronounced "put-kah" is a religious article of faith that holds significance for young Sikh boys. It is a head covering that helps to manage the length and volume of their uncut hair. It is a small piece of garment that is tied around the head and can be in any colour or material.
Kaur is an educator and entrepreneur who owns Concept1 Learning Centre Inc., a home-based Montessori learning centre in Caledon, as well as Early Concepts, a shop for early childhood resource materials.
Recognizing the necessity of an educational resource concerning the patka, Kaur set out to create the Patka Box.
"I took pictures of my student's head, and I did a step-by-step on how to tie the patka," she said. "I asked my assistant to take pictures and it's printed out on cardstock in the box. There's also a card explaining the patka, and what it means as an article of faith. There's two patka's for teachers to feel and to get an understanding of them, and then in case a patka falls off and it gets dirty, they're allowed to get this kit out and use that material for the child. There's also a wooden craft, an affirmation card and a story book that I created about a boy and his journey of going to school with his patka on. Lastly, there's also a bag that has 'plant the seeds of learning that will last your lifetime,' on it."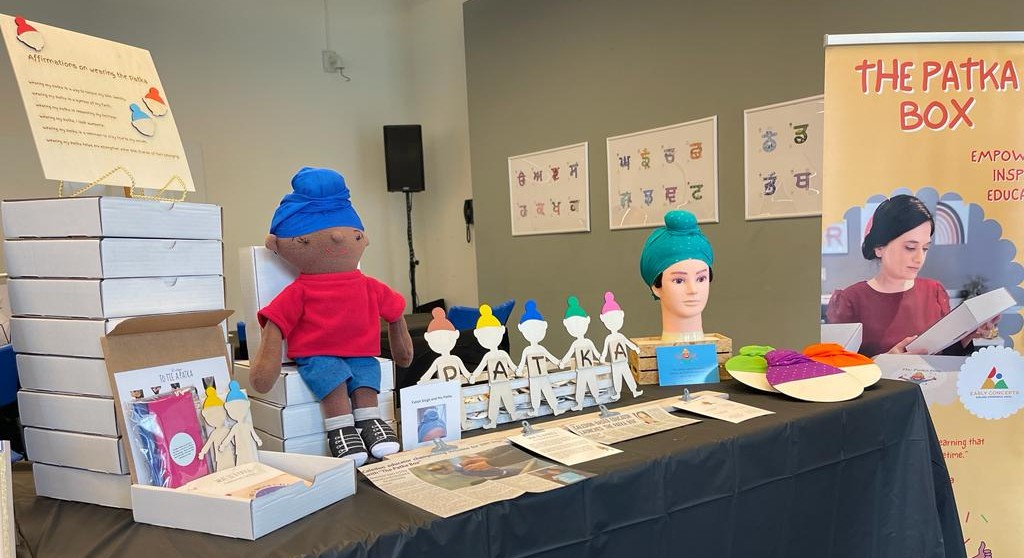 She explained the meaning behind the quote.
"My dad would always say to me, 'when you work in schools, I want you to always plant the seeds of learning for these children.' So that quote is now implemented and engraved into these boxes, where I have my father's blessings alongside the voice as an educator to schools."
Kaur has since shipped out 675 Patka Boxes for educators and educational institutions throughout Canada, the United States, and the United Kingdom and is in 35 school districts in Canada. The boxes are tools for advocacy and enable children and teachers to physically interact with a patka to help understand it better while it's not on a child's head.
"If a child comes to school with a patka and all of a sudden, he's not wearing it because it's come off, he may feel a little bit incomplete without it," she said. "My main focus was based around these kids needing somebody to advocate for them, these kids need teachers to understand what the patka means. So, the reason behind the patka box is to ensure that there's inclusivity and diversity in the school systems."
Kaur currently lives in Caledon but was born and raised in Brantford after her parents moved to the area in 1973.
"We were one of the first Sikh families to arrive here in Brantford and it is a very special place in my heart, we (herself and her two brothers) were raised there," she said. "My father's first job was at Massey Ferguson and my mom was a manager at K-mart. My father helped to build the Brantford temple and so we have many good memories there."
Her father, Rawal Singh, was known around the Brantford community for being spiritual, treating people as one and with respect. It was with her father's encouragement and his vision for her that led her to becoming an early childhood educator and opening her own school.
"Before he passed away he said to me, 'you know, one day you're going to open up a school,'" she reminisced. "I said, 'no I'm not, I don't want to be a teacher.' But he held my hand and he said 'you're going to open up a school and the concept is going to be "ek", meaning "one" in Punjabi."
When Kaur's father passed away, she saw him in a dream where he asked why she hadn't opened her school yet. When she married that same year, she moved into her in-law's home with her husband and there was a space they weren't often using.
Upon seeing the space, Kaur knew it was time to finally set out on the path that her father had always seen for her. It's been ten years now since she opened Concept1 Learning Centre and in time she has gained 15 students that she teaches every day.
When the COVID-19 pandemic hit and her student numbers dropped to one, she knew she needed something else.
"I started to look at toys – Montessori toys," she said. "I started to look at wood and for some reason, I started looking at laser machines. It was just a quick response to my inner voice telling me something. Then within three weeks, these crates arrived at home and my husband asked 'what is all of this?' and I said 'these are the Early Concept products, it's going to be another branch of Concept1 Learning Centre'. I always wanted to make products through my school for my students and now I'm able to go into every single home with Ms. Rosey's products. They are concept products that are designed for these children's development and they're learning, especially for the early years."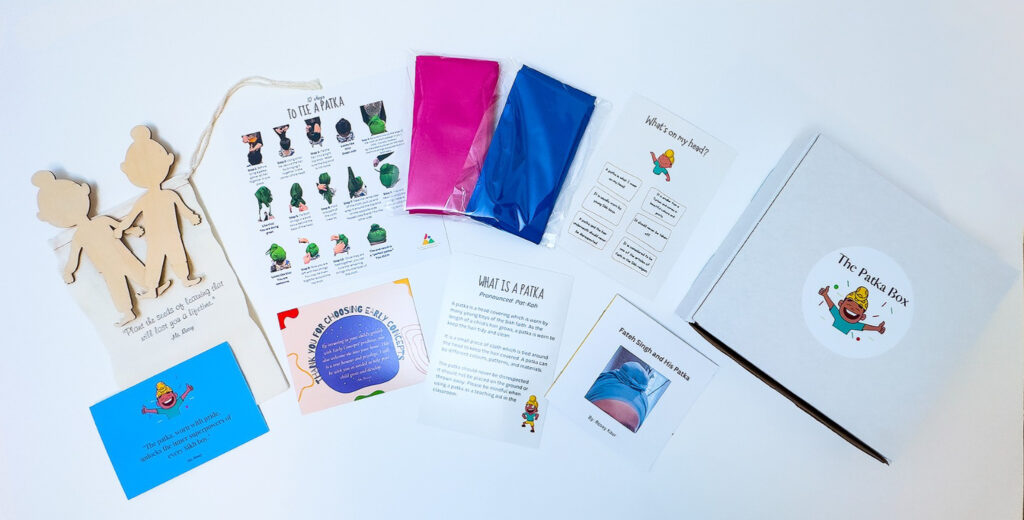 Since then, Kaur's Early Concepts designs have been growing.
"Parents, families, and teachers have been asking me to produce products for their classrooms and for their homes," she said. "And now, for the last two years it's been rising with that moment of 'wow, my dad's vision is coming alive.' It's been amazing to see that the U.S. school boards, the UK school boards, Germany and Singapore have already reached out for this Patka Box."
Ten-thousand boxes are in the works this summer and set to be ready for the start of the school year in September and they are currently being handmade by Kaur.
"Everything is done at home," she said. "I'm downstairs in the basement or in the school, putting all the boxes together and every weekend, I do at least 250 boxes. This summer, we've got 10,000 boxes to be put together. And these 10,000 boxes are going to be produced by high school students in the Caledon community so that they can do their community hours, and they can learn about this faith, and understand that they're doing something for a great cause."
When it comes to the money Kaur makes from these boxes, she says that she's using the income to give back to other school communities.
"I'm paying it forward," she said. "Even though I have a school and I now have an additional income, there are schools in India that need the support. There are charities that don't have educational systems set up especially in some areas in the U.S. where teachers lack resources and teachers can't buy supplies. So for me, I'm paying forward by taking part of the income that I make with these Patka Boxes and it's going to schools and teachers that don't have enough money to pay for things for their classrooms."
As Kaur works hard to complete the summer's Patka Box orders, she hopes to see this resource in her hometown's school communities soon.
"I'm hoping that with Brantford's diversity and the Sikh population moving in, that this will be helpful to the school systems there too," she said.