Over 70 people attended a rally to bring back Train 82 in the parking lot of the Brantford train station on Saturday, June 24, 2023.
Larry Brock, Member of Parliament (MP) for Brantford-Brant and Kevin Davis, Mayor for the City of Brantford, invited members of the public to help send a message to Via Rail about reinstating Train 82.
Prior to the pandemic, morning commuters from London and Brantford took Train 82 to arrive for work in Toronto before 9:00 a.m., however the rise of working remotely and the stay-at-home order caused the route to be suspended.
Hundreds of commuters who have now returned, and those who continued to work throughout the pandemic, now face travel and financial complications without the train.
Brock said that while others across Canada get to enjoy Via Rail services, Southwestern Ontario residents are being left behind.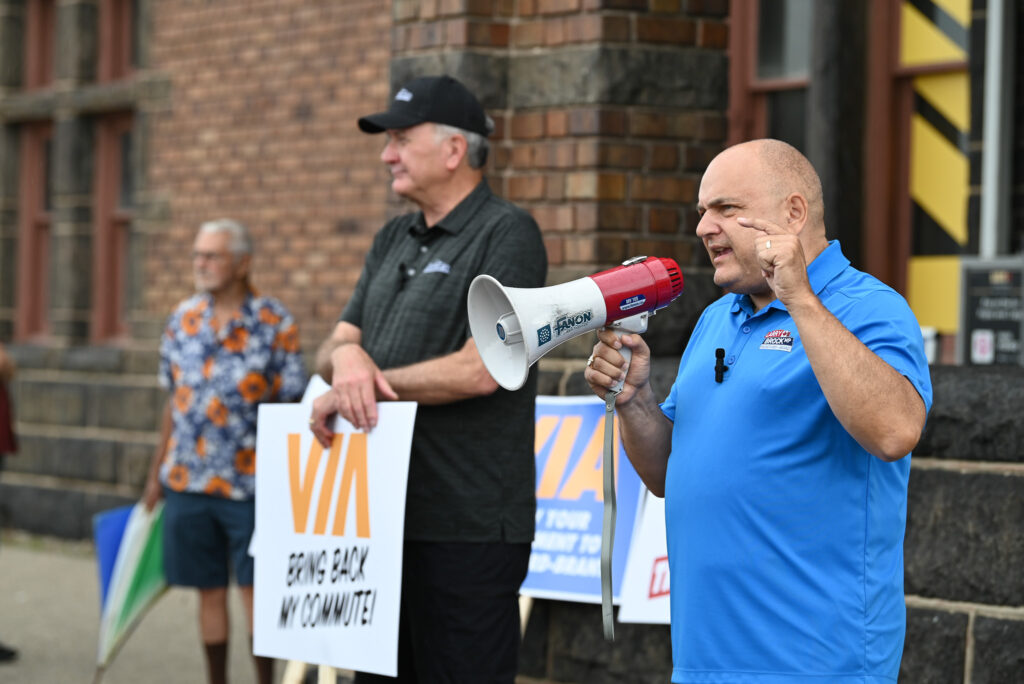 "Via Rail is a Crown corporation and as a Crown corporation, it is answerable to the Government of Canada," said Brock. "And when you have an element of governmental control, the last thing that any entity, that any corporation or that any organization who is funded by the government needs, is to be pitting portions of our population against the other. Why is it that other residents across this country are continuing to enjoy the services of Via Rail, but not for those citizens of Windsor, London, Woodstock, and here in Brantford who are relying on Train 82 for their livelihoods?"
For those frustrated customers who tried sharing their concerns with Via Rail, they were often told to contact their MP or Mayor instead.
Brock said that the politicians heard the public loud and clear and they are just as frustrated as others, noting that they too have tried to have the line reinstated.
After a chance meeting with the Via Rail President at a function in Ottawa last May, Brock approached him for a conversation.
"We had a discussion, and he did not give me a timeline as to when Train 82 would return but he didn't say that it would not. He informed me that it was suspended, it was not canceled. He informed me that there were issues with the infrastructure, that the trains themselves were an aging fleet. He informed me about a number of engineers who choose to opt in for early retirement instead of waiting out the pandemic," said Brock. "He informed me that once those issues were addressed, that they would reconsider returning Train 82 – that was over a year ago. I've heard nothing since. I have written letters to the ministers responsible for this portfolio – nothing but crickets. I have spoken in the House of Commons numerous times to inform the government that this was a wrong decision – no response from the government. So, we are here today to make our voices heard and we are not going to stand idly by."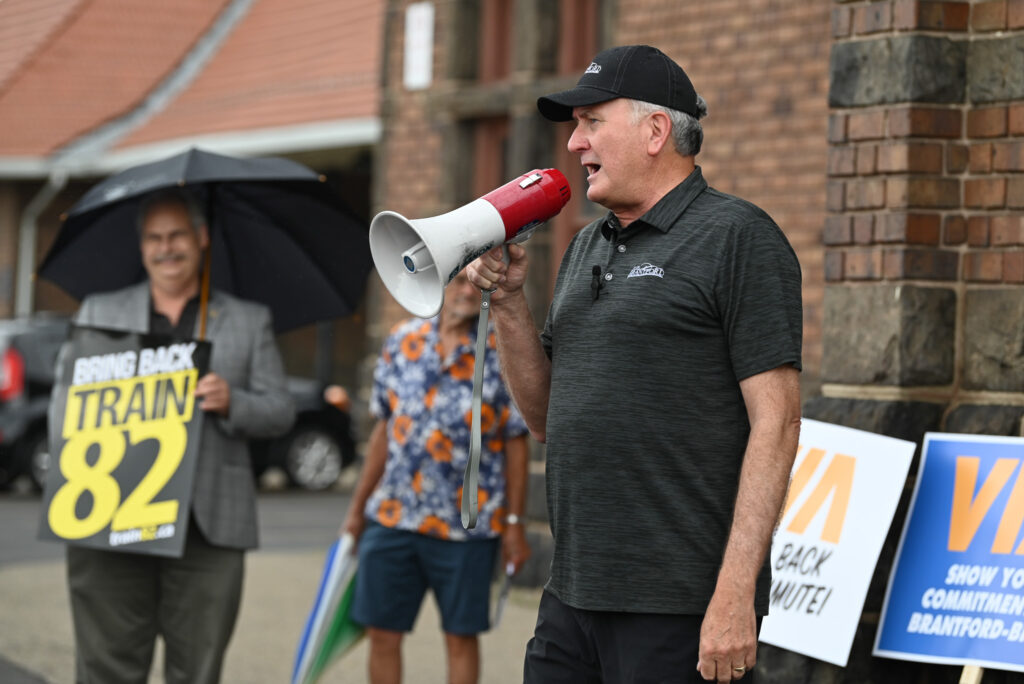 Davis echoed Brock with his own frustration about the Brantford-Brant community being treated differently than others.
"I'm tired of these upper levels of government and the big Crown corporations treating the residents of the City of Brantford and the County of Brant – a population of 150,000 – differently by not providing us with the services that we're entitled to as Canadian citizens and the residents of the province of Ontario," he said. "That's why you being here today is so important. So, Larry and I can continue to send that message to Via Rail, which is bring back Train 82!"
Davis noted that while residents could drive the entire way to Toronto, take the GO bus or drive to Aldershot to take the GO train, it is often hectic and costly for many.
He noted that while he is still pushing to get a GO train stop in Brantford, it could take several more years and it would be easy enough for the Via Rail to reinstate Train 82 in the meantime.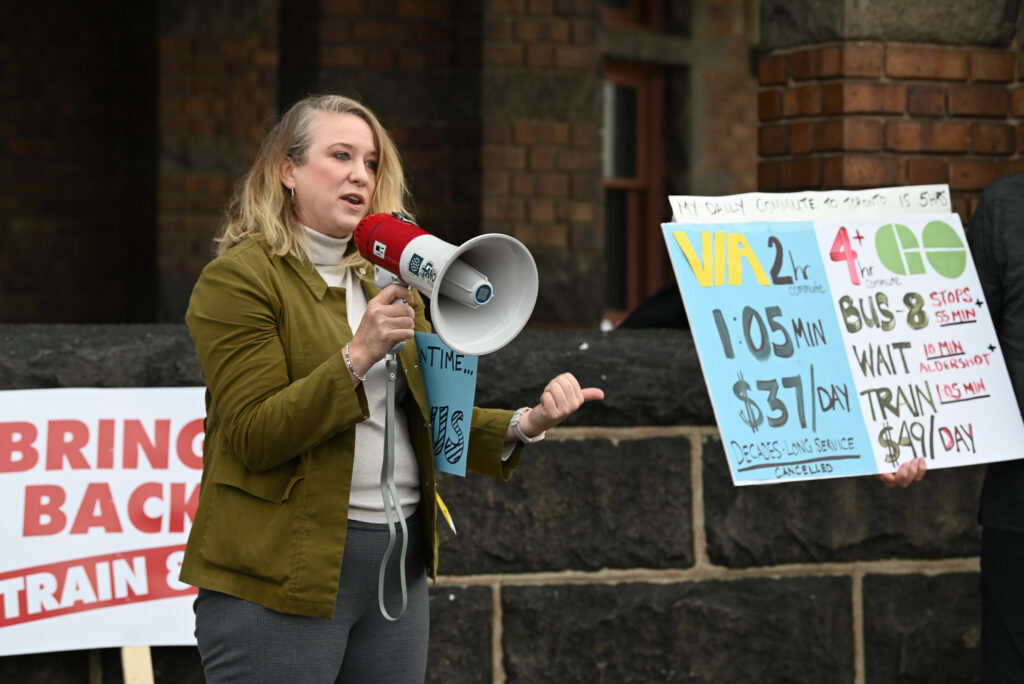 Lesley Langdon is a civil servant for the province of Ontario who travels into Toronto for work, was one of those present who shared her commuting experience.
"We are required to come in three days a week, and that's across-the-board, Ontario civil servants are in for three days," she said. "It's unsustainable for me to drive a two-and-a-half-hour commute, I can't do it. I'm burned out and I'm not effective at my job when I'm there because I'm exhausted. I can't do it much longer and Train 82 was reliable. You may have had some hiccups along the way, they might have been delayed by ten minutes, but it was reliable. I got into my job by nine o'clock and I was able to do a good job. I was able to sleep on the train, have Wi-Fi, have a drink or food service if I wanted – it was a great service. Right now, I can take a 8:41 or 8:51 a.m. train and that gets me into my job by 10:30 a.m., and I can't pull up at 10:30 when everybody's been there since nine."
Langdon noted that for many commuters they have had to find alternatives that just can't compare.
"They've had to find alternative ways to work or move or leave their jobs and find something closer for less pay," she said. "Career and opportunity wise, commuting into Toronto used to be better bang for your buck. It was worth the commute when you're all said and done, but now it's so much more difficult for everyone."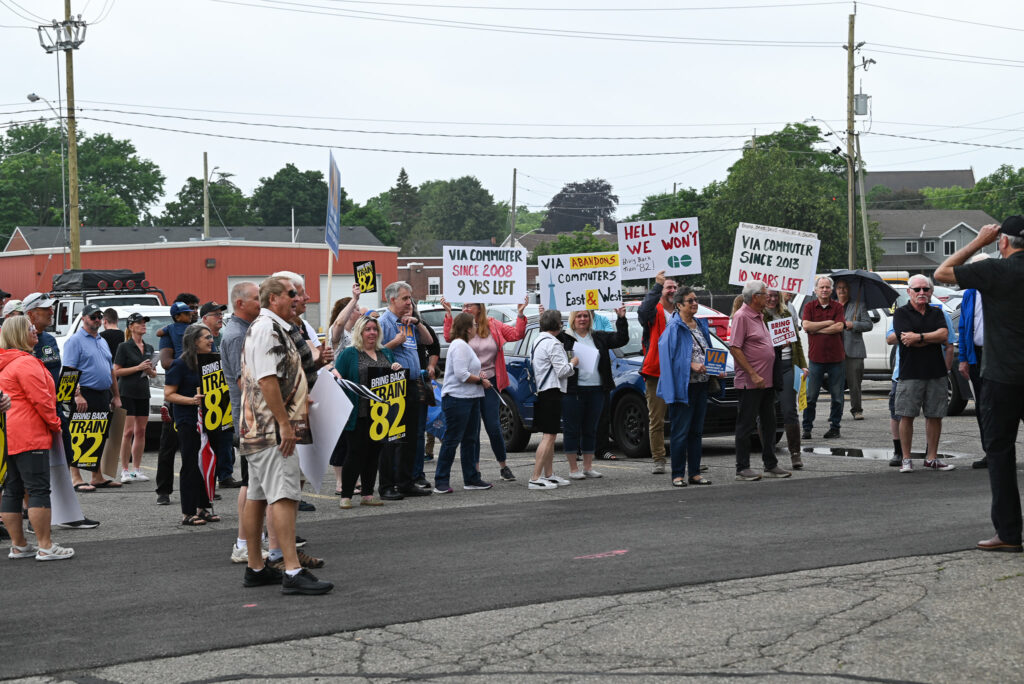 Brock told the crowd that while Via Rail could easily make the decision within a week's time, he wasn't hopeful and that he intends to keep fighting to bring back Train 82.
"I can tell you right now that both your MP and your Mayor will continue to fight weekly and daily on this issue," he said. "I want to hear from you directly as does the Mayor, because our next stop after this rally is going to be knocking on the President of Via Rail's door in downtown Montreal, so Sir, be ready for us because we are coming."
Next, politicians and protestors stood on the station's platform with the hope that the stopping Via Rail train and its workers would relay the message on to upper management.
Residents could be heard chanting "bring back Train 82" with signs in hand as Brock approached a nearby Via Rail supervisor to directly relay the message that he meant business.
"He agreed with me and said he wants it back, I told him, 'tell your management when you get to Toronto or wherever that final destination is, and have them tell the President we'll be knocking on his door," said Brock.