Nearly 30 Brantford residents came together to celebrate the 150 community members who participated in the TH&B Crossing Bridge Revitalization Project on Friday, November 10, 2023.
The bridge is a well-known pedestrian and cyclist crossing over the Grand River and is located south of the Lorne Bridge.
In the summer of 2022, the City put out a call for local artists and community members to submit their designs for a unique public art project.
Forty designs were selected to be painted on the interior panels of the bridge to celebrate the local history, culture, events, people and destinations of the Brantford-Brant community.
In the fall of 2022, over 100 participants made up of school groups, organizations and individuals, dedicated their time to complete the project.
The second phase of the project kicked off this spring after the City reissued its call for submissions as a way to further engage with more community members.
Twenty-nine more designs were selected and later added to the bridge. The project now spans across all 112 panels of the bridge, with some murals spanning over two or three panels.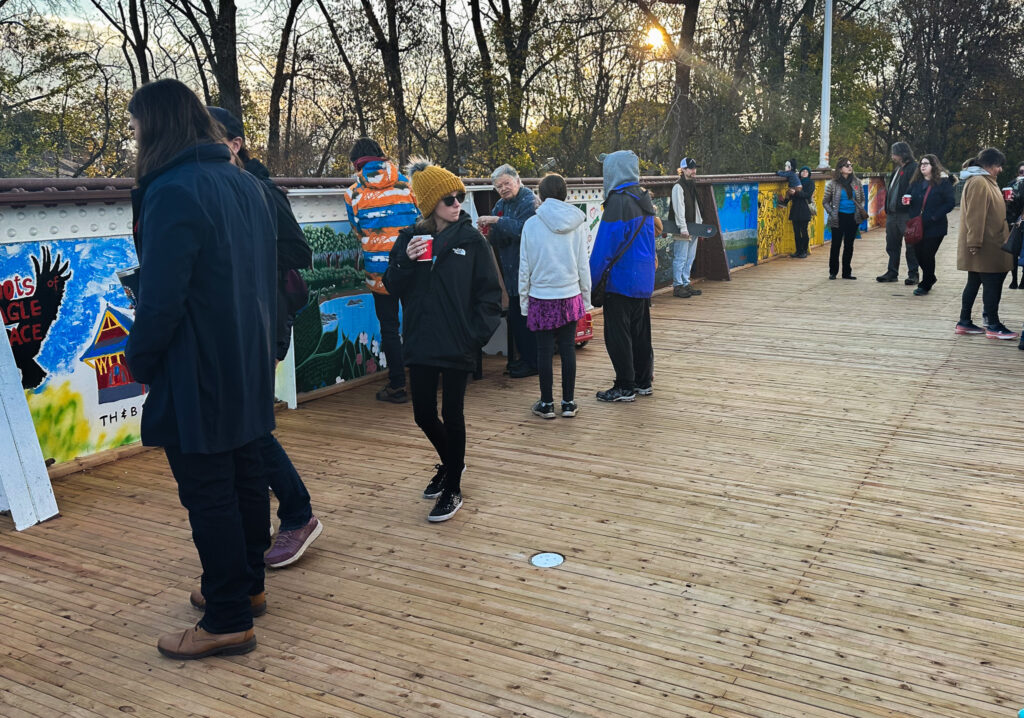 With the painting of the interior bridge complete, the City began the deck rehabilitation on Monday, July 17 2023 and was recently completed this fall.
On Friday, City Staff as well as volunteers and artists, came together to officially celebrate the bridge's makeover.
"This really is a very special occasion because, we're celebrating the transformation of this bridge from being an important part of the local economy well over a century ago, to now transitioning over the last ten years into this present condition. It is something that is now more leisure and recreation oriented in terms of a place for pedestrians," said Brantford Mayor Kevin Davis. "This has become a very critical link in the active transformation that we're going through and of course, with this beautiful new deck, it's even safer."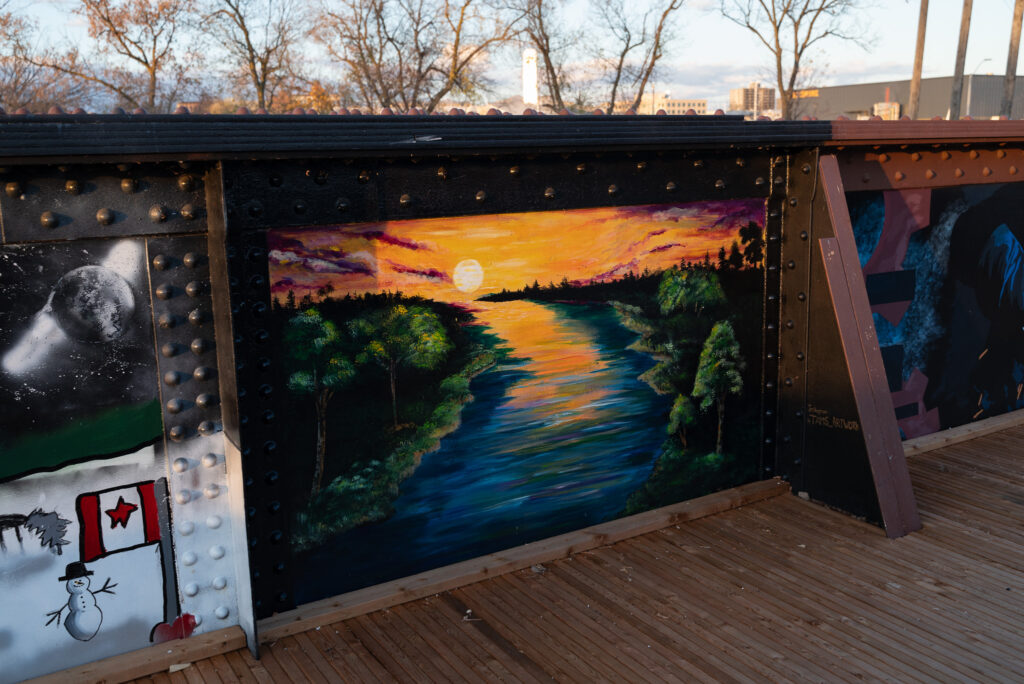 Davis said that the now 112 painted panels better reflect the city's culture and history.
"The railway bridge is now a focal point for not only culture, but also volunteerism and contributing. …Frankly, these murals are absolutely beautiful, not only from an artistic perspective, but because they say something about our history and what life is in Brantford," he said. "I hope this bridge will become a focal point in our greater downtown area, that it will actually draw people in to see the murals and not just to cross the river."
The Mayor then thanked the artists and volunteers for their contribution to the project.
"We had 150 volunteers working on this and I think because of this work, it's going to ensure that a lot of people use it and that the bridge will be vital, will be active, and that it will be well maintained, because now we know it's not just an old railway bridge," he said. "It's now going to be a much beloved landmark in our community."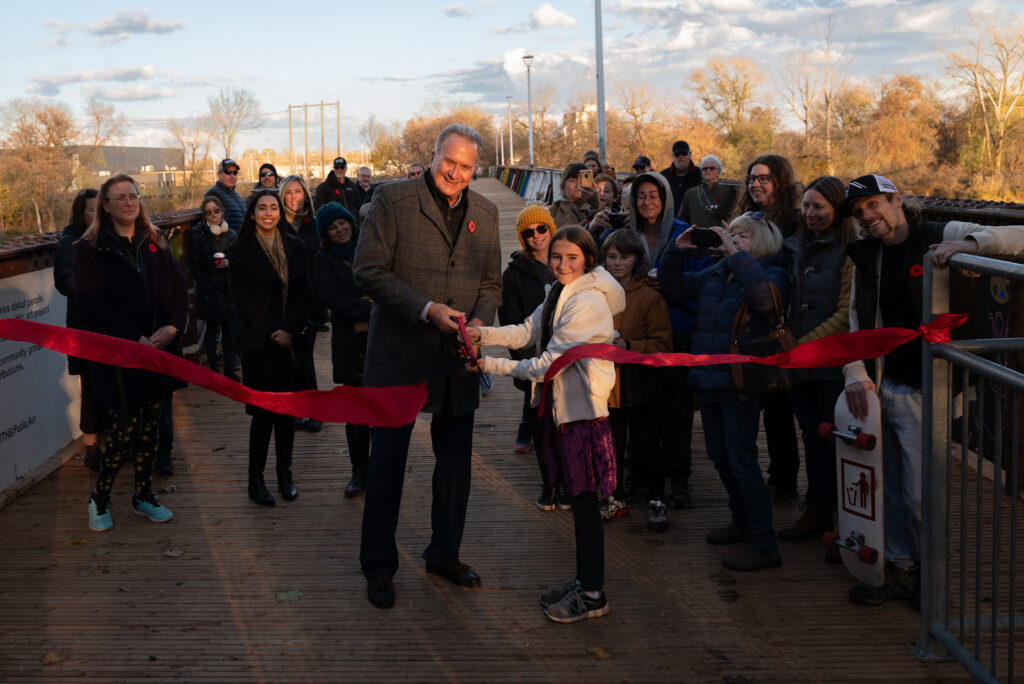 Davis, along with 13-year-old Sally Slater, then participated in the official ribbon cutting ceremony, marking the beginning of a new life for the TH&B crossing bridge.
Slater, along with her mom Cindy Robertson and her little brother Roland, were just a few of the many community members who contributed towards the bridge's revitalization project.
The family's inspiration for their mural came from their Habitat for Humanity house. It's a reflection of their home, the river behind it, and a dedication to the loved ones they have lost along the way.
"It's kind of a tribute to gain and loss," said Robertson. "We lost three of our animals, two kitty's and a bunny, so they're in there and the canoe with the two people in it represents both my parents who we lost. It was a labour of love."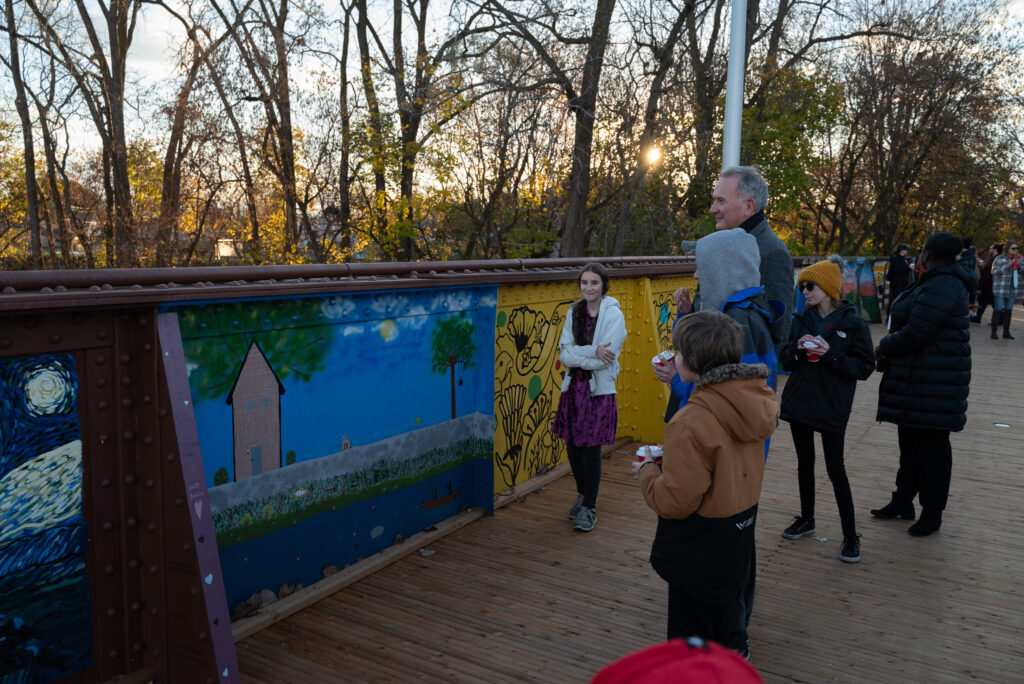 Robertson said that when she saw the application on Facebook, she began brainstorming the idea.
"I asked myself, 'why am I not doing a tribute to the river and what is has given us, whether it be loss or gain?" she said.
Another resident, Lydia Moore, who moved from the United Kingdom to Brantford nearly six years ago, wanted to show her reflection of the city she now calls home.
"I think we've got access to such wonderful nature here in Brantford, so I wanted to celebrate that," said Moore. "Also, the Eagle has significance with First Nations here as well and I wanted to be sure to incorporate that too. Where we lived in the UK, there were certainly no eagles, but here, we've got a nest just further up the river and so they've just become very special to me."
Moore said that she hopes her mural can encourage others to take advantage of the nature surrounding the city.
"It's meant to be an encouragement to get out on the trails," she said. "We've got such beauty here, we just need to take advantage of it and take care of it too."