Officers with the Brantford Police Service are seeking information to help identify a suspect wanted for a bank robbery.
On Saturday, November 20, 2021, at approximately 12:55 p.m., officers with the Brantford Police Service attended a financial institution located at King George Road at St. Paul Avenue after receiving a report of a robbery.
An unknown suspect approached a bank teller, advised he had a weapon and demanded money. The suspect received money from the teller and left the area on foot.
No weapon was seen during the incident.
Employees and customers within the bank at the time of the incident remained physically unharmed.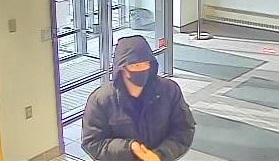 The suspect is described as follows:
•Male
•Caucasian
•Approximately 5'5" tall
•Slim build
•27-30 years old
•Wearing a black jacket hooded jacket, jeans and a dark face mask
Anyone who may have information is asked to contact the Brantford Police Services at 519-756-7050.
Tipsters who wish to remain anonymous are asked to contact Brant-Brantford Crime Stoppers at 519-750-8477 or 1-800-222-8477. Alternatively, a web tip may be submitted at: