Keith Cripps, a local blacksmith, demonstrated the artform to guests at the Myrtleville House Museum on Monday, May 8, 2023.
Cripps, a Brantford resident, volunteers with the Myrtleville House Museum two to three times a year to help the establishment to recreate or repair various items for use around the property, while also providing adults and children with a demonstration of the work.
On Monday, Cripps answered questions about various details such as how the shape of a hammer can alter metal, the temperature, metal types and fuel sources as he walked curious minds through the blacksmithing process used on the property over 100 years ago.
Upon arrival, guests started to gather in the old workshop to watch as Cripps worked to heat up the original forge hearth that was built in the 1880s. Working the forge up to and maintaining a certain temperature is one of the most important aspects of blacksmithing and Cripps explained that metalsmiths can gauge the temperature just by the colour of the metal.
Cripps spoke about the different components of the forge and how they work together to create an ideal working environment for a blacksmith and apprentice. He also touched on the differences between using coal, charcoal and modern propane as fuel sources while noting that during the time – and still to this day – coal would be received by train from the US state of Kentucky.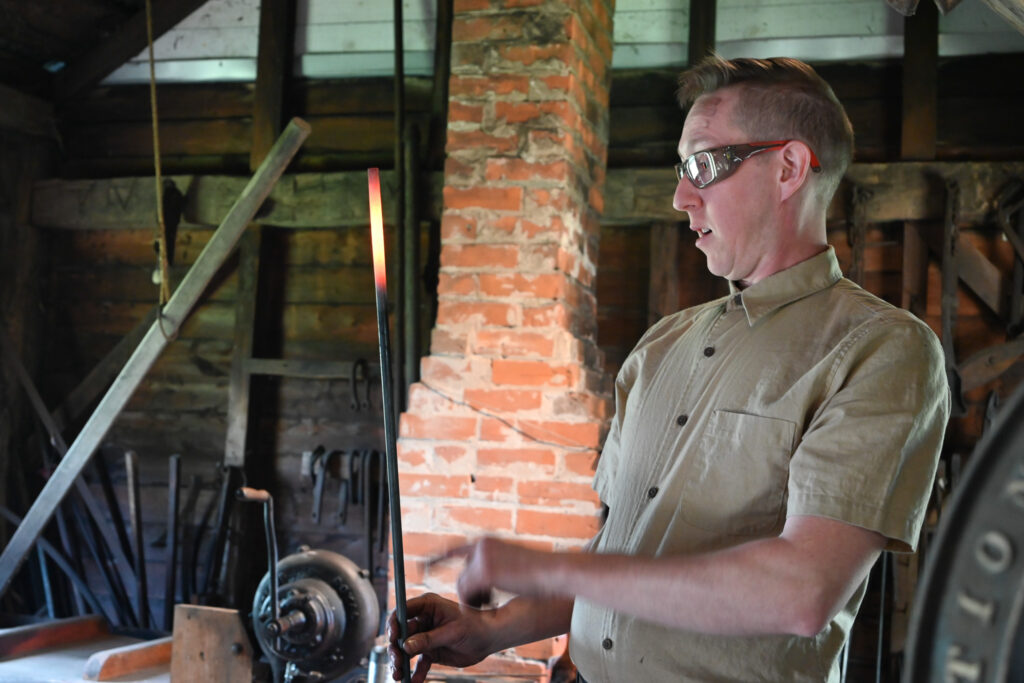 Cripps talked about history and how a blacksmith's job was to not only create, but to repair various tools and how the job went hand-in-hand with carpenters, masoners and farmers in the community.
"The blacksmith was producing tools, but also sharpening tools," he said. "With a lot of masonry and wood working tools, you wouldn't grind them to sharpen them, instead you would put it back in the forge and hammer a point on them. A blacksmith was essential back in those days, especially if you didn't have direct access to a larger city."
The sound of a hammer hitting metal on an anvil echoed through the workshop as Cripps worked to create a point on a piece of metal as he showed the guests an example of how a square nail would have been made or how two pieces of metal could be merged as a joint.
Esther Brower is the Education Director at the Myrtleville House Museum and she spoke about why demonstrations like this are great to have on site for all ages but especially for children.
"It's really fun for everyone to learn about this but especially for kids because they get to see how things were made by hand," she said. "And usually, they get to take something home with them, like with today's blacksmith they would get to go home with a letter stamped wood block. When they get excited about things like that or even if it's a wooden toy they get from the school programs – it's always a win in my heart."