Visitors of CIBC's Lynden Park Mall branch got a surprise on Tuesday, April 25, 2023 as Autism Dog Services (ADS) had been set up in the bank's lobby for the week.
"Puppy raisers" and their dogs have been taking turns spending time at the bank and interacting with both staff and visitors in an effort to raise awareness for its program and services.
For dogs like six-month-old Juno, a golden retriever in basic training, the bank visit is also a chance for the dogs to socialize and be exposed to different scents, sounds and sights.
"Juno will be in training for 18 months with his puppy raiser and the whole thing is about getting them socialized to different environments," said Adele Alfano, Fund Development Manager for ADS. "The puppy raisers take the dogs to the bank, movie theaters, parks, restaurants, or even ball games to get them socialized."
Mark Simpson and his family are Juno's puppy raisers and first got involved in January after seeing a write up looking for volunteers in the Hamilton Mountain News. Since then, the family, and Mark specifically, have been working on providing Juno with basic training.
"I thought it would be great to get involved and I've always had dogs since I was young," he said. "We do a lot of in-house training and general obedience, as well as bi-weekly puppy classes to help teach him to be a good dog and how to be around people."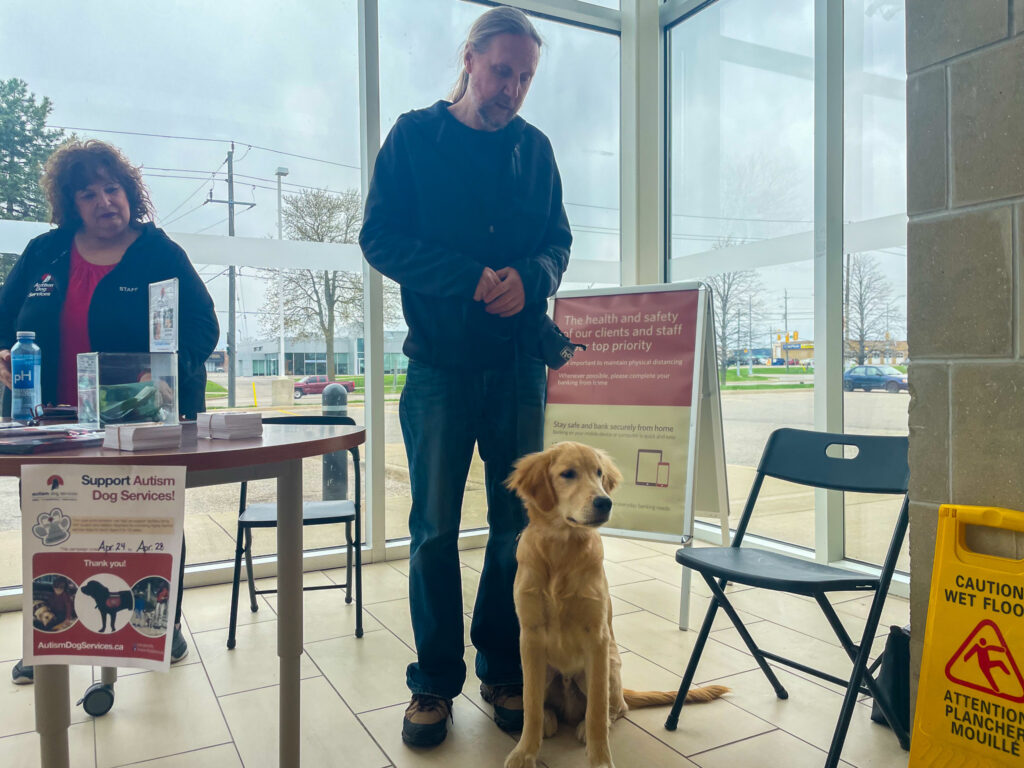 Megan Delamere from Guelph, and her seven-month-old foster black labrador named Cash, were also in attendance after switching out with Juno and Mark.
Cash is her third dog with ADS and Delamere says she enjoys that ADS is a smaller and more tailored organization.
"I feel like in the Guelph area there's a lot of different kinds of organizations, but I love that Autism Dog Services is kind of smaller and the community is just so nice," she said. "Between all the staff and other raisers I've made a lot of friends. I also love that if autism services doesn't work out, there are other streams for the dogs to explore and move on to."
ADS is an accredited member of Assistance Dogs International and a non-profit organization that provides highly trained service dogs to children between the ages of three and 18 who are living with autism. The organization's mission is to enhance the quality of life for children with autism by providing them with a specially trained service dog to assist with their daily living activities.
ADS currently has 50 dogs that are being raised and trained in stress-free conditions before they will move on to staff homes with a training instructor for more advanced training and will later be specifically matched with a child living with autism.
The dogs are trained to perform a variety of tasks, such as alerting to seizures, providing comfort, and assisting with social interactions while helping children to develop skills like responsibility, empathy and communication.
The key role in an ADS service dog is to provide safety and independence in public settings outside of the home.
"The dogs help give these kids a lot of confidence, companionship and self-esteem," said Alfano, "But they also help with two major things, the first is that by being tethered to their child, they can help to stop them from darting into the road or unsafe environments when a parent or caregiver gives the command. And the second is that they provide a sense of calm as they are trained to be almost like a weighted blanket for a person living with autism. If a child is overwhelmed, the dog will lay on top of them to help get that heart rate down and get them to settle and relax."