Something special is happening every day up on the hill on Westbrier Knoll, and it's filling homes and hearts with music. Every week, children from Brantford, Paris, St. George, Cambridge, Burford, Scotland, Simcoe, Port Dover, & Waterford visit Ms. Heather for music lessons, then take their skills home to practice daily. However, they're not just sitting at a piano, watching the clock and plunking out tunes by rote. They're actually composing their own songs.
This year, Brier McCormick and Natalie Kovacs took First Place International in their respective levels, being recognized for their song writing abilities at Music for Young Children's International Composition Festival. Jaxson Pavone-Adrian took Second Place International in his level. Brier, Natalie and Jaxson are not the only ones to have success in song writing. The following students below also placed in the top four, or received Honourable Mentions in their region of Eastern Canada (ON, QC, NS, NB, PEI, NL) at the Composition Festival this year.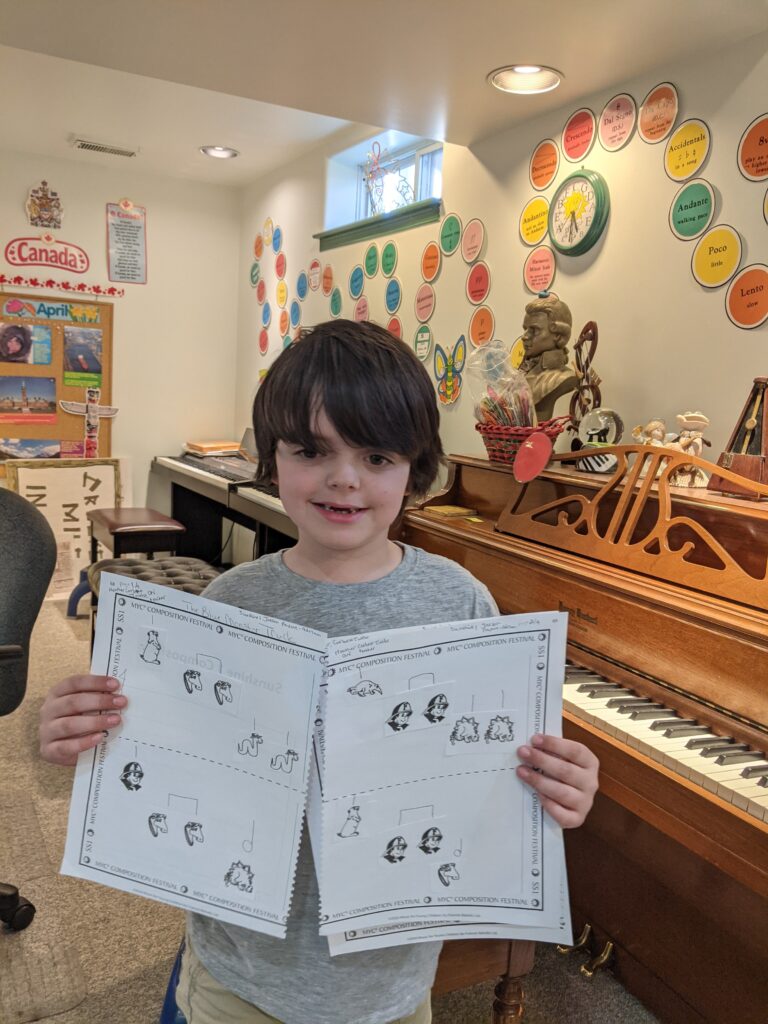 Ren Calagos, Dyosa Castro, Olivia Luton, Nifemi Banji-Ajayi, Catherine Dickson, Eden Heikoop, Grace Dill, Amy Heikoop, Cohen Fox, Leanne Heikoop, Raphael Trinidad, Caleb Fox, Oliver Memmott, Avelyn Heikoop, Celine Prygiel, Anna Kokkoros, Izabella Olmstead, Adam Hansford, Simon Kielstra, Mwine Ahimbisibwe, Norah Monkman, Saya Gonzalez, and Vienna Memmott. All have been awarded for their compositions, and 12 of those in this list have also won honours in previous years of their young lives as musicians and composers. This year, their compositions went up against over 3600 other entries from Canada, the United States, Singapore, Malaysia, and Vietnam.
Celine, who placed 1st Eastern Canada & 2nd place International last year & 3rd place Eastern Canada this year says, "I am excited that I won another award. I feel proud of myself." Eden who also placed 1st Eastern Canada & 3rd place International 2 years ago & Honourable Mention the last year and this year says, "I was excited to hear that my song got Honourable Mention this year! Thank you Ms Heather for teaching us how to write songs."
Brier, who placed first internationally at the Moonbeams 1 level for her composition called "Winter" says: "Winter is magical because it is fun to make snowmen and snow angels. I like winter because it is white and snow. To compose this one, I drew a picture of a snowflake and had memories of winter playing with my best friend making a snowman."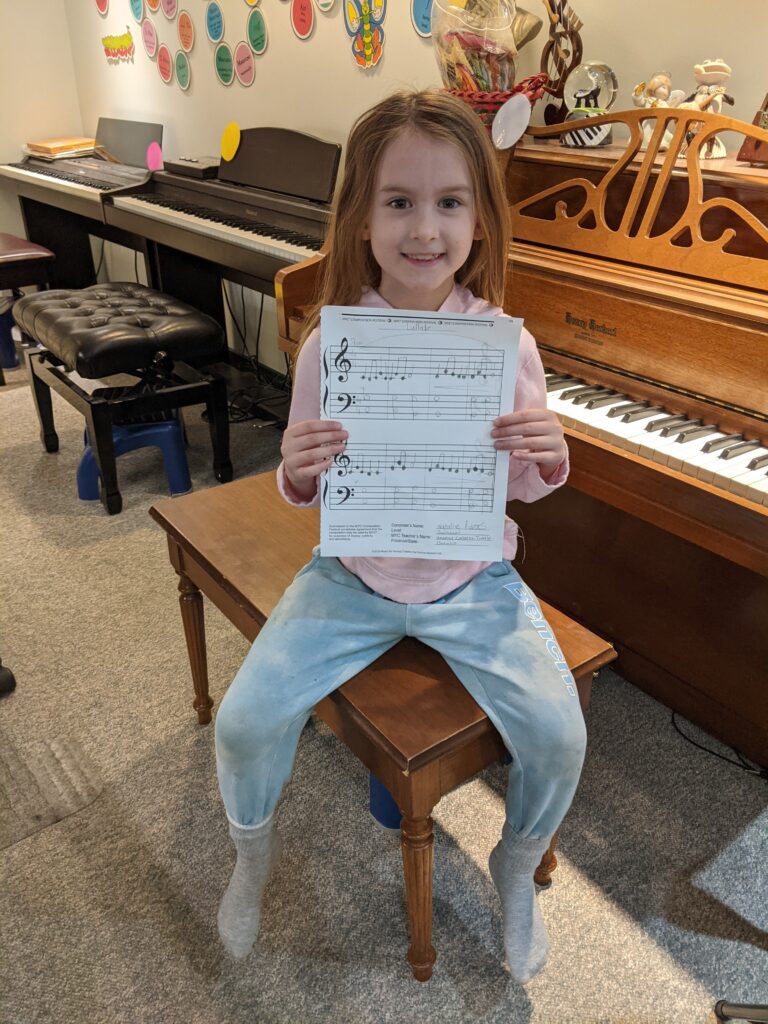 First place international winner in the Sunbeams 1 level, Natalie, had her mother explain the title: "We were playing Natalie's composition song in her sister's room (where the piano is) and once Natalie's sister mentioned that this song is so soothing that it makes her sleepy, so we decided on the title "Lullaby"."
Jaxson, who placed second internationally at the Sunshine 1 level, calls his composition "The Blue Monster Truck." He describes the Blue Monster truck as, "a truck that likes to crush cars at Monster Jam. " Jaxson wanted a song that is fast and slow, with lots of ups and downs.
Young composers now published
Awards can be motivating and instill a lot of pride, but having one's work published is another amazing accomplishment all together. In celebration of MYC's Annual International Composition Festival and in partnership with SuperScore, 32 winners (the top four international for every category) have been published in the SuperScore app, which is free to all iPad users. The album has also been made available for free.
At teacher Heather Corbett Tuttle's music studio, children begin their journey as young as age three in the Music for Young Children program which runs as small group lessons with parental involvement. This format of group interaction, parental support, and experienced and engaging teaching has been the cornerstone of this Canadian company for over 43 years. Heather brings 40 years of music teaching experience (33 years with MYC) and is also a composer in her own right.
Where traditional piano lessons are usually one-on-one and focus on playing piano, this program, with Heather at the helm, includes a wide foundation of music learning in a group setting with ensemble playing, theory and history, listening and ear training, technical focus on piano playing and also the art of composing music. After a firm basis and nurturing of these key musicianship skills, many students go on to take private lessons with Ms. Heather where they study conservatory repertoire and prepare for examinations at higher levels.
This is Heather Corbett Tuttle's fourteenth consecutive year for of having several students placing in the festival. "In MYC, students learn skills and tools to create their own compositions. I believe it helps them learn critical thinking, patterns, how to play shapes and increases their knowledge, abilities and skill sets in music. Most importantly, students who compose are able to be creative and express their feelings and ideas. There are never wrong answers. Happy accidents can create something new and magical. Even the greatest child composer Mozart learned to compose through copy-cat."
Despite the wealth of ability and experience, Heather is quick to bring credit back to her students. "I am proud of all my students," she says, "and humbled to be included in any tiny part of their successes and musical journey."
MYC is an international, Canadian-created company celebrating its 43rd year. It is taught to over 24,000 students (on an annual basis) across Canada, the United States, Singapore and Malaysia, Vietnam, and South Korea. If you would like more information about MYC classes or piano lessons in Brantford, contact Heather Corbett Tuttle, 519-771-1810, or visit www.myc.com to find a teacher near you.