City of Brantford and Glenhyrst Art Gallery of Brant unveiled a new portrait of the late Walter Gretzky on August 25.
The portrait, created by artist Christina Sealey, has been installed inside the main entrance of the newly renovated clubhouse at the Walter Gretzky Municipal Golf Course, Banquet and Learning Centre.
The golf course, formerly known as Northridge Municipal Golf Course, was renamed in Walter Gretzky's honour in 2020 to recognize Brantford's beloved Lord Mayor Walter Gretzky and his countless contributions to the community.
A small, private unveiling attended by Brantford Mayor Kevin Davis, Ward 2 Councillors John Utley and John Sless was held for members of the Gretzky family and the jury involved in the artist selection.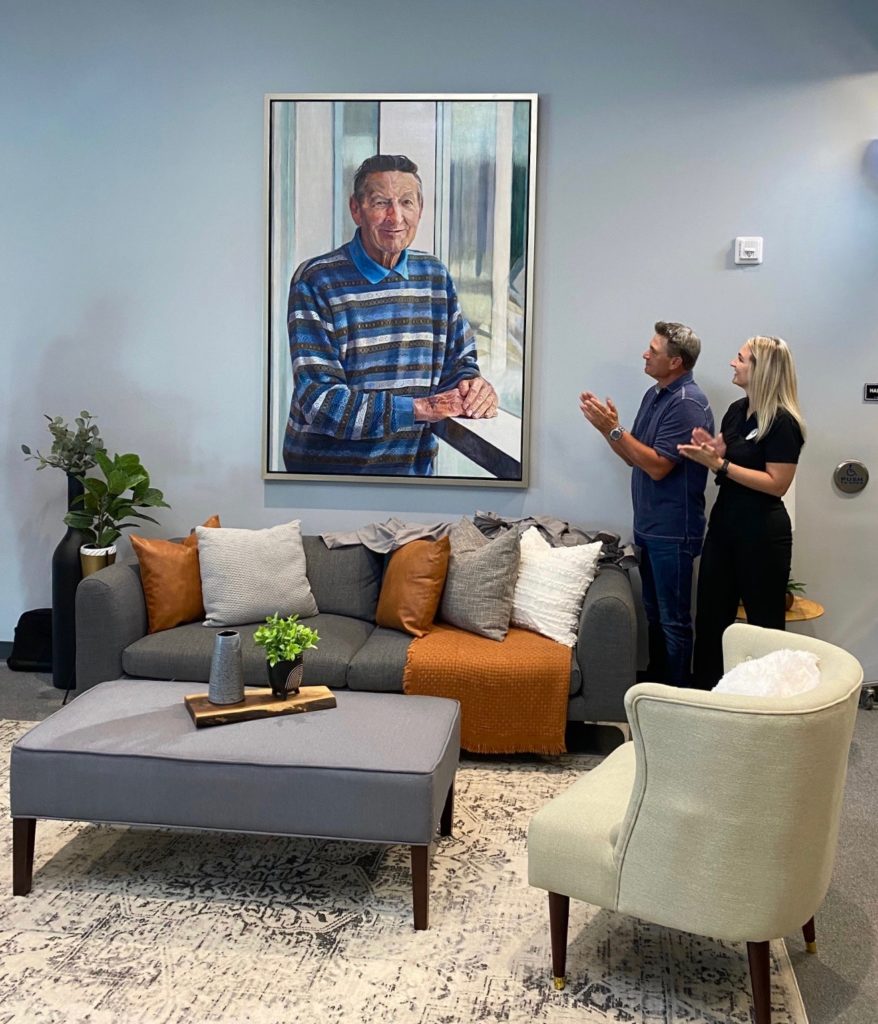 "As our City's beloved Lord Mayor, worldwide ambassador of hockey, community champion, coiner of the phrase 'Brantford…The Centre of the Universe' and a special member of our community who will be missed beyond measure, there is no one who deserves this honour more. This portrait of Walter that beautifully captures his altruistic spirt will be a permanent focal point of this clubhouse and the aptly named Walter Gretzky Municipal golf course," said Brantford Mayor Kevin Davis, in a press release issued by the City.
Endeared to many across the country, especially in his hometown of Brantford, Walter Gretzky selflessly dedicated countless hours to coaching youth and supporting Brantford's local charities. Gretzky is also remembered for his passion for golf and the legacy of the Walter Gretzky CNIB Golf Tournament first held in Brantford in1995, and eventually held in eight cities across Canada.
A call for artists was released in November 2020 with a deadline for applications on January 8, 2021. The jury received over 120 applications from artists across Canada. The artist was selected through a juried competition that was held virtually and consisted of five voting members. After three hours of deliberations, the jury unanimously selected Christina Sealey, a renowned portrait artist who received her Master of Fine Arts from the School of Drawing and Painting in Edinburgh, Scotland.
"Glenhyrst was thrilled to assist the City of Brantford in finding the right artist to honour Walter Gretzky, a great local hero, and to work with Christina to bring her beautiful artwork to Brantford," added Ana Olson, Gallery Director at Glenhyrst Art Gallery of Brant.
Sealey has shown her work in exhibitions and collections across Canada from Halifax, Nova Scotia to Vancouver, British Columbia and overseas in London, England and Edinburgh, Scotland. Sealey comes highly referred from previous commissions she was awarded and her quality of work will serve as a deserving and fitting legacy of Walter and his many significant contributions to a grateful community.
"I was thrilled to learn that I had been selected to paint Walter Gretzky's portrait. Growing up with my brother playing hockey from a young age, I was immersed in the legends of Wayne and Walter Gretzky. It was a huge honour to paint a Canadian icon who has been an inspiration locally and internationally. A much loved and respected gentleman, he contributed in countless ways to the community and charities in the city of Brantford," said Christina Sealey.