Today, on the first anniversary of our beloved honourary Lord Mayor's passing, the City of Brantford and Glenhyrst Art Gallery of Brant were proud to unveil 'Lord Mayor' Walter Gretzky, a bronze bust to honour the late Walter Gretzky created by local sculptor Robert Dey. The bust has been installed in a public area at Brantford City Hall outside Council Chambers.
The bust, cast in bronze, measures 20 inches tall and 12 inches wide and fits neatly inside an enclosed case, also designed and produced by the artist. Dey is a Canadian born artist who lives and works from his home studio in Paris, Ontario. He has been creating and exhibiting his work since 1996 which focuses on depicting the human figure in bronze.
"Walter Gretzky was a unique and special person and I thoroughly enjoyed capturing his character in clay.  With sincere thanks to Glenhyrst Art Gallery and the community of Brantford-Brant, I was able to cast this portrait bust in bronze.  I feel truly honoured to have been part of this project," said Robert Dey.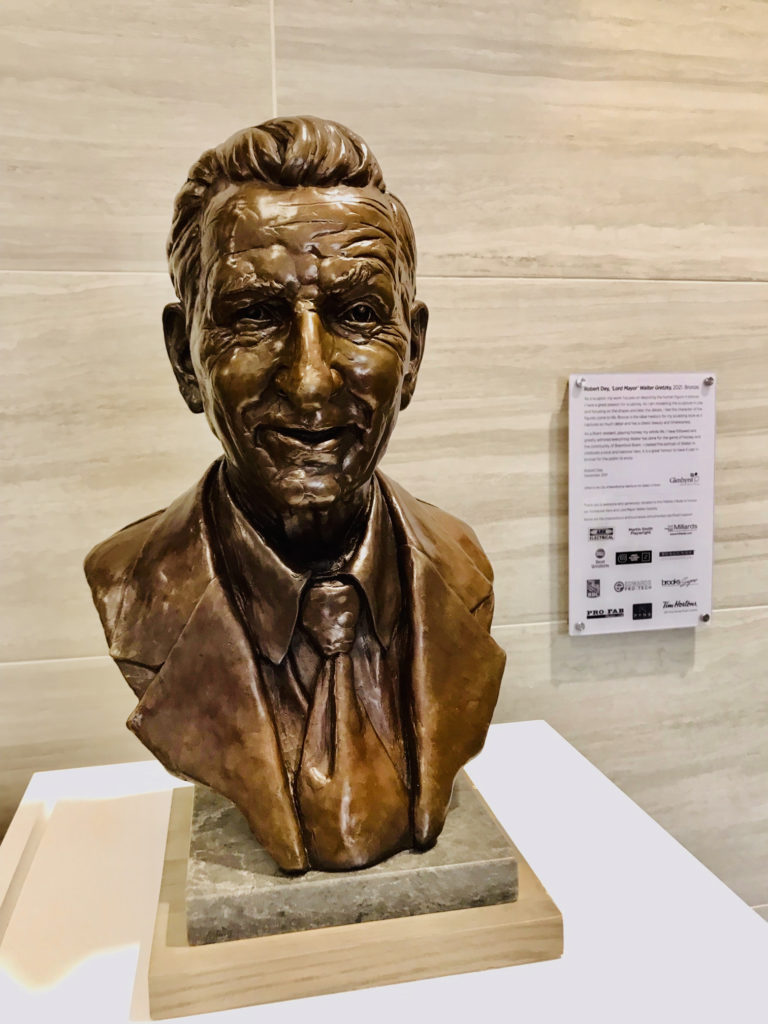 Glenhyrst Art Gallery of Brant facilitated the special legacy project directly with Dey and launched a campaign to secure full funding of the project, receiving many generous donations from local community members and organizations. Glenhyrst has gifted the piece to the City of Brantford.
"Glenhyrst is thrilled to gift the Walter Gretzky sculpture to the City of Brantford on behalf of the community of Brantford. This was truly a community effort to acknowledge this incredible father, local hero and honourary Lord Mayor. We will continue our efforts to bring public art to our region in unique and beautiful ways," said Ana Olson, Gallery Director, Glenhyrst Art Gallery of Brant.
Endeared to many, especially in his hometown of Brantford, Ontario, Walter Gretzky selflessly dedicated countless hours to coaching youth and supporting Brantford's local charities. Walter is also remembered for his passion for golf and the legacy of the Walter Gretzky CNIB Golf Tournament first held in Brantford in 1995, and eventually held in eight cities across Canada.
"I'd like to thank Glenhyrst Art Gallery of Brant and artist Robert Dey, as well as City staff for facilitating this project that resulted in such a beautiful tribute to our City's beloved Lord Mayor. There is no one who deserves this honour more and we're thankful that visitors to City Hall will have the opportunity to view this very special work of art, said Brantford Mayor Kevin Davis.
Members of the public are invited to view the Walter Gretzky bust at Brantford City Hall during regular business hours from Monday to Friday 8:30 a.m. to 4:30 p.m.