Friends fans won't want 'a break' from "Friends: The One with Murder" musical when it premieres in Brantford at The Gunners' Club on Saturday, March 25.
Theresa Noon-Hunter, artistic director of There's A Production, said that this show has been requested for a number of years.
"We've done a couple of different shows based on Golden Girls, Addams Family, Downton Abbey, you name it," she said. "I often reach out to people to ask what they'd like to see and everybody said Friends, Friends, Friends, Friends, Friends. So we thought alright, we're coming back. Let's do a Friend's murder mystery."
The show follows an original script written by Rick Simm, with the music and direction by Noon-Hunter.
"I worked as a professional actor for about 20 years doing other people's shows," Noon-Hunter said. "I wanted to create my own shows, so I actually teamed up with one of the actors that I worked in Los Angeles with, Rick Simm, and he's a brilliant writer. We dream up a show, and he sends me a draft and we work together to make our edits before I write the music."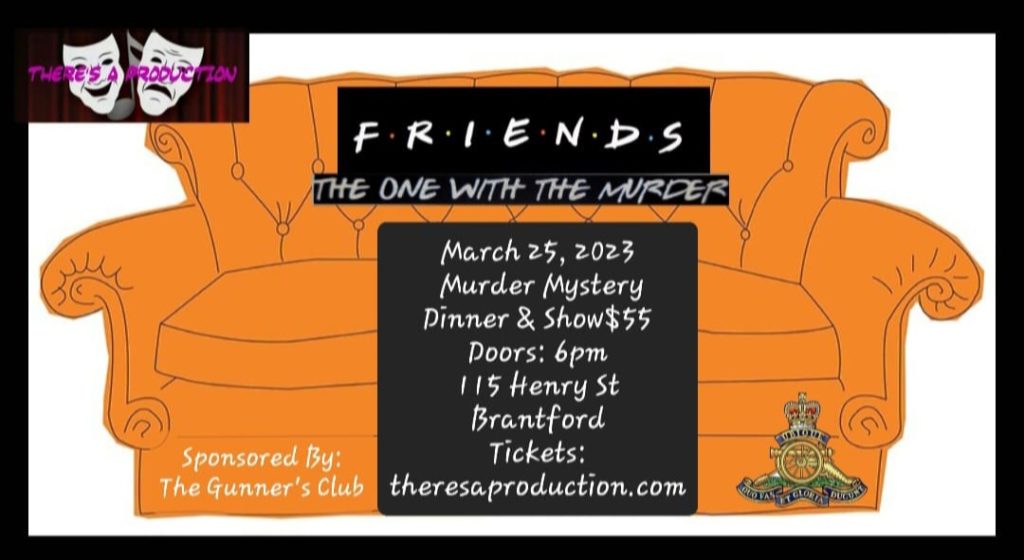 The murder-mystery features five actors that play the main cast of Friends, Joey, Chandler, Monica, Phoebe, Rachel and Ross with appearances by fan-favourite characters, Gunther and Janice.
"It's set as a surprise party for Monica's birthday, but it's under the ruse of a fundraiser open mic," she said. "So all of the people in the audience are either friends of Monica or they are there to support the fundraiser for Phoebe's open mic. And then of course a murder takes place. So it goes hilariously and deadly wrong."
While audience interaction is encouraged in the show, it's not mandatory. Guests do however get the opportunity to vote on who they think committed the crime with a chance to win a prize.
"The actors that I hire are actually trained, both in script work and in improvisation so that they can feel out who wants to be involved and who doesn't," Noon-Hunter said. "So people don't have to be scared."
The show is written for Friends fans of all-ages, as the director calls it a "cross-generational show."
"We really like to make fun of ourselves and poke light at the world and it's nothing too hard hitting, it's definitely a comedy," she said. "It's meant to take people's minds off of all the craziness in the world and just have a fun night. I really like to look at it as more of a spectacle than a play because there's just so many elements involved."
While the show is premiering in Brantford, Noon-Hunter says she does have plans for more performances after focusing on this one.
In addition to the murder mystery, audience members will also enjoy a three-course dinner, catered by Two Spoons Catering.