For over a decade, Matt Joniec has been busy working on numerous projects in film as well as for various corporate and commercial clients.
"I did a really heavy focus on not-for-profit messaging…I did a lot of work for the Brant Community Healthcare System Foundation and…St. Leonard's," noted Joniec.
"The last few years have been a bit unique because I have tried to diversify and split my time [between] Fat Panda Studios and then the other half of my time for the International Cinematographers Guild…[where I do work as an] aerial camera operator and the remote head technician for film and television," he continued.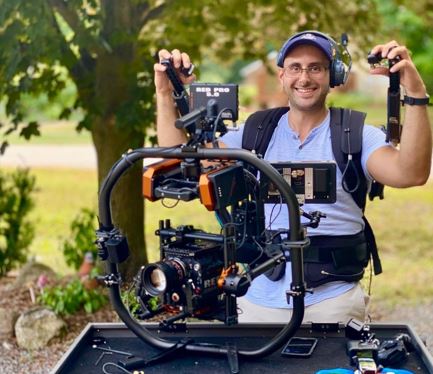 Joniec has an opportunity to work on an array of film projects in Toronto, as well as, ones in Brantford.
"Toronto has got an absolutely booming film industry, especially through COVID. Actually, there was a lot of a lot of dollars spent on new programming…it's been great to work with some of the biggest names in the industry [and] I've got a great crew that I work with," stated Joniec.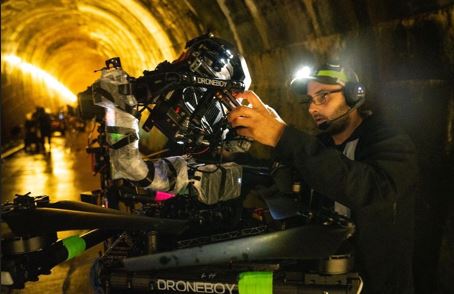 Joniec, who graduated from the Multimedia Bachelor of Arts Program at McMaster University in 2012, expanded on some well-known Film and Television projects he has worked on.
"I've worked on The Handmaid's Tale [and] on two different Star Trek series that shoot in Toronto; and other series' like Umbrella Academy [and] the new Reacher series on Amazon…. There are a couple of other shows that are shot in downtown Brantford…. Station 11, which has been a series I worked on…at the Brantford Airport for quite a while….it's great that the city has made Brantford an attractive location for these large productions to come to. It's fantastic. I think Brantford has a lot to offer," he said.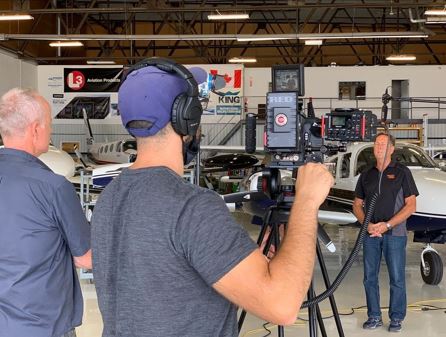 However, along with his extensive film work, Joniec has managed his own company called Fat Panda Studios, which boasts a rich portfolio of local businesses and non-for-profits, as well as, being a part of Droneboy, a specialty firm for Film/TV aerial Cinematography, drone work and video production.
Joniec discussed his more specialized camera work related to drones.
" When I do the drone work…I'm working with [a] team….we've got a pilot, who basically flies the drone, and then I'm a camera operator, so the camera moves independently of the drone….it's always unique. It's always challenging," he said.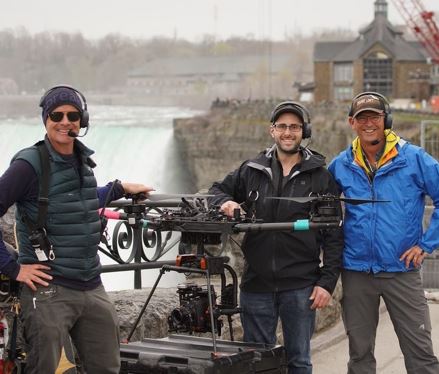 Joniec explained some of his most notable projects.
"I've done work for the Brant Healthcare System Foundation over the years [and] I shot a project for the Brantford library last year. Probably one of my favorite places to film was spending some days down in the Goderich salt mine, which is the largest underground salt mine in the world. It's 1800 feet below the ground, and that goes about seven kilometers underneath Lake Huron. I got to do a piece two years ago on a day in the life of a miner where I went around in the mine underground and interviewed some of the great people that work there," he explained.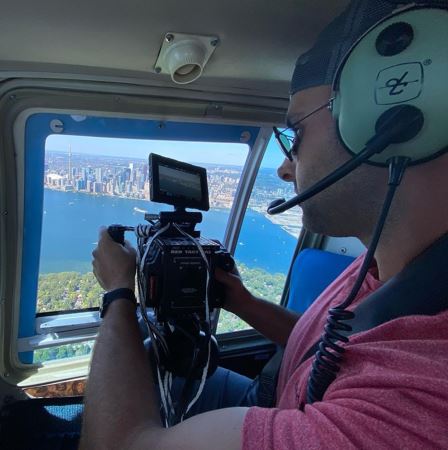 However, Joniec has continued to succeed because of his reputation for working with diverse teams and his willingness to take on more complex drone, video production, and camera work.
"I'd say the biggest thing is just looking at directors and VPs and producers and just seeing how they effectively communicate what their vision is [and] what they need from other crew members on set," noted Joniec.
Joniec continued, "I am also looking at how they take something on a storyboard, whether it be a commercial or TV shows, and executing that…I am developing my eye for that kind of thing."