Buffalo Sabres defeated the Toronto Maple Leafs 5-2 to win the 2022 NHL Tim Hortons Heritage Classic at Tim Hortons Field on Sunday, March 13.
Sabres RW Vinnie Hinostroza had two goals and an assist in the victory while Maple Leafs C Auston Matthews recorded his league-leading 45th goal of the season.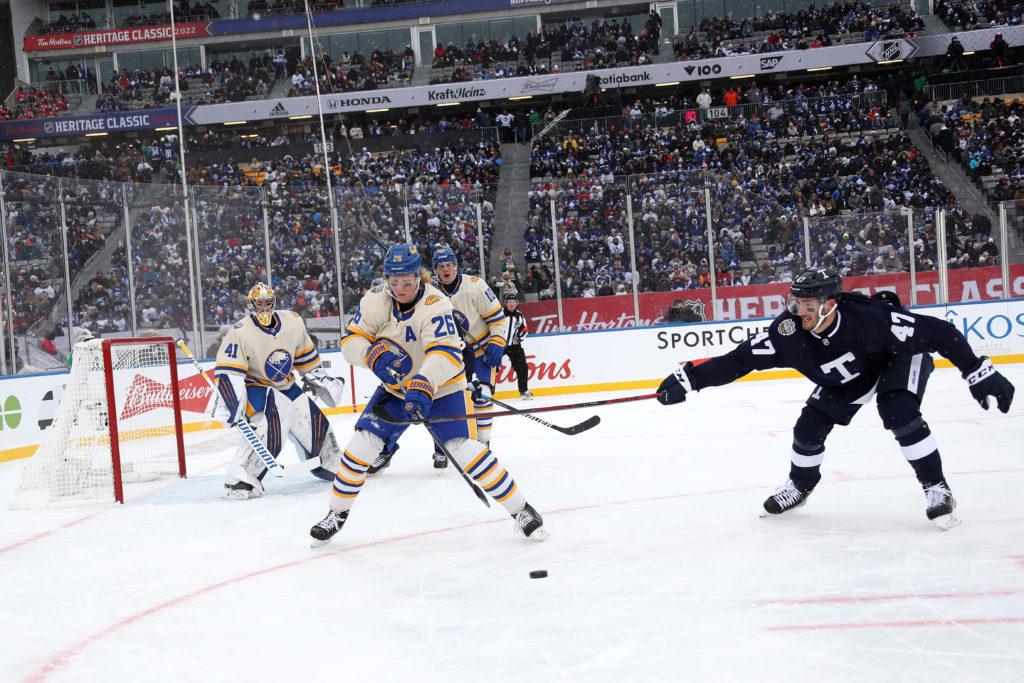 After a scoreless opening 20 minutes, the Leafs opened the scoring 40 seconds into the second period but the Sabres responded 42 seconds later to tie things at one. Matthews gave the Leafs the lead 90 seconds later and the teams settled in after a frenetic opening three minutes. Buffalo tied things at two after a centering pass went off Leafs defenceman T.J. Brodie and beat Leafs goalie Petr Mrazek.
"I thought Petr was good, he made some saves today," said Sheldon Keefe, Maple Leafs head coach. "It's not an easy environment to play in, especially for a goalie. I thought he made some good saves. Nothing he could do on the first one, nothing he could do on the second, we put it in our own net, it was a funny bounce. I think he looked solid, all things considered with the environment and everything like that."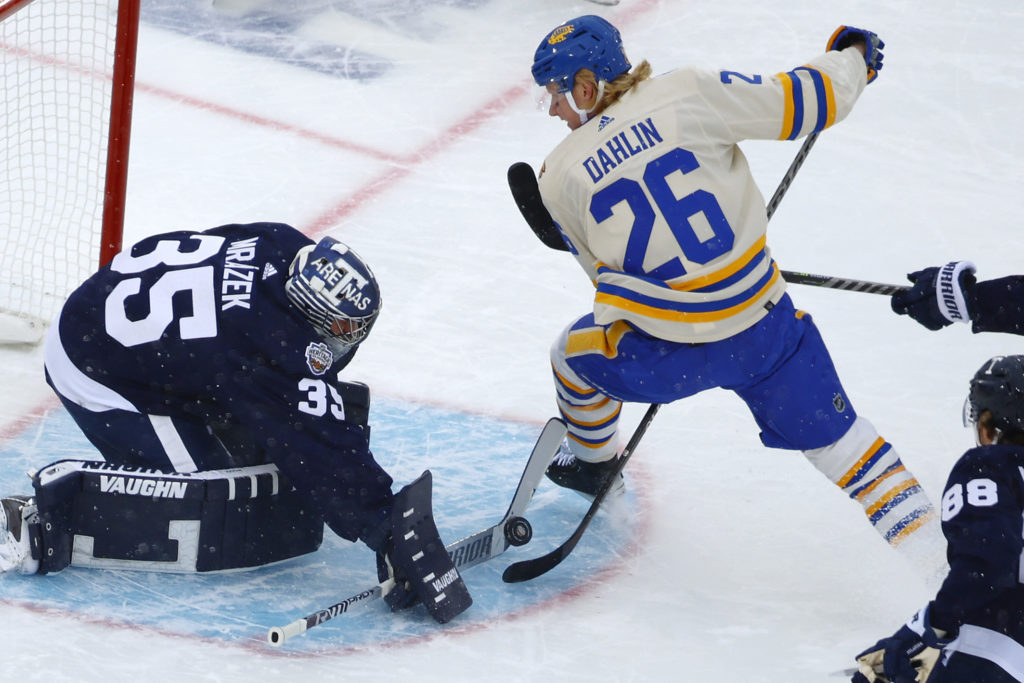 Toronto started the third period on the penalty kill for 35 seconds before going on the attack, pressuring in the offensive zone before going down short-handed after defenceman Timothy Liljegren was called for tripping. The Leafs killed off the man advantage and got several quality chances while short-handed but couldn't take the lead. The Sabres took the lead five minutes into the third when Hinostroza ripped a bad angle shot past Mrazek.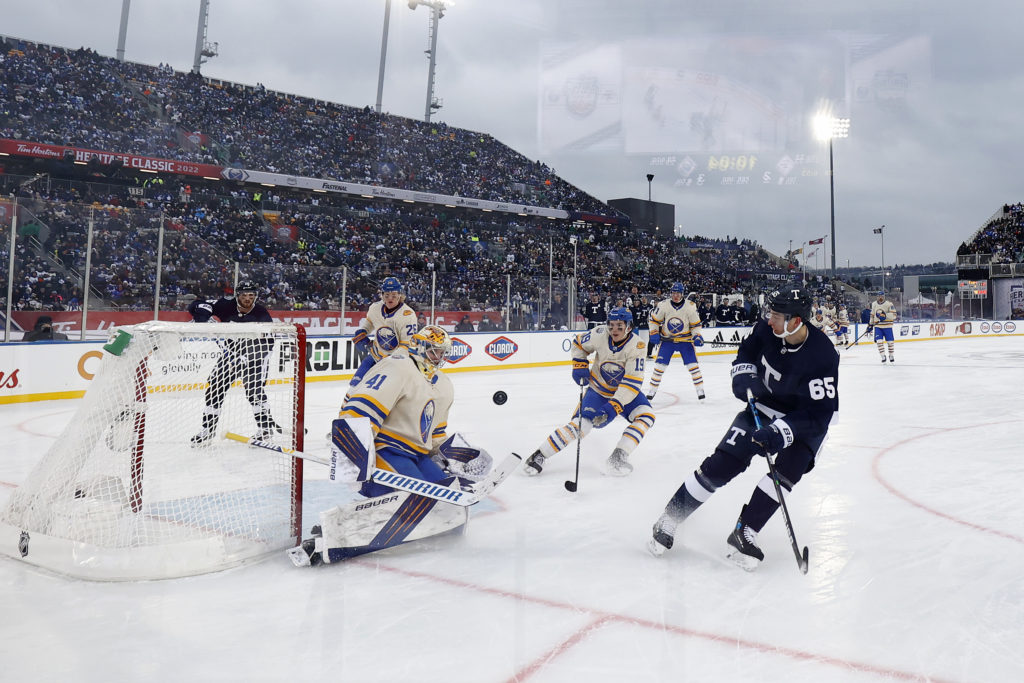 "The third goal didn't go well," said Mrazek. "He put it on and it squeezed through my arm. I was too high and went down while he shot."
Buffalo added one more late on a controversial goal where the net was knocked off its moorings but the goal was upheld by video review and then Buffalo added an empty netter to seal the 5-2 victory.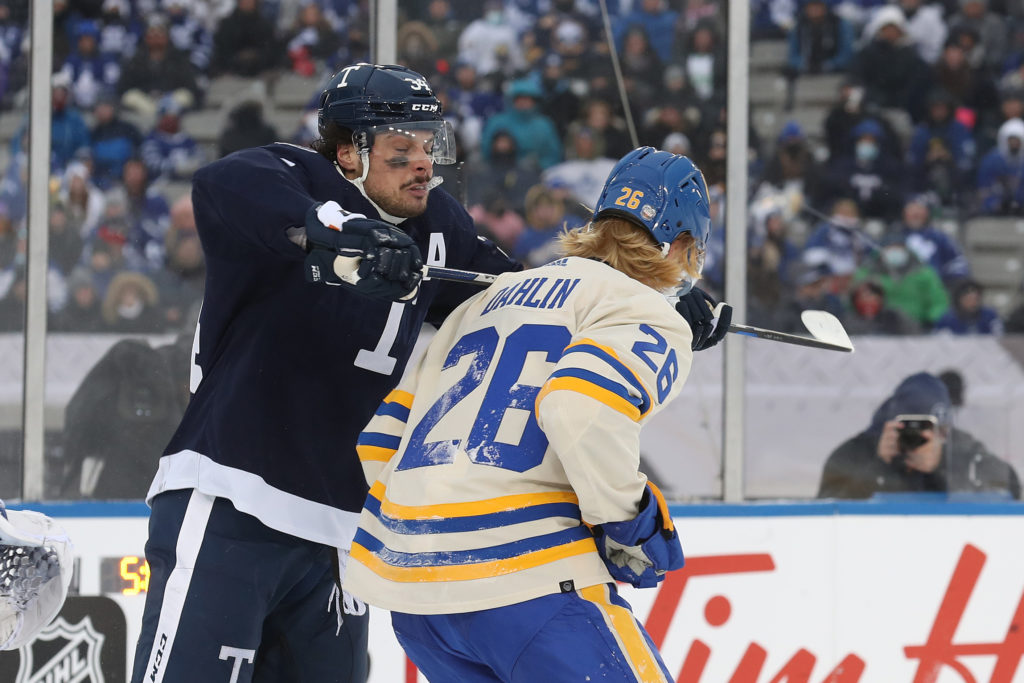 The Maple Leafs have now lost four of their last six, including a 5-1 loss to the Sabres on March 2.
"Every night you're playing a good team," said Maple Leafs defenceman Morgan Rielly. "There's no such thing as an off night in this league. I mean, teams are hungry. Guys [are] playing for contracts. There's lots going on. So I don't think that there's ever a night off. We talk about all the right things in the room prior to these games. … But teams come out and play us hard, so it's on us to respond. I don't think that it's an issue for us long term, but obviously right now it's been tough sledding."
Maple Leafs defenceman T.J. Brodie recorded an assist for his 300th NHL point during the Heritage Classic.
During the pregame ceremony, Wayne Gretzky addressed the crowd, paying tribute to his late father, Walter Gretzky, before taking part in the ceremonial faceoff with kids from minor hockey organizations from across the region.