Ever since she could remember, Taylor Cook was dedicated to being the best she could be. Being a premier hockey player was a role she took seriously and maintained her relentless quest for pro stardom "My whole childhood pretty much revolved around going into the rink and being at school and playing in Branford until I was maybe around 14 years old."
As Cook rapidly became one of the elite players in the local area, she notes she had to make the next move to accommodate her upward development. "There wasn't a lot of development for goalies, specifically in Brantford and that was one of the big reasons that I chose to leave because there wasn't a lot being offered. But I did have some really impactful parents who helped tremendously and supported my decisions. I wanted to continue improving myself as a person and as an athlete."
In 2012, she decided to play in Stoney Creek with the Junior Sabres of the PWHL and quickly discovered an environment where she could truly excel. "I had gone from not having any sort of technical training as a goalie or any sort of individualized planning, to having access to almost all of those things. And that really changed the trajectory of my career. That's what really allowed me to get to the next level."
However, after two years with the Junior Sabres Cook was ready to take the next step in her hockey career (as well as academically) when she entered the University of St. Thomas University in New Brunswick. "In my first year, there were two freshmen goalies. My goalie partner and I battled out every single year for five years for the starting goalie position, but I think the best thing about that dynamic was the fact that we were both quite skilled and mentally we would really push each other, especially in practice; not really having a third goalie for the first couple years. We're just constantly looking down at each other on the other end of the rink. So, it was a lot of motivation for both of us to be putting our best foot forward."
Yet, despite the hard work Cook didn't get the coveted starting spot, "That was really where the biggest learning curve was for me. My coach sat me down, and we had our first-year exit meeting. He told me that I had to hold myself accountable for my performance. And the second that you hold yourself accountable, and don't blame your defense, don't blame anything else, and just take full responsibility, that's when you're going to see a shift in your game. And that's what I put my focus on for the summer. And when I came back in my second year, I ended up getting the starting spot and also my third year as well. But then third-year kind of brought its own struggles more so with the mental health aspect, I would say when my grandmother passed away."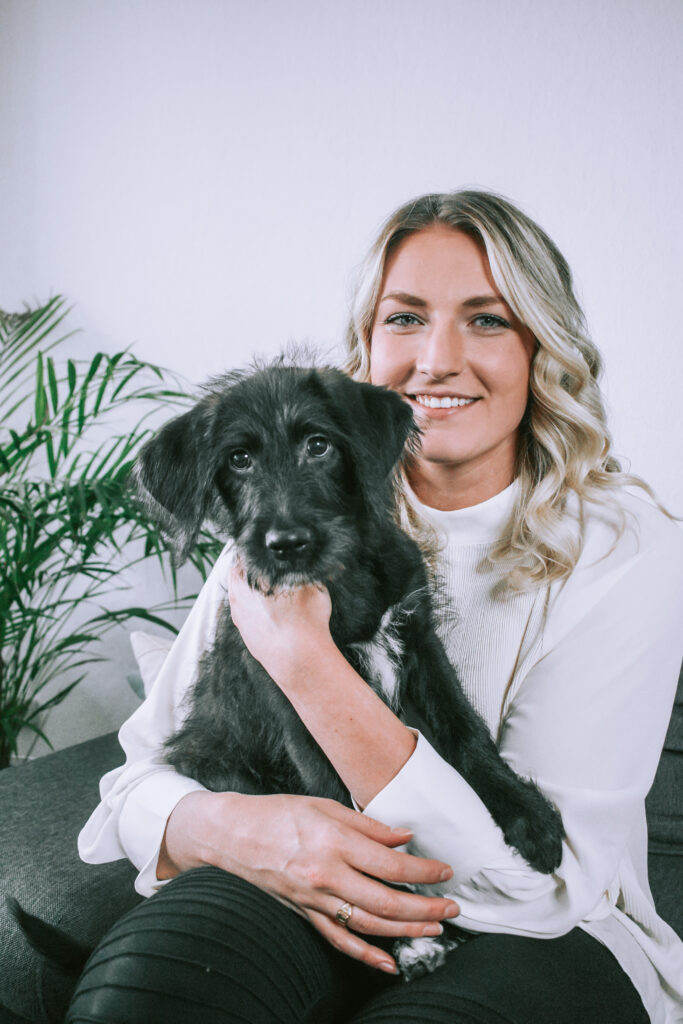 In just a blink of an eye Cook's world shifted and her strong-minded approach to the game took a back seat as her grandmother's death deeply affected her. "It was quite a bit of a shock for my whole family. And so that kind of threw me for a loop, and that's really when I got into some tough spaces mentally."
With a strong second year (which included a trip to the CIS Nationals) now in the rear-view mirror, the Brantford native continued to try and hold things together as best as she could. "I struggled with a little bit of depression, but mostly with anxiety throughout the rest of my university career, and it played a huge impact on how I showed up and was performing every day. But it was never consistently good enough to be getting the starting spot and so in my final two years, I probably played the least amount that I had played throughout my entire career."
As Cook continued on her hockey odyssey, she realized that she needed to continually manage her mental health which was something that she saw her father struggle with. "My dad struggled with mental health. And I grew up around that so if my dad was bipolar, that was something that I was exposed to from a very young age, and I think that gave me a bit more of an appreciation for those who do struggle with the mental health aspect. But it wasn't until I was in university that had actually experienced my own sort of mental health issues. Even when I was in junior, I had a few friends who really struggled with their mental health, and I ended up being their go-to person who, you know, would call in the middle of the night, if they needed something, or couldn't talk to their parents. And I was able to help them to a certain extent, which I think obviously plays a huge role in my mental health advocacy efforts and trying to improve athletes' mental health because I've not only experienced it myself, but I've seen so many of my teammates go through it as well."
During her time at University, Cook dove into both her studies and athletics full-heartedly to cope with the tough times and did achieve many accolades including being an Academic All-Canadian and winning the Cathy Wadden Commitment Award as well as graduating with a double major in Environment and Society and Political Science. However, Cook was ready to move on and focused on playing with a professional team in Canada which ended up folding before she could get drafted. With limited options, she didn't really know what she was going to do.
"All of a sudden, the universe kind of just threw an opportunity my way and my coach had received an email that a team in Kazakhstan was looking for a goalie to commit to a three-year contract and help them qualify for the IIHF." It was an exciting opportunity, but that fell through. After a few weeks, I got an email that they decided to take on another goal instead, which was a tough pill to swallow. Losing a contract and opportunities to go and play in countries like Germany, Austria, Italy, Hungary, Kazakhstan; I was just kind of beside myself."
With all that Cook went through at that point in her life, she started to realize this was a path she needed to take. "And I had kind of gone through a little bit of a spiritual journey. I just said to myself that everything happens for a reason, even if you don't really know what that reason is like, something else will come along. And the very next day, I had a team from Hungary contact me." However, Cook's transfer was rejected because, after examination, her skill level was too great. Instead, she was offered a coaching role which she accepted. During this time, the veteran goalie longed to play again despite gaining some experience in coaching.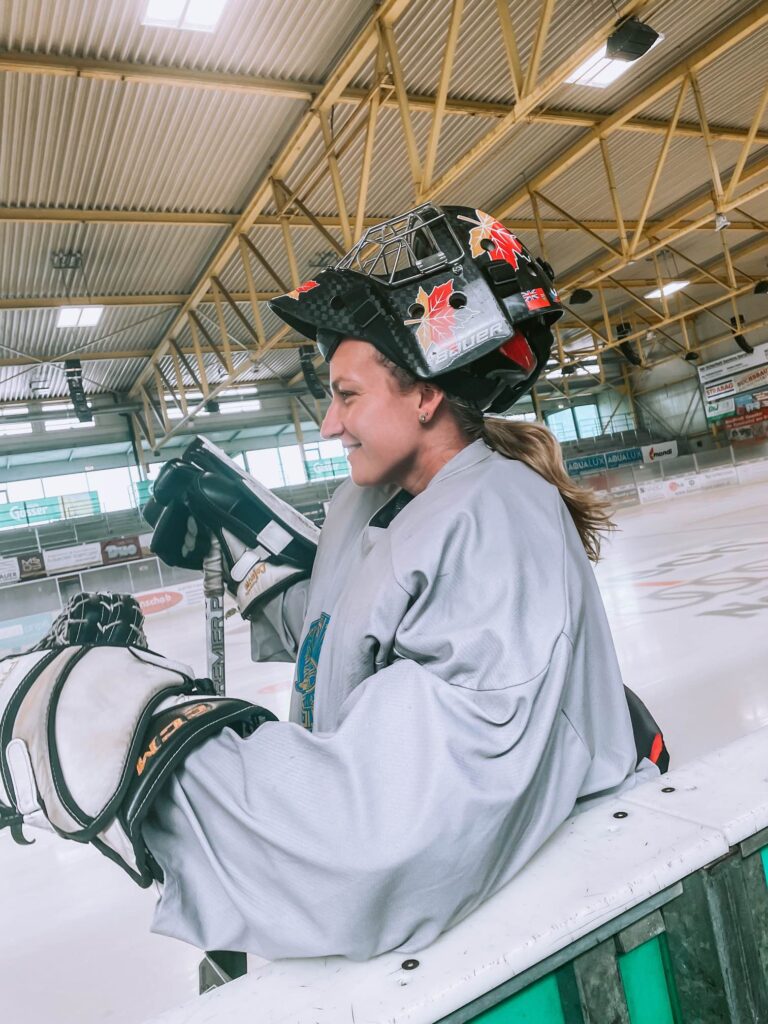 After the letdowns with the teams in Kazakhstan and Hungary, the third time would be a charm, "A team in Oslo, Norway, was looking for a senior goalie to join their women's team. I got a hold of the GM for the team and I had them fly me out for a weekend to go and do a tryout and see if I was a good fit for the team. And pretty much the second that I touched down the plane, I knew this is where I wanted it to be."
Cook played a pivotal role with her strong play during the rest of the season for the Vålerenga team. "We ended up going all the way to championships, but then COVID hit. And so, our championships were completely canceled. The borders were closing and I ended up going back home for the summer for five months, and then went back to Norway for another season."
During this time Cook started to explore new opportunities in coaching and getting certified as a mental performance coach while she was still playing professionally. "And then I dislocated my knee for the fourth time, and I completely tore my MCL, requiring reconstructive surgery. And so that was a pretty tough blow at that time. And now going through surgery in a foreign country, not knowing what that process is going to look like in terms of recovery. I think without having the mental certification, that would have been a much more challenging thing to go through."
It was at this point; the injuries were catching up with the veteran goalie and she decided to retire recently and focus on other opportunities in her career including her budding high-performance coaching and a podcast called The Athletic Mind she has been doing since 2022. "And that's what I've really found most enjoyable about doing the performance coaching. Not only are we giving athletes the tools to really improve their performance, on the ice, on the field, on the court, or whatever sport you play, these are all transferable skills that you can apply to every area of your life to maximize that as well. And I work with a lot of younger athletes at this point."
Cook continues, "I've worked with some Olympic and professional-level women as well. But with my younger athletes, that's what I really try to impress upon them. It's making sure that they're trying out these different tools in different scenarios, not just at the rink, and not just with their sport, but how is it going to help you at school? How is it going to help you? It's going to help you in your relationships with Mom and Dad or with your brother or sister? These are really important things for them to understand. Because a lot of us had to go through the painful experience before we actually realized maybe I could have handled this differently. I am trying to give the athletes the tools to empower them to really understand their mind and body and how that connects and why that's important is really important for me in my work."
Cook recently accepted a new contract as a high-performance goalie coach with a team based in Sweden and looks to continue her journey as both a coach and mentor to future athletic talent. Cook has been adamant about following her dreams and feels others should do the same. "Believe in yourself with every fiber of your being so that you can achieve your greatest dreams. Know that you'll have doubters along the way but so long as you maintain that belief in yourself, you can achieve anything."