The Beauty Barn Spa is becoming a must-visit destination for relaxation.
Corrie Gallant and her team are providing clients with much more than new hairstyles and fresh manicures at The Beauty Barn in the County of Brant.
"Beauty, to me, is so deep," said Gallant, owner of The Beauty Barn. "True beauty is your internal, not just your external. Sometimes we need surface-level pampering, like a fresh hairstyle or manicured nails, to feel comfortable in ourselves and let our inner beauty shine. We want to bridge that gap here."
While the boutique day spa is home to a wide array of services, like esthetics and massage therapy, Gallant says it has become so much more than that since the pandemic began.
"We all need wellness, now more than ever," she said. "Through COVID-19, we wanted to be a place for our clients to escape, especially because we haven't been able to travel. This is a place that people look forward to in their week, even if it's just an hour away."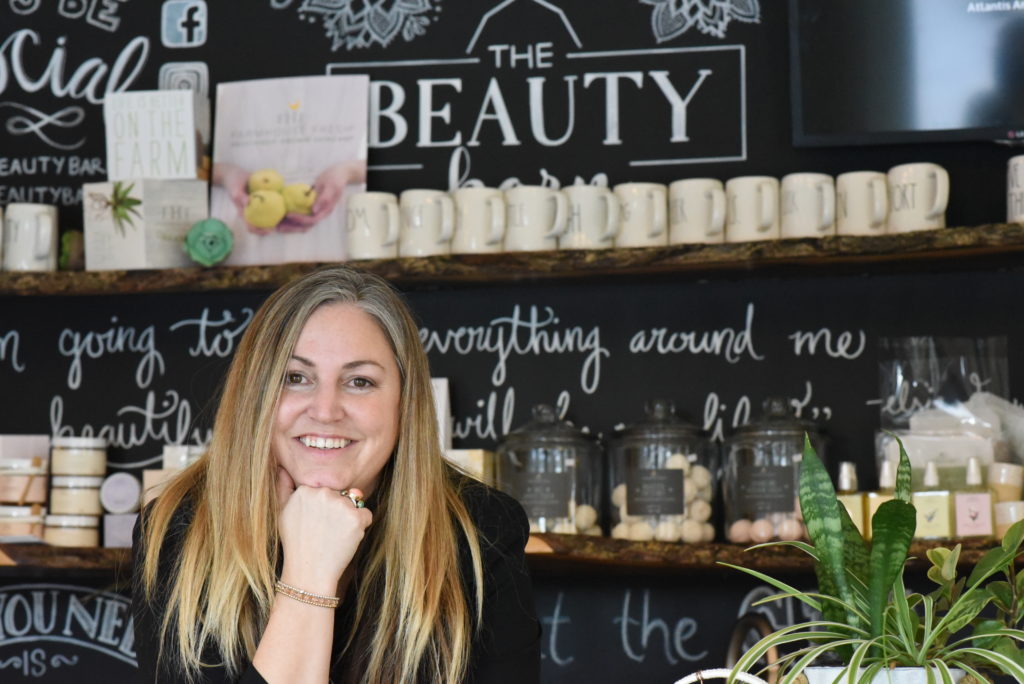 Gallant opened The Beauty Barn in 2017, after purchasing her grandmother's property with her husband Mark. The pair spent a year and a half renovating the barn into what she described as her "dream country oasis."
What started with herself, her mother Debbie as the spa's in-house hairstylist, and a lash-technician Amanda, has grown into a team of women specializing in a variety of different services.
"Because we are a boutique spa, we are definitely limited to the amount of space that we have for everyone," Gallant said. "But we have a very supportive environment with rotating services throughout the week."
The collaborative space that the spa has become not only welcomes many different service providers, but also features other small businesses. The Beauty Barn has partnered with businesses like Jewel Be Loved, who showcases her handmade boho dusters at the spa.
"I just love seeing other people bloom," she said. "I get so excited, I'm the biggest cheerleader for other people's businesses."
The spa recently welcomed in a new partnership with Cailynn Bateson, a registered nurse who provides medical esthetics like botox and fillers.
"As a subcontractor, I really had my pick of anywhere I wanted to go," Bateson said. "I chose to come to The Beauty Barn because of the atmosphere that Corrie has created. Walking into this space as staff or as a client, you just feel at home and that's really special."
Gallant said she could not have done it on her own. In addition to the help that she has received from her husband and team in building her dream business, she also says that she has the community to thank for her ongoing success.
"The community and the Chamber of Commerce have really been the backbone of the spa," she said. The spa won a $10,000 grant from the Chamber of Commerce of Canada back in 2020, which she described as "very, very helpful in navigating the first lockdown."
Gallant gives back to the community with an annual event called Awakening to Better Beauty. After completing a course and working in oncology esthetics for a few years, herself and a friend created the event that treats women going through cancer treatments to a day filled with pampering and a keepsake photoshoot. The spa works with the Oncology Department at the Brantford General Hospital, who nominate women for the experience.
"The goal of the event is to bring a feel-good vibe to these women that are fighting a battle. It is important to create this space for them to feel beautiful and smile and laugh."
Her background in oncology esthetics is also what sparked her passion for clean beauty. After hearing that beauty products are often filled with some of the most harmful ingredients, Gallant decided to strive to provide safe and clean products at The Beauty Barn. She has collaborated with companies to make her own products that are fragrance free and safe for use on all people.
"We have come a long way since I was a kid and I could smell the chemicals that my mom was using to colour people's hair, but there is still a lot of work to be done," she said. "I have talked to elected officials about updating the outdated policies about ingredients in products but that takes time."
As for what is next for the spa, Gallant said she hopes to continue to host events and be a welcoming space for all. She is also looking forward to participating in World Wellness Weekend.
"This is a day that people come together all over the world in the industry to provide a complimentary service and promote wellness."
The Beauty Barn Spa is located at 205 Cleaver Road, in between Brantford and Burford.