The City of Brantford announced the installation of two new pieces of public art, a mural at the Brantford Farmers' Market and an illuminated acrylic piece at the Sanderson Centre for the Performing Arts.
The mural at the Brantford Farmers' Market was created by local Indigenous artist Kyle Joedike, Cayuga, Turtle Clan from Six Nations of the Grand River. The mural depicts historic agricultural practices and plants that are significant to the Haudenosaunee people. Corn, beans, and squash, otherwise known as the "Three Sisters," are shown growing side by side. Also pictured are a representation of the strawberry, or "heart berry," and an abstract representation of maple trees.
"I wanted to bring Indigenous cultural and agricultural knowledge to the forefront of the space," said Joedike."Our connection with nature is held together by a very frayed string. We have an incredible tenuous balance with the resources that we take, and the effect that has on the environment. This piece is meant to speak to how we need to maintain that balance through sustainable agricultural practices to ensure that the resources we have will be left for the generations to come."
Joedike hopes the mural will also help "the Indigenous community of Brantford feel a sense of ownership and inclusion in an urban environment."
The mural can now be viewed in the café space inside the Brantford Farmers' Market, during regular hours of operation.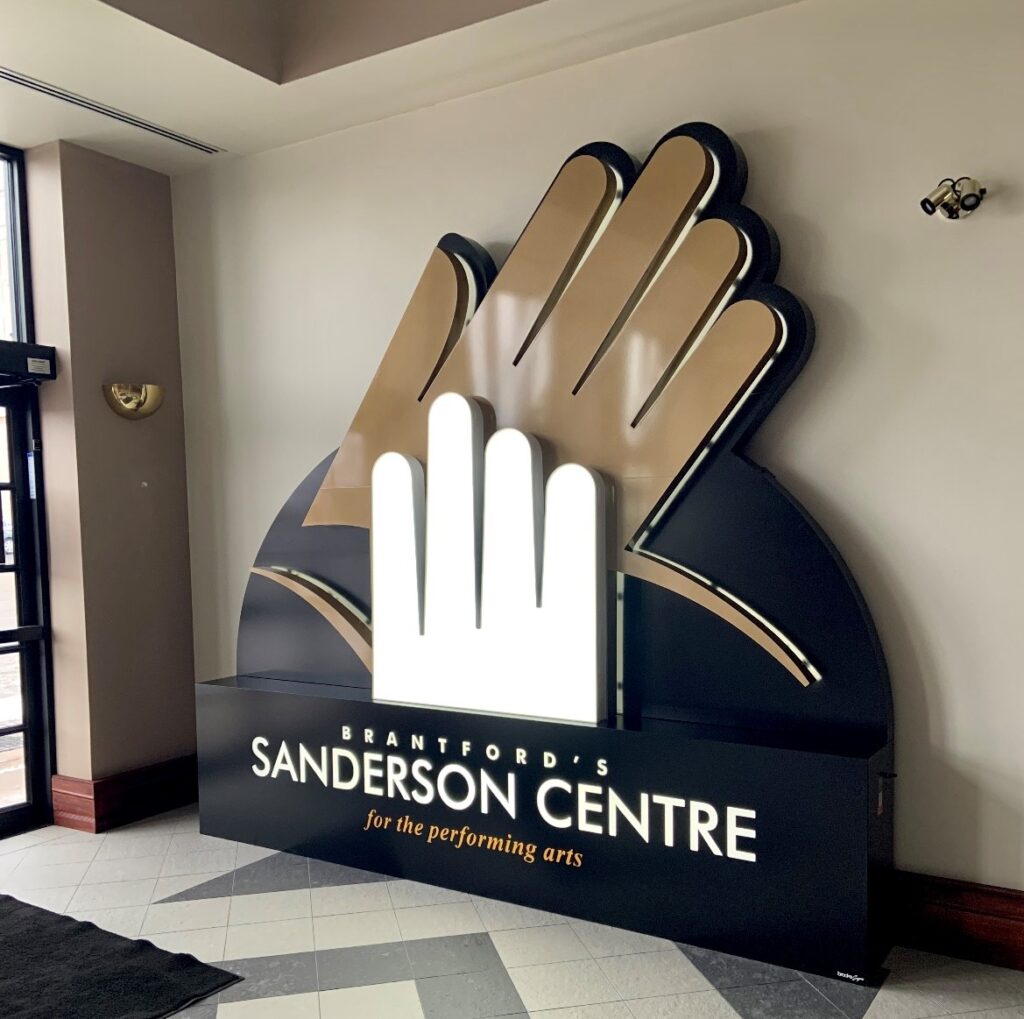 Another new piece, titled "Round of Applause," was recently installed inside the Sanderson Centre for the Performing Arts. Produced by local company Brooks Signs, this piece is illuminated in the evening and is modelled after the popular signs found in Nathan Phillips Square and Blue Mountain Village.
The piece mimics the hands of the Sanderson Centre logo and the name is a nod to the theatre's centennial season slogan, "a century of applause." This piece will serve as a beautiful backdrop and photo opportunity for Sanderson Centre patrons.
Both pieces were fully funded by the FedDev Ontario Tourism Relief Fund, delivered by the Hamilton Halton Brant Regional Tourism Association (HHBRTA).
"The City recognizes the value of art in public places," said Kara Davey, Manager of Tourism, Culture and Sport, City of Brantford. "Public Art celebrates our culture, history, people, events, and locations, while building community pride and enhancing our economic vibrancy. Both pieces are welcomed additions to the City's growing Public Art collection."