Throughout his career, Hunter Jones has established himself as a steady and consistent goaltender, with the tools and talent to make it to the National Hockey League (NHL).
Hunter Jones explained, "It's been a whirlwind. Throughout my time in the East Coast Hockey League (ECHL) [and] getting an entry-level contract with the Minnesota [Wild], there have been a lot of ups and downs. Playing pro is a different level of hockey…it's not only the guys you're playing against, but it's also [about] finding yourself, where you're maturing as a goaltender and as a human."
Jones, the 59th overall pick of the Minnesota Wild in the 2019 NHL draft, continued, "So my first couple seasons [of pro hockey], I was just trying to find myself, whether I was playing in the [AHL or ECHL]. I was trying to find my groove, especially after taking [some] time off from hockey during that COVID period."
The Heartlanders, where Jones backstopped the team in 38 games last year, are an expansion team in the ECHL. That opportunity has given Jones the ability to adjust to a higher level of hockey.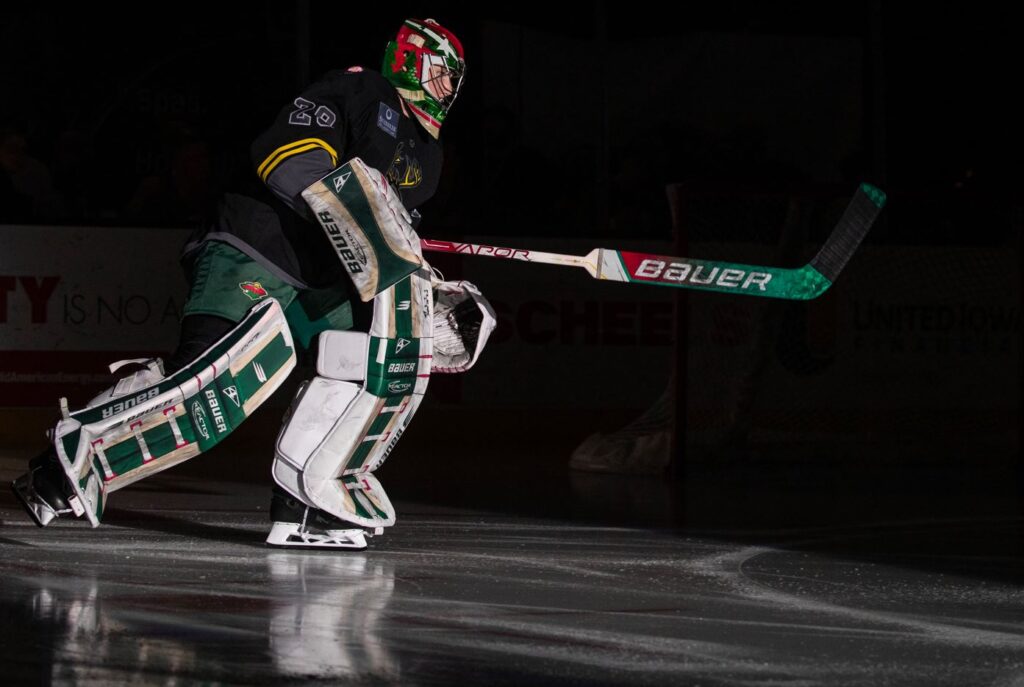 However, Jones' path to becoming a professional athlete started in Brantford, where he was born and raised.
"My experience in Brantford was awesome…they allowed me to branch out when I wanted to [and] I got to really meet some people that I still keep in touch with today just from minor hockey," Jones said. "I was able to play on varsity teams…with the hockey team at Brantford Collegiate Institute (BCI), it was pretty cool because of [Brantford] being a hockey community."
From there Jones played junior hockey in Mississauga and then with the Stouffville Spirit of the Ontario Junior Hockey League (OJHL). Despite some growing pains, he quickly adjusted.
"I left home at around 16 and went to play for Stouffville. I then went to the Peterborough Petes camp [and] they realized I wasn't going to be on the team that season but they wanted to sign me to a player contract. So, I did that, and then played in Stouffville for the year," said Jones.
Because of Jones' strong play, he was selected to join Canada at the U19 Tournament in 2016-17.
"It was a pretty cool experience…the tournament was great. Just to be a part of international play. [To] see a lot of guys that played in that tournament become NCAA players [and] some [become] NHL draft picks," Jones said. "It was exposure for myself for the draft…I was trying to make a name for myself at the time and move forward in my career."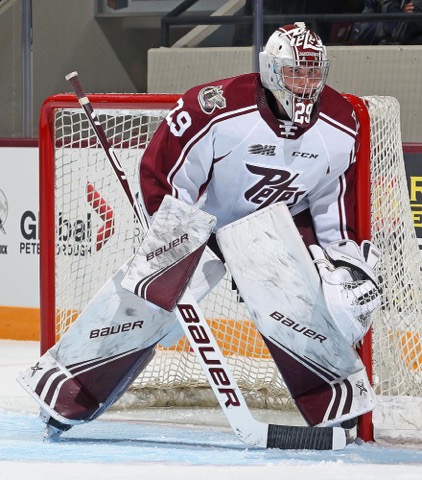 Before turning pro, Jones played three seasons for the Peterborough Petes of the Ontario Hockey League (OHL). After a tough first season with the Petes, the always-adaptable goalie turned a corner.
"For the 2018 season, I was able to have a really good start to the year. They gave me the ball and told me that it was my job to lose. I ended up playing very well," Jones said. "I play[ed] 57 games that year and I ended up having one of [my] best seasons. And that was the first time I got to take on the role of starting goalie."
However, in the last couple of years, Jones has stayed the course, gaining invaluable experience playing with both the Iowa Heartlanders of the ECHL and a few games with the Iowa Wild of the American Hockey League (AHL).
"That was an important [time] for me in the world of pro hockey and that ultimately set me up again for the season I had last year. I didn't get into as many AHL games as I wanted to, but it also allowed me to take on the starting [goaltending] role for the Heartlanders… and that was really awesome to see them give me the opportunity," Jones explained. "So now I'm taking that momentum that I had last season and just trying to transfer that into this year."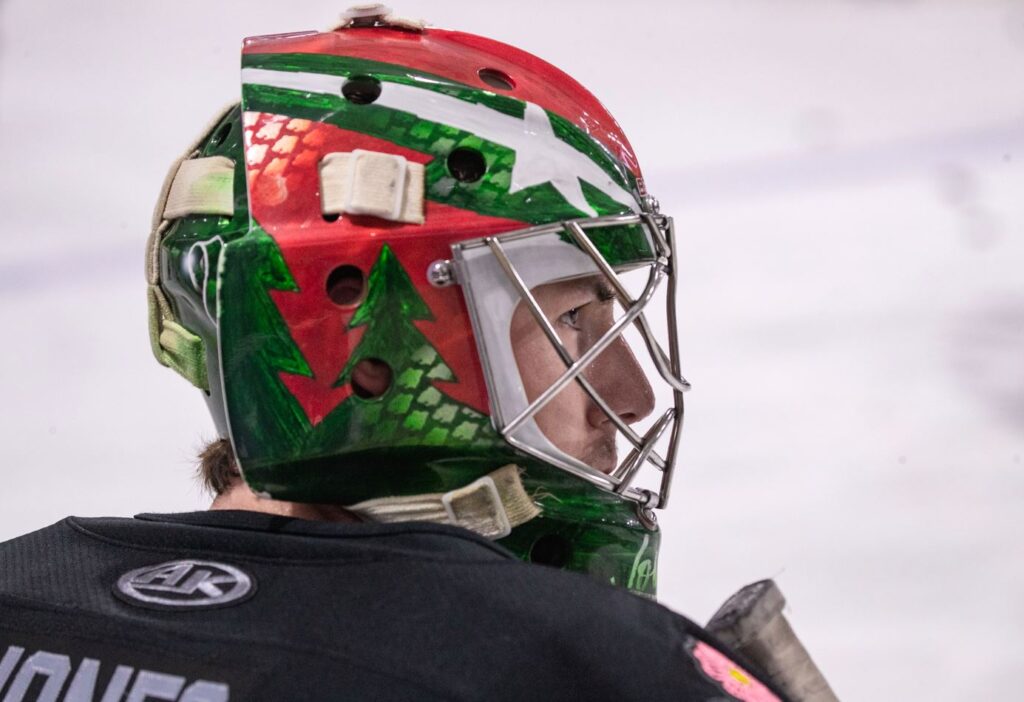 As well, Jones' experience has been augmented by being called up a few times to the NHL as a third stringer.
"So far with Minnesota I have been called up four or five times [for their] taxi squad. During the bubble season, I was up for a good amount of time [and during] my second year I was up on a road trip to Boston and Colorado. So, whenever I've been up, it's been an awesome experience," Jones recalled.
Jones has also been playing strong enough to sign multiple pro contracts in the last several years.
"Since I was coming off my entry-level contract…[the Minnesota Wild] gave me another one-year, two-way contract. It's…almost like an extension, just without signing bonuses," he explained.
However, Jones is looking forward to the coming season with the new contract signed.
"The goal for me is just to play very well again this upcoming season, whatever league I'm in, and that just opens the door for me next season to resign with the [Minnesota] Wild…right now, I have the one-year deal [and] I'm happy to have it. But the goal is to play well enough to maybe earn a contract that's a bit longer term, maybe a two or three-year deal [where] I can keep progressing," Jones concluded.