Thousands attended the annual Remembrance Day ceremony at the Brant County War Memorial and Cenotaph on Saturday, November 11, 2023.
The service began on Friday night at the War Memorial and Cenotaph with a cadet vigil and an overnight lighting display.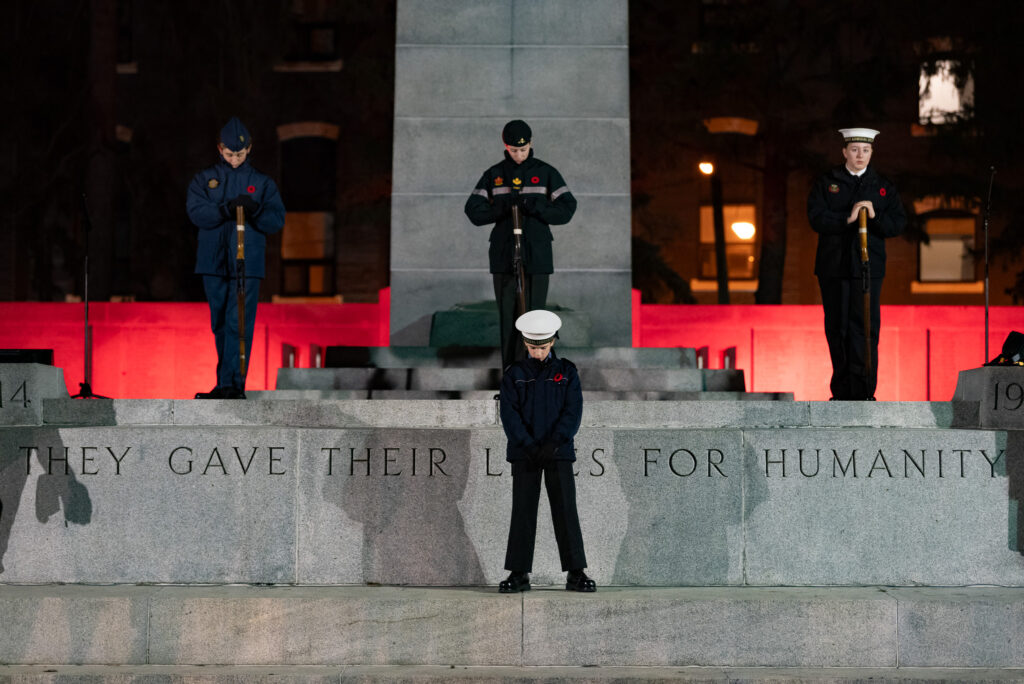 On Saturday morning, the ceremony began with members of the Canadian military, sea cadets, first-responders, police officers and dignitaries as they took part in a walking march traveling to the Cenotaph.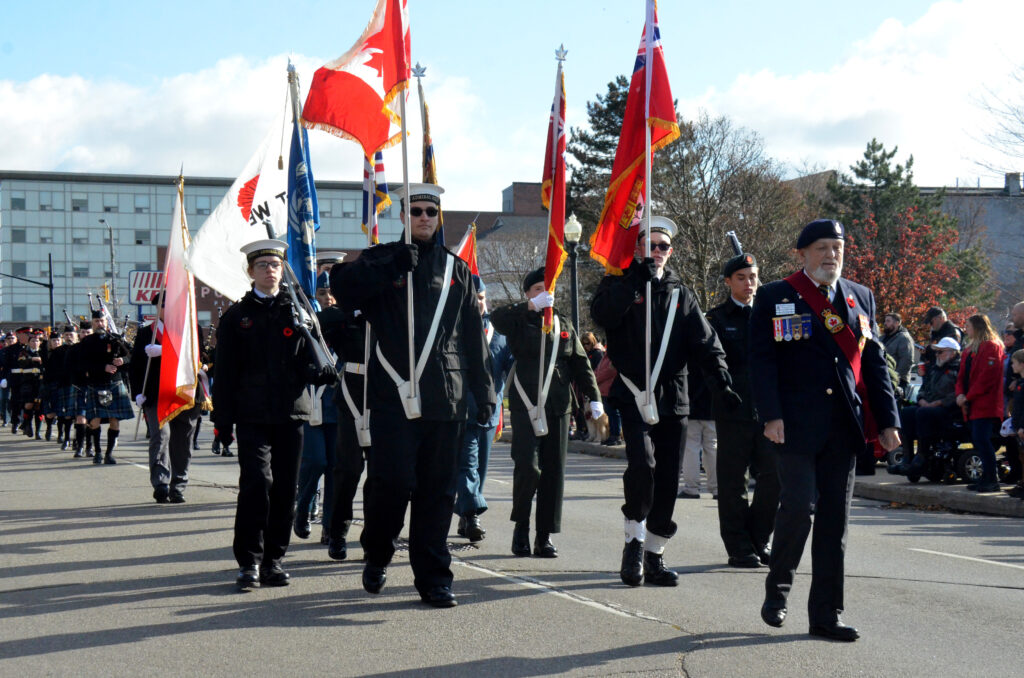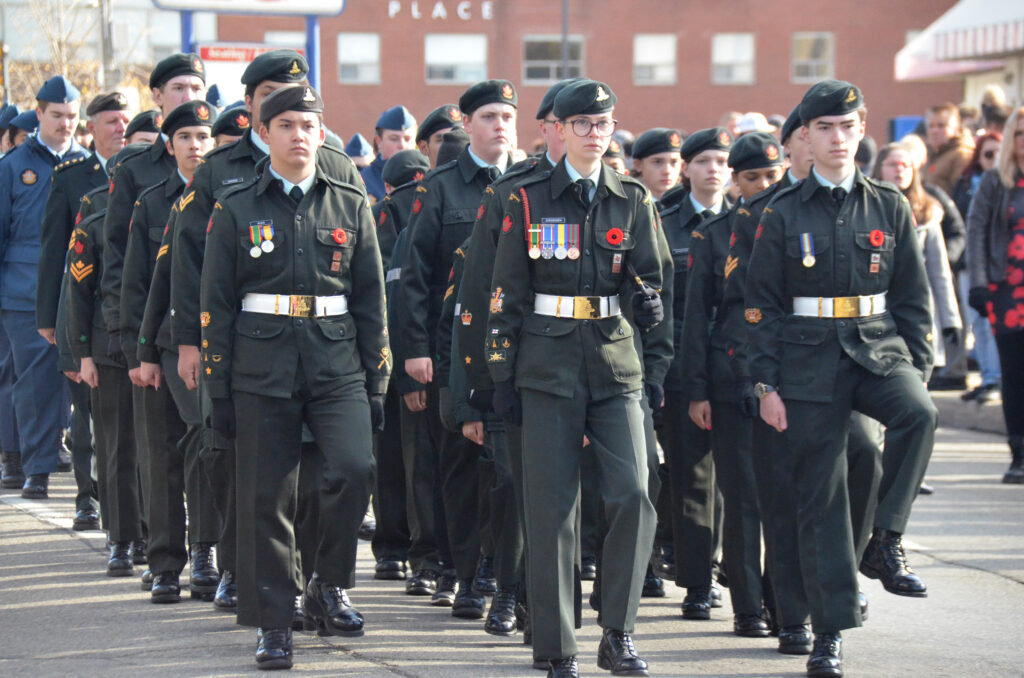 The civic service began with Venerable Jim Sutton, Padre of Branch 461 Royal Canadian Legion, master of ceremonies, speaking to those in attendance.
"Let us promise each other to work for the freedom of all who are oppressed today," he said. "As we gather to sing, to pray and to listen, we remember the past and look to the future."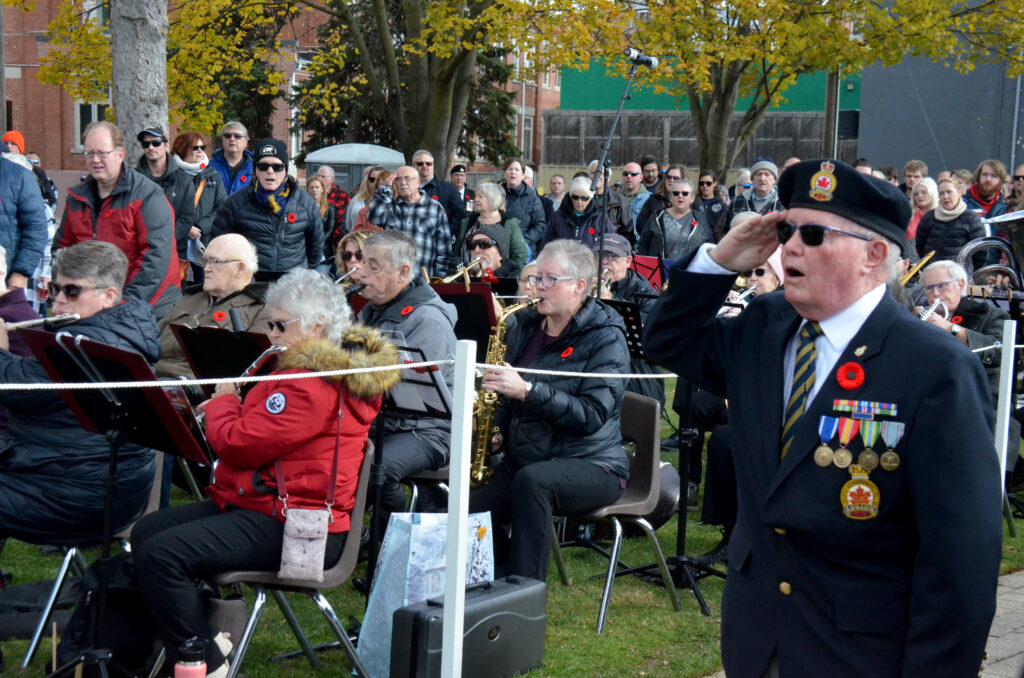 Sutton then led guests in the singing of "O Canada" before Petty Officer Second Class Ari Henderson played "Last Post."
Master Bombardier Pele Kempf then performed the "Lament" on the bagpipes, while Henderson played "Rouse" to signify the end of the two minutes of silence.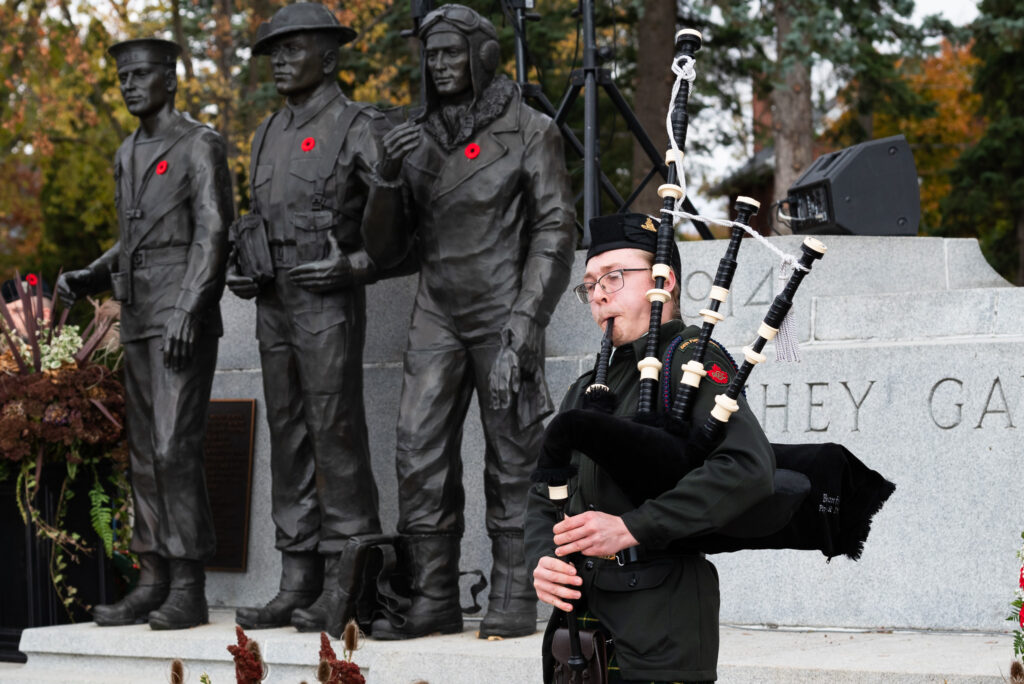 Rev. Christine Hossack shared a message of remembrance of those who fought for peace.
"They shall not grow old as we that are left grow old," she said. "Age shall not weary them, nor the years condemn. At the going down of the sun and in the morning, we will remember them."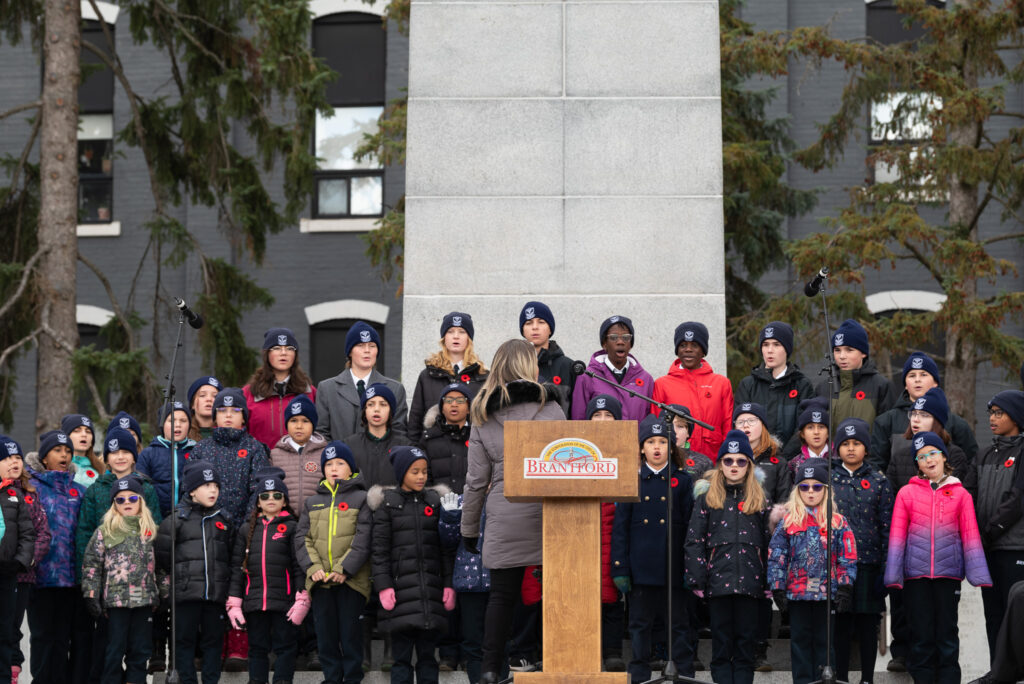 The Braemar House School primary choir then sang "Light a Candle for Peace," before the wreath laying ceremony began.
Helen Zuidema and Richard Leary, Memorial Cross recipients, laid the official wreath in memory of both Trooper Larry Rudd and Capt. Richard Steven Leary, who lost their lives in Afghanistan.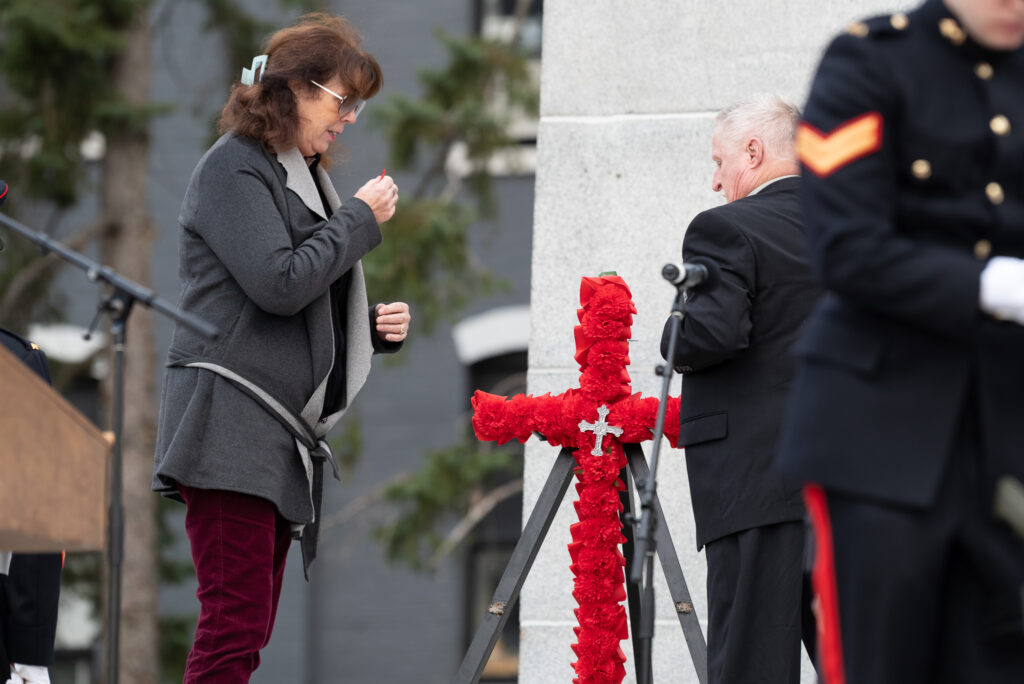 Members of the 56th Field Regiment then laid wreaths to commemorate the veterans of World War One, World War Two, Korea, Afghanistan, and United Nations Peacekeepers. Local dignitaries, as well as representatives of the police, fire and paramedic services also laid wreaths during the event.
Hossack then read from the Gospel of Matthew and led attendees in prayer.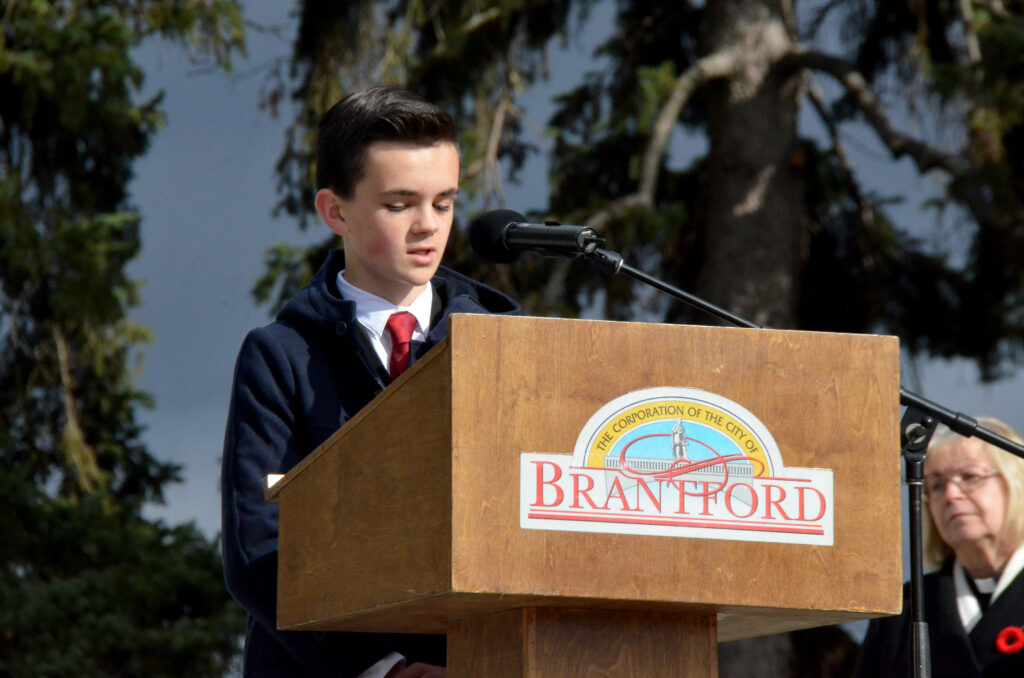 Noah Holly, a student from Brantford Christian School approached the podium to speak.
"What an honour and a privilege it is to be here today as we come together to acknowledge and show our immense gratitude for the courage of those who went before us to serve and protect our glorious country," he said. "I, like all of you here today, wear this poppy with tremendous pride as a symbol of remembrance for those who sacrificed so much to secure the incredible freedoms we enjoy today."
The youngster noted that the country has been and continues to be, influenced by conflict abroad, humanitarian crises, natural disasters and high levels of food insecurity. Holly said that the men and women in the Canadian Armed Forces, work tirelessly to give what they can, not just for Canada but globally as well.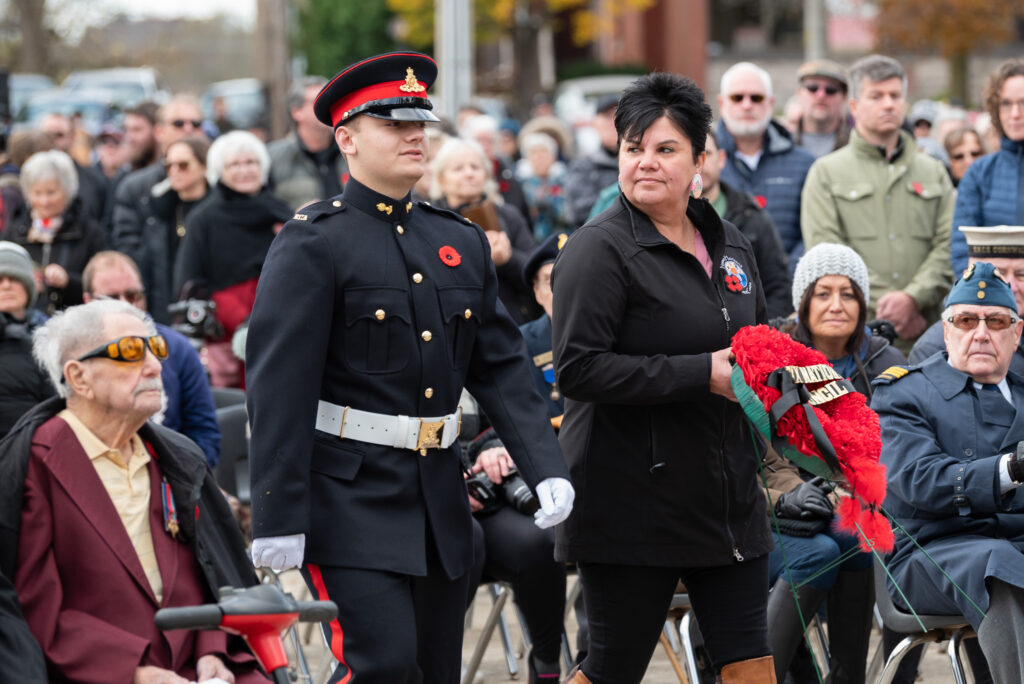 "When we look around the world today and see increasing instability, we are even more clearly aware of the incredible freedoms we hold. Many people from other countries recognize and value this as well," said Holly. "As conflicts increase globally, we have significant increases in refugees and other immigrants coming to Canada, which positively impacts our country and those living here. Canadians are embracing this growth, which will fill labour shortages and enriches our economy. I am truly proud to be Canadian and so thankful for all those who have made, and continue to make our country, as the national anthem says, 'true north, strong and free.'"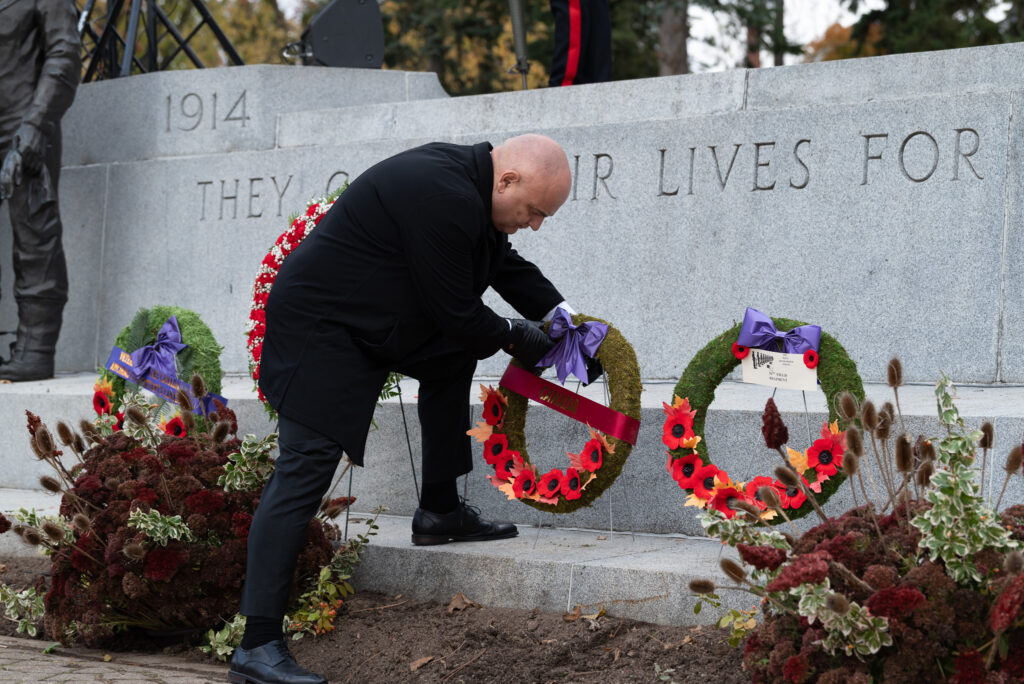 The speech was followed by the Telephone City Musical Society Band, and members of the Brant Men of Song, teaming up to perform "O God, Our Help in Ages Past" and the "Royal Anthem."
In between the songs, Madison Thompson, a fourth-year student at McMaster University, recited John McCrae's poem "In Flanders Fields" to conclude the ceremony.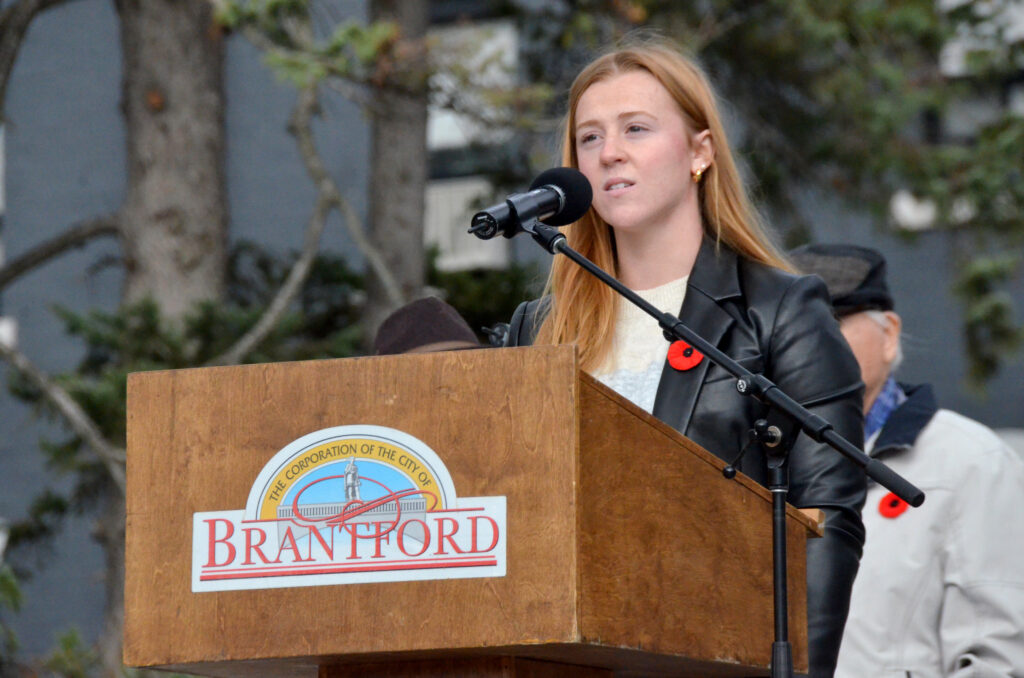 The Brant Museum and Archives also had a special "In Remembrance" exhibit highlighting artifacts from World War One and World War Two.