Story by Cheyanne Richardson
Early May, the Brant County SPCA placed 12 mastiff mix puppies into foster homes. Their mama had an unexpected litter of 12 puppies and the owner had asked us for help in finding homes for her puppies. 
Later that week, the Brant County SPCA animal care team received a call from one of their foster volunteers telling us that a pup seemed nauseated, and that they were concerned. Then a few hours later, the calls started to come in from other fosters, and the Brant County SPCA teams rushed two of the 12 puppies to an emergency vet clinic. The pups tested positive for canine parvovirus (parvo) and the team knew that the entire litter had been exposed. Parvo is a highly contagious disease passed from dog-to-dog that has a 91% mortality rate when left untreated.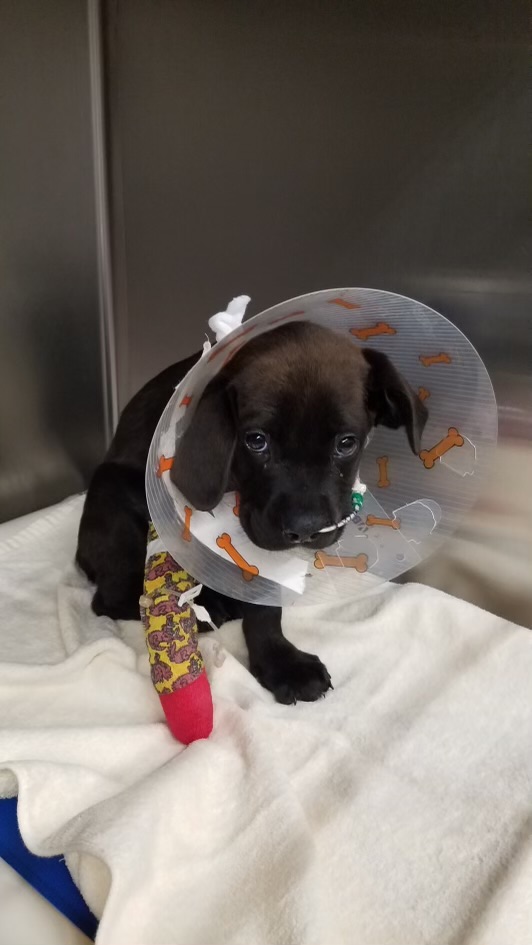 Animal Care staff jumped into action triaging the puppies' showing symptoms and have provided both inpatient (in a Vet Clinic) and outpatient (at our shelter and in foster homes) care for 9 of the 12 pups (3 managed to not catch it). These sick pups were treated with IV medication, closely monitored, and eventually Billy, one of the pups rushed to the vet, eventually needed a feeding tube. Even with treatment, parvo is awful. Billy and his brothers and sisters endured days of non-stop diarrhea and vomiting. This makes it tough for them to keep food down and absorb much-needed nutrients.  
We're doing everything we can to keep these puppies alive and protect other dogs in our care (and the dogs of our volunteers and staff too), but we can't do it alone. Vet costs have already reached $6,000 and will continue to climb. We asked our supporters to donate to help cover the puppies' medical bills and wow, did the community answer our call!  
Thank you to everyone that donated and helped raise over $10,000 for these puppies in need! Including Scotlynn Group, who hosted a bake sale at their Brantford and Vittoria, Norfolk locations.  
"At Scotlynn, we take pride in fostering a culture of teamwork and community spirit. I am proud to share that our employees have raised $4,500 for the Brant County SPCA's Project Patchwork program." says Scott Biddle, CEO & President of Scotlynn. "The generosity and dedication of our team truly embody the values that we strive for at Scotlynn. We hope that our efforts inspire others in the community." 
Although many of the puppies are still under observation, they are getting stronger day by day. One puppy, Sampson (aka Sammie) wasn't responding to treatment and sadly passed away. We did everything we could, but his little body just couldn't fight anymore. Eight puppies are recovering well and currently scheduled for vaccines and eventually spay/neuter surgery. Three of the puppies never showed symptoms of Parvo and are thriving in their foster homes and will be available for adoption. 
"Our hard-working staff and incredible foster families were working tirelessly 24-7 to ensure the puppies received the care they needed. We're so grateful for our local veterinarians and RVTs at Paris Veterinary Clinic and Brant Norfolk Veterinary Clinic who provided the emergency treatment and ongoing support to help us provide the best inpatient and outpatient care."  Nadine Dwinnell, Director of Animal Care.  
In addition to working closely with amazing local veterinarians, the Brant County SPCA also works collaboratively with the University of Guelph, Ontario Veterinary College's Kim and Stu Lang Community Healthcare Partnership Program (CHPP) to optimize Shelter Medicine care at our shelter.  
The ongoing work will support shelter staff on things like Shelter Medicine best practices, disease prevention, outbreak management and developing policies and procedures to ensure we provide the highest level of care for the animals at the SPCA.  
It is with the incredible support of our local veterinarians, advice from OVC's Kim & Stu Lang CHPP, our tireless work from the animal care team and foster families that we can help these puppies. 
Thank you to everyone who donated, we couldn't have done it without you! These donations support the Brant County SPCA's Project Patchwork program that helps animals that need above-and-beyond medical care. We are so grateful for your support to get these animals healthy and ready for adoption!  If you would like to donate, it's not too late! Please donate at www.brantcountyspca.com today to help Billy and his brothers and his siblings.