City of Brantford council approved the creation of an Indigenous Affairs officer during their regular meeting on Tuesday, October 26.
Before discussing the motion to create an Indigenous Affairs officer position, council heard from Veronica Martisius, a former Ward 4 resident, who opposed the creation of the position. After hearing Martisius' thoughts, council began deliberating Councillor Joshua Wall's motion, which read, "That the Corporation of the City of Brantford immediately begin work on the creation of an Indigenous Affairs Officer position reporting to the Office of the CAO and Mayor, and that once created immediately begin recruitment of a qualified candidate, without the need for this matter to be considered by the Human Resources Committee; and that the costs associated with the Indigenous Affairs Officer be included as an unavoidable increase in the 2022 operating budget."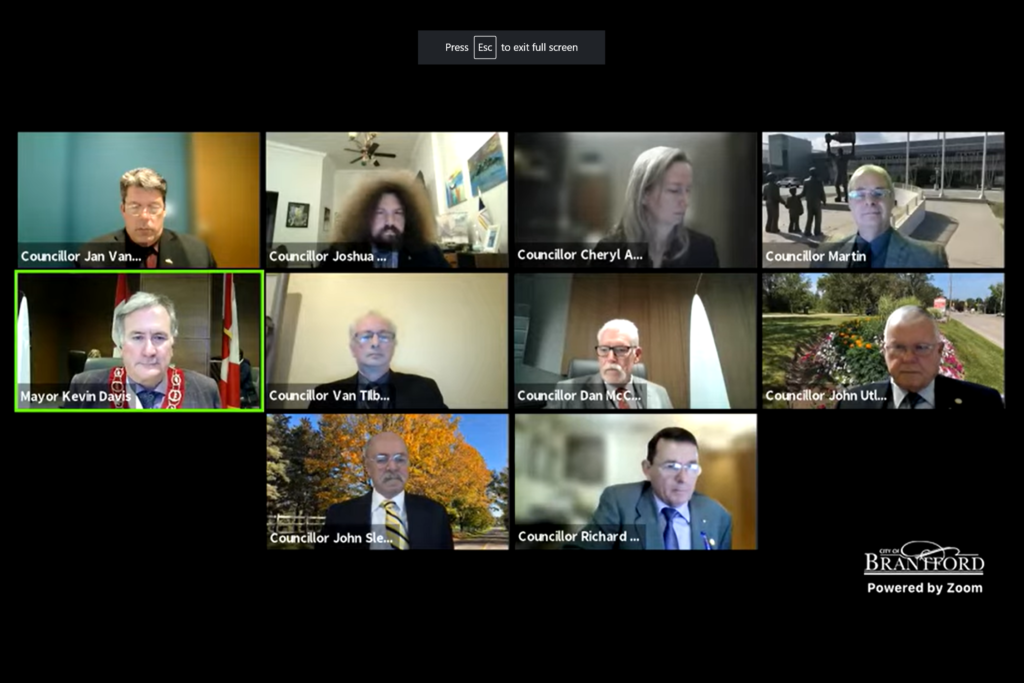 Councillor Wall was the first to address his motion.
"I want to thank the delegation for coming forward and her commentary on the motion. While I am moving this motion, this was not entirely a creation of my own work. This was done in consultation with members of our community, of all different walks of life, members of council, our staff, and people in the community who I trust to provide me with their honest opinions," said Councillor Wall. "Is it perfect? Absolutely not, is anything perfect, I would disagree, nothing is perfect. I would never imagine or consider myself an expert in Indigenous Affairs. We are talking about a very long history with many different peoples. As a member of this council, I rely on staff, consultants, and members of the public, who share their thoughts with this council on how we should lead and we can do a better job. I think everyone could agree."
Wall said council needs someone who specializes in helping council work with, consult with, negotiate with and discuss situations with the Indigenous community.
"If this needs to get deferred, I will support it 100 per cent because we have waited this long, so we can wait a little longer. But, I don't want to wait longer. I want to engage in meaningful, respectful dialogue, not just with specific peoples, everyone. We live in a democracy where everyone has a right to have their voice heard but, when it comes to Indigenous relations, it's strained, it's difficult. There are so many people we need to engage with, consult with and communicate with. And without somebody, whose job it is to advise us, we could make the situation worse and I don't want to see that. I want to work with our staff to assign somebody whose responsibility it is to provide us with advice and opinion."
Wall said the motion was brought forth to council for consideration so it could be heard.
"I want it to be known, loud and clear, that we take dealing with, working with and discussing and negotiating with our Indigenous neighbours seriously and that we are doing that by assigning this position," Wall concluded.
Mayor Kevin Davis then provided every councillor with the opportunity to speak to the motion, beginning with Councillor Brian Van Tilborg.
"I do want to put it forward that I have a possible amendment to the motion that may alleviate one of the delegate's concerns. This was not brought forward to be discussed tonight, we are discussing it because a delegate has come forward and it's important enough for us to address tonight," said Councillor Van Tilborg. "With the information that has been taken in, perhaps a deferral is in the cards."
Van Tilborg continued, addressing some of the concerns brought forward by Martisius.
"I want to address a few of the points that were mentioned on who we are engaging, and the intent of the delegate was to use the deferral potential to engage with the Haudenosaunee and the confederacy and clan mothers. Quite frankly, I don't know if we will be able to achieve that. The reason I say that is that in this term (on council) we really haven't been able to have a good dialogue, discussion and engagement with the Six Nations Band Council. Ironically, the reason that we need this position more than anything is because we have to get the ball rolling and the person we assign to this is the one that is going to bring us together and have our peoples meet. I can't see it happening otherwise because it hasn't happened yet."
Van Tilborg concluded by providing an amendment to Councillor Wall's motion for council's consideration.
"That amendment would be adding members of council to the Office of the CAO and Mayor so that we are all included but I just wanted to explain that this is why we need the position so badly," said Tilborg.
Councillor John Sless said he would be supporting the motion.
"The reasons I will be supporting the motion are numerous. It's been said many times this evening that this is something that probably should have happened a long time ago and it hasn't. We are not experts on this history and I think we need someone that is and can talk far more intelligently upon it than we can," said Sless. "I think what we heard this evening is one point of view. My experience in attempting to deal with SIx Nations is that there are many points of view and there are many diverse points of view. To take one point of view and mould everything the City does moving forward with that as the parameters I think would be wrong."
Sless continued, "If we are going to consult before we do our own business, this won't happen for a very, very long time. It would be a very long and onerous task to try and consult with everybody who feels they should be consulted with. I feel it's important we move forward because, as I said earlier, this is something we should have done a long time ago. I will be supporting the motion and I hope it would pass because I think it's important and it should pass."
Councillor Cheryl Antoski admitted that she was also one of the members of council that said this motion should pass sooner rather than later.
"This should have been done forever ago but I do hear Ms. Martisius' comments but I don't want to delay moving things forward. I am hopeful those comments can be taken into regard and those conversations can still happen. I have been saying over and over again that we need to have conversations people to people. We need to ask what is needed and what is going to be a win-win situation for both sides," said Antoski. "I agree with other councillors, is it going to be perfect, no but we need someone who holds the ball and moves it forward. We need someone who has more understanding of the complexities and really, someone who can come at it from a perspective of humanity."
Antoski went on to address the possibility of deferring the motion.
"I understand the ask for deferral, and I haven't made my decision on that yet, but I would have to be swayed that it would benefit us to do it because I still think we can have these conversations with the people that we need to talk with. We need to start fresh and we need all of the players involved to put their cards on the table and say how do we start with a clean sheet because there is some negative history for sure and it's playing out now."
Councillor Greg Martin echoed Councillor Sless' comments.
"I think Councillor Sless hit on a very key point. There are a lot of different opinions on the reserve, there are a lot of different groups that have conflicting opinions and until they can get to the point where they're speaking with one voice, who do we talk to? If we talk to the clan mothers, we upset the elected council. We talk to the elected council, we upset the clan mothers," said Martin. "Until they can decide who speaks for them, I think this whole thing is a moot point because anyone you talk to upsets everyone else. They have such conflicting priorities out there and conflicting ideas of what they want, it's almost impossible to have a meaningful discussion that will advance some of these issues. I will not be supporting this motion here tonight."
Mayor Davis then gave Councillors John Utley, Dan McCreary, Jan Vanderstelt and Richard Carpenter the opportunity to address the motion. Councillor McCreary was in favour of supporting the motion as was councillor Richard Carpenter.
"We live next door to the largest reserve in the country and we have terrible relations. That doesn't just happen, it happens because we don't try to make relations better. I heard one of the councillors say 'they're out there,' they're not out there. They're right beside you, they live across the street from you, they live in our community. First Nations, Indigenous population lives all around us, all over the City of Brantford," said Carpenter. "Then I heard someone say they need to speak with one voice well. That shows a lack of understanding of the culture of Indigenous population in the first place. They speak with collective voices and they consult with each other tremendously so the one voice, that's not how it works."
Carpenter went on to address the lack of communication between council and its Indigenous neighbours.
"How can we live so close to the largest population in the country and know so little. I'm ashamed, I really am. The universities, the colleges, the schools and the churches, they're doing the land acknowledgement at the beginning in their meetings. We haven't even mentioned it. We don't mention the land that we're on, that it was once Haudenosaunee land and we don't talk about that, we don't even acknowledge it. We could just start by doing that," said Carpenter. "First of all, it's about listening. It's about listening, sitting down and listening to people, not telling them. We have to listen to what they have to say in the first place and that hasn't happened for some time."
Carpenter concluded his remarks by addressing the Indigenous Affairs Officer position.
"We really need to say how do we support our neighbours better. The County of Brant has a terrific relationship, why is that and where is ours? Where's the leadership for ours? I think it hasn't been there for some time and we really need to correct that," he said. "Whether it can be corrected with an Indigenous Affairs Officer, I'm not sure. I think it's a good start but I think the Indigenous Affairs Officer reporting to the CAO and Mayor is not good enough for me. I want the report to come to me too, as a member of council. As a member of council, we all have the right to have the same information. Anything that brings that forward, we're talking better, consulting better, treating each other with more respect, you will find my support."
Mayor Davis then closed out the discussion with his thoughts, saying he would support the motion.
"I think it's a great resolution and I can enthusiastically support it," said Mayor Davis.
After a lengthy discussion surrounding some amendments to Councillor Wall's motion, council voted in favour of creating an Indigenous Affairs Officer position for the City of Brantford. The motion was carried, 9-1, with Councillor Martin opposed.