The Brant 4-H Community Involvement – Bell Homestead Club celebrated the official release of their book, Melly and the Missing Coral on Saturday, June 4, 2022.
The book launch and mascot unveil were part of the Queen's platinum jubilee event hosted at the Bell Homestead.
Melly and the Missing Coral follows the platypus Melly who lives in the Bell Homestead with his friend Coral. When Coral goes missing, Melly ventures through each room in the house to find Coral, learning about different artifacts in the house along the way.
When asked about their favourite part of the club, 4-H youth Carley said, "Working with such a passionate group of people and making a big idea of ours come to life was by far my favourite part of this club. This book means a lot to us and coming together and making something we won't forget has really had a positive impact on me."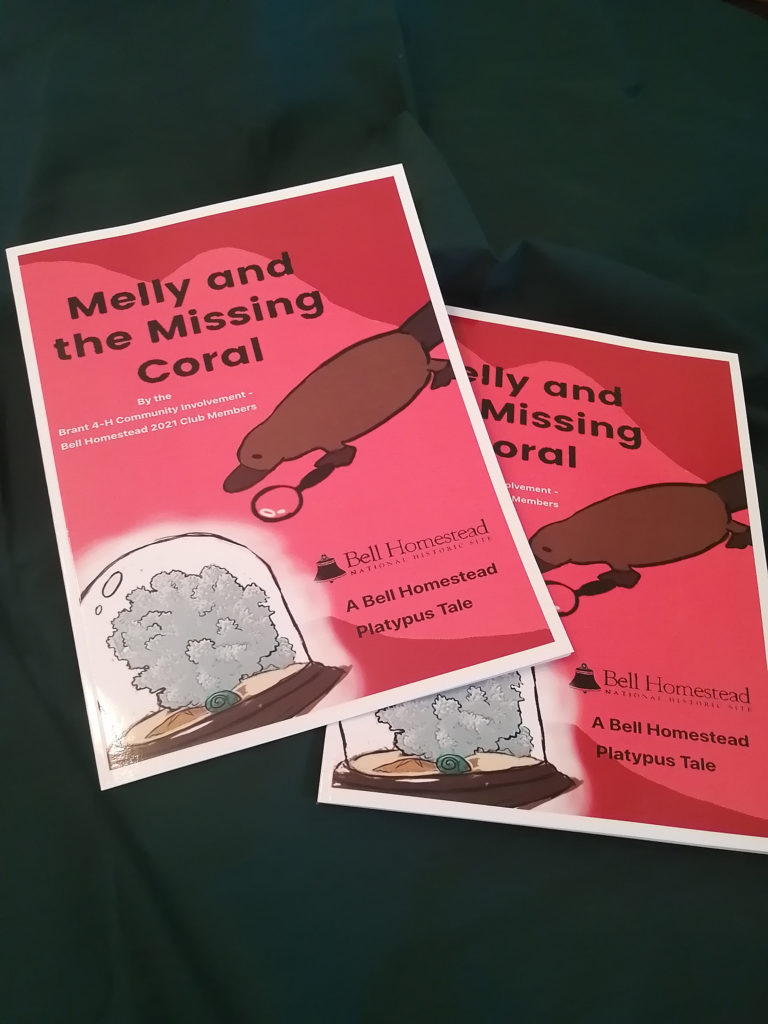 The Brant 4-H Community Involvement – Bell Homestead Club has a long-standing relationship with the Bell Homestead where they assisted with tours of the historic site prior to the pandemic. In the Bell Homestead, a taxidermied platypus is displayed in the library; a gift from a relative who inspired the mascot that youth named Melville Tutelo Boondaburra in full and is affectionately called Melly. The 4-H club envisioned the mascot, Melly in 2021 and then decided to create a book that the Bell Homestead could sell in their gift shop to promote the mascot.
"It was amazing to work with a group of friends that share the same passion. To us the platypus was always a way to laugh, bond, and connect, and it was incredible to complete this book and see our ideas come to fruition," said 4-H youth, Morgan. "I learned the importance of collaboration and communication. Throughout the process, group discussion and listening were key to our success. Ensuring everyone's ideas were incorporated led to a final product that we were all very proud of, and the skills we developed will benefit us as we write our next book."
Melly and the Missing Coral can be purchased for $15 in the Bell Homestead gift shop. The Brant 4-H Community Involvement – Bell Homestead Club is currently working on their second book that will be sold at the Bell Homestead gift shop in the future.